Naturally Playful® Picnic Table with Umbrella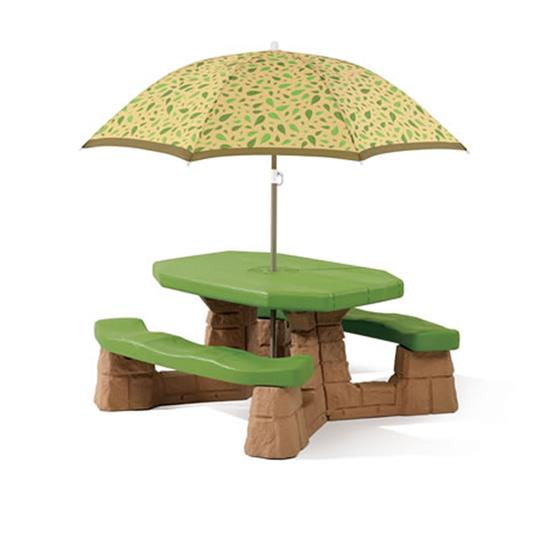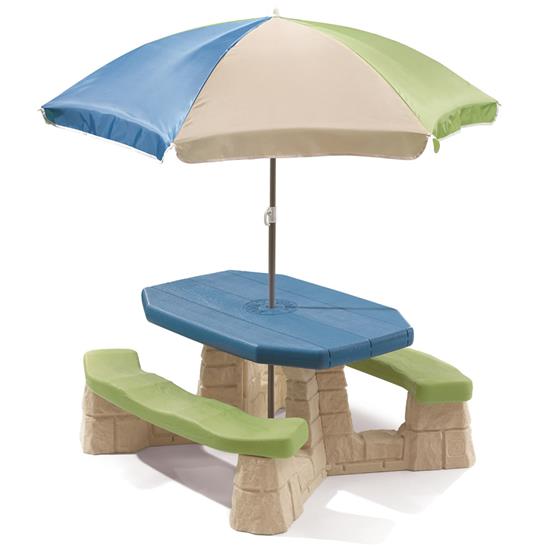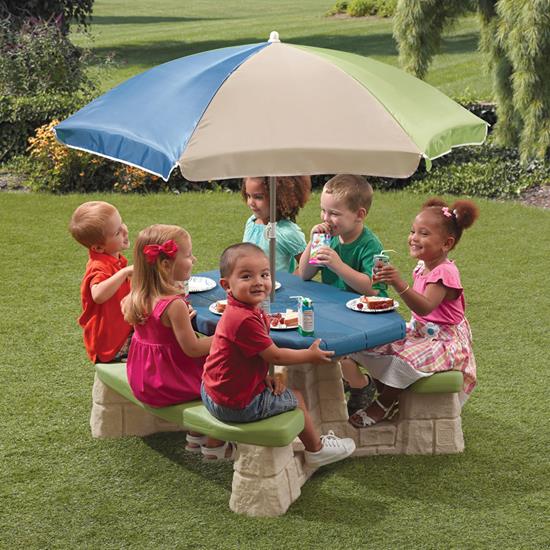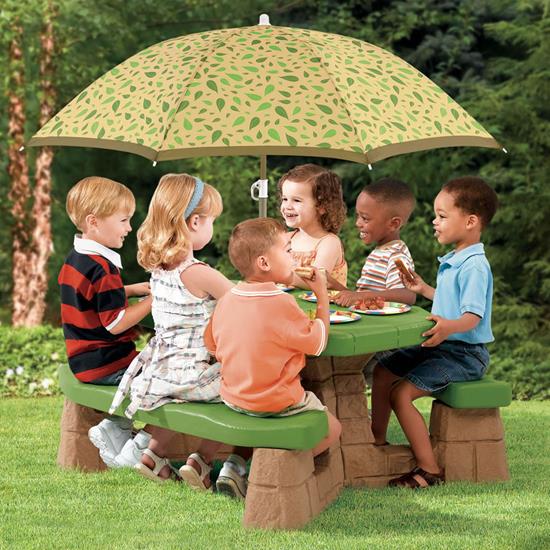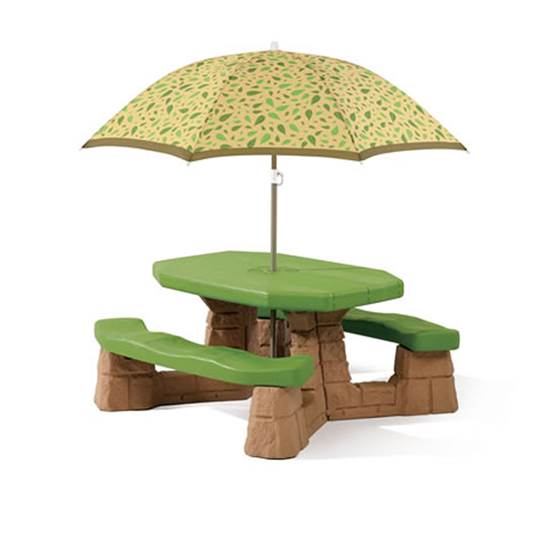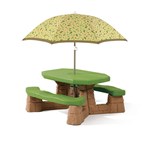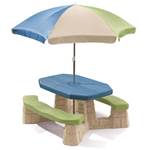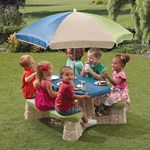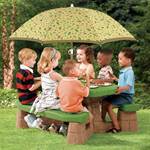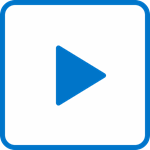 Naturally Playful® Picnic Table with Umbrella
In stock
$99.99
+4.99 shipping (via FedEx) When will my item arrive?
The Naturally Playful Picnic Table with Umbrella from Step2 is perfect for snack time, coloring, or even arts and crafts.
IS THIS A GIFT? DON'T SPOIL THE SURPRISE!
This item ships with an image of the product on its outer packaging.
Rated 4 out of 5
by
Shelby'sMom
from
A great set!!
[...] Being the Mom, altough a very handy person, I found assembly extremely easy requiring only a phillip's screwdriver. The design is adorable and great to keep outdoors (durable). We haven't used it much yet as we just got it, so I can't speak to how it is when used by multiple kids at the same time. The only thing that otherwise caught my attention was that the color green of the tabletop was slightly a different shade than the green of the seat benches, but it was minor and from a distance you can't tell. I like how the faux stone matches the stone of the Step2 sandbox I also purchased [...].Nice products so far!!
Date published: 2010-04-23
Rated 5 out of 5
by
MommyLisa
from
love it!
Bought this table for my 1 and 2 year old boys. They LOVE it. They use it to eat snacks at and do puzzles on and color. They also enjoy playing under the table and use it as a 'fort'. The molded bench seats are great for positioning their little bottoms in. They also enjoy the molded benches to use as a "track" for their matchbox cars and Thomas train collection. We have not used it outside yet, but plan to break it in soon. The only complaint that I have (if you wish to see it as a complaint) is that it is the perfect size for my 1 year old to climb and sit on top of. (He's currently learning to walk, run and climb!)
Date published: 2009-07-04
Rated 5 out of 5
by
Yellowbarn
from
Just What I wanted
I got tired of dragging a table or high chair for the kids outside when we wanted to eat on the deck. Plus when we were outside we didn't have a place for the kids to set their drinks or snacks. This table is great. The kids feel like they have a place of their own. It fits both my 5 year old and 2 year old comfortably. My older nieces who are 8 and 10 can also fit at it. It cleans up easily, just hose it down. The umbrella is quite large and easily goes up and down. The umbrella is kind of light so the wind picks it up easy. If it is very windy out you need to put it down or it will lift up out of the table and blow away. The hight of the umbrella is also adjustable so it is quite nice for taller kids to fit under.
Date published: 2009-07-13
Rated 5 out of 5
by
MancCsMommy
from
GREAT!! A summer must-have!
We bought this picnic table for our son's 3rd birthday. We've only had it set-up for a few days, but so far it's perfect!! It's large enough for six kids (easily fitting my two sons - 5 & 3, and their cousin - 4, on one bench) and it is also a good size for the younger ones, too -- my nephew is only 18 months and he ate lunch easily at the table. We take the umbrella down and store it when we go inside, and we haven't really had any serious weather yet for it to suffer, but it seems pretty durable and I think it should be able to withstand summer storms. We also have the Naturally Playful climber and sandbox, which have both stood up to the elements just wonderfully!!
Date published: 2009-06-02
Rated 5 out of 5
by
Anonymous
from
Lovely table!
We got the table today, and even though I was wanting to wait for my husband to put it together, my daughter couldn't wait... I put it together in less than 20min, easy, does not require brutal force (like other toys...) to put together, and we love the colors. My daughter wanted inmediately to sit down to eat her lunch (at 10am...) and so we sat down for a snack... I could sit in the corner with no problems, and she just loves it, she wouldn't leave the table to go play! The only thing it's that, as with all plastic toys outdoor, they warm up quickly under the sun, and even though we were in the shade with the umbrella, the table was really hot.. other than that, I just think this is a perfect buy!
Date published: 2007-08-01
Rated 5 out of 5
by
M&Ms
from
SOOOO HAPPY!
I ordered direct thru the site [...] I was so excited! We had a cheap picnic table from last year that had not weathered well. I had also sat on it (I am small and 105 lbs) and broke one side, so this was just what we needed! We have already used it for 6 kids at a time and it is WONDERFUL! I love the umbrella and how sturdy it is... I can sit on this one! :) It is perfect for my 2 year old to sit and eat lunch by the pool. I love, love, love this table and will probably only buy STEP2 for this kind of stuff from now on! It is not worth buying cheap if it won't hold up! [...]
Date published: 2009-06-22
Rated 5 out of 5
by
nannysplace
from
Nice Product!!
Bought this for a group of anywhere from 3-7 kids and it is just how we expected it to be! The ends are spacious enough for a small chair to be added for additional kids. Table top could be bigger but is big enough for them each to have a plate and cup (etc..) The oldest child is 8 and its a small squeeze to get her legs under the table and than it sits her just fine. Easily sits three 4/5 yr olds on each bench. The tabletop texture is the only con I can think of, would prbably be better and easier to clean if it were smooth. The umbrella is very nice and big! Fantsatic buy!!
Date published: 2010-07-13
Rated 4 out of 5
by
OCD Mommy
from
Great product
I have an 18 mo old and we use this product outside. I place it on my patio deck next to my outdoor table and its great for entertaining and feeding my daughter and her little friends, keeping the mess outside and not inside. It's fantastic that the umbrella came with the table. The table itslef fits about 6 children which is great. Its easy to assemble and clean. The only thing i'm not so sure about is whether it can hold an adult. If you sit in the middle of the bench, it kind of bents downward bc there is no support there, so I recommend sitting at the ends if you have to.
Date published: 2009-08-04
Rated 4 out of 5
by
Anonymous
from
Love it
For the price, it is very worth it. I like the design and everyone that has come over to see it has given me compliments. I decided to get it because I have two other nephews that are bigger than my son, and I needed a table where my little one, and the others can sit down. This was perfect for my 2 1/2 year old, and my nephews who are 4 years old. The only bad thing I have to say is that the bench/base part is hollow, and can get caught easily on anything if you tried to drag the table to a different place. Overall, I have very few complaints and I really liked my purchase.
Date published: 2009-07-12
Rated 5 out of 5
by
Jenny G
from
Best picnic table for toddlers
We purchased two of this natural tone picnic tables for our daughter's 2nd birthday party but because I ordered them too late that they did not arrived on time for the party. However, we really love this picnic table. It look so cute and has plenty of room for six toddlers to sit and play or eat. It's very easy to assemble, and it took no time at all. We are currently using it indoor and gave one to my niece and she loves it, too. I can't wait for my daughter's next birthday party to use these tables. Step2 website has the best price for this item and [...]
Date published: 2009-09-04
Rated 4 out of 5
by
Anonymous
from
Great table
So far, we love the table. We have had the table for about a month and got to use it outside for the first time the other day. It was very easy to put together. Table looks great with our 'adult' outdoor furniture. My kids (almost 3 & 1.5 years) love the table. We had it inside and they loved sitting at it to watch tv, do puzzles, etc. The top of the table has a grain texture, so it is not a smooth surface which would be preferable for coloring. We have painted at the table and it cleans nicely. Overall, I'm very satisfied and would recommend it to others.
Date published: 2010-03-21
Rated 5 out of 5
by
Anonymous
from
Love it.
We bought this to go outside, but it never made it there. We put it in the middle of the living room and it is a life saver. I have a 2 year old and 9 month old and they both love it. The 9 month old likes to stand with it and walk around it, while my 2 year old uses it for everything. We do crafts, lunch, snacks and just sit down reading time. Im debating on getting another one for outside. The seats are big enough for more than 4 children and my 2 year old can get up and down with ease. Great purchase,[...], easy assembly and great price. ++++++
Date published: 2009-05-17
Rated 5 out of 5
by
Anonymous
from
Exactly what I've been waiting for.
I called Step 2 several times in the past year or so to see if they would bring this wonderful table back in the brown with the striped umbrella, and was delighted when I called a few weeks ago and they informed me that they did indeed have it back in stock.I first fell in love with this table during a play group. It fit 6 children ranging from 2-6 very comfortably, and it was the cutest children's picnic table that I had ever seen.We use it for snacks, play-doh, painting and other crafts.The only "con" was not being able to get it sooner.
Date published: 2009-09-18
Rated 5 out of 5
by
TyKyHayMom
from
Just what I expected!!
This is incredibly sturdy and fabulously easy to assemble. We had the matching green leaf pattern sand and water table from last summer, so I thought this would coordinate nicely and the two both look good as new. It easily fits 6 younger kids and with room for chairs on the ends it fit 8 small plates to accommodate more. Definitely worth it as I purchased an adorable wood table table last year on which the paint started peeling within weeks so had to buy yet another this season! Plastic is the way to go for tables! STEP 2 makes the best!
Date published: 2009-06-06
Rated 5 out of 5
by
Mother of 3 boys and a girl.
from
Can't get any better than this.
I decided to buy this for my children because of the reviews I had seen with the table and chairs set. I was worried that my 1 year old would tip the chairs (she loves to climb) and my almost 4 year old would be to big. So I decided to get a picnic table for their indoor play. Which turned out to be great it's perfect for both of my younger children. The first thing my 1 year old did is climb on top and I didn't have to worry that she would tip it over. And it does double duty because this summer they can play with it out in the backyard.
Date published: 2008-12-25
Rated 5 out of 5
by
Anonymous
from
I would buy this again!
This is great for anything from eating to art activities. I live up north so right now I have it inside and my boys love to eat all their meals at it. They also play with trucks and blocks on it. There are lots of possibilities! I don't know how it will hold up in the sun and wind yet, but I'm hoping it will be good. The only thing that disappointed me was the top of the table looks like a lighter brown in the picture which I think is appealing, but the table I received has a dark brown top. Besides that I am very pleased!
Date published: 2009-01-13
Rated 5 out of 5
by
Anonymous
from
Great picnic table!
My son received the table as a gift for his 2nd birthday. My husband said that it was VERY easy to assemble. It is big enough to hold many kids with plenty of room. We especially liked it because of the umbrella. I did not have to worry about the sun beating down on the kids. It also looks very cute in the backyard and my son loves how it resembles our own "big people" patio set. I like this so much that I recently bought one for my 5, 2, and 1 year old nieces and nephew. THey love it too! Also, in the winter, I simply pulled out the umbrella and brought it down to the basement for more fun. I would recommend taking out the umbrella at night as I have heard that it can get easily damaged, but it became part of the routine every night as we put away the toys.
Date published: 2009-04-04
Rated 5 out of 5
by
Peace the Frog
from
I Love It!
I love this picnic table. It's cute, durable, easy to assemble...really, it doesn't get much better than this. Some had an issue with the groves and keeping it clean, I, however, don't. I clean when spills happen or use the vacuum attatchment to suck out crumbs from the groves, no problem! (I use the vacuumm about 12 times a day anyway.) It is large enough for several children to enjoy, my daughter to use alone or for me and her to sit and share a snack. I'll defnitely be passing this along when she outgrows it!
Date published: 2009-07-31
Rated 3 out of 5
by
jlewis332
from
Great table but hard to assemble!
We bought this for our two grandaughters. While putting it together the legs were easy to assemble, but the holes were not pre-drilled to put the top on! We tried to force the screws through the plastic, and then tried a drill, but the bit was not long enough to reach. Finally after 1 hour of pretty hard muscle work it went through, although we have no idea how deep into the table the screws ended up. We are hoping it lasts! I would recommend this item, but with reservations if they do not have a drill available.
Date published: 2009-07-28
Rated 5 out of 5
by
UTSusan
from
My 5 and 2 yr old kids love this table!
My 2 yr old got this table as a birthday gift from her grandparents. I wanted to make sure that she got a table that would also fit her 5 yr old sister. Both girls love it. They eat meals and snacks on the table. And use it for crafts too. Assembly was pretty easy although there were a few areas that didn't have pre-drilled holes which made it a little harder to insert the screws. I recently had a MOMS night out and several of the moms commented on how nice the table was and asked me where I got it. [...]
Date published: 2009-06-26
Rated 4 out of 5
by
Momma. Momma.
from
Wrong color, perfect product
I bought this picnic table for several reasons, mostly because it matched the clubhouse climber. Imagine my disappointment when it arrived sporting a new color scheme. It has a cute "spring green" table top & seats and a matching umbrella with green leaves on it. Even though it doesn't match, my 17 month twin boys are enjoying it immensely. It is sturdy & a great size for snacking or art. Great for when their little friends come over. We love it - wish it matched our clubhouse climber - but we love it.
Date published: 2008-09-26
Rated 4 out of 5
by
Anonymous
from
Picnic Table
We purchased the table for our three year old and one year old boys. They love having a table of their own to sit on. Originally, we purchased the table so that we can have messy art activities outside; if they get dirty, we can just wash it off. We have used it for snacks. The boys love eating their fruit dessert on it. It's an attractive addition to our yard. It's a kids table and was not made to support the full weight of an adult so I was not expecting it support my weight. It does fine for children.
Date published: 2009-07-17
Rated 4 out of 5
by
Happy Mommie
from
Great Table!
This is a great picnic table. I think it will go the distance and last for many years and grow with the kids for quite some time. The only flaws I see are that the actual benches have indentures in them where as a kid if you don't sit in the right place, it's a little uncomfortable, and the table surface is not a smooth surface and makes cleaning a little more difficult. Other than those minor flaws, the colors are nice and neutral to fit in with natural surroundings. Nice and sturdy table, worth the $$.
Date published: 2009-05-18
Rated 4 out of 5
by
Anonymous
from
Cute Picnic Table
Our kids ages 3 & 1 love this table. It's sturdy enough for multiple 3/4 year old children to sit, and easy enough for our 1 year old to climb in by herself. A small adult may be able to sit on the edge of the bench, but I wouldn't recommend it. It really is build for children only. The only complaint is the lack of base for the umbrella. We set the table on our brick patio, and there's no secure hold for the umbrella. If you use it on a different surface, then it may not be an issue.
Date published: 2009-07-23
Rated 4 out of 5
by
Love being a mommy!
from
Nice, but room for improvement
Overall I really like this table. The only issue I have found at this point is the fact it is often too hot before my son can sit on it. I end up pouring cold water on it before he can sit down or his legs will burn. I wish they had other umbrella designs to choose from, as the one it comes with isn't the most appealing with our house. The kids love it though, which was my hope when buying one. I wish it was easy to store, but once it is together it isn't easy to get apart or recommended.
Date published: 2009-08-26
Rated 5 out of 5
by
~Sofie~
from
Great Product!
We owe about four Step2 Products and have two more on order already. This table and all other Step2 products are wonderful! Durable, attractive, very useful and the most important thing: kids LOVE them all. We have Step2 Naturally Playful Swing/Slide set, Sand/Water box, this table set, a pink buggy and I have a water table along with a Write Desk on order for my 20 month old. She (and her older friends) LOVE all Step2 products. All products are wonderful! Can't go wrong with Step2.
Date published: 2010-04-04
Rated 5 out of 5
by
lisi
from
Top Quality
We purchased the set for our great-nieces (ages 5 and 2) and could not be any more satisfied. The umbrella covers the entire table so it truly provides shaded area. It is easy to reach the bench seats and get off and on. Six small children can sit comfortably (and safely). We are extremly pleased with the table/bench set and would absolutely recommend it and purchase it for a gift again. Their parents also have very positive comments about the product and they too would recommend it.
Date published: 2010-08-08
Rated 5 out of 5
by
crafty tapper
from
love it!
I bought this picnic table because my girlfriend in my son's playgroup had it and I loved it. It fits all 6 of the 2 year olds at the same time as well as fitting the older kids too (my cousin's little girl is 6 and sat at it very comfortably). Esthetically it looks great and I love the good sized and sturdy umbrella that comes with it. This will certainly last us for years to come! I ordered this directly from Step 2 [...]. I will certainly be ordering more from this site in the future.
Date published: 2009-08-07
Rated 5 out of 5
by
BEA
from
GOOD PURCHASE
BIRTHDAY GIFT AND A HIT. UMBRELLA WE TAKE IN IFWEATHER IS BAD. TABLE IS A DAB HARDER TO CLEANAS TOP IS NOT SMOOTH, BUT THAT HELPS THINGS NOTSLIDE OFF. I USED MR CLEAN MAGIC ERASER AND ITIS CLEAN AS NEW ONCE WASHED EACH SEASON.THIS IT 2 SUMMER AND IT LOOKS LIKE NEW.I WISH IT WAS ON MY PORCH NOT DAUGHTERS YARD SOSHE COULD USE IT MORE.I AM ABOUT 130 AND IT CERTAINLY WILL HOLDADULT ESPECIALLY IN CENTER ALTHO A CHAIR ALSOCAN BE PUT UNDER IT FOR ADULTID BUY IT AGAIN IF HOW I FEEL ABOUT IT.
Date published: 2010-09-13
Rated 4 out of 5
by
Bella's mom
from
Love this table!
My 20-month-old loves this table. When the weather's bad, we bring it into the basement and she sits and colors. When the weather's nice, it's out on our deck so she has someplace to sit with friends when we entertain. The umbrella is a little flimsy so definitely bring it indoors when you're not outside. Also, we needed a drill for assembly as some of the holes for the screws were not where they were supposed to be. But once my husband got the drill, it was pretty easy to put together.
Date published: 2007-09-05
do you ship to Canada?
Step2 Direct does not ship directly to our Canadian Consumers. A wide range of Step2 products are available at Amazon.ca, Costco.ca, , and Walmart.ca. Additionally, Step2 products are available at, Costco Canada and Wal-mart Canada retail locations. You can also contact: Mini Circuit at 416-240-1988 Play Value Toys at 613-722-0175
Date published: 2018-04-27
What is the height from the top of the bench to the table top?
The height from the top of the bench to the table top of the Naturally Playful® Picnic Table with Umbrella is approximately 9.5 inches.
Date published: 2018-04-18
Is the umbrella weather-proof? Can I leave it installed on the picnic table outside and have it withstand wind and rain?
No it's not weather proof. We just learned this lesson and just ordered another umbrella since the one we had just broke. You have to bring it inside at the end of the day. They really should make them weather proof just like the real picnic tables with umbrellas.
Date published: 2018-06-22
What is the length & width of just the table top please? 
The dimensions of the table top for the Naturally Playful® Picnic Table with Umbrella are as follows : 37.5 inches X 24 inches.
Date published: 2018-08-24
What is the difference of model #787700 and #843800 of Step2 Naturally Playful Picnic Table with Umbrella
The only difference would be the color.
Date published: 2018-02-12
Hi, I have a friend live in Ohio and would like to send a gift to her kids, can I order and pay credit card in this site? Since, I'm not live in US.
Please contact our Consumer Specialist Staff at 1-800-347-8372, Monday through Friday, 8am-5PM Eastern Standard Time for assistance .
Date published: 2017-12-07
I can't get the table top to fit tight?
Please call toll free 1-800-347-8372 Monday - Friday, from 8-5 ET and we will be happy to assist you further with this request.
Date published: 2018-03-27
Can Table top height be raised up, as Kids grow?
Regretfully the height cannot be adjusted.
Date published: 2018-03-27