Naturally Playful® Playhouse Climber & Swing Extension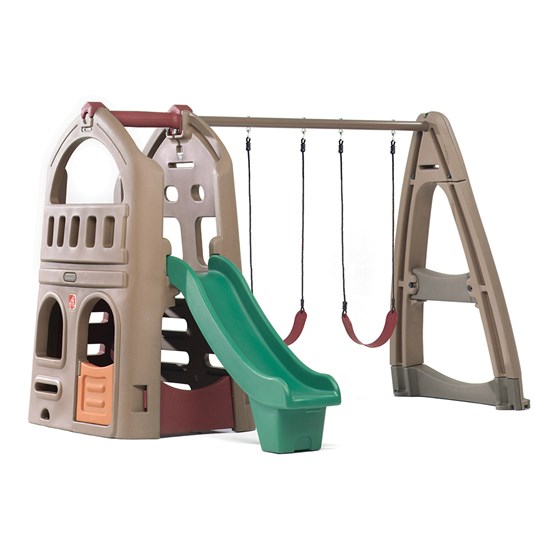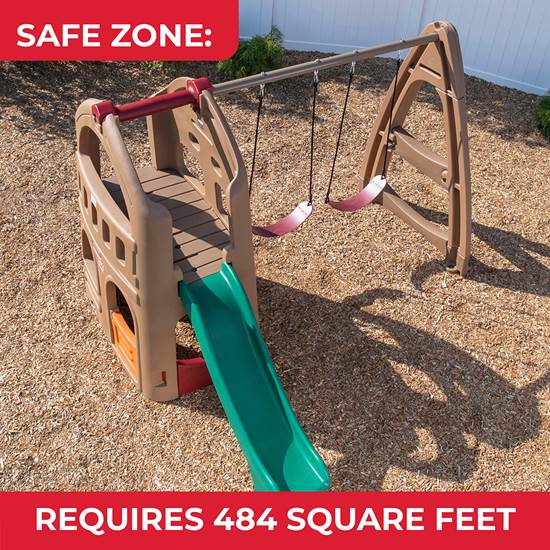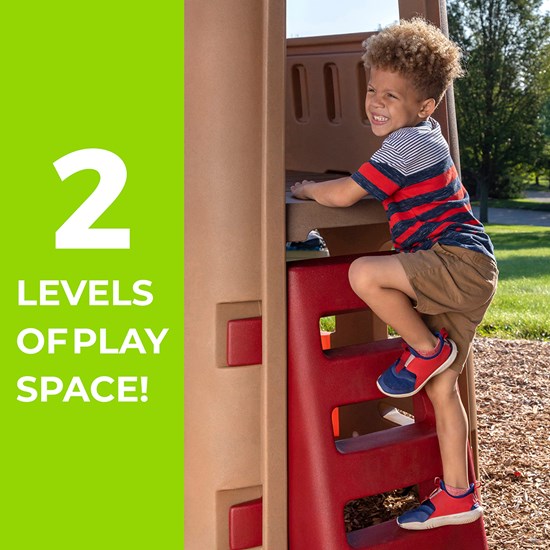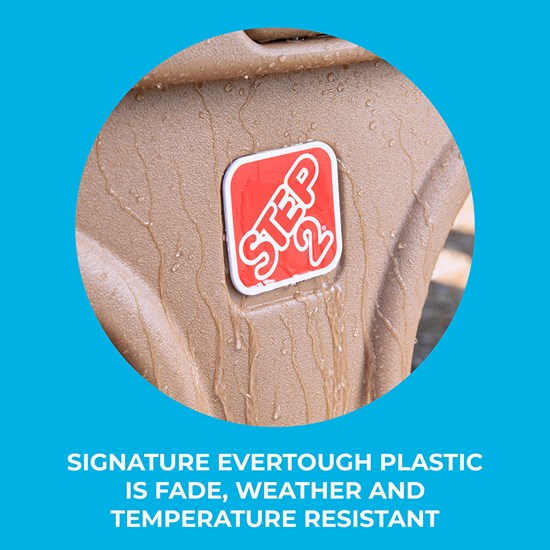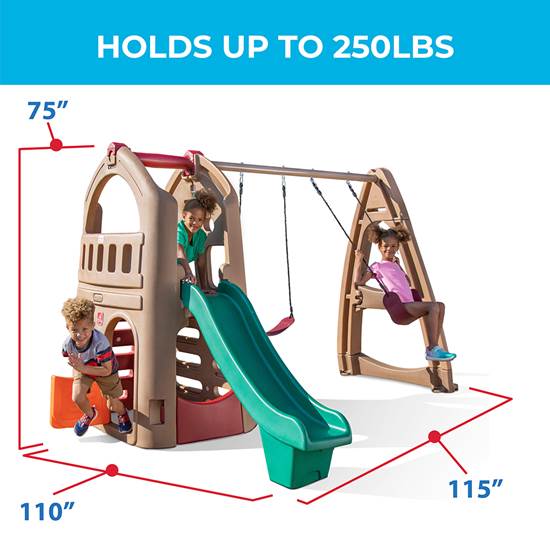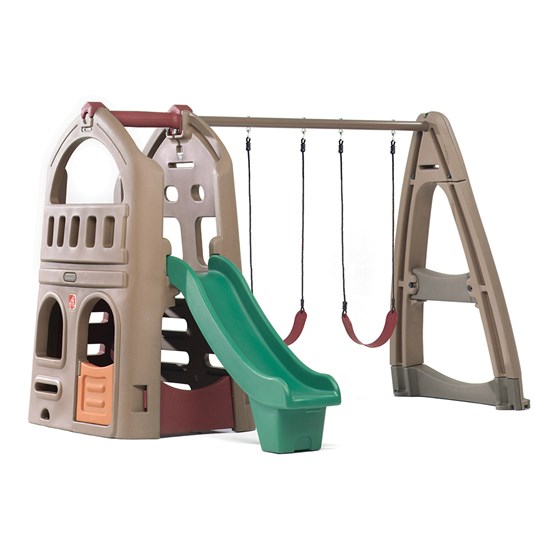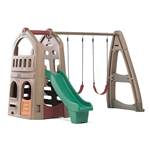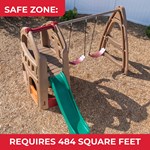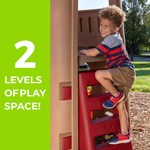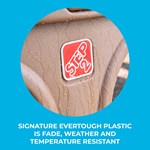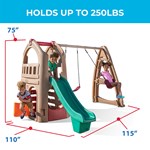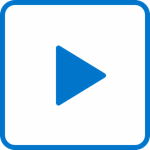 Naturally Playful® Playhouse Climber & Swing Extension
In stock
$704.99 $699.99
+99.99 shipping (via Truck)
Climb, slide, and swing with the Naturally Playful® Playhouse Climber with Swing Extension.
IS THIS A GIFT? DON'T SPOIL THE SURPRISE!
This item ships with an image of the product on its outer packaging.
Rated 4 out of 5
by
eli
from
Highly recommend
I recently bought and assembled the Playhouse for my two and one half year old grandson. I noted the comments before purchase and paid special attention to construction issues. I admit the two boxes are heavy, but this can be alleviated by removing pieces and placing them individually at place of assembly The instructions are good but not great. Ease of assembly is moderate and would benefit from having two people, but can be done by one. Some of the pre-drilled holes need to be enlarged. The quality is very good. He has only had it for a month, but he loves it and should be suitable until at least the age of five. I would highly recommend.
Date published: 2016-08-01
Rated 3 out of 5
by
Anonymous
from
Pricey and lacks in amenities. But sturdy!
Very sturdy and fairly easy for two people to assemble, although some of the instructions can be quite confusing and misleading. For the price, 1) the ladder should have some additional handles for safety 2) the playhouse below should have some sort of built-in seat and 3) the slide platform should have some kind of playtoy attached to it (like a steering wheel or tic tax toe game, etc). The age recommendations are for 3-8...in my opinion, it should be more like ages 2-6. Of course that's taking the swings into consideration too. But, I can't complain too much because my 18 month old loves it right now, but we will see in a year or two.
Date published: 2016-12-06
Rated 5 out of 5
by
CayelaC
from
After Two Years, Still Going Strong!
We bought this two years ago for our 2-year-old son and 1-year-old son. We bought the naturally playful set, with the sand box and the playhouse. I have to tell you, that at [$] at the time for the set, I have really got my money's worth and then some! Looks great and has not faded after two years. The boys love going outside all the time, and the new of this set still has not worn off. If you wonder about how well this swingset holds up, or if your children will get bored, you should have no concern. I have been so happy with this swingset and would buy it again in a heartbeat! Great job Step2!!
Date published: 2011-04-05
Rated 4 out of 5
by
Anonymous
from
Just What I Expected
My daughter loved this product when she saw it on line. Some of the reviews said that they did not think it would be good to 8 yrs but my daughter is a peanut and it is perfect for her at 3 1/2 yrs.My mother and I put this together by ourselves and we only had two issues: 1: the slide was more difficult to snap in place than we thought it would be and 2: the directions were only in pictures, no verbage. I know this is how the guys do it but as a single mom I like to be able to read the directions in addition to the pictures.All in all, I think that this will work out great for us. My daughter has spent a lot of time playing on it already and it's only been up for 2 weeks!
Date published: 2012-03-21
Rated 5 out of 5
by
Natalie
from
Very easy to put together
It took my husband and I 2.5 hours to build the entire playhouse and swing. It was very easy. We didn't read the instructions rather we watched the step by step videos. The only thing that didn't work out properly were the metal stakes. These stakes do not have a point so to drive it into my grass was impossible. Other than that we love the purchase. We also purchased a toddler swing from Amazon since our son is only 17 months.
Date published: 2018-01-04
Rated 3 out of 5
by
AL_Nana
from
Disappointed in assembly
I love this swing set and bought one 7 years ago for one set of grandkids and it is still in good condition and getting lots of use. That one was a breeze to set up, in fact it was put together on Christmas Eve in the dark with no issues. Unfortunately that was not the case this time. My son tried to put it together a week before Christmas. It turned out not only were parts missing, but there were a couple of holes not large enough for the bolts and had to be enlarged. Even worse, other holes didn't even line up and had to be drilled. He had to give up in mid-setup and then it rained for several days. It finally did get done, but this was not what I expected from this company at all.
Date published: 2018-01-07
Rated 4 out of 5
by
Anonymous
from
very pleased with this swing set
Bought this for my two year old. He loves it! i put his little swing on it but also with help he can use the big one. Its a little smaller than I imagined but then again big to him. The house underneath he can just stand if he was any older I'm not sure how he would play under there. But its great for now. The slide is nice how on the end its propped up and he can land on his feet and I don't have to be worried about his flying off the end. I really am happy with my purchase I think its perfect for ages two to five in my opinion. seems pretty sturdy not the greatest but its good for being plastic. I would recommend!!
Date published: 2017-04-17
Rated 5 out of 5
by
Lillikin's Mom
from
Great Toddler Swingset
I purchased this swing set used (5-7yrs old) for my 20 month old daughter. She absolutely loves it (as did the previous owners). Hours of fun. The playhouse and slide are her favorites. The set has held up nicely over the years in Iowa, where we have plenty of rain and snow. The swing "hooks" are rusted, but that's about all of the wear adnd tear I can see along with very minimal fading. Great set for the price for young kids. I agree with previous reviewers that this is a toddler set, not practical for kids older than 5 or 6. The previous owner's youngest is in 1st grade and has outgrown this set.
Date published: 2011-12-05
Can u switch one of the swings out for a baby swing?  I know some play sets u arnt able to and I'm looking fit one that I can 
Yes you can, we even changed them out with a saucer swing when they got one.
Date published: 2021-02-18
Is this reversible (attach the swing set on the left)?
No
Date published: 2021-02-17
What type of tools/wrenches needed for assembly?  
Socket wrenches, Phillips screw driver, large Allen wrench.  Hammer. 
Date published: 2020-12-28
Are there video instructions for the naturally playful playhouse climber and swing extension
Yes, there are a couple videos online and Step2 also has some on YouTube. I assembled ours with my husband and it was pretty easy. 
Date published: 2020-10-14
Can I replace the swing with a baby swing
Yes you can. Step 2 sells the infant swing that clips closed. That's what we did. We bought 2 of the infant swings and replaced them until our boys got big enough for the regular swings. 
Date published: 2020-08-28
What size are the 2 bolts for the bar that hold the swings?  The dimensions ARE NOT in the instructions. They are labeled as 'L' in the instruction booklet on page 11. 
Thank you for contacting Step2. The pictures of the bolts on the instruction sheet show the actual size. Regards, Step2 Consumer Service
Date published: 2020-08-03
Can I buy the swing set extension separately? 
Thank you for contacting Step2. We do not sell the swing extension separately. Regards, Step2 Consumer Service
Date published: 2020-07-28
I need a replacement slide for this set. Where can I buy that?
Thank you for contacting Step2. We do not to sell & unable to sell any of the small or large plastic rotational molded pieces such as this due to how the products are manufactured. All products are manufactured and packaged in complete sets or as a family. We do not run individual pieces, stock extra pieces and therefore cannot sell individual pieces. We can provide these parts as ONLY as no charge replacements if the product was damaged, parts missing or the product fails within the warranty period under normal use to the original purchaser who can provide proof of purchase or a receipt. We apologize! Regards, Step2 Consumer Service
Date published: 2020-07-28