Naturally Playful® Playhouse Climber & Swing Extension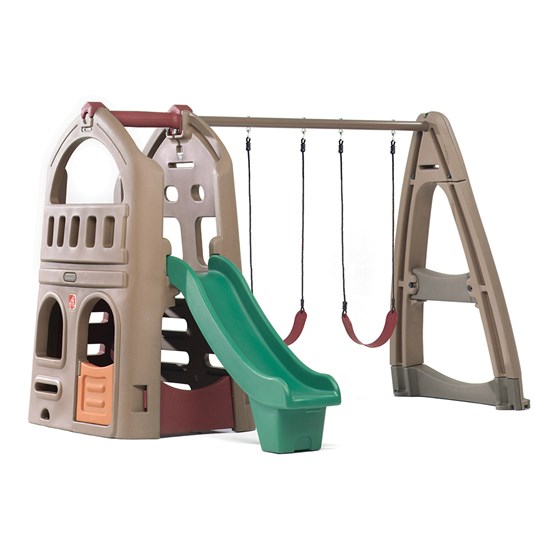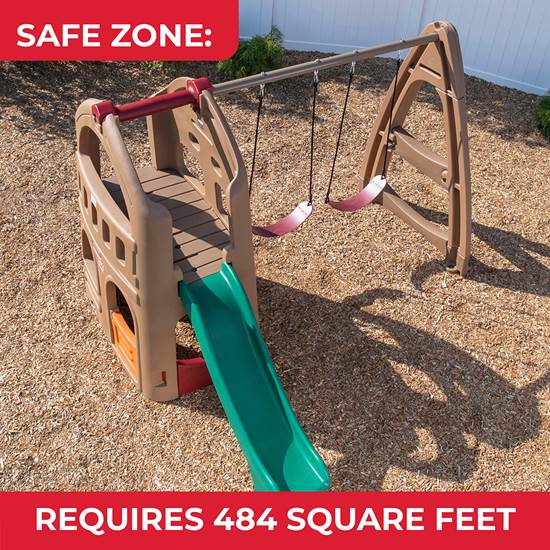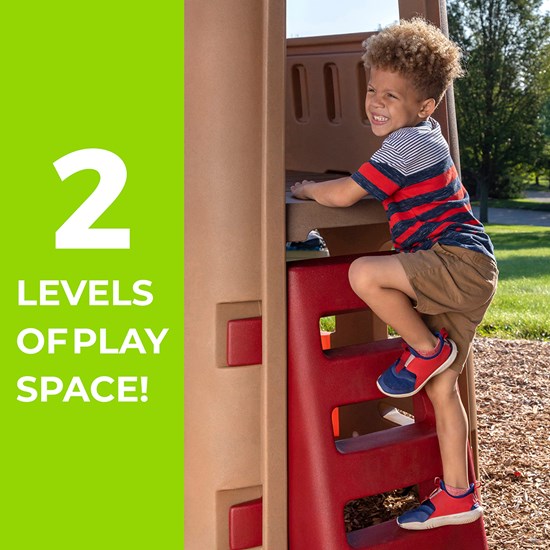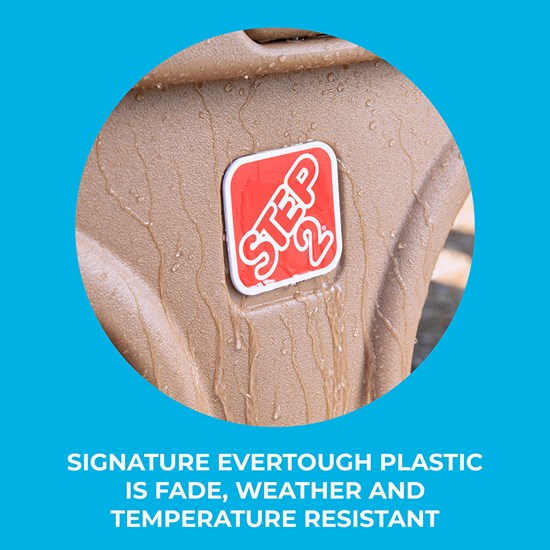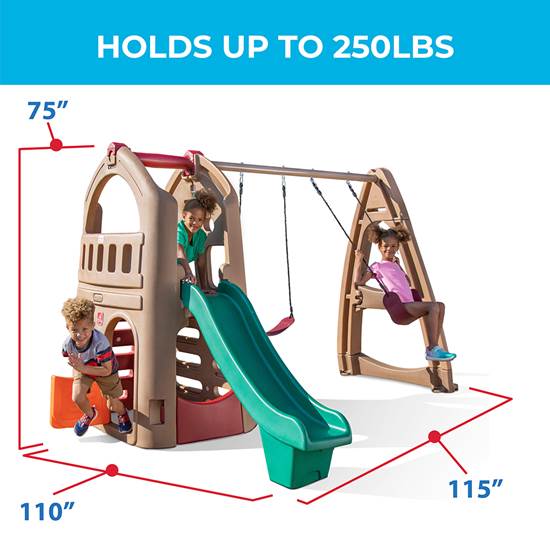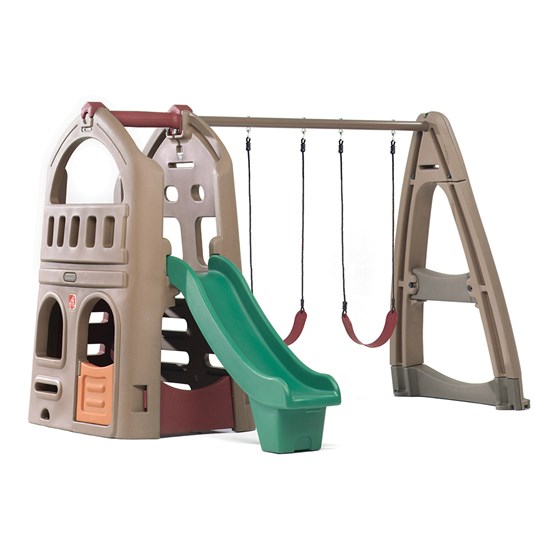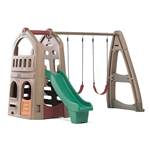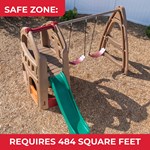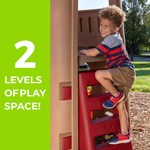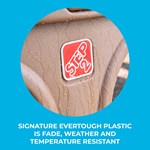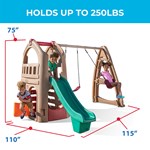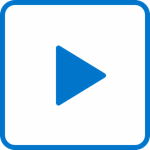 Naturally Playful® Playhouse Climber & Swing Extension
In stock
$704.99 $699.99
+99.99 shipping (via Truck)
Climb, slide, and swing with the Naturally Playful® Playhouse Climber with Swing Extension.
IS THIS A GIFT? DON'T SPOIL THE SURPRISE!
This item ships with an image of the product on its outer packaging.
Rated 5 out of 5
by
Lillikin's Mom
from
Great Toddler Swingset
I purchased this swing set used (5-7yrs old) for my 20 month old daughter. She absolutely loves it (as did the previous owners). Hours of fun. The playhouse and slide are her favorites. The set has held up nicely over the years in Iowa, where we have plenty of rain and snow. The swing "hooks" are rusted, but that's about all of the wear adnd tear I can see along with very minimal fading. Great set for the price for young kids. I agree with previous reviewers that this is a toddler set, not practical for kids older than 5 or 6. The previous owner's youngest is in 1st grade and has outgrown this set.
Date published: 2011-12-05
Rated 1 out of 5
by
Beth
from
Awful Customer Service
I attempted to order a new stabilizer bar after mine was damaged in a storm. I was told that there was absolutely no way I can order a new one. Now my $700 play set is useless.
Date published: 2020-08-17
Rated 5 out of 5
by
Mommy's can build swings too
from
Highly recommend the product!
My little guy has developmental delays, and after 10 days he is already climbing the ladder by himself and holding onto the swing by himself. He is quickly building his upper body strength ... better and faster that his physical therapy sessions.The instructions were easy to follow and it went together quickly. There is one part of the instructions which were a bit unclear. The metal tubes/bars that stabilize the top bar for the swing weren't pictured well (and no description). The lack of clarification only cost about 15-20 min, so it wasn't a big deal. Just be aware, and save yourself a little time.
Date published: 2011-03-22
Rated 5 out of 5
by
Ms Lu
from
WELL WORTH YOUR MONEY!!!!!!! :)
LOVE this swing set I bought it 15yrs ago for my youngest son who is now turning 18y/o. It has been moved 5 times I have loaned it to friends who had grandchildren and then when my grand daughter was born took it to my older son's home and yesterday moved it back to mine. My son and his family are home again and we are expecting a new granddaughter next month and I'm sure she will enjoy it as much as her 5y/o sister has. We have replaced the swing ropes a few times and added the pool for the slide and of course the baby swing but it has all been worth the investment.
Date published: 2014-05-11
Rated 5 out of 5
by
Childcare provider and mommy of 2
from
LOVE, LOVE, LOVE this playset
I am a home childcare provider with 2 children of my own. I put a baby swing on one of the sides to use for my 1 year old daughter and my 6 year old son still has a blast playing on it and swinging on the regular swing. All the kids in my care (ages 2-7) absolutely love this set and have a blast playing with it. It is very sturdy and I feel that the plastic design is a lot safer than the wood sets that require tons of upkeep and always have the threat of splinters.
Date published: 2012-05-30
Rated 5 out of 5
by
Momma C
from
Great purchase!
Our 2 yr old daughter loves this product! After reviewing many other swing sets, we decided on this one for our daughter's second birthday. It was a huge hit at her party! Kids from 2 yrs old to the age of 6 played on it and had a blast. It seems very sturdy & durable. We were afraid of having problems with assembly after reading some of the other reviews, but it only took 2 people about 2 & 1/2 hours to complete it. The instructions are not clear at all, but it isn't hard to figure out on your own. Overall, we are very satisfied with this swing set!!
Date published: 2011-06-02
Rated 5 out of 5
by
ramy
from
5 plus years old and still usable
Bought this second hand for around $300. It was used previously by a family. Though the swing ropes were worn,I was able to get new swings from the parts section of Step2. I also gave it a quick wash using Dawn dish liquid and the set seems to still hold its color and shape. Will last for another 3-4 years. Colorful and lightweight. It can be easily moved locally without taking it apart. Of course a wooden swing set is better for older kids and for heavy play activity. It all depends on what your family needs are. Proper stakes installation is a MUST.
Date published: 2012-05-31
Rated 4 out of 5
by
Mommy of 1
from
Small but a good swing set
My husband and I bought this swing set for our daughter's 2nd birthday. This swing set is very durable,sturdy, and the we love the design. But on the other hand the swing set says its made for ages 3-8 years old, this is not true. We think this swing set will work for 1-5 years old. We should of spent the extra $300 and bought the next swing set that Step2 has online. But for right now our daughter loves this swing set so we are happy right now. My husband and father-in-law assembled this swing set in hour after they watch the instruction video. [...]
Date published: 2011-06-07
Rated 4 out of 5
by
JennStbt
from
Affordable & sturdy. Instructions Bad.
We recently purchased this for our 14 month old son. He loves it so far. The little house/fort underneath is a crowd pleaser with him and our black lab. We purchased a toddler swing to go with it at [...]. It's a nice size. Not huge, but substantial enough that it is sturdy and will give him something to play on until he's 5/6ish. The only thing was the instructions. They aren't the greatest, but it's not that hard to put together. You just have to use some guess work on certain parts. It only took my husband and I about 2 hours to assemble.
Date published: 2011-05-19
Rated 5 out of 5
by
Mom to a Happy Little Guy
from
Overall Great Product!
This swing/playhouse/slide is the perfect combo to have in a playset. My 16 month old son loves it, and it is also something that he will be able to still use in years to come. He enjoys opening and closing the door on the playhouse and hiding in there. This slide is a great size - not too small, but not too big - so he can handle it and the steps by himself. Step 2 has nice, wide durable steps that slant out slightly to make it easy to climb for younger toddlers. We purchased a toddler swing separately - but it is really nice to have the swing extension as part of this set. This is great to have in the back yard, and my son plays with it several times a day (now that it is nice outside). Very handy not having to trek to a park everyday.
Date published: 2011-06-03
Rated 5 out of 5
by
Vero momma
from
Hours of backyard fun
This play set is the second I have purchased. the first was almost ten years ago for my oldest son. the design is the same, though the coloring is a bit different. my first set was dearly loved, used and lasted many years. it even survived two hurricanes, while strapped to our tree... I only replaced the metal fastener that holds the swing arm to the climber...over five years time. I then passed it on to a friend.The brand is reliable and I knew when it came time for out littlest one to have a play/ swing set - we would again buy Step2.
Date published: 2012-03-24
Rated 5 out of 5
by
Bailey
from
Great play set
This was super easy to put together and my daughter just loves it!
Date published: 2017-08-21
Rated 4 out of 5
by
Preston's Mommy
from
Great (once you get it together)!
We recieved this as a gift for Christmas.It came in 2 boxes each with their own instructions.We put the slide/playhouse together first,then half way through the setting up of the swing,we relized we had to take part of the slide assembly back apart to complete.It would have been nice for the slide instructions to have a side note about leaving uncomplete to add swing.Other than that,my 16 month old loves this product(I know it's for older kids,but it is used only under close supervision).For the most part it was easy to put together,& is sturdy enough that I can climb on it too.My son's favorite part is the little play house underneath,it's just the right size to hide in.The colors blend with our yard really well.Overall,this is a great product!!
Date published: 2010-12-29
Rated 5 out of 5
by
Mom to Pip & Mr. S
from
Couldn't love it more!
We purchased this as a birthday gift for our son (1 year) and daughter (3 years). They LOVE it!! They spend HOURS playing together in the clubhouse & taking turns going down the slide. Our daughter can get up onto the swing by herself, but we did have to buy another company's toddler swing for our son. The only thing I wish they would have offered on Step2's website is the option to purchase a toddler swing so that I could have purchased all at the same time. [...] We are very happy with this swingset!
Date published: 2011-04-26
Rated 4 out of 5
by
jenalyn
from
decent overall
There were a few areas that were difficult to assemble. The slide didn't go in very easily as well as part of the pole portion. We also wish there was at least another foot added on the swing portion because it needs just a little more room so child doesn't go into the side. It is a bit boring overall. Swings and slide. We will be adding a sand pit inside the house portion so maybe just a couple more bells and whistles like spinners or something would help but really overall for younger children. Not too bad.
Date published: 2015-03-29
Rated 4 out of 5
by
Anonymous
from
Great set for compact spaces!!
our play area is on the side of our house and it is compact and this set fit nicely with plenty of room. Our son is 5 and daughter is 3 and they can't wait to play on this set. It took a few hours to put together which isn't too bad. We have a playhouse and another climber in this area so I think this will add to the children's playtime and keep them busy. I will agree with others and say the swings are definitely too short. I had to switch to a different one so I could adjust it for our daughter to sit on. Step 2 should re-think these seats and maybe add some chain so they can adjust to allow for more use by a wide range of kids. When driving the stakes into the ground, 2 of them broken in half so I would recommend getting some different ones. Overall very pleased!!
Date published: 2012-04-17
Rated 4 out of 5
by
Kait
from
Love it, had difficulty assembling
Our little guy (almost 2) is thrilled to have this in the back yard. I am pleased with the quality and think it will last a long time. The instructions were not very user friendly and were pictures only. As the climber section puzzle pieces together it was difficult to get the floor in properly. We eventually got it by pushing the sides together toward the top. We also had to drill some holes for the bolts that didn't line up properly. Husband wasn't thrilled to assemble, but it's a hit now.
Date published: 2018-01-04
Rated 5 out of 5
by
Mommy
from
Love it !
This product was perfect for our one and three year old ! They Love it ! It's pretty compact and fit well in our small space . My husband built it in less than two hours .
Date published: 2019-04-15
Rated 5 out of 5
by
Sugarbean22
from
Couldn't be happier!!!
Received this swingset as a gift for my son's 3rd birthday. It has far exceeded my expectations and the boys (3 y/o and 15 mos) LOVE it! I was a bit worried that it was too big for our 15 mo old, but definitely not the case. He climbs to the top of the clubhouse and slides down the slide by himself. We also purchased a toddler swing for him. We have only had the swingset for a few weeks, but it has already resulted in hours and hours of fun and entertainment for the boys.
Date published: 2011-04-17
Rated 5 out of 5
by
Anonymous
from
Exactly what we wanted.
We wanted a small play set that would be durable, sturdy, low-cost, and able to be moved. We got everything we asked for in this product. We got this for our 3-year-old son's birthday party. As far as assembly goes, my husband assembled it by himself in an hour. He never had any issues with anything at all.There have been 7 or 8 small children playing on it at once and they were all having a blast. I have played with my son on it and the swing held me up just fine, I am about 125 lbs.We have only had it about three weeks so I'm not sure how weather-resistant it will be but so far it has held up nicely in the few storms we have had. We live in southern Arkansas so our storms can be pretty powerful and I haven't noticed any issues. I will be looking at step2.com the next time I want to purchase a toy for my children.
Date published: 2011-10-24
Rated 4 out of 5
by
Distructive toddlers
from
Best toy ever!
Best investment! We bought this over 2 years ago and both our 4yr old and 2 yr old enjoy spend all afternoon on it.We bought it in feb so it was difficult to put together bc our hands were too cold to hold the metal pieces:)After 2+ years of being outside it shows minor signs of weathering/aging.The only negative thing is that I wish the play house came with a floor. The grass dies quickly and the kids get really muddy. My husband used extra wood and build one himself.
Date published: 2012-02-25
Rated 4 out of 5
by
jmj29
from
Love it!
This set is perfect for our 2yr old twins. They are able to climb the ladder & go down the slide independently. We did purchase additional toddler swings to use in place of the swings that came with the set. Toddlers would certainly not be able to use the larger swings that are part of the set. We had also read reviews of lengthy assembly times & poor directions, so paid a bit extra to have it assembled for us. The gentleman had it together quickly.
Date published: 2018-05-26
Rated 4 out of 5
by
Betsy
from
"I WUV IT!!!"
My daughter "wuvs" it. I put it together by myself while my daughter took a nap. The worst part was I had a gut feeling to put the bolts for the swings in first & I should have because when I got to that step in the directions I had the pole in upside down. I fixed it rather quickly & was done. Since its almost winter I left it in my garage & it fits perfectly so she can still play all winter long[...]It was a great gift for my 2 yr old.
Date published: 2010-10-27
Rated 5 out of 5
by
Brit
from
Sturdy and great fun for our 3yr old
Covid has been difficult on all of us, especially toddlers that don't understand why they can't visit with their friends for such a long time. My husband and I purchased this swing set to provide our daughter with some outside playtime to help out with the lack of playmates. She loves it and plays on it constantly. It was relatively easy to put together save an issue with which screws went where, but ultimately we are very happy with our purchase
Date published: 2021-03-05
Rated 5 out of 5
by
Anonymous
from
Love this playhouse and swing combination
Ordered this playhouse/swing for my 2 year granddaughter and it is everything and more of what I expected. She absolutely loves it....It's a great size for ages 2 thru 6 years of age....The only thing I would suggest on improvements were the directions....It only showed a picture but no wording. It took a little time to figure out, but I love the fact that most parts snap together with very few bolts. I would definitely suggest it to others.
Date published: 2016-11-07
Rated 4 out of 5
by
toy
from
Love it:)
I bought this for my daughter's first b-day present. So far she loves it !! All the kids kept well occupied during the party on the play set. Despite the instructions being a little difficult to read, I am overly pleased with the product so far. I will see how it holds up in the summer months, since I live in the desert. I did notice that the plastic warms up fairly quick, so I have been putting a blanket over the slide to prevent burning.
Date published: 2010-10-11
Rated 2 out of 5
by
Big Daddy 23
from
AGE???- DRY-ROT!!!
After only having a short time the rope for the swing has broken due to dry-rot!!! The age recommended for this product is really off, it should be 1- 4yrs maybe 5 if the child is smaller!!! My son is a big boy that turns 4 in a few weeks and he has long out grown it but we are keeping it around for my neice who's 1 and a half. While I do like the look and think it's a good product I think it's pricey for the use a kid can get outta it!!!
Date published: 2011-12-30
Rated 4 out of 5
by
Daycarecrazy
from
Slide gets really hot
My husband was able to put this together mainly by himself in a few hours. The set is very sturdy. My preschool kids love it, the only problem is that the slide gets REALLY hot. There have been a few years because they didn't check it before they went down. The other parts of the set do not have this problem. We are in CA so our summers are very hot, but none of my other plastic slides from Step 2 or Little Tikes have had this issue.
Date published: 2019-07-13
Rated 4 out of 5
by
Anonymous
from
Only one trip to [...]
I laughed at the reviews that said it was difficult at first. How could it be difficult I thought. Theres even a video and those guys put it together no problem. Well... It took about 3 hours total and one trip to [...] for 3/8 X 4 inch bolts. There was just no way we could use the 3 and 1/2 inch bolts to assemble the final red piece that fits over the platform. 4 inch worked. This dilemma added about an hour to our build time because we were trying to get the shorter(3 and 1/2 inch) bolts to work. Also i suggest to NOT hammer in the swing extension into the ground until final assembly is complete. There are two bolts that need to be tightened that are about an inch from the ground and it's difficult to do when its already staked into the dirt. Hopefully this swing lasts for my three little kids for at least 4 or 5 years. I am happy with the swing so far.
Date published: 2011-06-16
Rated 5 out of 5
by
happy nana
from
Step 2 Play system
I was purchasing the play system for my grandson for Christmas. First contact with Step 2, they were out of stock. I ordered from several companies, only to cancel because they were out of stock, so there was no Christmas present. I tried Step 2 again and told them my disappointment. Not only did they have them in stock, but got it to my location in 5 days, in time for his birthday. The look on my grandson's face "Priceless."
Date published: 2014-02-01
My swing broke, and I'm looking to replace it. Can I buy a swing seperatly?
We got a standard swing from Lowes. Or even try Home Depot.
Date published: 2021-04-05
Can u switch one of the swings out for a baby swing?  I know some play sets u arnt able to and I'm looking fit one that I can 
Yes you can, we even changed them out with a saucer swing when they got one.
Date published: 2021-02-18
Is this reversible (attach the swing set on the left)?
No
Date published: 2021-02-17
What type of tools/wrenches needed for assembly?  
Socket wrenches, Phillips screw driver, large Allen wrench.  Hammer. 
Date published: 2020-12-28
Are there video instructions for the naturally playful playhouse climber and swing extension
Yes, there are a couple videos online and Step2 also has some on YouTube. I assembled ours with my husband and it was pretty easy. 
Date published: 2020-10-14
Can I replace the swing with a baby swing
Yes you can. Step 2 sells the infant swing that clips closed. That's what we did. We bought 2 of the infant swings and replaced them until our boys got big enough for the regular swings. 
Date published: 2020-08-28
What size are the 2 bolts for the bar that hold the swings?  The dimensions ARE NOT in the instructions. They are labeled as 'L' in the instruction booklet on page 11. 
Thank you for contacting Step2. The pictures of the bolts on the instruction sheet show the actual size. Regards, Step2 Consumer Service
Date published: 2020-08-03
Can I buy the swing set extension separately? 
Thank you for contacting Step2. We do not sell the swing extension separately. Regards, Step2 Consumer Service
Date published: 2020-07-28