Naturally Playful® Sand & Water Activity Center™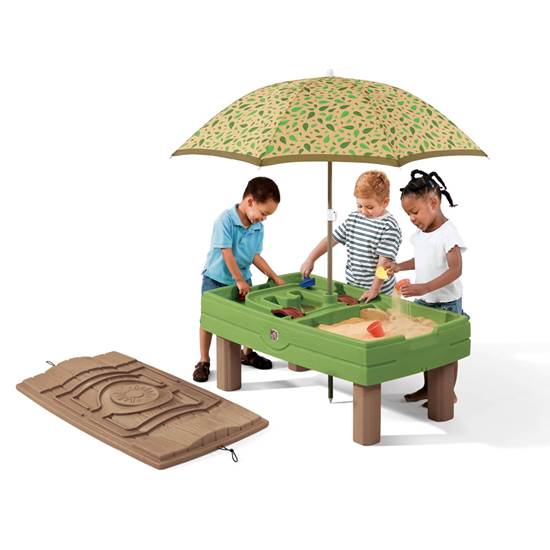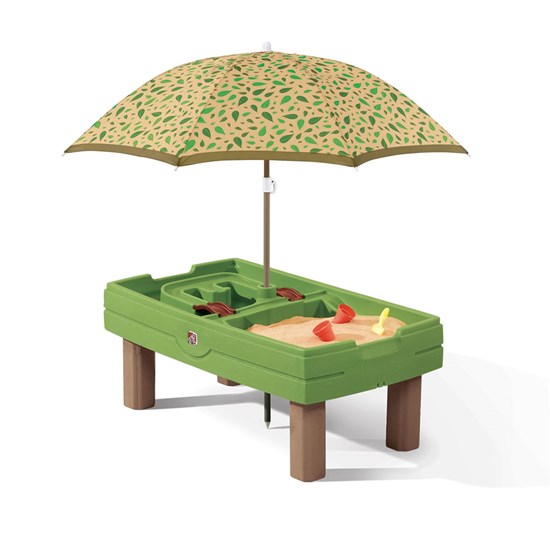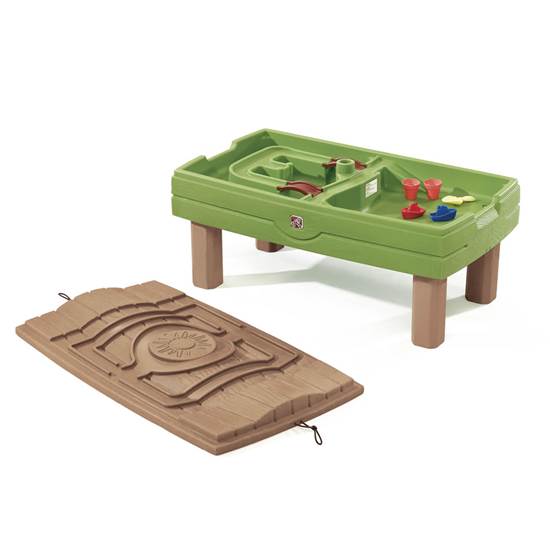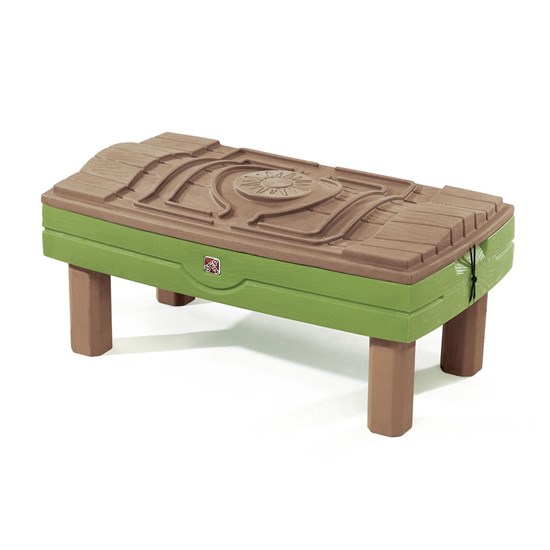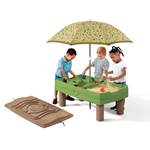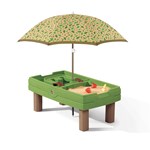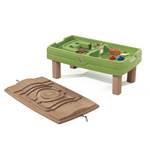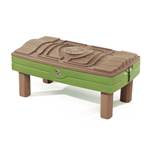 Naturally Playful® Sand & Water Activity Center™
In stock
$89.99 $84.99
+4.99 shipping (via FedEx)
Sand and water sensory play with plenty of shade!
IS THIS A GIFT? DON'T SPOIL THE SURPRISE!
This item ships with an image of the product on its outer packaging.
Rated 5 out of 5
by
Teacher turned stay home mom
from
My Son Loves It
We put the table in our backyard and my husband surrounded it with a bed of river rock, so that he would not have to mow around it. It works great, stays put (with the rock around the legs of it), and my son loves playing in it. We also have 3 neighbors who love to come and play with him. They all range in age from 2 to 4, and they all have a ball! The only issue is that you have to be okay with them putting the sand in the water side and vice versa. It always happens, but they still have a ball. The other thing is, you have to expect wet clothes when they are finished. If my son is not wet, he did not play in the sand and water table.
Date published: 2009-07-20
Rated 4 out of 5
by
Mom of 2yr old
from
My son loves it!
My son loves this table. He has a sandbox so we just fill both sides with water and it helps keep him cool on hot days. The umbrella is helpful for shade - its nice that they thought to include it. He is really into cars and trucks so he mainly uses the "track" and bridges to drive his cars around. The only thing that would make this product better (and give it 5 stars) is more tracks. Oh-and I like the color...it is a pretty shade of green. Even nicer looking than the forest green you see more often. Finally, they are making more toys that are NOT all primary colors. Who wants everything bright red, yellow and blue anyway??
Date published: 2010-08-17
Rated 5 out of 5
by
Anonymous
from
Big Hit!
We asked for this for my son's 3rd birthday from his grandparents. He loves it! We use it only as a sand table, no water. We have a Step 2 water table and we just keep them separate. We tried it with both sand and water once but they got all mixed up right away. We've had lots of play dates and birthday party and all kids love it. Kids from 18 months through 6 years played on it and were entertained for long periods of time. Love the umbrella and how high it goes to accommodate older children. Also love the lid. We cover it every night and that helps preserve everything. Sand is a mess but such fun and glad we bought it!
Date published: 2009-06-21
Rated 5 out of 5
by
Mandy
from
Best out there
We bought this product for my three young children to play with this summer. We already have a sand box so I was looking for something I could fill completely with water. This table is great. All three kids can play on it at the same time and there is no fighting!! When they're done I just pull the plug and then dump out the other side. So my only recommendation would be to add a second plug...but I know that side is supposed to be filled with sand so the lack of a plug is understandable. All the toys and the umbrella fit back inside for storage. We own many step 2 products and love every one of them. They're the only outdoor toys I'll buy anymore!
Date published: 2008-05-22
Rated 5 out of 5
by
witchykitty39
from
All of my kids love it
I have four daughters who range from ages three to eight and all four love to play with this sand and water table. It is excellent sensory play.
Date published: 2019-07-06
Rated 5 out of 5
by
Anonymous
from
tan sand and water table
So far has been a good product. I have only owned for a few weeks. We have had several thunderstorms and the sand table stayed dry and and didn't get blown by the wind. I did order than tan one instead of the green one. I am glad that step 2 direct gives this option. I personally feel the tan colors blends in better with our deck and our older step 2 play set. We have only used the sand side so far. When it gets warmer out I will add water to the water side. My 20 month old son enjoys playing with it. I like that the umbrella provides shade I just have to position my son so that he is under the shaded part. I store the umbrella inside when we are not using it.
Date published: 2010-04-09
Rated 5 out of 5
by
Lanie25
from
Fun Outdoor Toy!
My 15 month old son looks forward to playing with his sand/water table any time we go outside. He seems to prefer the water side more, and ends up soaking wet from all the splashing fun he has :o) This toy can get messy when sand and water mix, but in my opinion part of play involves learning about different textures, even if things get messy! I love that the cover fits onto the table so tightly- I never have to worry about critters/bugs getting inside. The umbrella is great for shade too- I placed an old flower pot with sand in it under the table, so that when we place the umbrella in the table it has a more sturdy base.
Date published: 2009-05-01
Rated 5 out of 5
by
Mama to a Kooky Gal
from
Perfect -for lots of ages
We bought this for our daughter when she was 16 months old and she's just turned 3. This is a wonderful toy that grows with the child and really can entertain kids of a variety of ages. We have playdates with kids ranging from 1 year old to 4 years old and they can all stand around and play.When she was little she would splash in the water and pour sand into various containers. But it's fun for the new walkers to stand and play.Now that she's 3 she can spend hours "baking" and mixing concoctions and being creative. We did have to give up on having it being half water/half sand. Instead we just keep it filled with sand and she plays with water in a water table.
Date published: 2008-04-10
How much sand will I need for this product?
My husband filled it with 3 bags of kinetic sand but the bags were not very big and could have used more. Playground sand in a 60 lb bag would be fine. 
Date published: 2020-04-22
Does this prduct contain any latex materials? Asking due to allergy.
Not that I am aware of. It is all hard durable plastic. The umbrella may contain latex not aware of what it is made of. We have shade so never used umbrella.
Date published: 2020-01-13
How do you get the part G3 to fit in the hole underneath? The opening is too small to be able to thread it on! How frustrating!
Please contact our Consumer Service Specialists at 1-800-347-8372 Monday through Friday, 8AM -5PM Eastern Standard Time and we will be happy to help you.
Date published: 2019-08-05
I can't get the drain plug to tighten up enough to keep the water from leaking out of the water side. How do I fix this? 
We had the exact same issue. The plug that came with the table (hard plastic with rubber washer) won't work. We had to contact them to send a different plug (all rubber). Once we received the all rubber plug, we had to use some vaseline and elbow grease to get it into the drain hole so that it was a snug fit. Once it got into the drain hole, we no longer had issues with water leaking.
Date published: 2019-07-04
Are the bridges in the water side permanent structures, or can they be added and removed? We'd like to have 2 sides to just use with sand (no bridges) so each of our kids can have a side to play with. Thanks!
The bridges of the Naturally Playful® Sand & Water Activity Center™ are not a permanent fixture and may be added and removed.
Date published: 2019-06-28
How do you stop the leak ?
Please contact our Consumer Specialist Staff at 1-800-347-8372, Monday through Friday, 8am-5PM Eastern Standard Time for assistance.
Date published: 2019-06-14
Does this water table have a Prop 65 warning associated with it?
Our products contain no chemicals regarding prop 65 but regardless in order to sell in California we must place the prop 65 label on the product. If you should have more questions please contact our Consumer Specialist Staff at 1-800-347-8372, Monday through Friday, 8am-5PM Eastern Standard Time for assistance
Date published: 2019-08-05
What is the height from ground to top when assembled? Confused by the given dimensions under "Details". Need to make sure it isn't too tall for my 15 month old grand daughter. Thanks!
The basin of the Naturally Playful® Sand & Water Activity Center™ is approximately 18 inches from the ground.
Date published: 2019-03-11