Naturally Playful® Sandbox™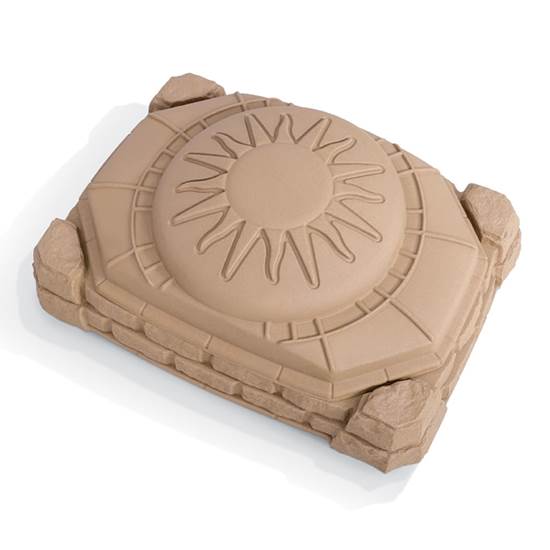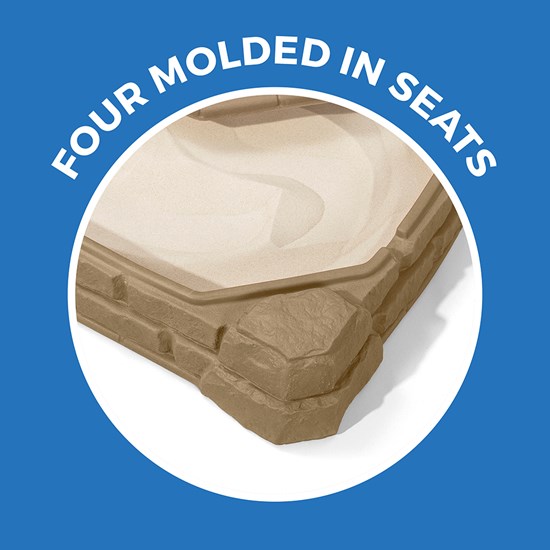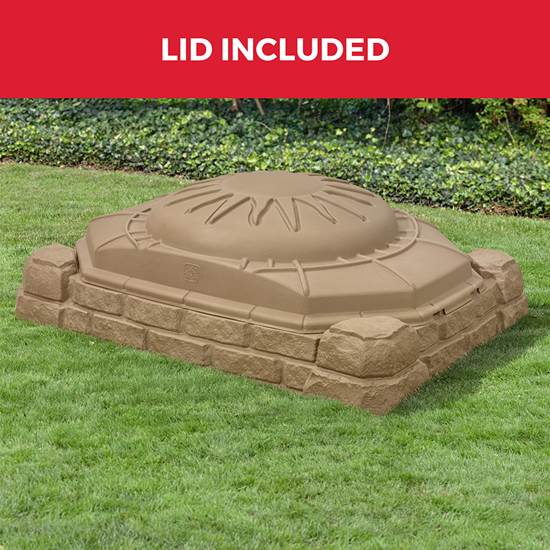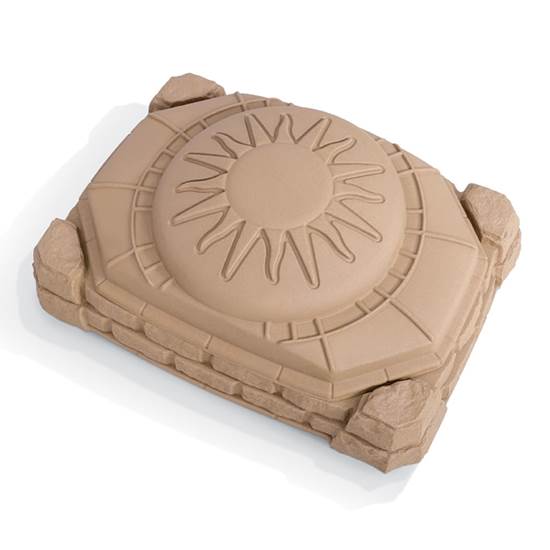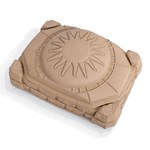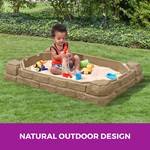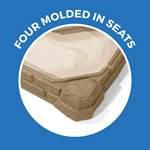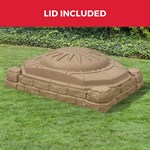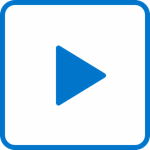 Naturally Playful® Sandbox™
In stock
$119.99
+59.99 shipping (via FedEx)
The Step2 Naturally Playful Sandbox is an attractive and durable sandbox that combines outdoor textures and natural colors to blend in with any backyard.
IS THIS A GIFT? DON'T SPOIL THE SURPRISE!
This item ships with an image of the product on its outer packaging.
Rated 1 out of 5
by
Tosha
from
Would give a NEGATIVE STAR if I could!!
We have loved every Step2 product we have ever purchased or gotten as a gift. This product is a HUGE DISSAPOINTMENT! The lid does NOT keep out the rain. Ruined the Sandtastik White Sandbox Sand we purchased as a result. What a waste.
Date published: 2018-02-12
Rated 1 out of 5
by
Holley
from
Fills up with water even when lid is on
I bought this sand box for my daughter's 1st b-day last summer. I was very excited about having something for her to play with in our yard. It looks nice and has the corner seats and cover is why I choose this sand box. But the first time it rained it filled with water, and then the water and heat made green slime grow in it. You can not let your child play in that mess. So I had to pour bleach in it to kill all the algie or mold.It stayed full of water all winter and free of the algie or mold but I can't let my daughter play in it now because the sand is wet and still has bleach in it. Even if the water evaporated the sand might bleach my daughter's clothes. I am trying to contact the Step 2 company to get a new cover or find a way to resolve this problem.My hope is they have improved the lid and will send me one that won't leak or replace the sand box completely with another model that won't collect water or refund my money. This is not a cheep product when you spend this much for a sand box you expect to have it for years of use not a week and then when it rains and you have a big sand pool.
Date published: 2010-02-21
Rated 4 out of 5
by
Anonymous
from
Loads of fun - and looks great
We LOVE this sandbox. It blends in well - and I love that it matches our sand and water table. I think the neutral colour will hide any fading much better than the brightly coloured ones that seem to fade so quickly. It's a pretty good size, though it seemed much bigger in the store! I love the little corner seats. It has been a big hit for us - my four year old plays with it all the time. If only I could figure out how to keep the sand off my floors!The only complaint I have is that the lid design holds water in the design, and it drips into the sandbox when the lid comes off.
Date published: 2008-04-15
Rated 4 out of 5
by
Ms. T
from
Love this sandbox!
I am the director of a Daycare/Preschool and we have this sandbox on our Infant and Toddler playground. The children love it! Unfortunately, someone jumped our fence and jumped our fence and landed on the lid and it cracked in several places. We are looking to replace the lid because the sandbox is used daily and loved by all.
Date published: 2016-07-19
Rated 1 out of 5
by
Not happy in Georgia
from
Bad product, bad experience
I purchased this sandbox because of the size - more room for my boys to play than others - and the good reviews I saw online. Unfortunately, I have been 100% disappointed with this product.1) The "sun" design in the top of the box has grooves that are about 1/2 inch deep. They constantly collect water when it rains, leaving standing water - creating a perfect condition for mosquitoes to breed all summer long. Unless I lift the lid and pour out the water every day, there is - literally - mosquito larvae in it. In addition to being a nuicance, this is a health concern (west nile)!!!2) The four corners are designed for a child to sit on and play. When I rested on the corner to help my child (I weigh 120 lbs.), the corner collapsed. While I understand it's not designed for adults to sit on, be careful, or your sandbox will quickly get ruined.3) After only a few weeks of owning the item, the lid has become warped and does not seem to fit securly on the sandbox anymore.4) When I called Step 2 to express my disatisfaction with their product they stated there was nothing they could do, and told me they would SELL me a box if I wanted to try to return it to the store from which it came.The majority of these issues are design issues. I wish I had purchased the "crabbie" sandbox instead. I am now out $$$ for the "naturally playful" sandbox and left with a *very* bad impression of Step 2 based on my customer service experience.
Date published: 2008-05-01
Rated 5 out of 5
by
Jessa36
from
Pool and sandbox
Plastic pools are hard to come by since COVID-19. While it's hot outside I'll continue to fill it with water and have a sturdy kiddie pool. Yes you have to bail out the water and then tip the rest out (no plug: but that's a small price to pay, compared to a $45 kiddie inflatable pool that I old got to use for one month.) Once it gets cooler, I'll buy 6-7 large bags of play sand and transition it for that purpose. I love the neutral beige color...it's hardly noticeable in our back patio.
Date published: 2020-08-01
Rated 2 out of 5
by
JB11
from
Pass on this box
This sandbox is ok, but my main complaint is that the corners, which I presume are meant to be seats, are very lumpy and uneven. I believe they are supposed to look rock-like, but they hurt to sit on. Also, the lid blows off easily and collects rain.
Date published: 2019-06-30
Rated 5 out of 5
by
Buppa
from
As advertised
My grandson is king of the hill. Sturdy and critter safe.
Date published: 2019-06-12
Rated 5 out of 5
by
CU
from
Excellent Sandbox
My kids love this sandbox, they spend hours playing with trucks, cars, trains, etc. I'd give it more stars if I could. It's VERY sturdy. We are so happy with the function and design. They can sit on the little cornerstone seats as well use that as a staging area for battles, cars, characters, etc. The cover is great - the sand is always dry. I like that I can put mountains of trucks and diggers in and close the domed lid. A perfect product!
Date published: 2011-09-09
Rated 1 out of 5
by
Anonymous
from
Poor quality for a step2 product
First let me say, I love step 2 products, we have numerous ones, ride in cars, a kitchen, slides, climbers, and now this sandbox. I have loved all the products and not had a problem until now. I purchased this sandbox at the end of last summer for my kids and didn't get to use it since I bought it end of season. Unfortuately all winter the lid blew off, the sand got soaked even when the lid was on due to all the holes. By the end of winter there were holes all over the lid, it is very flimsy and not only won't stay on but apparently can't withstand the weather itself. When summer finally came, my kids had fun playing in the sand box, but the sand is always soaked due to the cover being blown off and all the holes in it. I wrote to step 2 a few months ago about this problem asking if I could get a new lid, and never heard back from them, so apparently customer service is not so good. All my other step2 products were so easy to put together unlike little tikes similar products, and they always have been sturdy. Now this sandbox itself is great, very large and looks great, my kids enjoy playing in it, but the lid is just horrible. My 1 yo tried to climb on it one day(when it actually stayed on the snadbox) and it colapsed in. I was able to pop it back out, but it really is useless. It is unfortunate because the sandbox itself is so great, but I may have to buy another sandbox with a sturdier lid for next year now. I would not recommend this sandbox due to the lid.
Date published: 2009-08-29
Rated 5 out of 5
by
Kat12
from
Great sandbox and large enough for two!
Purchased this for our backyard so our two young grandsons would have something to occupy them whenever they visit. It is sturdy and well made and easily accommodates a 5 and 2 year old.
Date published: 2020-08-04
Rated 4 out of 5
by
Red
from
Good product
The sand box is a great item it could be a bit bigger but other than that it is great. My 2-year old loves it. They sit on the corner's of the box and put their feet in so the can have more space. I also sit and play in it with her. It blends in great with the slide, table, cottage house and swing set. I would recommend this item. I have had the sand box for a year now and it is still in good condition.
Date published: 2008-04-24
Rated 5 out of 5
by
Happy Nana
from
Best 2 year old Birthday present ever
I ordered this sandbox and had it shipped to my Grandson for his 2nd Birthday. It arrived in only 2days (they said it would take between 2-7 days:). My daughter said it was a super easy set-up, and our sweet 2 year old plays in his sandbox EVERY day!! YAY!!!! Love the size, design, and the secure lid to keep it clean when not in use! I will be recommending this!!! Thank you!
Date published: 2020-05-25
Rated 3 out of 5
by
Rain72
from
TOP not completely sealed due to finger holes.
Not having top completley sealed allows bugs to enter sandbox. Otherwise it would be 5 stars. It's beautiful. I bought this same sandbox without holes 15 years ago and it didn't have an issue with bugs unlike this one. I added cinnamon to sand as a deterrent. And tried to seal finger holes with child proofing furniture edge. :/
Date published: 2020-08-01
Rated 5 out of 5
by
Mom to 2 boys
from
Great Toy!
Bought this for our older son 6 yrs ago and it is still in use and in great shape! Our younger child who is four has taken it over. Shows very little wear and has been outside for the past six years. Top has never come off....even during theterrible storms we get here in TN. One of the best toys we have ever purchased!
Date published: 2009-05-10
Rated 5 out of 5
by
avasmommy
from
Perfect Addition
Beautiful design. I am in love with the whole Naturally Playful collection. The sun is in most of the units and coordinates everything and makes the whole collection seem "rich." Although, these items are priced very well! The box is perfect for my daughter and a friend, or her dog, hopefully not the cat!
Date published: 2008-06-06
Rated 4 out of 5
by
Anonymous
from
Great Sandbox
My Mom actually owns this sandbox and got it second-hand. Not sure how long the previous owners had it but it still looks brand-new. My son loves to play in it when he goes to Grandma's house. The only complaint is the center of the sun on the cover is now depressed and collects water when it rains.
Date published: 2013-08-05
Rated 5 out of 5
by
Anonymous
from
My son's favorite toy
My son received this for his 1st birthday. It was an instant hit. It is still his favorite toy. It is very durable. The cover always stays on through the worst weather including microburst thunderstorms, nearby lightening strikes, nor'easter storms and several feet of snow. This is a great product.
Date published: 2007-04-21
Rated 4 out of 5
by
Lyny
from
Love it
My son of 2 was so excited when he got this as b-day present. I filled it with colored balls for now and he loves to sit in it between all these balls and play. Need to find a day to go to the beach to get some sand :-) I'm sure he will loves it even more then.
Date published: 2009-10-19
Rated 5 out of 5
by
Gary
from
It does what it's supposed to.
I'm very pleased with the Naturally Playful sandbox. I was a little worried about some of the negative comments about water getting in and the lid flying off, but none of those things are happening with mine. We've had some severe weather too.
Date published: 2020-05-25
Rated 5 out of 5
by
MDPE0605
from
Perfect!
Great product. It does look smaller than it is. Plenty of room for two 3 year old's to play in. Let me save you the math, (6) 50lb bags of play sand from your local lumber mega mart will fill this just about 3/4 full, maybe a little more.
Date published: 2009-08-24
Rated 5 out of 5
by
Kendra J
from
Great backyard box
Great sandbox! I love that it has a lid and is made of plastic. It's a perfect size for my almost 4 year old. I'd say it's a good size for 2 little kids or one older, but it's not much bigger than that. Works great for what we needed!
Date published: 2020-07-27
Rated 4 out of 5
by
Anonymous
from
My son loves this sandbox!!!!
My son love this sandbox, and spends hours playing with his sand toys in it. It's VERY sturdy and we are so happy with the function and design. The cover is great - the sand is always dry, which is a change from other sandboxes!
Date published: 2012-07-05
Rated 5 out of 5
by
DC51
from
Sandbox
My opinion is based on one that my granddaughters have had for several years. It is still in great shape. It is big and sturdy. I am hoping the one I just purchased for my grandson will prove to be of the same quality.
Date published: 2020-05-25
Rated 5 out of 5
by
Fidget
from
Kids Love it
My son plays with this all the time. It fits nicely on our back deck and we have had it for a year now. My only issue is we can't find it in a store local to us so we can buy another one for my parents' house.
Date published: 2008-07-04
Rated 4 out of 5
by
Niki
from
Looks nice and keeps sand dry
This is a good sized sandbox which looks nice. Lid fits nice and snug and both my children love playing in this together or alone. Hours of fun with little effort, the simple things in life are the best!!
Date published: 2007-10-27
Rated 5 out of 5
by
Anonymous
from
i would buy this product again!
great! Have 2 kids and plenty of room and they can even have a friend in with them too! Love it. Blends great into the backyard decor... plus it matches the picnic table and playhouse we got from step 2!
Date published: 2010-04-13
Rated 5 out of 5
by
Cherie
from
Good investment
I am very pleased with this sandbox; it is sturdy and the cover fits well. Roomy enough for grandkids to play together. Perfect color and size to be used as a planter after they outgrow it.
Date published: 2020-07-29
Rated 5 out of 5
by
Mary
from
Naturally Playful sandbox
I absolutely LOVE our new Naturally Playful sandbox from Step2. My favorite feature is that it comes with a lid, which keeps out the rain, and leaves, which keeps the sand clean longer.
Date published: 2020-07-22
Rated 4 out of 5
by
Jan S.
from
Naturally Playful Sandbox is just that!
We have had the sandbox for only a couple of weeks & have gotten numerous compliments from other parents. It is attractive & blends into the backyard nicely.
Date published: 2007-06-13
Can this be used as a swimming pool
Yes, we use it as a swimming pool. 
Date published: 2020-07-14
How much sand do you need to purchase?
You need 4 50 pound bags.
Date published: 2020-07-04
Can I purchase another cover separately? 
Our Customer Service Department would love to chat with you further about your question. Please call us at 1-800-347-8372 Monday - Friday, from 9-3 ET and we will be happy to assist you further with this request.
Date published: 2020-06-16
What is the difference between natural sandbox and natural sandbox II? I noticed a few inches on the dimensions, is that it? 
The base of the Naturally Playful Sandbox is one piece, while the Naturally Playful Sandbox II base has eight pieces.
Date published: 2020-04-09
I'm asking if it's open or closed? For example, if you remove the lid could you stack them like you can stack cups or bowls? If you poked a hole in the top of one of the rock facade corners and inserted a hose would it fill
Please contact our Consumer Service Specialists at 1-800-347-8372 Monday through Friday, 8AM -5PM Eastern Standard Time and we will be happy to help you.
Date published: 2019-11-08
Is it sealed underneath or open and hollow? I assume it's hollow
The Naturally Playful Sandbox™ has a solid plastic bottom.
Date published: 2020-03-12
is a replacement cover available to purchase?
Unfortunately, we are unable to offer the lid separately from the Naturally Playful® Sandbox™ as this is manufactured in a set.
Date published: 2019-09-26
In the description for Naturally Playful Sandbox (not version II), it says "fully assembled." Do you mean that you have put all pieces together prior to shipping OR do you mean it is two large pieces - with no screws required? Just a bottom and lid?
The Naturally Playful® Sandbox™ arrives in two separate pieces and does not require assembly.
Date published: 2019-09-03