Naturally Playful® Summertime Play Center™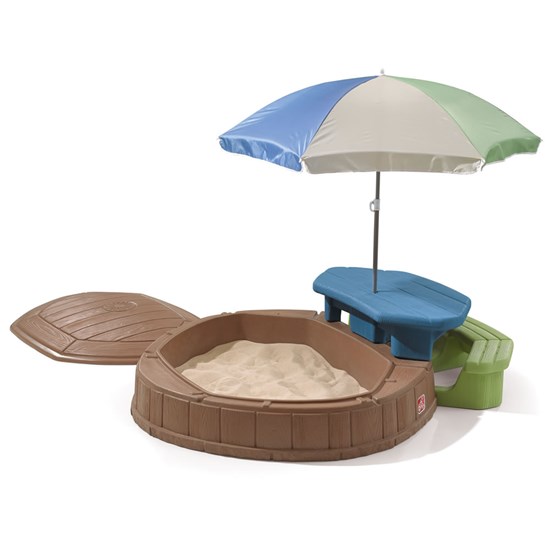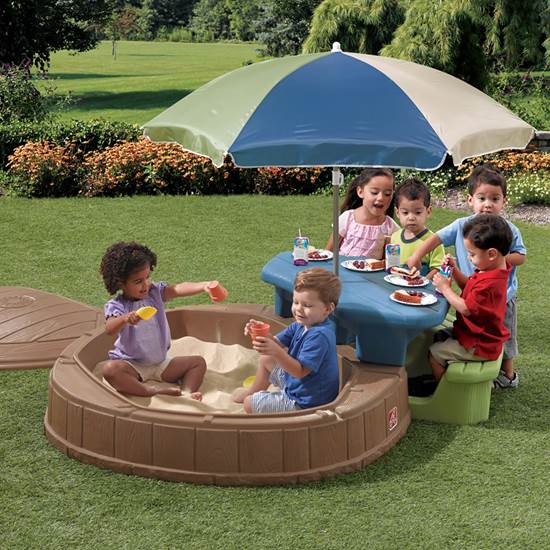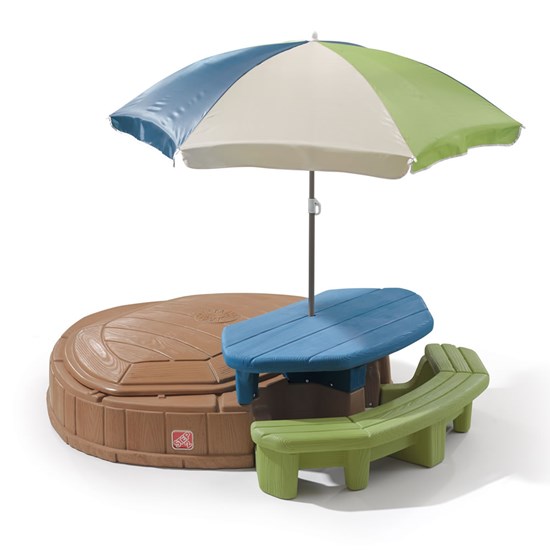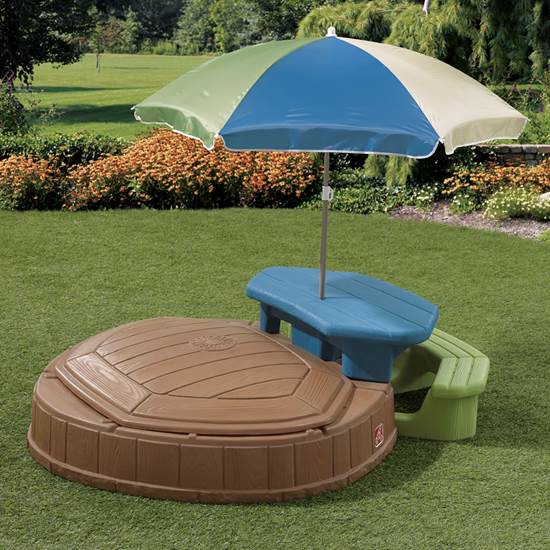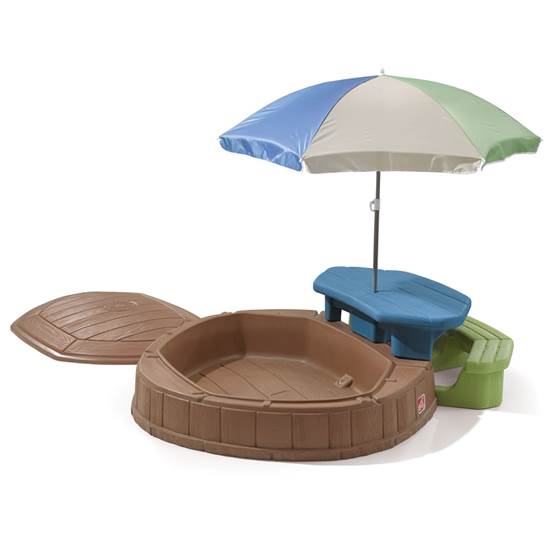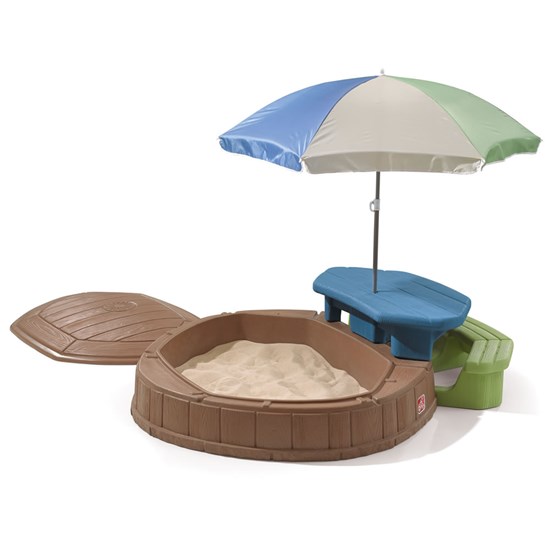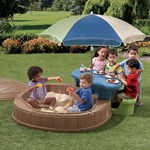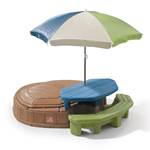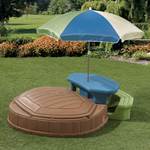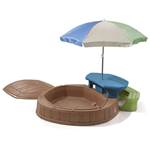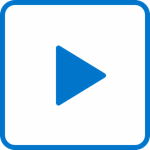 Naturally Playful® Summertime Play Center™
In stock
$309.99 $304.99
+$69.99 shipping (via Truck)
IS THIS A GIFT? DON'T SPOIL THE SURPRISE!
This item ships with an image of the product on its outer packaging.
Rated 5 out of 5
by
Pinky's Mom
from
Yes, I purchased a winner!
We love the Play Center Sandbox. The umbrella and bench/table combo is wonderful. My daughter (2 1/2 years old) loves to make sand castles along the table top and the umbrella makes the shade priceless. She loves to sweep off the table with a little outdoor brush that we purchased. Even after a thunderstorm, the cover has not blown off nor has water leaked into the sand. The umbella detaches easily when the wind picks up. The plastic is sturdy even when mom comes to play and the natural color does not clash in the backyard. I only used three 50 lb bags of sand so far which is plenty for a toddler. We are very happy with this purchase.This is our third Step 2 purchase.
Date published: 2007-07-12
Rated 4 out of 5
by
Anonymous
from
Better Pool than Sandbox!
I decided I did not want an actual sandbox because then you have sand covered children. We opt to use this as a great little kids pool and lunch table.My favorite things about it are:-it's just the right depth for water for small children-the optional umbrella provides some sun protection-it drains quickly-having the table up top makes for a great surface to conduct "scientific water experiments" while playing in the water-the attached table also means they can eat while playing in the pool or come out and take a break.My Least Favorite things are:-The included umbrella will almost certainly have to be replaced each year. It can't withstand much wind.-The picnic table part becomes a fantastic place for spiders to hide so you need to be dilligent about checking it and cleaning them out.
Date published: 2012-03-19
Rated 3 out of 5
by
Anonymous
from
Was great for a year
Probably one of the most attractive smaller-sized sandboxes out there. The picnic table attached to it makes it very unique. The BIG problem with it is the flimsy cover-- it barely fits correctly when it's new...as soon as the wind has flung it off a few times, or your toddler has stood on it (which he/she will!) it becomes warped/crushed and never fits again... allowing water and critters to enter. The umbrella is also incredibly cheap and will need to be replaced but it's adorable even without it. The quality issues are surprising given how well made the rest of this sandbox... and all of the other Step 2 pieces we've purchased are. Step 2: redsign the cover and you've got a winner.
Date published: 2012-05-21
Rated 2 out of 5
by
Anonymous
from
Could have been great but was not!
Bought this for an Easter gift for my kids and when we opened it, the cover was warped and terribly flimsy. Then upon inspection of the sandbox we noticed that the sandbox was bent as well. This would have been a great product if the cover was as sturdy as the other naturally playful items or if it has bungies to secure the cover on. Took it back and the store manager opened three others and they all had the same problems so we ended up with just the regular naturally playful sandbox which had a much sturdier design for half the price. I was really bummed as this product could have been great!
Date published: 2012-04-08
Rated 5 out of 5
by
Lori the Busy Mom
from
Hours of fun and a place for a snack too
We've had this product for one year, and it looks as good and is just as entertaining now as it was then. There's plenty of room for 2 pre-school children to play in the sandbox. And when they get hungry and thirsty, I can put their snacks and drinks on the picnic table. My 5 year old still fits comfortably on the picnic bench, but it's still easy enough for my petite 3 year old to sit, too. I am so glad we have this!
Date published: 2007-05-15
Rated 2 out of 5
by
Anonymous
from
Not good if used for a sandbox!
We have had this for over 5 years and yes the base, table and umbrella have stood up well. The problem is the lid! It is so flimsy no matter how you hold it down (we used bungees) water gets in. If you do not secure it down it goes airborne very easily! We have had to empty it yearly but now the lid seems permenantly inverted. Also the bench is only good for small children ages 4 or under after that they will be too big to sit at the table.
Date published: 2012-07-07
Rated 5 out of 5
by
Mor Mor
from
The best gift for a 2yr.oldMom can sit and relax.
This sandbox was bought for my grandaughter for her second birthday.We had so much use with this great play center.Every child loves a sand box.My gand daughter turned 10 she ha d out grown the box.Still in excellent condition I was able to give it to a neighbor.Twelve yrs. old and still being used .We never had trouble with lid coming off always dry even after 12 yrs.If it was very windy we did use a bungie cord but that was not very often.Excellent purchase and I recommend this for any mom who would like to relax and watch her child play and be happy.I have no photo but have many memories of the good times of our sandbox.I found that children who did not have a sandbox even if they might be older they always went to the sandbox.
Date published: 2020-05-09
Rated 2 out of 5
by
Anonymous
from
Cute sandbox and table but CHEAP lid
Bought this for my year and a half old. The product is cute but the lid is VERY CHEAP, does not attach on correctly, and will not hold up with a breeze or rain. I think the product is extremely overpriced for this one flaw.
Date published: 2015-12-06
How much is a lid for it ?
It comes with the lid! 
Date published: 2021-07-18
Is there a way to just order the lid?
Unfortunately, we do not offer the lid separately from the Naturally Playful® Summertime Play Center™.
Date published: 2020-08-24
Can it be used as a pool instead of a sandbox?
I think you could use it as a pool emptying it would be a challenge. Lol ..get a bucket. Love this sandbox sturdy and cute.
Date published: 2020-06-25
Is this sandbox same measurements as naturally playful sandbox with lid?
The sandbox has the same sand capacity as the Naturally Playful Sandbox (both can hold up to 200 lbs of sand) but the dimensions are different.
Date published: 2020-06-16
Do you sell the plugs for the sandbox !
I had the same issues! I bought it used and i needed one. Order a sink plug 1" off amazon or go to Lowe's or Home Depot! Works like a charm!!
Date published: 2020-06-14
Does this sand box have a specific surface in the manual that it needs to be placed on? 
Please contact our Consumer Service Specialists at 1-800-347-8372 Monday through Friday, 8AM -5PM Eastern Standard Time and we will be happy to help you.
Date published: 2019-08-20
Can I purchase replacement plants for this set we lost the lid and umbrella last year due to hurricane Irma.  Thank you 
Unfortunately, we are not able to offer the lid separately from the Naturally Playful® Summertime Play Center™. We do however have the 60" umbrella., Please contact our Consumer Specialist Staff at 1-800-347-8372, Monday through Friday, 8am-5PM Eastern Standard Time for assistance.
Date published: 2020-05-11
How tall is the umbrella?
The umbrella for the Naturally Playful® Summertime Play Center™ is approximately 70 inches in height.
Date published: 2018-07-18