Naturally Playful® Summertime Play Center™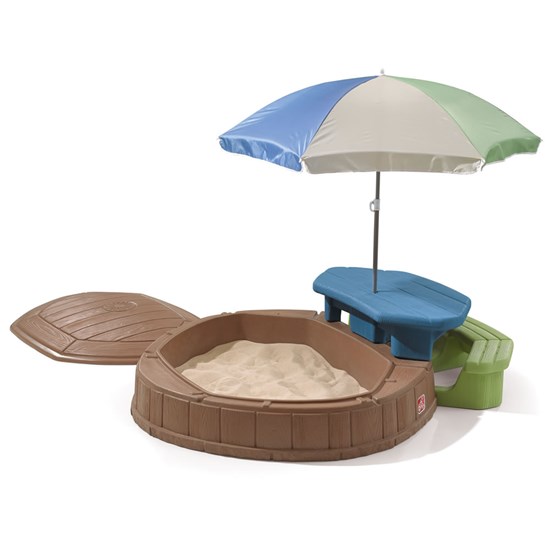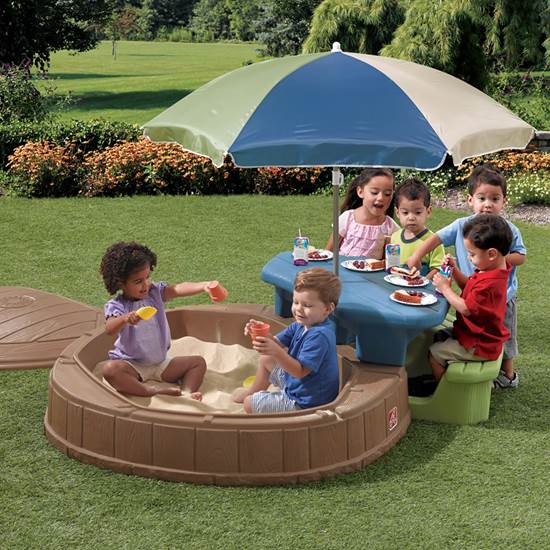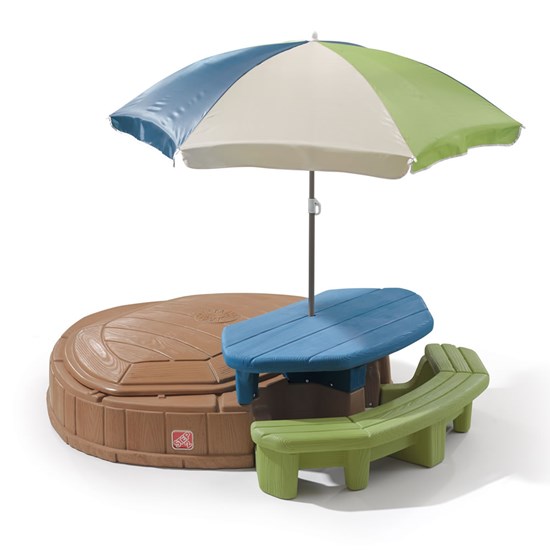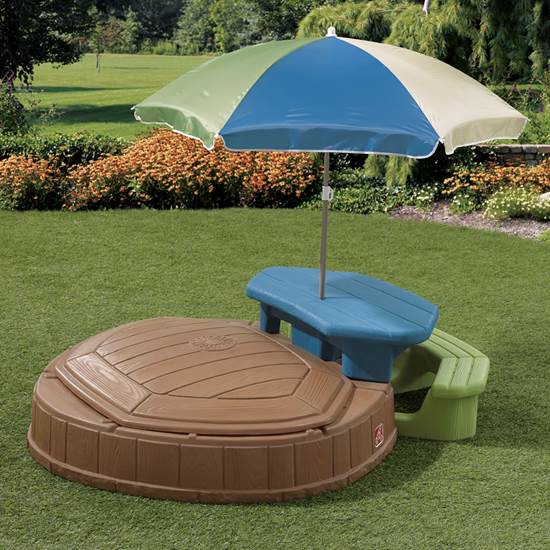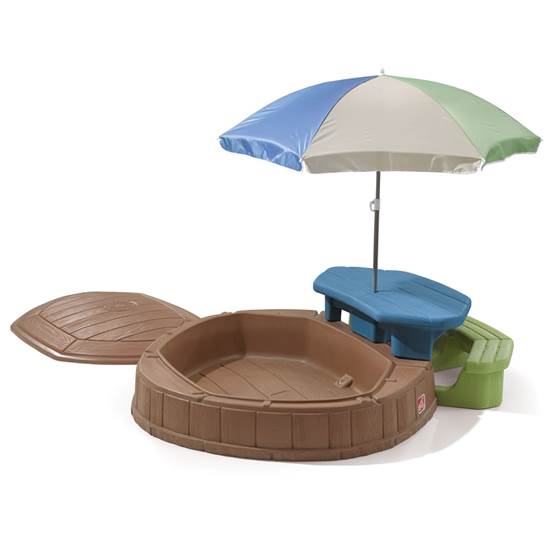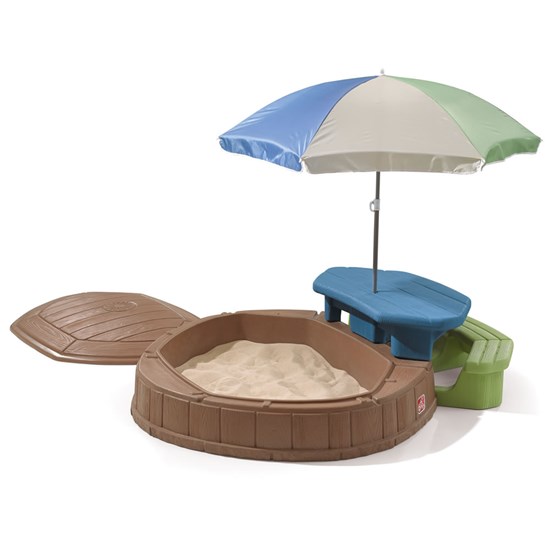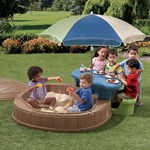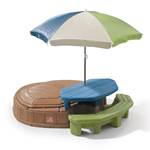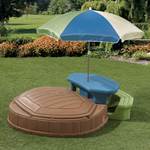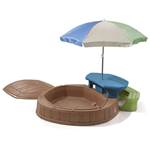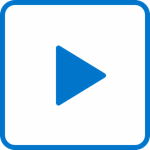 Naturally Playful® Summertime Play Center™
In stock
$304.99 $299.99
+69.99 shipping (via Truck)
IS THIS A GIFT? DON'T SPOIL THE SURPRISE!
This item ships with an image of the product on its outer packaging.
Rated 3 out of 5
by
awall
from
Looks like fun but have concerns......
Overall this seems like a good product even though I am a bit concerned about how durable the plastic will be with kids sitting on the sandbox edges. I really like the combo of the table & sandbox and the umbrella is a great idea. The colors are very pleasant & blend into the yard very well.I am a bit perplexed by a two things though. First, the lid seems like an afterthought. It just seems to rest on top of the base & doesn't really fit the contours of the base. Secondly, there are 3 holes around the perimeter of the sandbox base that do not appear in the pictures. They do not appear to have any function & seem like they will just collect debris & harbor insects. I think we will need to add our own caps to these holes.I'd see about other comparable options before recommending to anyone.
Date published: 2009-07-12
Rated 5 out of 5
by
mrsdu
from
It's a must-have
my kids absolutely needed this! They always want to play in the sand and the sandbox we had before didnt have a top and was so hot as we live in the south but this one is awesome! They can play in the shade and be able to have something close by to put their drinks on and a place to eat when its time bc they ususally dont like to leave the sandbox plus i can cover it to a make sure it doesnt get anything in it or get too hot plus put the umbrella down to prevent damage
Date published: 2019-09-13
Rated 2 out of 5
by
Kenneth
from
Good, but delivered damaged
Play Center is nice and daughter likes it, but sandbox came delivered with a dent in the side that won't bend back. Contacted step2 and all they said was to use a hair drier to try and bend it back. Not happy that brand new product came damaged and customer services first response was to try and fix it myself; very disappointing.
Date published: 2020-05-26
Rated 4 out of 5
by
PapaGrammy
from
Improve upon the sandbox cover
The only complaint I have about this product is the sandbox cover. It is virtually useless. Without modifications to hold the cover in place, rain, debris, and animals will have no trouble finding a way in. The cover should snap on or slide onto a track so that it fits snuggly. This does not live up to the Step2 reputation.
Date published: 2014-07-29
Rated 5 out of 5
by
Anonymous
from
Awesome!
This is an awesome set! I purchased this when my daughter was one and a half...2 years ago. Ours is a slightly different color combo...the table part and umbrella are burgundy/red. It has held up beautifully and has been outside constantly, even in winter. There is no fading and nothing has cracked or been damaged! The bolts havn't even rusted! Four kids can sit at the table, and it rinses off easily after messy projects and lunches. We use the sandbox as a pool though...and it's awesome because of the drain and the hard plastic cover. Truthfully, I let it drain partially and then pick it up from the side and dump it...it's really easy to clean with Lysol and rinse in this position! We use a 20 ft long "Python" hose set (supposed to be for fish tanks)to fill the pool from the kitchen sink with hot water, so even if it was cooler out last summer it was like a hottub for my daughter! She frequently even took a bath for the night in it too! Can't say enough good things about this!
Date published: 2009-03-30
Rated 4 out of 5
by
Dyane
from
Great play center
This is a great play center we used it with sand but you could us it as a pool as there is a drain plug. The only thing I didnt like about this was that the lid was very thin and buckled alittle. They needed to make it thicker and stronger as my daughter wanted to sit on it but she couldn't
Date published: 2007-05-10
Rated 4 out of 5
by
Anonymous
from
WONDERFUL outside play
this is awsome, my toddler son loves it... I use it a pool, rather than sandbox and it would be just PERFECT if the hood/cover latched on!! Aside from it needing a latching lid, my toddler LOVES the table attached, and it perfect for cookouts and snacktime...
Date published: 2007-05-07
Rated 5 out of 5
by
Peggy
from
Highly recommend
I bought this as a birthday gift for my 2 year old granddaughter. It was sold out at several online stores so I ordered it directly from Step 2. It arrived ahead of schedule and it was a pleasure to deal with this company and their delivery service.
Date published: 2020-04-20
Rated 4 out of 5
by
a "Nana"
from
Naturally Playful Summertime Play Center
I was looking for something for my granddaughter that was child friendly. She is 18 months old and I wanted something she could play with now. She loves sitting in the sandbox (empty!)This is my second product from Step 2 and I am very pleased!!
Date published: 2009-05-04
Rated 2 out of 5
by
Anonymous
from
Cute sandbox and table but CHEAP lid
Bought this for my year and a half old. The product is cute but the lid is VERY CHEAP, does not attach on correctly, and will not hold up with a breeze or rain. I think the product is extremely overpriced for this one flaw.
Date published: 2015-12-06
Rated 3 out of 5
by
Anonymous
from
pretty good product
The table is great and the kids love it but rain gets in and the lid is flimsy. We bought ours used, wouldn't have paid full price. If using sand, it needs to be changed each year. Great for [$], not quite for new price..
Date published: 2012-05-08
Rated 4 out of 5
by
Lillypad
from
Great Product
My four year old daughter loves it. Big enough for her and another child to get into. Practical table and bench is nice. She loves to have lunch and snacks outside. Umbrella is great for shade in the hot Georgia sun.
Date published: 2014-03-18
Rated 4 out of 5
by
Anonymous
from
Excellent Customer Service
I bought this several years ago and over time had losted the drain plug that goes inside. I called to order a new one and they sent it out to me that day with NO CHARGE! How cool is that for Customer Service?!
Date published: 2009-03-31
Rated 4 out of 5
by
That Man
from
Good off-the-shelf sand box for toddlers
Easy to assembly and my toddler loves it. The fact that it came with a large umbrella was what sold us on it as we didn't have a shaded area to put a sandbox.
Date published: 2010-07-24
Rated 5 out of 5
by
Pat the grandparent
from
Summer Fun Play Center
Grandchild who got this as a gift has been very pleased with it per her parents. It was a big hit!
Date published: 2014-06-06
Rated 5 out of 5
by
chase
from
Flimsy lid.
This is a great little piece of furniture. Only complaint would be the lid is super flimsy.
Date published: 2020-05-19
Rated 5 out of 5
by
Grandma
from
Well done!!!
Easy to assemble, love attached table. Great space saver
Date published: 2020-05-23
Can it be used as a pool instead of a sandbox?
I think you could use it as a pool emptying it would be a challenge. Lol ..get a bucket. Love this sandbox sturdy and cute.
Date published: 2020-06-25
Is this sandbox same measurements as naturally playful sandbox with lid?
The sandbox has the same sand capacity as the Naturally Playful Sandbox (both can hold up to 200 lbs of sand) but the dimensions are different.
Date published: 2020-06-16
Do you sell the plugs for the sandbox !
I had the same issues! I bought it used and i needed one. Order a sink plug 1" off amazon or go to Lowe's or Home Depot! Works like a charm!!
Date published: 2020-05-26
Does this sand box have a specific surface in the manual that it needs to be placed on? 
Please contact our Consumer Service Specialists at 1-800-347-8372 Monday through Friday, 8AM -5PM Eastern Standard Time and we will be happy to help you.
Date published: 2019-08-20
Can I purchase replacement plants for this set we lost the lid and umbrella last year due to hurricane Irma.  Thank you 
Unfortunately, we are not able to offer the lid separately from the Naturally Playful® Summertime Play Center™. We do however have the 60" umbrella., Please contact our Consumer Specialist Staff at 1-800-347-8372, Monday through Friday, 8am-5PM Eastern Standard Time for assistance.
Date published: 2020-05-11
How tall is the umbrella?
The umbrella for the Naturally Playful® Summertime Play Center™ is approximately 70 inches in height.
Date published: 2018-07-18
does the plug for the naturally playful summertime play center in the sand box, hold water?
The Naturally Playful® Summertime Play Center™ is designed for sand.
Date published: 2018-06-05
Is it possible to order a new lid? 
The lid of the Naturally Playful® Summertime Play Center™ is not offered separately.
Date published: 2018-04-27