Naturally Playful Welcome Home Playhouse & Sandbox Combo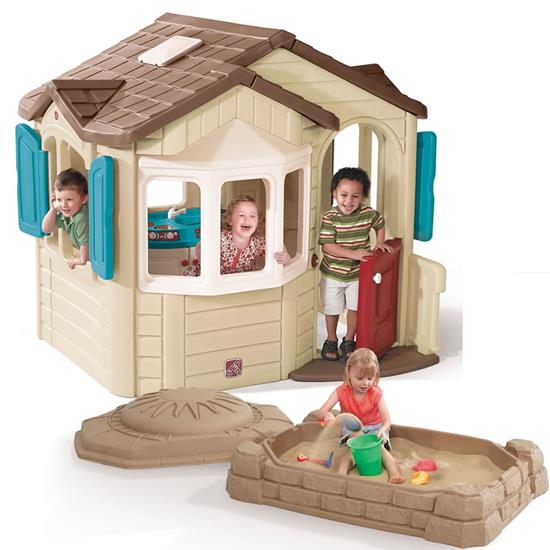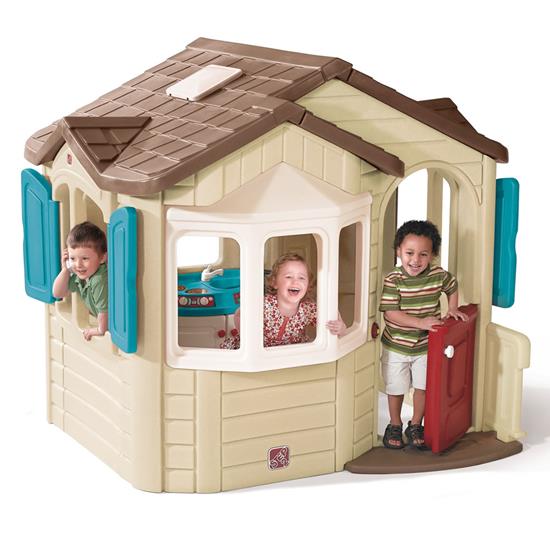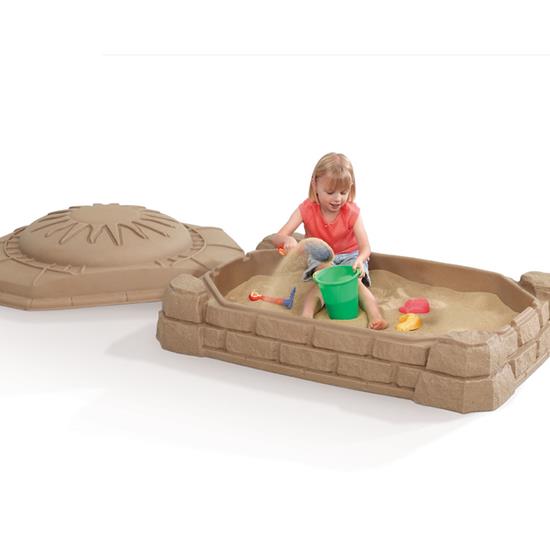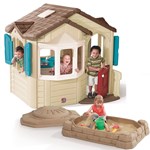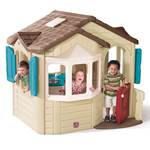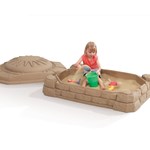 Naturally Playful Welcome Home Playhouse & Sandbox Combo
In stock
$759.96 $645.96
+ FREE Shipping! (via Truck) When will my item arrive?
Preschoolers and toddlers will experience hours of imaginative outdoor play fun with the Naturally Playful Welcome Home Playhouse & Sandbox Combo by Step2.
IS THIS A GIFT? DON'T SPOIL THE SURPRISE!
This item ships with an image of the product on its outer packaging.
Rated 4 out of 5
by
HayKayLee
from
This is a great product!
I would recommend this product to anyone who has small children. The only problem I had with my order purchase is that it took the shipping company step two used three weeks to actually get me the playhouse. After it took step two a week to actually ship the order. This was a present for my girls on their birthday and they didn't get it until a week and a half after their party. I felt like a horrible mother because I didn't have a present to give to my girls on their birthday. I wish that step two would have at least apologized to me for the inconvenience. However, even though I called them several times I never received an apology. The product is wonderful and the pricing is great but the shipping time is not exact it can take a lot longer than what the have posted.
Date published: 2012-09-15
Rated 5 out of 5
by
Anonymous
from
Truly Amazing!
I purchased this playhouse and sand box combo for my granddaughter who is 3 years old now. I saw how much she liked the one at the car dealer earlier in the year. All I can say is, quoting my granddaughter, "It's Amazing", she absolutely loves it. Especially the sand box. She plays in it for hours at a time and she's also had friends over and it was wonderful play all day. Very please with this product.
Date published: 2012-10-31
Rated 4 out of 5
by
Averie's Grandma + 2 more on the way
from
Nice Playhouse
I think this is a well designed playhouse. However, the sides didn't come together on the top. It made the roof assembly alittle more difficult. I feel if they would have provided the long bolts for the top of the sides as well as the bottom, assembly would have been much easier. I think my grandkids will get alot of good use out of this playhouse.
Date published: 2012-01-15
Rated 5 out of 5
by
Great-Grandma of the Berkshires
from
Best Investment EVER!
I bought the Deluxe Playhouse and Sandbox Combo for my two Great-Granddaughters. It arrived fast after ordering! My Granddaughter put the playhouse together by herself (she's small too!) in two hours! The little girls couldn't wait to start playing! It's a great Playhouse that I see our girls using for years! This Great-Grandma is very happy!
Date published: 2013-11-20
Rated 5 out of 5
by
second mom
from
home away from home
This house is the first toy that my kids go to everyday. Rain or sun we can be outside playing. I bought this house from step2 because I have had toys last for more then 20 years from them. I also did not want a wood house that kids could get cuts and scraps on. There is nothing that would hurt a child in this house. We love our second home.
Date published: 2013-05-18
Rated 5 out of 5
by
Anonymous
from
Very fun casttle as my daugther call it"
Such a nice big house for kids. We took 45 min to assambly my dougther 3 years old was ver excited to get into the house along with my babay boy 1 year and half 1/2. They both get into the big house and play having very fun time. I also provide them 2 little chairs to play. We are very satisfay with our purchase and desition step 2 house.
Date published: 2013-06-03
Rated 5 out of 5
by
Anonymous
from
I would highly recommend this product!
My grandkids absolutely love their playhouse! It was easy to put together after talking to customer service. They gave us some quick tips!
Date published: 2017-05-24
Rated 5 out of 5
by
Daycare Provider & Step2 Fan
from
Playhouse/Sanbox Combo
I bought this combo set for my daughter & my in-home daycare. The kids LOVE it! It provides them with hours of entertainment.
Date published: 2011-08-22
Can you purchase the door from the original model? It's similar to the cottage one. 
The full size door of the Naturally Playful® Welcome Home Playhouse™ has been retired and we no longer have inventory.
Date published: 2018-06-18
Where can I get a new slide for it?
You can order replacement parts through our Customer Service Department. Please call toll free 1-800-347-8372 Monday - Friday, from 8-5 ET and we will be happy to assist you further with this request.
Date published: 2018-03-27
hi is there any store in new zealand ?
Step2 Direct ships within the United States only. Thank you for your interest in Step2 product retailers in New Zealand. Specific products and quantities vary by retail location, please contact Steptino with your specific request. Steptino 3 Moreton Drive Manly 0930 Auckland New Zealand 0274 741640 (p) <a href="http://www.steptino.com" target="_blank">www.steptino.com</a> (w) sales@steptino.com (e)
Date published: 2018-03-27
Does this playhouse have a floor?
No
Date published: 2018-03-27