Naturally Playful® Welcome Home Playhouse™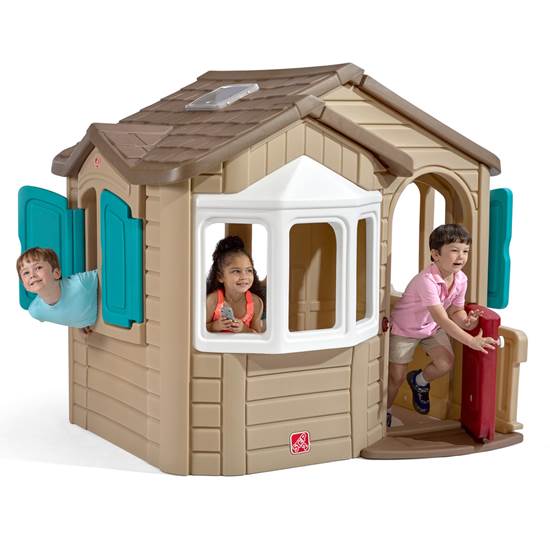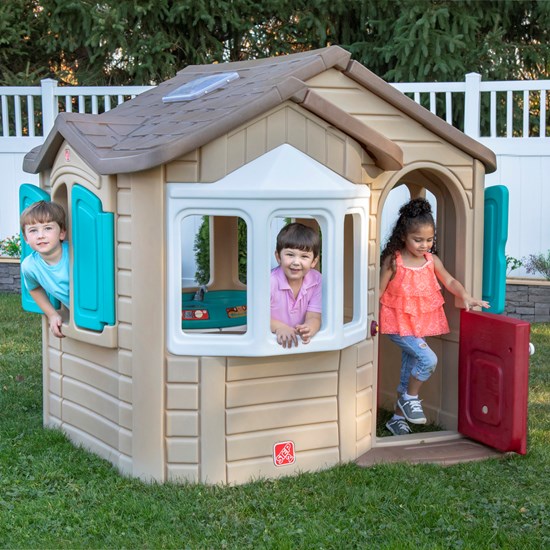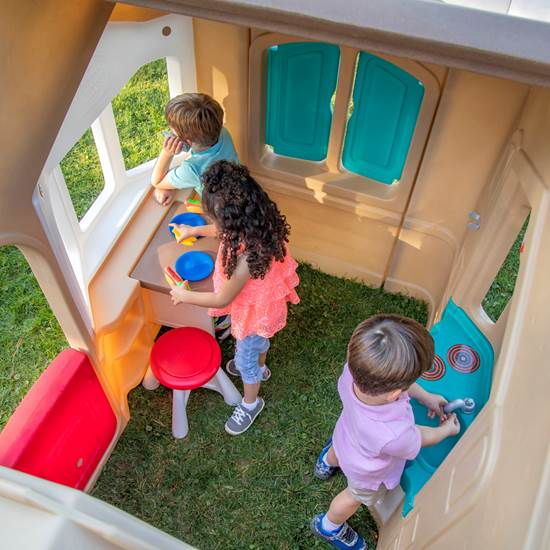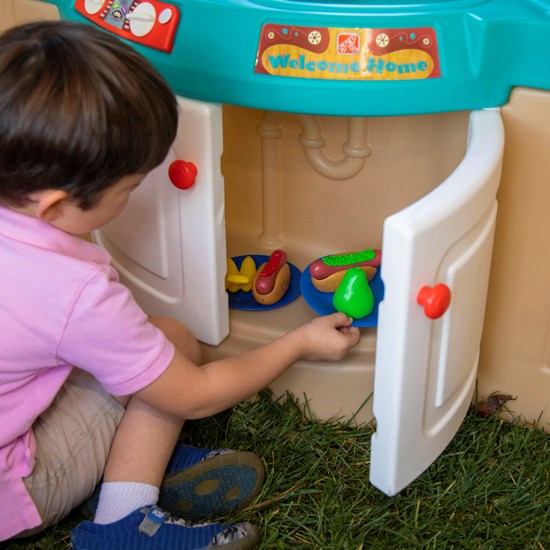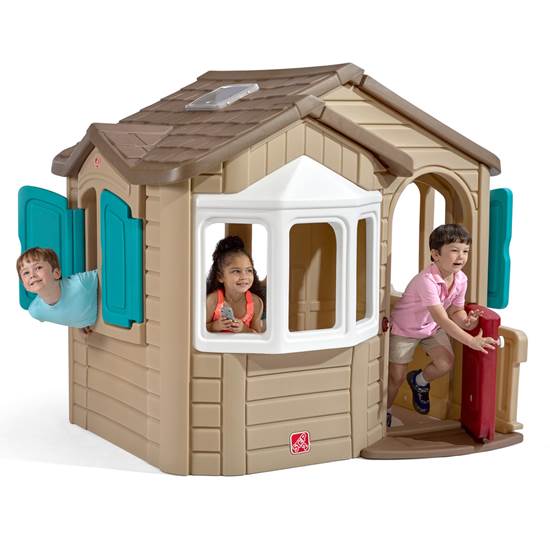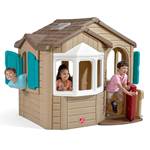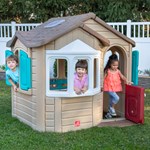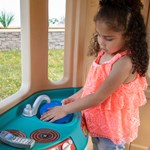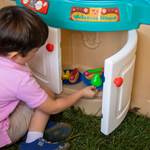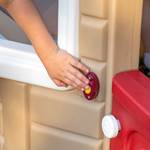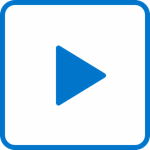 Naturally Playful® Welcome Home Playhouse™
In stock
$779.99 $769.99
+$99.99 shipping (via Truck)
Pretend play with friends just got an upgrade with the Naturally Playful® Welcome Home Playhouse™!
IS THIS A GIFT? DON'T SPOIL THE SURPRISE!
This item ships with an image of the product on its outer packaging.
Rated 5 out of 5
by
EmilyS129
from
Years and years of play
We bought this playhouse about four years ago when my daughter was a baby and my son was about three. I wanted something that they wouldn't grow out of too soon, and this was it! For a kid's playhouse, it is tall and big inside. My 7.5 year old still fits well in it and plays in it regularly. I can get in there with the hose and powerwash everything (they like to make mudpies in the sink) with the hose, no problem (I am about 5'8"). I know the price is so much higher than other toddler playhouses, but this has been a fabulous investment for our family. When we moved to another state, we disassembled it and brought it with us. I highly recommend!
Date published: 2015-05-29
Rated 4 out of 5
by
Barri
from
Great Product. Would buy again.
My father purchased this house for my 16 1/2 month old daughter after seeing it at one our relatives homes. We chose this model because it is larger than most and can fit multiple children. My daughter loves the playhouse and screamed with exictement when she first saw it. My oder nieces and nephew (12, 9, 4) were over the first day and they were all able to fit into the house together. Since we assembled the house my daughter has played in it every day. We got a small set of dishes so she can have a tea party in the house. The only drawback was the assembly of the roof. My husband had to be creative with getting the roof to attach.
Date published: 2008-07-19
Rated 4 out of 5
by
TC
from
Great Product
This was our daughter's 2nd Birthday present. We decided to go with the larger house so that she would have many years to enjoy it. We can get inside this house with our daughter and play with her. We were both pleasently surprised with how easily and quickly we were able to assemble...it only took us about 20 minutes. It definately takes 2 sets of hands to assemble. The only recommendation we have is that 8 of the metal pins should be included instead of only 4. You really need 4 of the pins at the top and 4 at the bottom to hold the walls together. It has definately been worth spending a little more money to get the bigger house.
Date published: 2008-05-04
Rated 5 out of 5
by
Christina
from
Love it
Fantastic playhouse. I added solar powered outdoor strip lighting and two tap lights inside the house. Outdoor eva foam flooring. Assembled in two hours by two 110 lbs women. We did have to ratchet strap the side to a outdoor bbq (with an eva foam tile protecting the outside) while both of us shoved very hard to pop the BAY WINDOW in. We should have video recorded it to help others see how this window pops in. It looks impossible but it only took one hard push from the both of us simultaneously. Would buy this play house again and again.
Date published: 2018-12-28
Rated 5 out of 5
by
Mommy to Gracie and Josh
from
We Love This Playhouse!!!
This playhouse is such a great playhouse. We looked for one that would be large enough to grow with our children, who are 3 and 1. This was by far the largest playhouse we found. My 3 year old daughter loves this playhouse and invites me in to eat with her. It's large enough that I can actually come inside with her. We bought the folding chairs and play pots and pans to go with it and my daughter has so much fun pretending in her very own house! She would stay out there in it all day if I would let her! This is one of the best purchases I have made! I am now a loyal Step 2 customer. P.S. I love your hold music!
Date published: 2009-03-19
Rated 4 out of 5
by
Starviper85
from
Instruction video is a must watch
The ONLY way we finally figured out how to install the Bay window was after watching the instruction video and even then I had to wait for my husband to come home because my teen son and I did not have the muscle power to pop it in. I've read the other reviews and this is the most common theme. That window needs a redesign. This is a 2 person job for sure, if you're trying to do it by yourself you won't get very far. Other than that, this is a fantastic purchase, it's HUGE in comparison to others on the market, my 5 year old will be able to play in this for quite awhile without height issues.
Date published: 2018-03-02
Rated 5 out of 5
by
K.Haus
from
Best Playhouse in the World!!!
This play house was purchased as a gift in 1996 for our first granddaughter. The playhouse has since hosted numerous children & countless hours of play. The product has been outside through hot Texas summers & icy winters. It been used as a play hamburger stand, Fort Apache, spooky halloween trick or treat house and it has gotten lots of tough use every afternoon by the kids after school. It still looks great and is easy to clean annually with mild soap and water. This is one of the best "toy investments" ever made and given the great performance of the product firmly believe it will be used by our great grand kids!! This is one fantastic product!
Date published: 2011-12-08
Rated 4 out of 5
by
Dyan
from
Big House
The house is easy to assemble, but there are gaps. It doesn't come together completely. We also had a storm and the house was blown apart. We got it back together, but I think it should've made it through the storm. It's HUGE inside and great for multiple kids... even older kids. The decals and stickers are all coming off and we've only had it a couple months... which isn't a huge deal, but it makes it look junky. Small things bug me like the phone doesn't stay on the wall holder. It's too wide to hold the phone. The phone and the decals aren't a huge deal, but for this kind of money I feel those things shouldn't happen.
Date published: 2010-07-20
I received a playhouse partly disassembled. The metal rods are still in 5 hinges maybe 3 are missing?. The instruction pictures appear to show sliding the walls together then laying it on its side to tap the rods into the bottom hinges. Correct?
Thank you, Mimi. I decided that the 5th pin was not needed. I slid the walls together and tapped the pins into the bottom corners. Once I screwed on the roof, all was good.
Date published: 2021-06-15
Where is the link for the assembly video?
Regretfully we no longer have the demonstration videos available. We are very sorry.
Date published: 2021-01-19
Does this playhouse have a floor?
No.
Date published: 2020-11-16
Do you sell replacement door bell? The one on are unit doesn't work anymore 
Please contact our Consumer Service Specialists at step2-company@step2.net or 1-800-347-8372 Monday through Friday, 8AM -5PM Eastern Standard Time and we will be happy to help you.
Date published: 2021-06-20
Is there an instruction to disassemble the play house
Basically remove all screws from inside the house that are holding the roof pieces on, then remove the metal pins or rods that are holding all side panels together. pins or rods are located on bottom of panels. May have to flip house on its side after removing roof to get to the pins or rods.
Date published: 2020-08-05
My daughter loves the playhouse, but the ground underneath can get muddy and bugs. What is recommended as a floor? Are there good dimensions already measured to create our own if needed or is there a floor available for purchase?
We do not have flooring or matting available. You can lay a tarp or blanket down or put unit over mulch or a good grass surface.
Date published: 2020-06-17
I want a play house where I can play with the kids. Can an adult fit through the door? I don't see dimensions of the doorway or anywhere I can see it in person. 
I'm able to walk in, but I have to lower my head. The height at the very highest point is 62", and I am 5'4" but can almost stand in it with my head touching.
Date published: 2020-06-16
Where can i find this product in Canada?
We suggest speaking with your local Walmart Manager as they have the ability to special order Step2 products.Thank you.
Date published: 2020-04-27