Naturally Playful® Welcome Home Playhouse™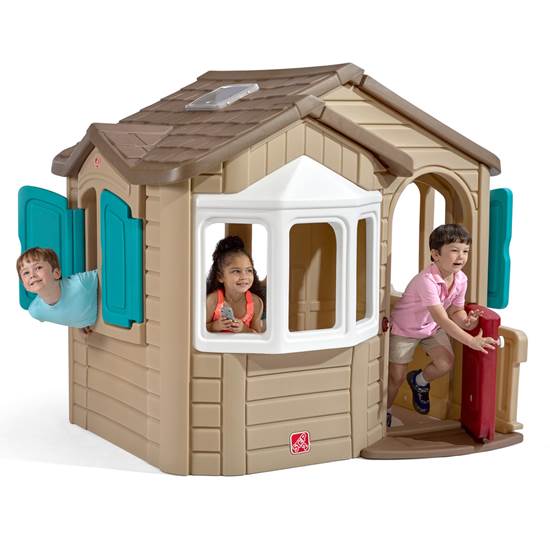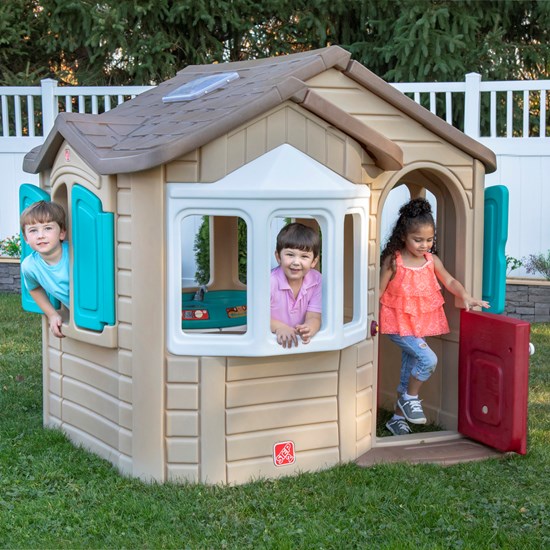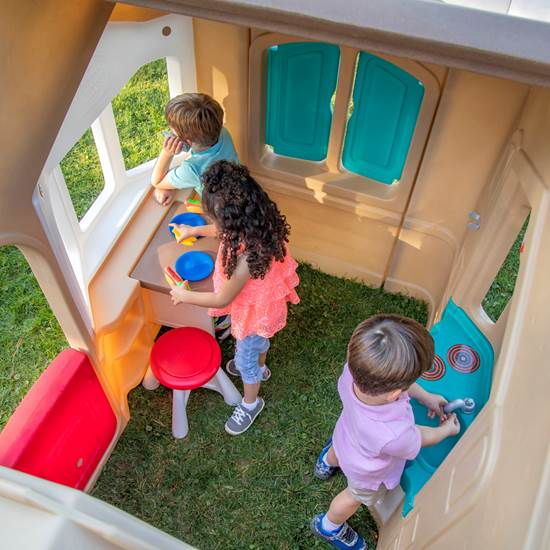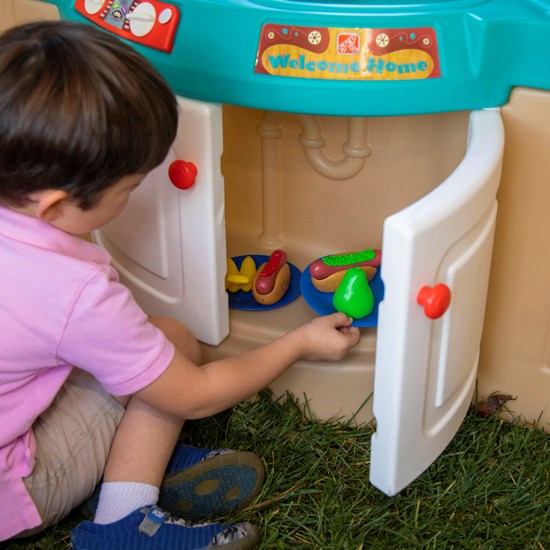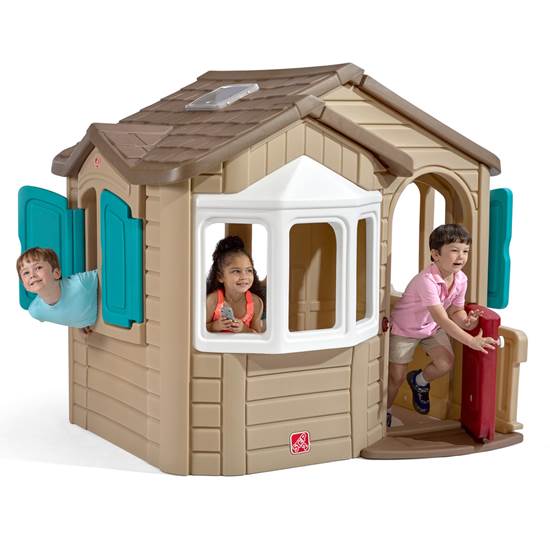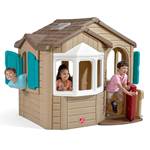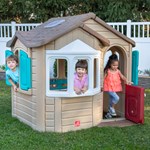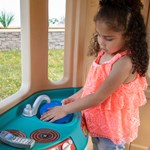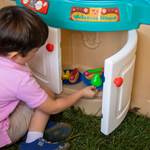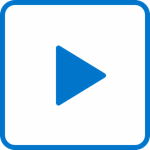 Naturally Playful® Welcome Home Playhouse™
In stock
$754.99 $749.99
+99.99 shipping (via Truck)
Pretend play with friends just got an upgrade with the Naturally Playful® Welcome Home Playhouse™!
IS THIS A GIFT? DON'T SPOIL THE SURPRISE!
This item ships with an image of the product on its outer packaging.
Rated 5 out of 5
by
MJMA
from
Adore this Playhouse
Bought this for our kids, aged 14 months and 23 months. They absolutely LOVE playing in this house. Their favorite activity is to ring the doorbell and open and close the shutters. There is PLENTY of room for both of them and a parent to sit inside. We've had 2 toddlers and a preschooler playing in it with no problem. We love that the table can be folded down when not in use. The only thing I would add to this playhouse is a drain system from the sink out the back (we are actually going to do this ourselves) so water can drain out of it and a floor (only because our 14 month old is currently afraid of grass).
Date published: 2018-04-22
Rated 4 out of 5
by
CaterpillarClubhouse
from
Kids love it!
It was a little expensive, but I wanted something that my 7 year old daughter could still play with. She and her 5 year old brother play/fit in it just fine. I also run an in-home daycare and all the kids love this house! My only concern so far is that it only came with 4 pins that are for the bottom of the house to hold the four walls together, the roof screwed onto the top of the house was supposed to hold the walls together on the top, but there is a gap in one corner where there walks just aren't staying together?!? I'm hoping I can maybe put an extra screw in there and fix the problem. Other than that it's great! I love the size!
Date published: 2013-05-02
Rated 4 out of 5
by
Kristi
from
Awesome House - Assembly Terrible!
I'm a 33 year old mother who loves working out, but the sweat I had to bust putting this house together was horrific. In all fairness, it was mostly the bay window that ate up so much of my time assembling, and required such a ridiculous amount of effort that I truly think this part of the product is faulty. On a more positive note, the finished product is awesome and my daughter loves it! So, 5 stars for the house, and 1 star for assembly!
Date published: 2017-10-05
Rated 5 out of 5
by
Anonymous
from
2 year old and all her friends love it!
We purchased the Welcome Home Playhouse after researching a lot of different houses, and I'm very happy with our choice! It is more expensive than other playhouses, but the extra space is well worth the extra money, [...] We had my daughter's 2nd birthday party yesterday and it was so nice to have such a large house because multiple kids could use it at one time. And the best part is the house is big enough for adults - my daughter always wants us to come inside to play with her and there's enough room for one adult comfortably. I know this house will last for many years to come, and it's nice to know it's large enough that she won't outgrow it in a few years.
Date published: 2009-06-28
Rated 4 out of 5
by
Gear
from
Great Playhouse
We placed the playhouse in our back yard and my 31 month girl and 11 month old enjoy playing in it. My daughter loves to take her dolls and play 'house' and my infant loves to ring the door bell and open the door. This play house has so much potential and I'm certaint that as my girls get older they will make their playhouse their 'clubhouse', school house, restaurant- the possibilities are endless.The only downside I see about this playhouse are the stickers. The burners for the kitchen are stickers and I can see them fully peeling off once the rain season is here. I'll need to remember to cover the playhouse...Overall I give the Welcome Home playhouse a 4 out of 5.
Date published: 2010-05-22
Rated 5 out of 5
by
Grandma Donna
from
The perfect playhouse!
We have three grandchildren: four year old twin girls and a one year old boy who all love the playhouse! The inside is so big that all four of us fit in it as well as my 14 year old son! The girls washed dishes and set the table over and over while singing and dancing. My grandson helped his sisters and loved the swinging door! What surprised us the most was that the inside is so big and even though I could stand up easily, the girls brought in the two Step2 chairs so I could sit down and watch them play. It was so much fun! The beautiful design and colors look so attractive outside our home. We are very very thrilled with this product and glad that we purchased it!
Date published: 2010-05-02
Rated 3 out of 5
by
Anonymous
from
Nice addition to backyard
I am a daycare provider, so I was attracted to this model because it was the biggest and also because it had a kitchen they could play in.There weren't any stores in my area that carried this, so I bought it only seeing pictures on the website. To be honest, I thought it would be roomier than it is. Once you set up the table inside, there is no room to move around....the good news is, you can fold it down.I love the earthy colors of the house, and it is a nice house, but I think it is a little overpriced.Some of the reviews said it was hard to assemble, but my husband put it together very quickly with no trouble.
Date published: 2010-05-13
Rated 5 out of 5
by
Bri
from
I would buy it!
My parents bought me this playhouse when I was 5 years old for Christmas, I am now 27. My playhouse has been moved multiple times, stored on the side of the house, and put back together time and time again. After I grew out of it, my parents kept it up in the backyard for when my younger cousins came over to play. I now have 3 nieces that have all played with it and now that my only daughter is old enough to enjoy playhouses, it will be hers!! My playhouse is a little faded from being in the sun (not a big deal) and the pieces that my dog chewed.. not a big deal, because step 2 has a customer service number to order replacement parts. I recommend this playhouse to EVERYONE.
Date published: 2017-02-06
Rated 5 out of 5
by
Nan
from
"Even better than I expected"
I purchased this house as a birthday gift for my 2 year old granddaughter. After debating between a few different style houses and reading other reviews, I decided to go with the Naturally Playful Welcome Home Playhouse and couldn't be happier. It was totally worth the extra cost. The size will accomodate a few children comfortably. The extra windows makes it easy to see the kids playing inside. My son-in law used rubber tiles made from tires that he purchased at a local home improvement store to make a floor inside the house. Great idea ! Overall, it was easy to put together, looks great, very durable[...]
Date published: 2010-06-05
Rated 5 out of 5
by
PAWPAWSGIRL77
from
PERFECT
WE HAVE THIS FOR OUR 2 & 4 YEAR OLD & IT IS GREAT!!! VERY DURABLE IT HAS PLENTY OF ROOM. THEY OPEN THE WINDOWS & TAKE YOUR ORDERS TO COOK, ANSWER THE PHONE & COULD PROBABLY TALK FOR HOURS! :) I LOVE THE LITTLE PHONE THAT COMES WITH THIS. I LOVE HOW IT HAS THE LITTLE DOOR MAT AREA OUTSIDE THE DOOR. THE TABLE FOLDS IN FOR EXTRA ROOM. WE EVEN BOUGHT ONE OF THE PRETEND REFRIGERATORS & HAD PLENTY OF ROOM TO PUT IT IN THERE. IT IS EASY TO KEEP CLEAN. WE TOOK A SECTION OF PRIVACY FENCE & PUT UNDER OURS SO NOW THEY HAVE FLOORS LIKE NANA'S, & IT KEEPS THE MUD OFF THEIR FEET AFTER IT RAINS.
Date published: 2007-09-02
Rated 5 out of 5
by
GrammaMom
from
Stuff dreams are made of!
We couldn't be happier, the look on our 3 year olds face Christmas morning ,indescribable joy , she was speechless ! It couldn't have been easier to put together , took about 30 minutes. It's huge, takes up our entire dining room, we will move it outside in the spring ( we live in the snowbelt ). The doorbell didn't work, but Step2 got a replacement to us in just a few days, we have purchased 4 or 5 products from Step2 in the last few years and they have , by far, the best customer service of any company I've ever had dealings with. We have had so much fun with this playhouse , and you will love it too !
Date published: 2012-01-20
Rated 4 out of 5
by
Grammy L
from
Worth the money!
We bought this house for my two Grandson's last Christmas when they were one. They have enjoyed many hours of fun. They often grab our hands and lead us into the house to play and there is plenty of room for all of us. I can't comment on how durable it is in the Arizona sun because we have it inside. I know when they get a little older they will want to "camp out" in the house. I was a bit reluctant about the price but it is quite a bit roomier than the cheaper houses and sturdier. I know it will bring years of play for my Grandson's and my future Grandchildren. This house was well worth the investment.
Date published: 2008-10-24
Rated 5 out of 5
by
Mimi J
from
The only playhouse you want to buy!
This is the only playhouse you want to buy simply because of its size. I feel anything smaller would be outgrown too quickly. It also enables you to add some fun play items on the inside. I added the vintage Little Tikes Washer/Dryer combo and refrigerator. It also fits a doll cradle and high chair. Now my granddaughter can really play house! This is her Christmas gift and I can't wait to see her little face! It will be used indoors (for now) and I have found it can easily be disassembled and set up again for grandchildren visits. I had no problem assembling it by myself with a little creativity putting in that bay window (the biggest challenge). The bay window must be pushed inward and downward at the same time which is hard to do. Put the window in first before doing anything else. Lay the front wall flat (face down) on a carpeted floor. Insert the bottom of the window onto the sill and push the window into place as much as you can. The top pointed section will need some extra help fitting in. Use the long, flat, handle of a crescent wrench as a wedge between the top of the window and the top of the bay. Wedge downward on the bay, upward on the top of the frame, all while shoving the top of the white bay into the frame with your foot (keep your toes out of the connection). You are in a standing position. You can do this as one person. I did and I am a grandma! I used the pins in the top instead of the bottom. They come out easily for disassembly with pliers. The roof snaps on well but a few screws can be used to secure it if you prefer. My 2 year old granddaughter will be supervised and she can't reach the inside of the roof to push up on it. For outdoor use, I would use all the screws and put the pins in the bottom. You won't be sorry for making this purchase. And the instructions are better than the video in my opinion.
Date published: 2018-11-11
Rated 5 out of 5
by
3sthecharm
from
Kids used from 1 year to 12 years of age
I bought this when my oldest daughter was 18 months old. It started out inside our home but within a year was set up outside. My children have used this product as a playhouse, a Starbucks drive thru from which "coffee" and snacks were sold to drives showing up in their power wheel cars, a hideout for water balloon fights, home base for nerf gun fights, a post office for sorting mail,and a daycare for baby dolls. It has held up outdoors for almost 10 years with fading only on the shutters and skylight and stickers coming off. As well, I was able to resell the product just recently for almost half the original value, so you really cant go wrong if your kiddos live for imaginative play.
Date published: 2017-02-13
Rated 4 out of 5
by
Gdma Bu
from
Naturally Playful Welcome Home Playhouse
My granddaughters absolutely love the playhouse and we have fun adding other features (dishes, folding chairs, artificial flowers outside, walkway to the entrance).However, their house is under some trees (small back yard) and with no shutters on the front or back and no floor inside - it fills up with tree debris and dirt. We do use a piece of outdoor carpeting which you can remove to clean the floor. Why not a floor piece - at least an optional floor that could be laid out and somehow a few clips or clamps to fasten the house to it. We have it on small blocks and plywood now. Not everyone has lush green grass!!They will get many years use I'm sure. It is very easy to put together.
Date published: 2008-05-28
Rated 4 out of 5
by
Anonymous
from
Not in Canada
I like that more than one child can fit inside easily. I wish it came with a floor, or there was a product Step2 made I could purchase, but his model doesn't have that option. Some kitchen accessories would have been nice.We hade to purchase it directly from Step2, have it shipped to a place near the border, and pay for a cube van to pick it up, which became pricey and time consuming. Our other option was to pay more Canadian dollars to a store in Toronto and pay half the cost of the toy in shipping. So, it is not an easy item to get.My children love to play in it, so it was all worth it.
Date published: 2008-03-27
Rated 4 out of 5
by
doll_phin23
from
pretty pleased
This product was bought for my 23 month old son. He has a SMALL cardboard playhouse in the basement that he enjoys but becomes easily frustrated when it falls over or apart. We needed something durable. His favorite features are the sink and the doorbell. I am having difficulty finding chairs small enough to fit at the table inside. The house was a bit difficult to put together because the roof pieces were a bit warped. I didn't like how the sides of the house attached. I think they could have been put together a little bit differently to provide more stability. Overall it's a great playhouse. I love the fact that it is pretty good sized. He will be able to continue to play with it as he grows.
Date published: 2009-07-28
Rated 4 out of 5
by
Anonymous
from
great playhouse
We got this for my 2 yr. old daughter on her birthday. She loves it and has played in it everyday. My 4 yr. old gets right in there with her and they have more than enough room together. I should mention both of my children are very tall for their ages, and I can tell even the 4 yr old will fit in there for quite a while. We put play food in there and keep it stored in a basket under the sink which is nice to keep dirt/bugs off. They both sit at the table and have snacks. We bought the folding chairs seperately which are nice. Even I sit on them. I wish it had come with a floor or option to buy one. Our plan is to build a little wood deck to put it on before the fireants come this summer!
Date published: 2009-02-03
Rated 5 out of 5
by
Anonymous
from
A Delightful Product
When my 4 year old grandson saw this playhouse he was delighted. Now everyday he says "Go see playhouse" and off we go. He loves to play with the phone inside and have me ring the doorbell when I visit. The playhouse is extremely sturdy and we love the play sink and stove, under the sink cabinet and fold out table as well as all the shelves to put pretend food on. The window sills are wide enough to accomodate a little flower pot and battery operated toy lantern. My son had no trouble assembling it and put a large panel of wall tile covered with indoor-outdoor carpeting under it so it would have a floor. Can't wait until his 3 year old cousin comes over and they explore it together. It's perfect.
Date published: 2008-04-27
Rated 5 out of 5
by
Nonna the grandmother
from
The Greatest Playhouse
My granddaughter is here every other weekend and she loves playing pretend. Within the first 30 minutes in her new playhouse, she had moved the cradle with her baby dolls in, their strollers, her dishes, etc, her broom to sweep and ever her toy cash register and stood inside at the bay window to have a little store at her house.Her grandfather built a wooden platform to place the house on to have an even spot and also to have a floor to the house. He made it about 2 ft. longer than the house so she has a "front porch", she says.This is a dream come true. My granddaughter, my daughter, and myself all outside while my granddaughter is having the time of her life. Thanks for such a great playhouse.
Date published: 2008-03-20
Rated 5 out of 5
by
kathy
from
Fabulous playhouse
This is an amazing playhouse and well worth the cost. We bought it for current use by our twin 18 month old grand-daughters and future use by their younger cousins. It's large enough to allow both girls to play easily side by side. There's even enough room for one of us to join them inside. We ordered a second phone to eliminate any arguments. The playhouse arrived when Step2 said it would and was very easy to put together.....my husband and I did it in about an hour. The skylight didn't have any screw holes and will blow off in the breeze. We attached velcroe strips and the skylight is totally secure and we can still pull it off if needed.We highly recommend this playhouse for hours of fun for children.
Date published: 2009-05-09
Rated 5 out of 5
by
Anonymous
from
happy childen = happy mom
I bought this house for my daughter's second birthday. I can't get her out of the house without her kicking and screaming. Her older brother also enjoys it. We also purchased the mailbox. So the kids jump in their powerwheels and play mailman. The kids pull grandma and mommy in it all the time to play with them and there is plenty of room for all of us to play.. I can stand straight up in the house and not touch the roof. I have recieved plenty of mommy time with this house I love it and with the free shipping I didnt have to pay makes it even better. Kid and mommy approved!!!!
Date published: 2008-01-02
Rated 4 out of 5
by
Grandma3
from
Love this house!
I bought this for my grandaughters first birthday. All three grandchildren and a few cousins were together for her birthday. Everyone loved it! It is a little expensive and I went back and forth over what to buy. I am so happy I chose this one. Plenty of room, lots of fun. We had a little difficulty with the roof assembly. Not as much trouble as I thought we would though. I am not very happy that the Step 2 decal on the front won't stay on. It fell off within an hour. After about a week the decals on the sink are peeling. Is it possible I got a bad batch? Can you replace them?
Date published: 2010-04-26
Rated 4 out of 5
by
smcooper01
from
Great Playhouse
Great playhouse. This was a gift for both our kids ages 3 and 1. They love it. They both spent over an hour the first day playing in it. They also love ringing the doorbell. It is very roomy too. Would definitely spend the extra money to get this one over others that are smaller if you have the room for this. Only reason didn't give it 5 stars is because ours came with the stickers already attached.....Whomever at Step 2 placed the stickers on put the clock sticker on sideways. The 12 is in the 1 position. Would have rather had the sticker sheet included so we could put the stickers on ourselves. We plan on keeping our playhouse inside so can't comment on weather resistance, fading, etc. Easy assembly.
Date published: 2008-12-27
Rated 5 out of 5
by
Relocated Texan
from
Great Playhouse
The playhouse was pretty easy to assemble. We did add extra rods the same length as those that came with the playhouse so they would be in the top of the walls as well as the bottom. Our little girl is almost 2 and absolutley loves it! I think it's really neat. There is plenty of room inside which is really nice. She has room to play with friends and perhaps at some point other siblings. The welcome mat at the front door is cute, but it does tend to sink in a little when stepped on. The underside of it is hollow and not solid all the way to the ground. We have considered putting something in the space but haven't done so yet. Overall, I would absolutely buy it again and would recommend it to friends and family.
Date published: 2009-07-21
Rated 4 out of 5
by
CAT - Mom to twins
from
Great item, kids love it!
I have 2-1/2 year old girl/boy twins. They got this house for Christmas when they were just over two. I think we will be able to get years of fun from it.The only con I can think of is that my kids love the clock in this play house. But the clock is out of their reach right now so I sometimes find them climbing into the sink and standing in the sink to reach the clock. They have also pulled up the chair we have for the little table to reach the clock. I think putting the clock in their immediate reach would be a better design.Otherwise they love the house. We put it together for Christmas morning in our house and now that spring is here we moved it outside. It was easy enough to take apart and reassemble.
Date published: 2007-04-19
Rated 5 out of 5
by
Anonymous
from
Friends are jealous
We have 2 children ages 2 and 3. They love it and it is so big that their older cousins (ages 5-12) can play in this house with them. Our kids will not outgrow it for many years. We put astroturf down for a floor because the kids didn't want to play in it as the grass turned to dirt. My friends see this house and wish they would have spent a little bit more money and bought this one instead of the smaller, less expensive houses. That way they can actually fit inside when their kids want them to play with them. They also complain that their kids will outgrow the little houses in just a year or two. Our house looks great in the yard. My husband and father-in-law put it together and said it was pretty easy.
Date published: 2009-07-30
Rated 5 out of 5
by
Mommy to a little angel!
from
Awesome playhouse!
I bought this for my 2 year old daughter and surprised her with it! She loved playing in the playhouse that her cousin had. I chose this model because it is the tallest out there, that can still be inside the home which I wanted. My daughter is extremely tall for her age and I wanted this to last many years. Once it arrived and she saw the picture on the box, she screamed with happiness and excitement! It was fairly easy to put together. This playhouse is big, but it did fit into her playroom with some rearranging. It is pricey, but well worth it. My daughter plays in it every day and it is her favorite thing to play in. It is also a big hit when other kids come over. I am extremely happy I bought this!
Date published: 2009-04-14
Rated 4 out of 5
by
Ms. Brandy
from
Can u say F.U.N.
I run a family daycare & have purchased older step 2 items from garage sales. They hold up 4ever & clean up like new year after year. I have searched 4 a playhouse 4 yrs with no luck. I decided 2 give in & buy new. I did allot of research b4 purchasing r playhouse. Was alittle concerned about putting it 2gether after reviews but me & my daughter put it 2gether in about 2 hrs. Like other customers 4 the price I wish it came w more extras, like chairs! All & all we love r playhouse. As a Day Care Owner I will purchase more step 2 items over other brands.
Date published: 2012-06-07
Rated 5 out of 5
by
Evelyn
from
Naturally Playful Welcome Home Playhouse
My 9 year old daughter is tall, but still wanted to have a playhouse to enjoy with her 6 year old sister. This was the only playhouse I could find after many months of research which is designed for both younger and older children. Being plastic, upkeep and cleaning will be much easier than playhouses made of wood, and, it won't require repainting or restaining in order to preserve the finish. My girls starting playing inside before we even finished setting it up. I'm sure this playhouse will be loads of fun for years to come, and I won't have to buy another one!
Date published: 2009-02-05
Does this playhouse have a floor?
No.
Date published: 2020-11-16
Do you sell replacement door bell? The one on are unit doesn't work anymore 
Please contact our Consumer Service Specialists at step2-company@step2.net or 1-800-347-8372 Monday through Friday, 8AM -5PM Eastern Standard Time and we will be happy to help you.
Date published: 2020-09-10
Is there an instruction to disassemble the play house
Basically remove all screws from inside the house that are holding the roof pieces on, then remove the metal pins or rods that are holding all side panels together. pins or rods are located on bottom of panels. May have to flip house on its side after removing roof to get to the pins or rods.
Date published: 2020-08-05
My daughter loves the playhouse, but the ground underneath can get muddy and bugs. What is recommended as a floor? Are there good dimensions already measured to create our own if needed or is there a floor available for purchase?
We do not have flooring or matting available. You can lay a tarp or blanket down or put unit over mulch or a good grass surface.
Date published: 2020-06-17
I want a play house where I can play with the kids. Can an adult fit through the door? I don't see dimensions of the doorway or anywhere I can see it in person. 
I'm able to walk in, but I have to lower my head. The height at the very highest point is 62", and I am 5'4" but can almost stand in it with my head touching.
Date published: 2020-06-16
Where can i find this product in Canada?
We suggest speaking with your local Walmart Manager as they have the ability to special order Step2 products.Thank you.
Date published: 2020-04-27
Can i purchase a replacement door for the house?
Regretfully we are unable to offer the door separately as the Naturally Playful® Welcome Home Playhouse™ parts are made in a complete set.
Date published: 2020-06-29
My door keeps coming off.  I can pop it back in but is there anything I can do to help keep it in. The plastic nun and silver ball all look fine. 
Good morning. Haven't had this issue with ours. It seems either the plastic nun is too shallow, allowing the plastic ball to "escape" or the plastic ball is too small, allowing itself to slip out of the nun. What I'd try doing is install a small round head sheet metal screw in top of the ball to give the ball a little more height and hence more engagement into the nun. Start with the screw head adjusted to maybe about an 1/8" from top of ball. May want to do same to the top and bottom of door. I'd try the top first and see if door comes off. If it does put a screw in lower ball. Essentially you're extending the door balls using screws.Hope this helps and best of luck.
Date published: 2019-09-18