Naturally Playful Woodland Climber II™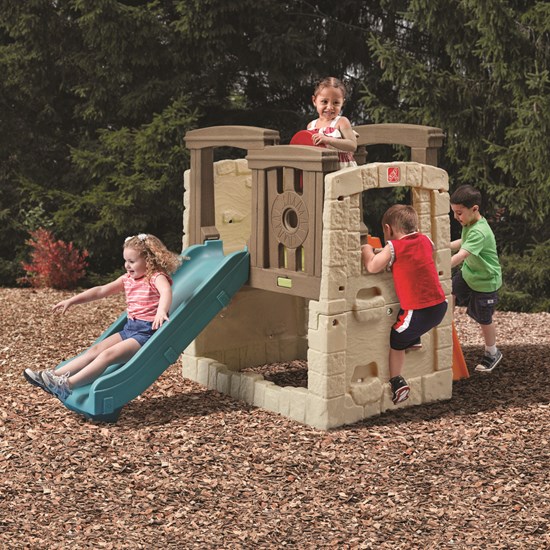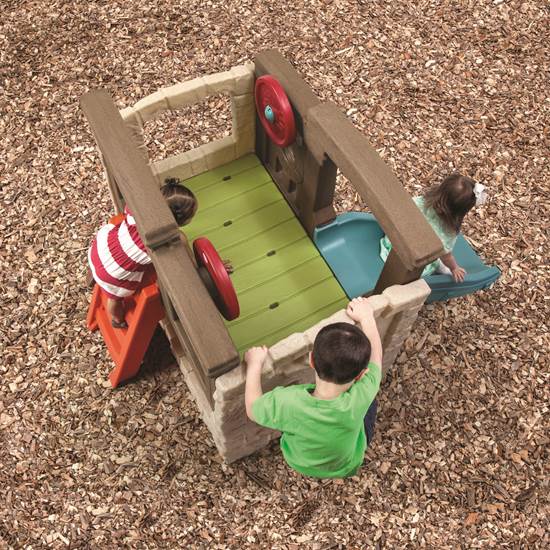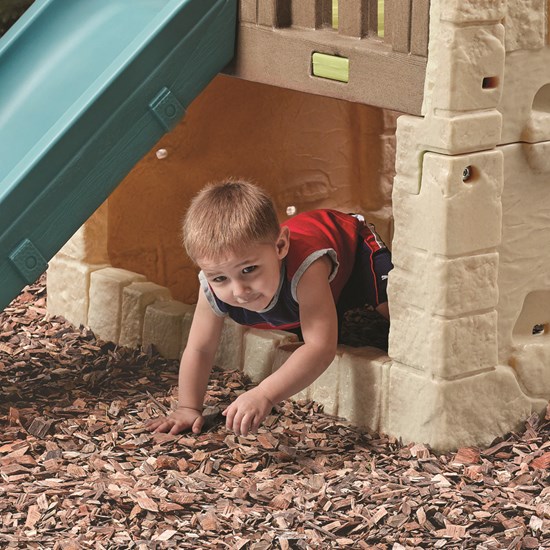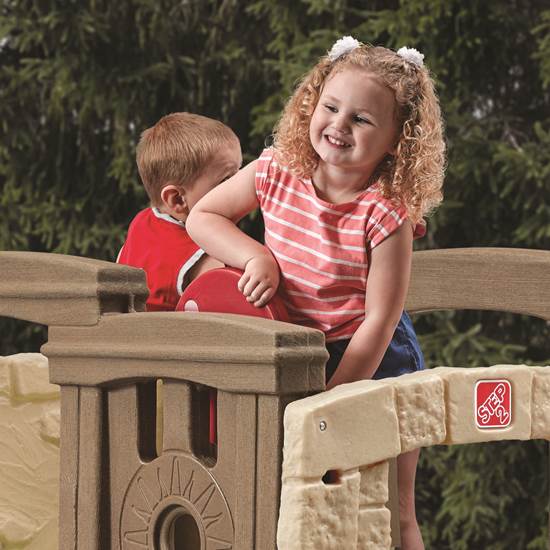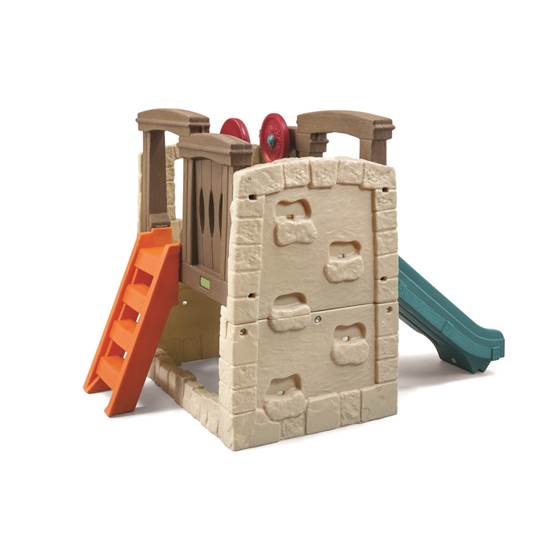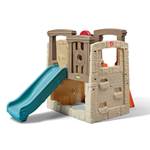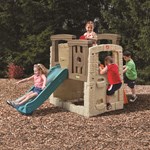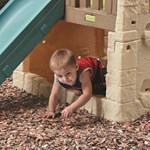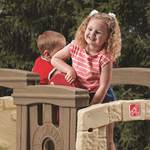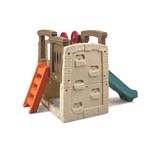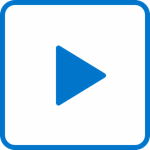 Naturally Playful Woodland Climber II™
Out of stock
$304.99 $299.99
+14.99 shipping (via FedEx)
Where imaginative play meets climbing adventures – the Step2 Naturally Playful Woodland Climber II™.
IS THIS A GIFT? DON'T SPOIL THE SURPRISE!
This item ships with an image of the product on its outer packaging.
Rated 5 out of 5
by
Anonymous
from
Great climber for imaginative play
We purchased this a few years ago for our daughter. I love the attractive design of the climber. The design was one of the first things that drew me to this toy. The product was already assembled when we purchased it. While this climber may not have many bells and whistles, it is excellent to foster kids' imaginations. Now that we have four kids, my daughter enjoys it more than she ever has. The kids play princess and knight on it, as well as pirate ship. The slide is a good introductory slide for toddlers, and there is an area on the side for kids to climb up the wall. The climber has been out in the North Carolina sun for over three years and still looks great!
Date published: 2015-09-02
Rated 5 out of 5
by
Triplet Mommy
from
Great product!
We recently purchased this product as our 11 month old triplet girls are climbing everywhere. They love the Woodland Climber! We have it in our playroom and they can't get enough of it! They are still a little young for all the features such as the rock wall, but have quickly learned to climb up the ladder. Our girls love the steering wheel and sliding down. Since our girls are younger than the recommended age, we do have to watch them carefully on it. I'm sure that when they're a bit older and more steady on their feet we won't have to be so vigilant. I am so glad we decided to purchase this item and can't wait to move it outside after winter.
Date published: 2007-12-29
Rated 5 out of 5
by
Xandy
from
My daughter was so happy!
Assembly was easy which is exactly what I was looking for. It took me total around 4 hours to finish everything. I did it with just myself. The fours include leveling, flooring (w/ rubber mulch), adding sand to the parts, assemble and clean up. The parts by itself feels a bit flimsy yes because they are hollow inside. However they all have caps so that you can open it up and fill in water or sand to add the weight. I filled the base piece about half with sand (around 60 -70 lbs) Then it works out perfectly. My 2 year old daughter went nuts when she saw this in the backyard. It's small enough for our small backyard but big enough for our 2 year old and the baby on the way. I'm a happy Dad.
Date published: 2016-03-17
Rated 5 out of 5
by
Marg
from
Great fun for home daycares/parents
I am so happy to have our new Step 2 Woodland Climber as part of our playground in my back yard. The kiddies just love it! It has two steering wheels and two rockwalls with different heights. The blue slide just adds some extra fun. Even though the climber is for my older toddlers and preschoolers, I do have a lovely Step 2 climber for the younger ones! They are such a nice match!
Date published: 2017-09-24
Rated 4 out of 5
by
Aubrey's mommy and personal attendent;)
from
Woodland Fun
My 20 month old daughter loves to climb on the Woodland Climber and slide down the slide. She requires little to no assistance to climb up and slide down by herself. She gave me lots of kisses as she climbed up and then slid down the slide. That's her seal of approval. Recently our next door neighbor brought over her 15 month old and the two toddlers climbed and slided to their hearts content! Loads of fun. Attractive and sturdy. Hopefully this will last several years and several children. Small enough to be enjoyed by toddlers but not too small to be outgrown by larger children.
Date published: 2011-07-11
Rated 4 out of 5
by
Anonymous
from
Great Climber
We discovered at the park that my 12 month old son loved going down slides, so we decided to purchase a climber. We chose this climber as we thought it would last for many years. He got it for Christmas (13 months old) and so far loves it. He loves going down the slide and is now starting to climb up the ladder by himself. He also loves crawling underneath the climber and playing a little hide and seek game. We have this in our backyard and it seems very sturdy. Assembly was super easy; it took us about 20 minutes to put it together. The only con is that the two steering wheel things are very tight and my son can not turn them. He will need to get older and get some more strength to be able to move them.
Date published: 2013-01-15
Rated 4 out of 5
by
Bensonsmama
from
Great Climber!
Of course any climber from Step 2 is good to be great and this one is! My son is almost 18 months and has a ball, he is not able to climb the rock wall yet, but he will soon. His favorite part is the steering wheel! The only flaw I see in this product would be that they state that the playhouse area underneath could be filled with sand. At first I thought GREAT now we dont have to have the sandbox and the climber (we have a small back yard) but there is no way to cover the sand from cat/dog feces or rain. I just wish they would sell something you could cover it with.
Date published: 2007-05-06
Rated 5 out of 5
by
Ceress
from
Big and Fun
We love this product, and so does our 3 year old son. It was super quick and easy to assemble. We have it in our living room for the winter, which we were worried about since our living room is tiny, but its not too big that it takes up the entire space. We did notice that if you try to lift it after it been assembled, it starts to come apart, so make sure you push it. We also were given four giant screws and directions on where to screw them in, but they didn't help keep the play set connected, so we just left them out. Not sure about how the weather will effect yet since its been inside. Overall, great investment!
Date published: 2015-01-01
I bought this & only received 2 boxes of the 3. Where will I be able order the extra parts?
What you need to do is contact the place of purchase and tell them you only received part of your product and they should be able to assist you.
Date published: 2021-01-19
Is this item easy to disassemble and reassemble? We'd like to keep it in our house for the winter and then move it outside  in the spring.
It is held together with screws and takes two people to put it together.
Date published: 2020-12-16
How can I be notified when this comes back in stock? Is there an estimate for when this will be back in stock? I see the prior answer to a similar question from October and understand COVID-19 has impacted the supply chain. Thank you.
We do not anticipate having this item & other products back in stock until late mid– late December. Please note this is an estimate as the timing could move back again based on demand, production schedule and retailer commitments. Please note that this product and many others may not be available on our website and only available and sold by Walmart or Amazon.
Date published: 2020-11-25
Hi when will this be available to purchase? I want to buy for my toddlers birthday before October  please
Thank you for contacting The Step2 Company. We apologize but we are currently out of stock and backordered on this item and several products. We are now running limited production as we were previously shut down due to the COVID-19 environment and unable to produce at that time. Our current production has been limited due to social distancing guidelines. We do not anticipate having this item & other products back in stock until mid to late October. Please note this is an estimate as the timing could move back again based on demand, production schedule and retailer commitments. Continue to check our website daily for availability and updates. We apologize for any inconvenience.
Date published: 2020-10-12
When will this be back in stock? I did not receive a notification of restocked supply on 9/28/2020 when it was restocked for one day, and its out of stock again on 9/29/2020. Thank you
Thank you but amazon is charging $150 more than your price. If thats going to be the case then i will purchase from another company.
Date published: 2020-09-30
Looking for just the plat form
Unfortunately, we do not offer the platform separately.
Date published: 2020-09-24
How long is the slide?
The slide of the Naturally Playful Woodland Climber II™ is 45 inches long.
Date published: 2020-09-11
Hello can I purchase the steering wheels for the climber separately?
Unfortunately, we are unable to offer the steering wheel separately from the Naturally Playful Woodland Climber.
Date published: 2020-08-31