Neat & Tidy Cottage II™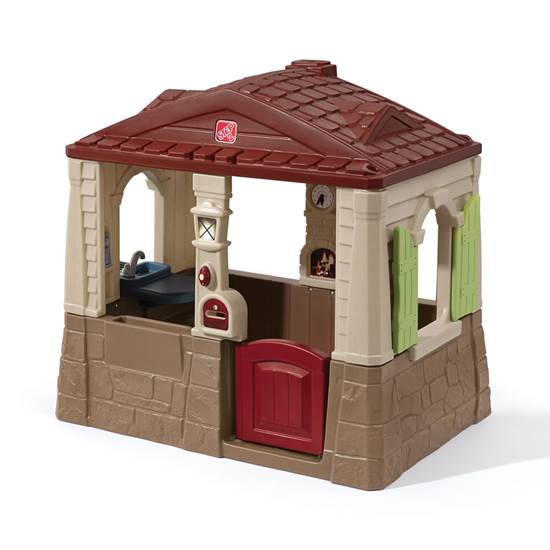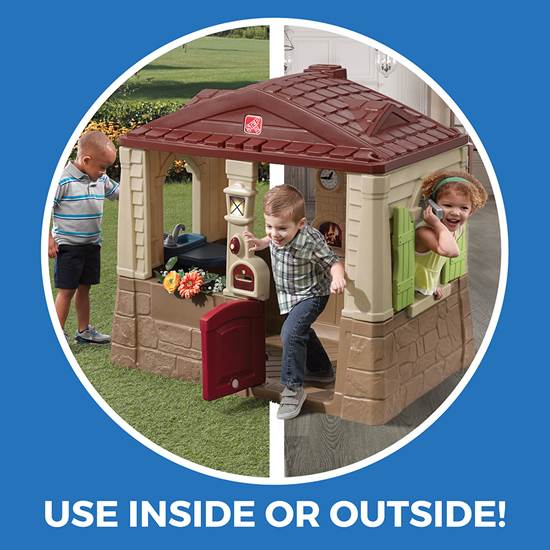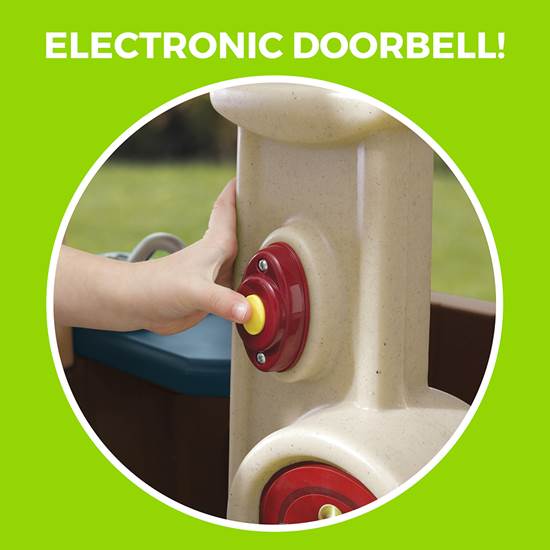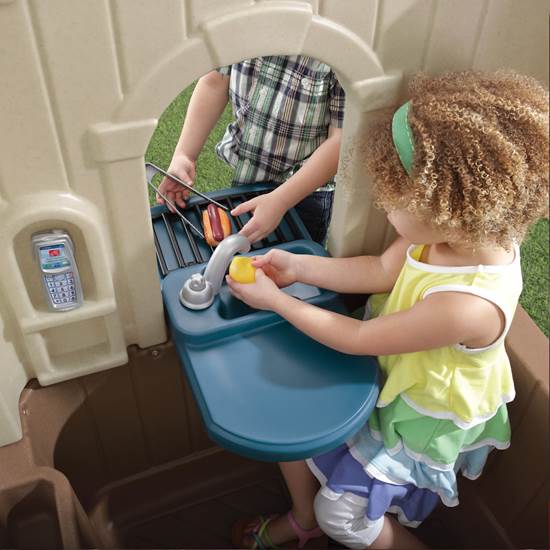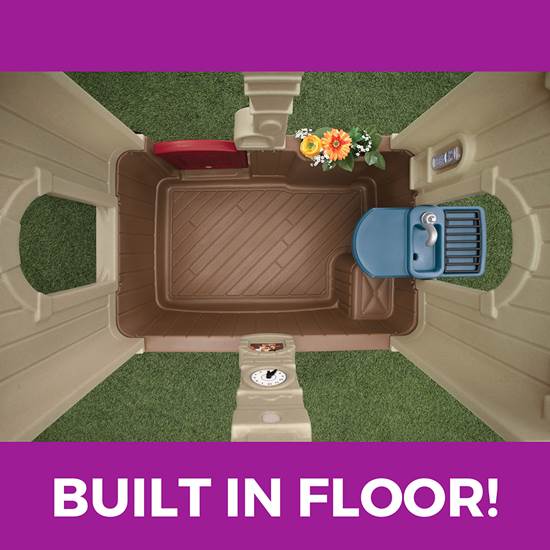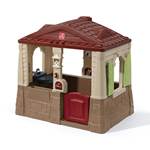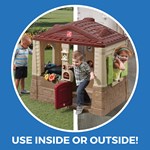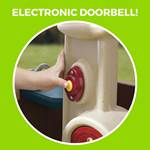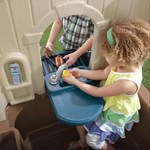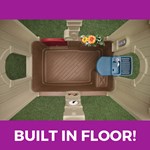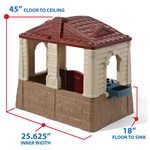 Neat & Tidy Cottage II™
The Neat & Tidy Cottage II™ will ignite little imaginations to play pretend for hours on end!
IS THIS A GIFT? DON'T SPOIL THE SURPRISE!
This item ships with an image of the product on its outer packaging.
Rated 5 out of 5
by
Ashgirl
from
Literally saved our home
We've had this little house for about a year now. Well about a week ago we had a bad windstorm blow a tree down next to the trailer we're living in! If the house hadn't been there and HELD UP the tree it could have done significant damage to our home! After removing the tree (easily 60' tree that was a very heavy tree. Not sure what kind it was but a small round was hard to pick up) my husband pushed the roof back up and it looks good as new! Thank you for making such great quality stuff!!
Date published: 2020-09-12
Rated 5 out of 5
by
Logan and Amelia's Mama
from
Awesome for pretend play!
With the help of The Step2 Company, we were able to donate a playhouse to our 4 year old's school. Logan was able to go with us to drop the Neat & Tidy II playhouse off at his school and he was able to test it out. The playhouse has a working doorbell that was a big hit with Logan. It also has a swinging door, small play grill, little sink/counter, a spot for a flower bed, mail slot and working shutters. Awesome for pretend play! My 4 year old is off the charts in height (he's as tall as most 1st graders) and he still easily fit underneath the house, so it's definitely a toy that will grow with your kiddo and can be used by multiple siblings. I love the size of this house because it doesn't take up a ton of space and can be put inside a playroom or classroom if you'd like. Several children can also enjoy it at the same time.
Date published: 2014-08-01
Rated 5 out of 5
by
Mom of 3 in WV
from
Loved by my 2 year old and 4 year old!
As a Step2 Ambassador, our family was sent this house (at no cost) to review. My kids' grandparents have been wanting a playhouse at their home for a while and were so excited to put this up in their backyard.The setup was really easy and can be done with just one person if needed.My kids couldn't wait to play with this house! They visit their grandparents' house once or twice a week and play with it every time they are there. They especially enjoy playing with the grill and sink. My son also likes to play peek-a-boo with the shutters. The working doorbell is a fun feature and it's not overly loud or annoying the way some electronic toys can be.My in-laws appreciate that the color scheme looks good outside their home and it's also nice that it is gender neutral. They also have the Step2 Alpine Ridge Climber and the two color schemes look well together.I love that this house has a built in floor. If you decide to put the house outside (like we did), there are small drain holes for water/snow. Having the floor means that after a week of raining days, my kids can still play in the house on the first sunny day without becoming a big muddy mess.Overall, it's a wonderful little house that's great for boys and girls alike.
Date published: 2014-08-07
Rated 4 out of 5
by
Devan
from
Great Product!
Received this as a gift for my daughter's birthday. She could play in this thing for hours! She loves playing house and pretend. Unfortunately the door latch did not last very long, it doesn't close anymore. My husband has tried to fix it but no luck. She still loves the house just wish the door would close.
Date published: 2018-03-21
Rated 5 out of 5
by
Megan02rsx
from
Such a cute house!
My daughter loves this neat & tidy cottage! She plays in it daily. It took a bit of time to put together but the instructions were well written. It easily fits my daughter and sons in it with room to spare!
Date published: 2020-02-11
Rated 2 out of 5
by
casinozig
from
christmas present for my granddaughter
package had only screw but the directions say that were 4 different types had out buy screws so we could put it together for christmas for my granddaughter.
Date published: 2015-12-22
Rated 4 out of 5
by
Jess
from
Great little cottage
Got this for my two year she has loved it . She will tell you it's her home but she's wanting a bigger one now that's she three
Date published: 2020-04-23
Rated 4 out of 5
by
Rinn77
from
Fun house
It is durable & good size for the price. My children enjoy it.
Date published: 2018-03-08
Rated 5 out of 5
by
Anonymous
from
Perfect for the smallest home buyers!
Thanks to Step2 for sending me this playhouse to check out as part of the Step2 Amabassador program! It has been played with by a 2 year old and a 5 year old and they are both enjoying it side by side.I love the new features of the grill and the flower box along with the classic doorbell that every 2 year old desperately wants to play with. Having a flor on the bottom of this house means you can put it almost anywhere without worry that your young child is hiding in there digging up things from the yard and eating them.For a first playhouse I think the scale on this model is perfect. It is very open so an adult can interact from outside the playhouse without being forced to try to cram themselves inside to participate in the fun. At 5 years old my daughter is on the tall side to be in the actual house but that doesn't seem to bother her in playing with her 2 year old companion.The house goes together pretty quickly and I didn't find any moments where I was left wondering what the instructions were saying. Working with one other person we had the house together in less than 20 minutes.I would mention that this house does not come with any play food or utensils and since it has the little grill/kitchen area you might want to consider adding a small set of those kinds of things so your child can get the most out of them. Other than that, I think they thought of just about everything!
Date published: 2014-07-25
Do the shutters on the windows open/close?
Yes, they do.
Date published: 2020-06-17
Can I order on line
This product is sold online at multiple retailers, however it is currently out of stock. Please check our website for retail locations.
Date published: 2020-06-16
Do you price match?
Unfortunately, we do not offer price matching. The retailers are also our customers. We cannot compete with any specials or sales they may offer. We have suggested retail prices; however, they may offer promotions or sales that differ from ours.
Date published: 2019-09-13
How can we get the stickers from this house? Ours are used :(
Please contact our Consumer Specialist Staff at 1-800-347-8372, Monday through Friday, 8am-5PM Eastern Standard Time for assistance.
Date published: 2019-06-10
Where can I buy the stickers and the rest of the accesories for the house? 
Please contact our Consumer Service Specialists at 1-800-347-8372 Monday through Friday, 8AM -5PM Eastern Standard Time and we will be happy to help you.
Date published: 2019-07-11
I cleaned the cottage with water yesterday and the water has gotten into the plastic side walls of the cottage. How do I get the water out and where from did the water get in?
Please contact our Consumer Service Specialists at 1-800-347-8372 Monday through Friday, 8AM -5PM Eastern Standard Time and we will be happy to help you.
Date published: 2018-10-16
How many boxes is this shipped in?
The Neat & Tidy Cottage ships in one box.
Date published: 2018-07-25
I have had the neat and tidy step 2 playhouse for a couple months. The stickers have peeled off. Is there anyway to order replacement stickers ??
Please contact our Consumer Service Specialists at step2-company@step2.net or 1-800-347-8372 Monday through Friday, 8AM -5PM Eastern Standard Time and we will be happy to help you.
Date published: 2019-01-13