Neat & Tidy Cottage™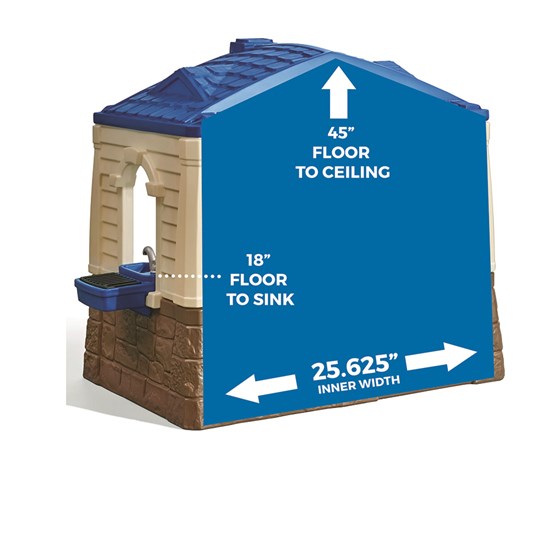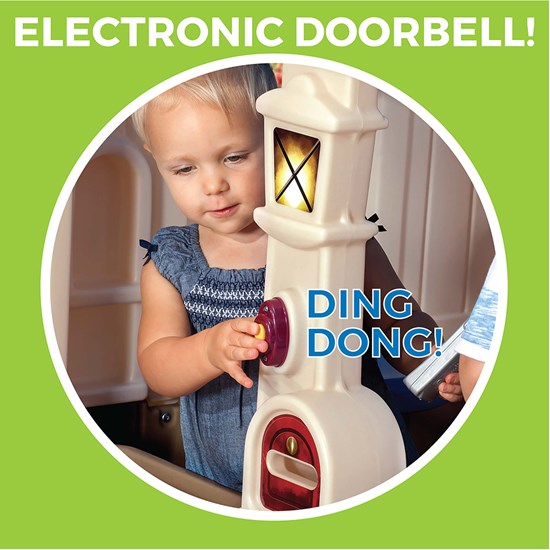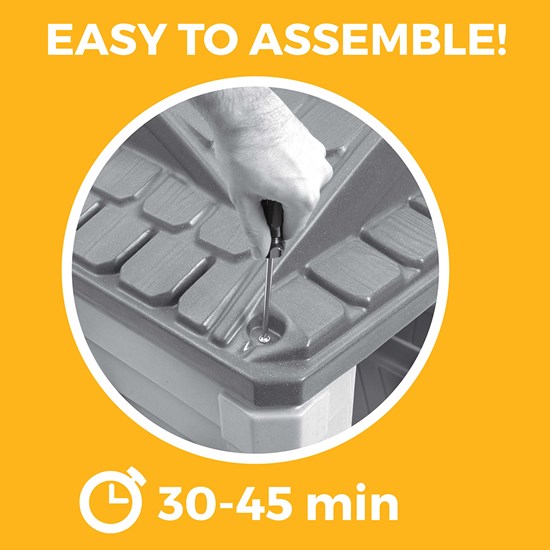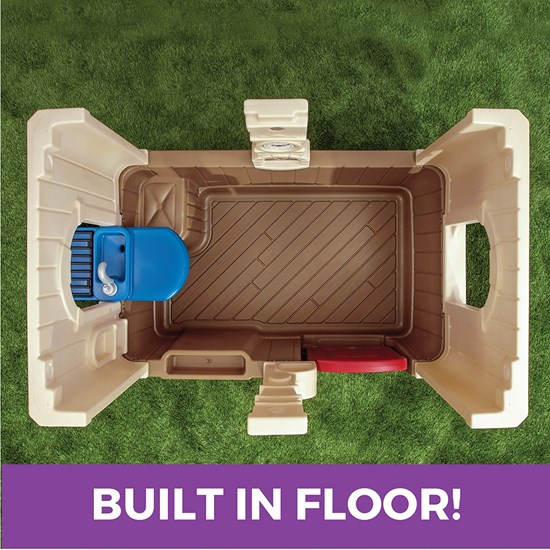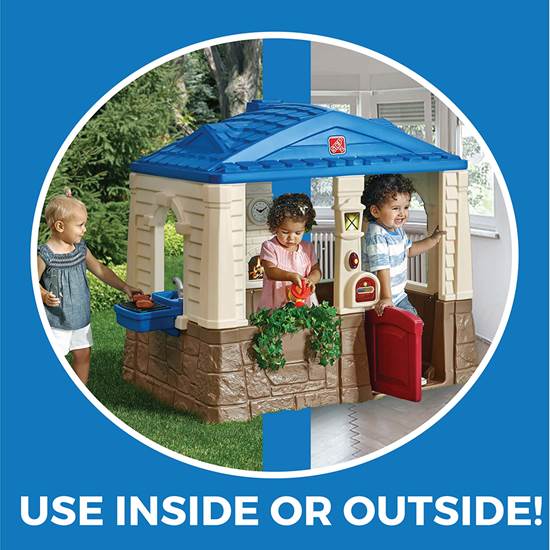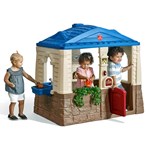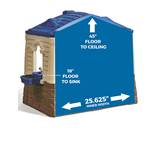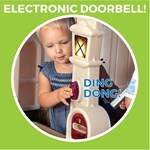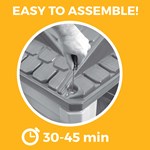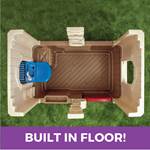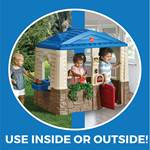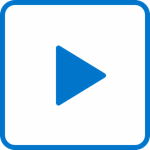 Neat & Tidy Cottage™
In stock
$199.99
+29.99 shipping (via FedEx) When will my item arrive?
This Step2 play cottage is the ideal plastic playhouse for toddlers to play "house" in!
IS THIS A GIFT? DON'T SPOIL THE SURPRISE!
This item ships with an image of the product on its outer packaging.
Rated 4 out of 5
by
Edloe
from
Very nice house
Compared to all other houses, the design is very nice: big enough for a toddler. At the sametime not too big so that we could put it inside during the winter for our girl to enjoy it all the year.Big openings (windows) all around = best thing. It lets you keep an eye on your child all the time, and play with him through the windows.Other advantage : it has a floor so that it stays cleaner and safer (no insects, small animal...).Colors really more beautiful compared to all the other houses that are brown / dark red (sad colors!).Concerning durability and weather resistance, no opinion. We haven't got it enough time to judge.
Date published: 2010-03-17
Rated 5 out of 5
by
Anonymous
from
great little house
I got this playhouse for my 4 year old daughter. She is more the size of a two year old. She is 27 pounds so she fits in the house just fine with some growing room. We have it in our living room and it doesn't take up much space. We may eventually move it outside. She loves the doorbell most of all. She fits just fine in the little seats. If you are going to keep it inside, you will need to put a rug down because the plastic will hurt their little knees. I can get in it just fine and play with her and she likes that. It does have everything that the bigger more expensive houses have but at a cheaper price.
Date published: 2010-02-12
Rated 5 out of 5
by
Jacky's Mom
from
Great house! Has it's own floor!
I bought this house for my 2 year old (who is now 3 years old and 39 inches tall.) during our stormy season to give him something to play in while he couldn't be outside. This house is the BEST. The doorbell and phone are great little features. It has it's own floor so when you put it outside you don't have to sit on the ground. We put a regular sized bath rug in the bottom and viola we have wall to wall carpeting. It was an absolute BREEZE to assemble. Easy. It has held up to absolutely everything! We even put up wrapping paper on the walls for wallpaper. The door and windows are cute too. My son LOVES opening and closing things and this is just perfect. A+ at an affordable price.
Date published: 2010-01-07
Rated 5 out of 5
by
House of Cook Quads
from
Great for Quads
We have 2yr old quads. I had a hard time picking a relatively inexpensive playhouse that would be big enough for all four kids to play. Yes, they all fit with room to move. They love it. My only critique is that I wish the Active Brights colors were available via [@] and not just Step 2. We just put it out today (in our home) so I can't speak yet on durability or weather. I wouldn't say it is unattractive, but I would prefer some fun colors other than tan w/red. Easy to put together. I did it mostly myself in about 1 - 1 1/2hrs. Husband helped me hold a couple pieces on while I drilled (screwdriver).
Date published: 2012-06-16
Rated 1 out of 5
by
Marcolino
from
Missing Parts - Never got a call back
I bought this playhouse for my daughter this Christmas and after opening it I realized we were missing several parts including the manual. Called Walmart 4 x to get missing parts and never got a call back. Very disappointing as it took a lot of work to bring the large box in the house and a lot of work to repackage to bring back to Walmart. Not to mention that my 2 year old was devastated when I had to repackage the item on Christmas Day! Disappointed with both Walmart and Step2 for their lack of customer services!
Date published: 2019-01-13
Rated 4 out of 5
by
Anonymous
from
good buy
My parents gave this toy to my 2yr old daughter for christmas, and she loves it. We had it the house over the winter and it keep her busy for hours and we put it outside this spring. Her and the neighbors kid love to play together in the house. The only bad things about it was, there where no screw holes in some of the places that there need to be and if you don't have a power screw driver it make it very hard to push the screws through, and with bad weather you have to put something heavy in the bottom so it wont blow away. But all together my daughter really enjoy having this house.
Date published: 2008-06-14
Rated 1 out of 5
by
Anonymous
from
Disappointment
Ordered the pink version of this online. When I received it, the box was busted open, but it appeared that all the pieces were intact until I started to put it together and there were no screws included. Customers service is closed on the weekend,so I had to go to the store and buy some that were as close in size as what should have been included. Once I went to insert the first screw, I realized that there was no hole for it...or any of them. Directions call for screws and a screwdriver. A screwdriver wont bust through the plastic. Looks like return is inevitable.
Date published: 2015-08-08
Rated 4 out of 5
by
Kevin's Daddy
from
He loves it!
As we live in a condo, it is difficult for our toddler son to have a "fort" to play in. Since we are limited to space, we tried this play cottage as an indoor alternative. He loves playing in it! After much play he likes to sit down at the table and "pour" himself a glass of water from the sink and prop his favorite teddy bear on the other seat across the table from him and give the bear a drink, also. Just take note that it is really for younger children (due to its small size). It would be nice if Step2 would include a couple of pieces of play mail for the mailbox.
Date published: 2009-11-29
Rated 5 out of 5
by
2 princesses mom
from
Had 2+ years and STILL love it!
We purchased this for our older child over two years and loved it then. Now it is the favorite place for her and her new sister. I love the solid floor and the texturing never seemed to both my daughters bare feet. It goes out in the summer and comes in in the winter. We have to partially disassemble every time, but the assembly is easy, even without an electric screwdriver. A plus, with the solid floor I can put and inch or two of water in the bottom in the summer for my girls to splash (the drainage holes don't work very well on grass) and it is easy to tip over to empty when they are done.Only down side, at the age of 4 my daughter is getting too tall (43"). She wants a bigger playhouse (the welcome home playhouse no less!)
Date published: 2007-11-17
Rated 2 out of 5
by
Get out and play more
from
Disappointed but hoping for the best
This playhouse was purchased for a toddler class and I think they will enjoy it. It's probably only going to hold 2-3 at a time and if I have time I will probably take out the "sink" to aid the space issue inside.Assembling bookcases, desks and toys is part of my responsibility and experience, so finding these plastic pieces with 1.25" screws and no other securing mechanisms was surprising, but more frustrating was the discovery of no predrilled holes and in 4-5 places no indication for screws. Yes, I assembled it with a manual screwdriver but it was unnecessarily frustrating and in a few cases the screws didn't even catch the adjoining part to secure them together. I had a higher opinion of Step 2 before my experience with the cottage.
Date published: 2015-09-11
Rated 4 out of 5
by
A Grandma in Florida
from
We like it, but...
I ordered this for my granddaughters ages 2 1/2 and 1 1/2. It is a little small for the two of them but they love it. One loves the doorbell and the other the phone. I put it together fairly easy but it would be so nice if the holes had been drilled. It would be easier with a cordless screwdriver or drill but I was using a manual. There are indent where the screws go but you have to make the hole. I do find that it is a little small for the two of them together, so I just ordered another. Now they can visit each other. The price is nice.
Date published: 2009-06-01
Rated 5 out of 5
by
Anonymous
from
We LOVE iT!!
We bought this for our Daughter's 2nd birthday and we LOVE it!!! It was very easy to put together; maybe took 40 min. My Daughter loves playing with her dishes at the table/sink and loves loves loves the phone and doorbell. I do wish it would have came with plastic mail, but other than that it's great. We have it in our playroom right now since it's almost winter, but we will be moving it to our patio come Spring/Summer. I know my daughter is going to enjoy this house for a long time. Thanks Step 2 for another Great Purchase!!
Date published: 2009-11-18
Rated 4 out of 5
by
cris0327
from
Neat Tidy Cottage-Active Brights
We purchased this cottage for my 15 month old daughter and she loves it! The colors are great, very vibrant. The phone and the doorbell both require batteries and work great. The only downside is when assembling, the pieces don't all line up the way they should (at least for us). Also, the door doesn't close all the way without an adult pushing it in. There is no other way to assemble the door so I do not know if it is a problem with the door itself or the frame? Other than that, we are very happy with the house!
Date published: 2010-05-24
Rated 5 out of 5
by
Auntie Jill
from
It was a huge hit!!!
I bought this as a gift for my (triplet) niece and nephews for their first birthday! It was a huge hit, not only with the triplets but with every other child at the party. They all loved the doorbell (that dings!) and the shutters and door that open and close. I highly recommed this product, not only was it super easy to put together it also looks very nice (some playhouses I looked at were very tacky looking). I can see the triplets getting years and years of use out of the neat and tidy cottage :)
Date published: 2012-05-24
Rated 4 out of 5
by
Riley's Mommy
from
AWESOME PLAYHOUSE!
My 17 month old daughter absolutely LOVES her playhouse! She has a great time opening and closing the shutters, ringing the doorbell, talking on the phone, and sitting at the table. She shows her cousins around like it's a palace! The only negative is that there are not pre-drilled screw holes, which makes assembly a bit of a hassle. We put it together when she was sleeping and couldn't use power tools, so my husband made the holes by hand. That's the only thing I think Step 2 could improve on!
Date published: 2008-12-07
Rated 1 out of 5
by
0acespar
from
No hardware or accessory
Our children received this gift for Christmas. When we opened the box there was no hardware or accessory pieces... "no big deal, I'll call customer support."— the number has been changed or discontinued. The number on the box not online works.
Date published: 2017-12-26
Rated 4 out of 5
by
Mother of 2 small daughters, ages 4 & 2
from
Kids Love It!
My girls received this as a Christmas gift from their grandparents and it is still sitting in the middle of the living room! They have not stoped playing in it and do not want us to put it outside (we live in the midwest and it is very cold outside!) The only problem we had was the box didn't contain enough screws and the little table was missing. [...] Otherwise, this is a fabulous playhouse for the price! I'm sure my girls will have many exciting adventures in their playhouse this summer!
Date published: 2008-01-01
Rated 1 out of 5
by
Anonymous
from
Attractive design, poor quality
I was disappointed when we set this up. It is not going to last very long. I have a daycare and have many step2 products, this does not compare to the usual strong and sturdy quality of step2 products. I have toys in the play yard which I have had for many many years and they are still just as sturdy as the day we purchased them. This product will not last long at all. It is very cute and the children love it, however, my 4 and 5 year olds can't stand in it, better for very young children.
Date published: 2011-05-31
Rated 4 out of 5
by
Anonymous
from
Updating my review
I wrote a review 2 days ago (before i got it all put together)and I had some difficulty getting the screws in. The sports where the screws go in are not started for you. You have to push hard to get the tip to go in before you can use the screw driver to make it go in all the way. Well yesterday my husband helped and he got it in first try. So definitely use 2 people to put it together.Other than that it is great!! My son actually prefers it over the climber we got at the same time lol
Date published: 2011-08-28
Rated 5 out of 5
by
Carson's Mommy
from
Carson's new playhouse!! We love it!!
Carson got this for her very first birthday and she absolutely loves it. There is plenty of room for me to fit in there with her and play. She loves the doorbell and peeking her head out of the windows. We have it in our living room now since it is still cold and she plays with it all of the time. I like the colors of the house alot too. This house was super easy to put together. It literally only took 20 minutes to put together. I think that is a really great house for the money.
Date published: 2008-01-29
Rated 5 out of 5
by
CassisMama
from
[...]
My German Sheppard and 2 cats are always trying to sneak in and take a nap. My 21 month year old daughter is not keen on sharing it though, lol, and quickly shuts the door behind her.I love that the floor is attached to the lower walls - keeps the bad stuff out and I know that she will be dry and clean and bug/creature free in there. The phone did not work, but customer service replaced it with zero hassle. We love to decorate it with push button lights, pictures on the walls, carpet, curtains... I put her Dsny- kitchen in there too and she loves that. It is currently in the living room for the winter.Cons - the sink should be sturdier, the phone clasp is not tight enough to hold the phone, needs pre-drilled holes for assembly, will not fit into an SUV even if unassembled from the packaging.[...]
Date published: 2008-11-11
Rated 5 out of 5
by
Ezra & Zoe 's Mama
from
WONDERFUL!! LOVE LOVE LOVE!!!
I purchase the Neat and Tidy Cottage as a birthday gift to share for my two year old and one year old (their birthdays are 4 days apart). I did a TON of research because my oldest is VERY tall and I wanted something he would be able to enjoy for a long time. When I received this item and assembled it (which was not difficult - I used at ratcheting screw driver) I was excited to show it to my kiddos. My son kept saying "house, house" and my daughter started pushing buttons. They have been playing together in the house ever since (purchased about 2 weeks ago). I have seen other play houses that are much smaller and shorter. This one is tall on the inside and perfect for my tall kids. It is lightweight and great for indoor play (I keep the playhouse inside). I LOVE this product and my kids do too.
Date published: 2011-08-10
Rated 4 out of 5
by
Anonymous
from
Great house! (once built!)
I love this house. I think its so cute and my son loves it also. he has been in it all day so far. (he just got it) my only downfall on it is that i dont have a drill and it said i could use a screwdriver but a drill is recomended. it took me over 4 hrs to put together cause i had to pop all the holes in the tough plastic myself. I would have hoped for it to be done already. other than that i totally love this product and will be buying more from step 2! i just need to buy a drill!
Date published: 2007-12-03
Rated 4 out of 5
by
Anonymous
from
Good playhouse
My son (13 months) loves this playhouse. He opens the doors & shutters and rings the doorbell over & over again. I assembled it myself (not too bad, the posts were a little challening). We have it on our deck.My only concern about the playhouse is that it's supposed to go indoors when the temp is below 32F. I didn't realize that when I bought it. But we'll find a place for it in the wintertime. It's a great product and we're hoping to get many years of fun out of it.
Date published: 2010-04-05
Rated 4 out of 5
by
Anonymous
from
Great Playhouse!!
My 1 1/2 year-old and 4 year-old love playing together in this playhouse! They are both tall for their age, but fit in the seats just fine and the roof is tall enough for them to stand inside with plenty of growing room. It is a small enough playhouse to use in a playroom, but has plenty of room inside to fit a few kids. This is a good price compared to other playhouses, but I wish it had more features to keep them interested when they're playing by themselves.
Date published: 2010-10-29
Rated 4 out of 5
by
Anonymous
from
love this affordable playhouse!
I love Step2 products and this one did not let me down! I wanted a house for my almost 3 year old son, but did not want to spend a lot of money and wanted one that would blend in my backyard color-wise. It only took me 1 1/2 hours to assemble this house and that included the time it took me to get out my tools and clean-up in the end. I did use a drill to drill through some holes to start them as others had recommended. I was most worried about the height of this product but loved the color, compactness, and opennes of the design and the fact that it was Step2, so I went with it! At 38" my son fits in it just fine and should not have to duck in it for at least another year or so. Even after that I don't think he will mind ducking a bit. This house would be absolutely perfect if they just made it a few inches taller!
Date published: 2008-01-29
Rated 4 out of 5
by
Anonymous
from
my daughter loves it!
I never put things together but I put this together and it was very easy. Took about an hour... would've been less if I wasn't using a hand screwdriver.The bottom of the floor gets dirty and with the grooves in it I'm not sure how easy it will be to keep clean. Guess I can just spray it out with a hose.Overall my 2 1/2 year old daughter really enjoys it. She "cooks" for me all the time with the fake food I went and bought for her to play with.
Date published: 2010-05-08
Rated 2 out of 5
by
Anonymous
from
Not like they used to make
Have had MANY items from Step 2 over the years- still use the majority of them but this was a disaapointment. Very challenging to put together- had to drill pilot holes in the plastic and then use a drill to put the screws in all the way. Plastic is flimsy compared to other Step 2 products I own. The most disappointing issue is the lack of support for the sink. The kids lean on it and it bends down due to the flimsy plastic and the way it is secured. I had to add additional stainless steel screws and may have to "jimmy" up something else to ensure it doesn't break off. When I moved the house last night, I discovered that the walls are full of water. I will call cust. serv. tomorrow to see what they suggest. Only my 1 and 2 year olds are allowed in this house due to it's small size which is fine. I rarely regret purchases, but his is one of them.
Date published: 2012-07-22
Rated 5 out of 5
by
Carole The French Maman
from
The best toy I ever bought!
I bought this playhouse 3 years ago and it still looks new after 3 full years being outside in the Colorado sun and winter; colors are the same. The kids never get tired of it. We have lunch inside it and I even fit inside with them (siting on the floor). This is one of the best toy I ever bought. I totally recommend this purchase. I like the open concept so I can keep an eye on the kids when they play in it. We always kept it on the deck.
Date published: 2013-02-09
Rated 4 out of 5
by
Lawyer Mama
from
Fun house for young toddler.
My daughter loves her new house. She can get in and out of it and work most of the features. The size is just right. I wish the built-in seats were a bit bigger--she barely fits with her tiny 17 month-old bottom. Overall, I really like it. I am not sure if this will carry us until she is 3-4, but for a young toddler, it is just great. Haven't moved it outside yet so we don't know how it will weather yet, but I think it will be fine.
Date published: 2009-12-28
After putting this together, is it possible to take apart to move? I'm interested in having indoors for the winter and moving outdoors for summer. Thank you!
Once assembled the Neat & Tidy Cottage™ may be unassembled and reassembled. Please note to be careful not to enlarge the holes where the screws attach.
Date published: 2019-11-27
I notice in pictures that there is a flower/plant box connected to the front window. Mine doesn't have that! Is there a way i can purchase one? Thanks!
The flower box of the Neat & Tidy Cottage™ is part of the front wall.
Date published: 2019-08-22
Some of the pictures show a plant in the front. Is this an add on item?
Some of our playhouses have a planter on the wall that may be used to place faux plants or flowers.
Date published: 2019-07-18
If I put this playhouse together in doors will I be able to take it outside without taking it apart when the weather breaks?
I assembled it together outside but was not able to bring it inside because it didn't fit through the door.
Date published: 2019-07-04
Is there any way I can buy the accessories again like the small grill and faucet? 
Please contact our Consumer Specialist Staff at 1-800-347-8372, Monday through Friday, 8am-5PM Eastern Standard Time for assistance.
Date published: 2019-06-06
Is there a cover to keep it clean from the weather? We keep ours outside and have a lot of trees and dirt in some areas so it's getting dirty constantly. 
Unfortunately, we do not offer covers for the Neat & Tidy II.
Date published: 2019-04-29
I have the original beat and tidy cottage, with the blue roof, red shutters and no grill. Can the shutters be removed? I want to paint them and put them back on. 
Please contact our Consumer Service Specialists at 1-800-347-8372 Monday through Friday, 8AM -5PM Eastern Standard Time and we will be happy to help you.
Date published: 2019-04-03
I need decals for Neat and Tidy cottage number 7353.
Regretfully, we no longer have stock of the decals for the Neat & Tidy Cottage prior to 2016.That version has been retired.
Date published: 2019-02-27