Neighborhood Fun Center™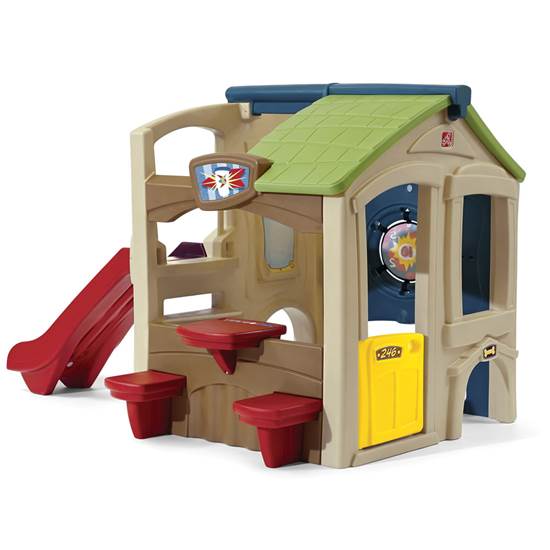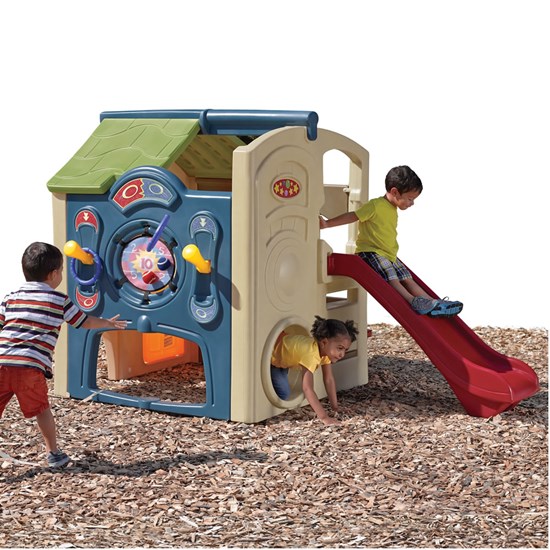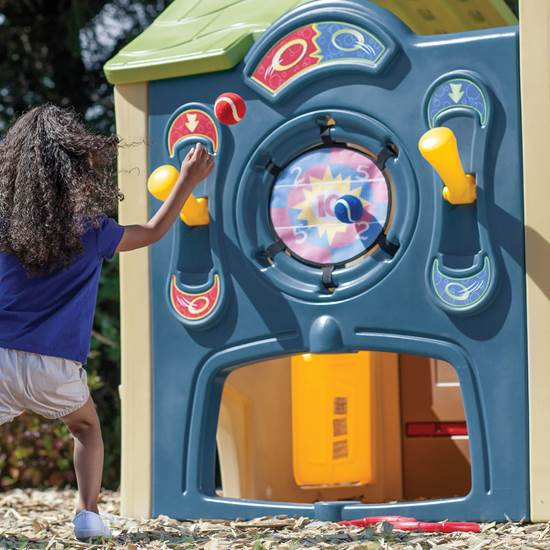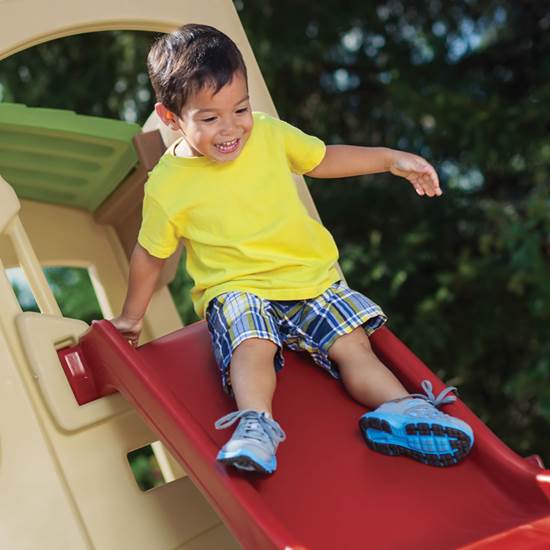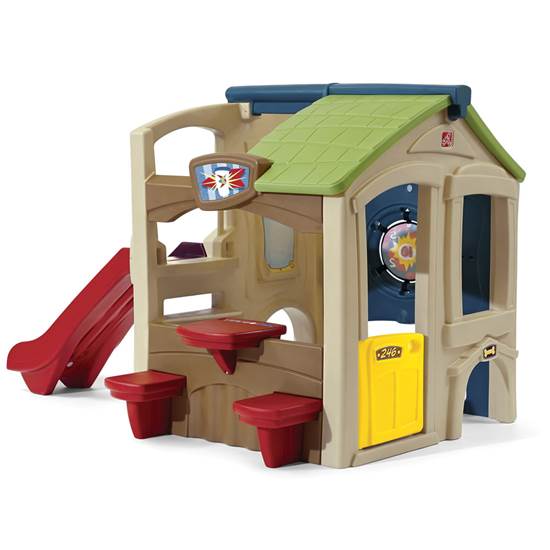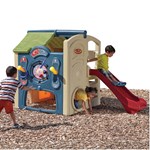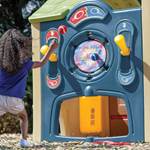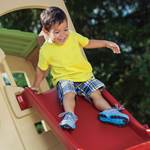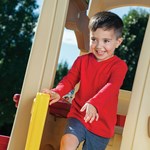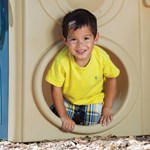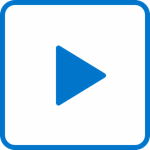 Neighborhood Fun Center™
In stock
$539.99 $489.99
+$89.99 shipping (via Truck)
IS THIS A GIFT? DON'T SPOIL THE SURPRISE!
This item ships with an image of the product on its outer packaging.
Rated 5 out of 5
by
Anonymous
from
Great Funhouse! Highly Recommend!
This is a Great Funhouse and my 2 year old daughter "LOVES" it! She has played on it every day since we got it. She loves the slide and the rotating door. We play ring toss with her and we can have a snack at the built in table and chairs. Our dog even goes thru the dog door to sit inside with her! We did alot of research before purchasing a "house" and this Step 2 product was the best fit for us. It provides more "play" options for the child then a regular playhouse would. We highly recommend this product to anyone interested in hours of play time with their child. Keep up the good work Step 2!!! We will be buying more products from you!!
Date published: 2008-06-18
Rated 4 out of 5
by
First time toddler mom
from
Fun house, not huge
We bought this for my 18 month old son. It is a cute, fun house with lots of different activities for him to play with. The steps to climb the slide are better than we had expected (hard to see in the pictures). It was very easy to assemble and is good for a boy. The one thing that surprised us was it is much smaller than it looks in the pictures. Those must be the tiniest kids ever in the pictures. My son is tall for his age, but even at 18 months I can't see him ever crawling through the doggie door or the revolving door. He certainly loves running in and out of the main door though. Overall a good product at a decent price.
Date published: 2009-08-04
Rated 5 out of 5
by
Lindsey the mother of Braylon and Jadon
from
My 2 year old loves his Neighborhood Fun
My 2 year old son loves playing on his Neighborhood Fun Center. The only thing I think that could be improved is how it is assembled. The side of the Funcenter where the two seats and table are is kind of flimsy even with 2 screws threw it. It is kind of difficult to put together if you do not own a powerdrill because the holes are not pre-drilled. We put it together with a Phillips head screwdriver, and it was a lot of work!! For the most part though the product is worth the money because my son absolutely loves it, and has lots of fun playing by himself or with his brother and cousins. I would definitely buy it again and recommend it to other parents.
Date published: 2009-06-21
Rated 5 out of 5
by
SAHM to a toddler
from
Very Pleased!
I am very pleased with this play house. I was a little reluctant to spend that much money on it but I'm happy that I did. I purchased it for my 2 year old. I really enjoy that it has many uses. The slide is perfect. Not to short and not too tall. My daughter really enjoys the play area with the rings and ball toss and of course the slide! She doesn't use the sitting area for sitting but for a short cut to the slide! I am happy I bought this because now I don't need a playhouse too! I have a small yard and it fits great. My husband said it was not too hard to put together. I can see getting many years of use out of this!
Date published: 2010-03-21
Rated 4 out of 5
by
Anonymous
from
My daughter loves it!
Got this for my daughter who is turning 2 within a month. She really loves to play in the Neighborhood Fun Center. The slide is great as well as the table and chairs. She loves the actives wall, although she does not fully understand the concept.I do wish that the house would be easier to clean. We have it under a big tree in the back yard, and all the pollen and dirt from the tree gather up on the Neighborhood Fun Center, so keeping it clean is a bit tough. I do wish it was slightly bigger inside, so more kids could play there. Overall, I do like it and certainly recommend it to others.
Date published: 2009-06-10
Rated 4 out of 5
by
Pari
from
Nice combo
We bought this for our 18mo old which is a bit younger than the recommended age. However, he seems to like it so far. The slide is a bit challenging for him and could've used a larger platform for more stable maneuvering without help. As he gets older he'll acquire the skills to master it, so no worries there. All the activities on the house require older toddler/child skills, but they grow fast and I'm sure he'll play in it for many years. I was really pleased with the ease at which it was assembled. Thanks!
Date published: 2008-04-22
Rated 1 out of 5
by
Grandma4828
from
Damaged and Step 2 will not make it right
I bought this last April or May bor my granddaughters 1st Birthday because the Walmart was moving and I got a great price. When we went to put it together for her Birthday, we found some damaged pieces. I contacted step 2 and they won't do anything since I didn't have the receipt anymore. It didn't matter that one of the pictures showed the box. I guess I will just put the whole thing out in the trash. The one to suffer is my granddaughter.
Date published: 2018-02-17
Rated 4 out of 5
by
CCGG
from
Great playhouse, but needs work
This is such a great playhouse for an active boy. My son is absolutely loving it. He's a big fan of the ring toss even if he doesn't understand the game. He loves playing around the outside and inside the house. Loves playing with the little door and crawling through the different spaces. The slide is a little too difficult for my toddler and the steps for it are so tiny he can't get his feet planted. We put some gym mats under it so if he falls, it is cushioned. I'm hoping he will grow into it. My one complaint is that the holes for assembly did not line up and my husband had to do quite a bit of work to fix a few pieces (luckily I have a husband who can do that or it would have been a pain to send back.)
Date published: 2020-12-21
Can I buy replacement hardware for this product 
Replacement parts availability and cost can be obtained by contacting Consumer Services toll free number at 1-800-347-8372 Monday through Friday between 8am and 5pm EST.
Date published: 2021-01-19
Will the "Neighborhood Fun Center"  be in stock anytime soon?  I'm very interested in this product but if it won't be available for awhile I'd like to look at other options.  Thank you.  
Thank you for contacting The Step2 Company. We are currently out of stock and backordered on this item and several products. We do not anticipate having this item & other products back in stock until late - June. Please note this is an estimate as the timing could move back again based on demand, production schedule and retailer commitments. We are now running limited production as we were previously shut down due to the COVID-19 environment and unable to produce product. Continue to check our website daily for availability and updates. We apologize for any inconvenience.
Date published: 2020-06-16
How much time to assemble the fun activity center
It was easy.  I don't remember exactly, but I would say it was not very long.  We got this for our granddaughter's second birthday, and she's getting ready to turn four, and it's going strong.  There's another sister now, and they enjoy it every day.  Go for it!!!
Date published: 2020-04-22
Can the slide not be used..?
Yes. The slide is not a required item for assembly.
Date published: 2020-02-14
can it ship to hong kong, what the charge?
Thank you for your interest in Step2 product retailers in Hong Kong/China. Specific quantities vary by retail location, please contact Wisdom Toys with your specific request. Wisdom Toys Sales Department Building 4, No.2777 Baoan Road, Malu Town, Jiading District, Shanghai, China, 201801 +86 (0)21-39905562 (f) +86 (0)21-31269175 (p) www.huasenwei.com
Date published: 2019-10-22
Do you have the replacement stickers for sale, if so, can you please send the link for buy them online?
Thank you for contacting Step2. Replacement parts and decals can be ordered by calling our Customer Service team at 1-800-347-8372, Monday - Friday, 8:00 am - 11:00 am and 12:00 pm - 5:00 pm EST. Please have your product close by during your call so that we may quickly assist you to answer your question, find a resolution and or provide product or part pricing and lead-time(s). Various replacement parts and decals can now be ordered on line. Check our website at www.Step2.com and refer to the replacement part section located at the bottom of the website page and shop parts by category or look up your product(s) pertinent replacement part choices. Regards, Step2 Consumer Service
Date published: 2019-02-11
Is there an actual ladder or set of steps to access the slide? Or is it just an opening in the molded wall?
The steps are inside the play house, attached to the wall that the slide is on.
Date published: 2019-04-29
I am ready to assemble this but am concerned about it blowing away in our strong SD wind. I see there are plastic plugs in most of the panels. Would it be okay to pull the plugs and add some sand to the parts on ground level, to add some ballast??
Please contact our Consumer Service Specialists at 1-800-347-8372 Monday through Friday, 8AM -5PM Eastern Standard Time and we will be happy to help you.
Date published: 2018-08-13