Neighborhood Fun Center™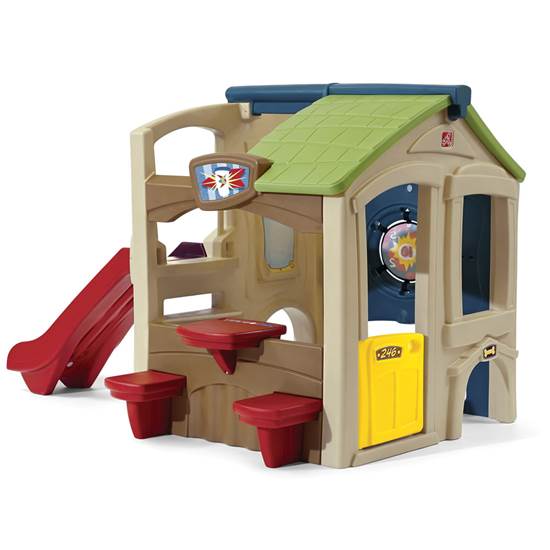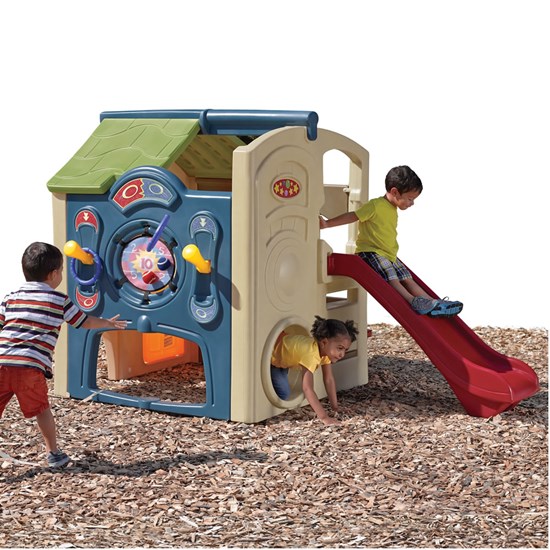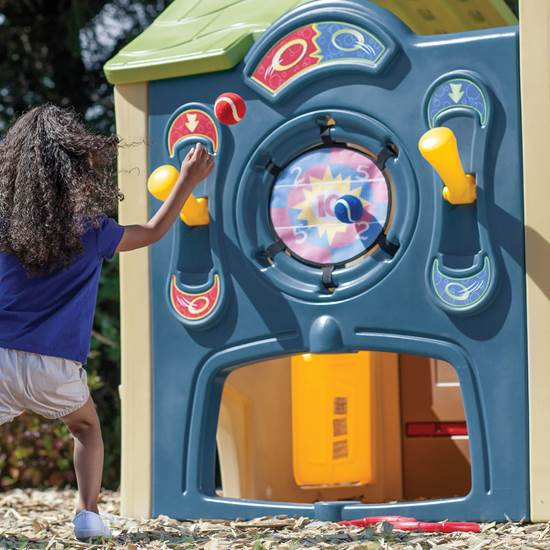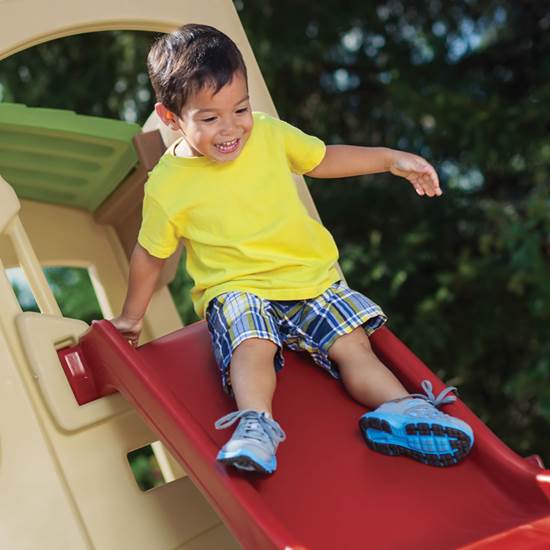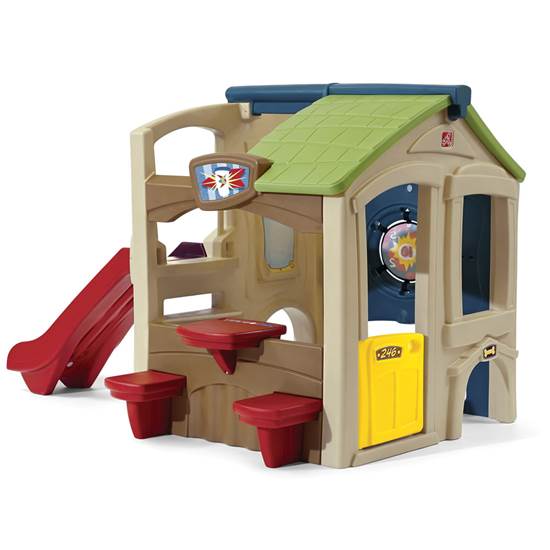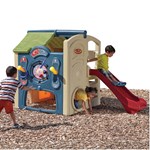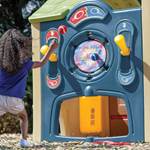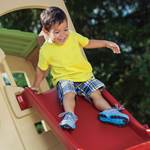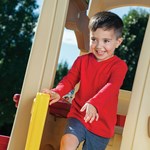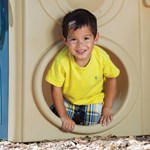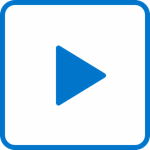 Neighborhood Fun Center™
In stock
$434.99 $429.99
+89.99 shipping (via Truck)
IS THIS A GIFT? DON'T SPOIL THE SURPRISE!
This item ships with an image of the product on its outer packaging.
Rated 3 out of 5
by
Anonymous
from
We like ALMOST everything about it
This playhouse has provided our 2 year old with lots of fun playtime. He especially loves the slide. However, the second step to climb to the slide is really short and after one month of use is already bending downward. This just does not seem very safe. The first step is very sturdy, but the second one is not made of the same plastic and is too short for my son to even step on it. If it weren't for that step, I'd give the playhouse 5 stars.
Date published: 2011-01-17
Rated 5 out of 5
by
mharrah
from
Awesome!
This playhouse is great! I got it for my 4 year old and 1 year old for their birthdays and they don't want to come inside anymore! They had their birthday party this weekend and 7 little girls played with it and they just had a blast! The slide is a great size. Not too short, but also not to big for my 1 year old. I have tall girls and the ceiling is also nice and high. This item is exactly what I was looking for! Thank you Step 2!
Date published: 2009-04-06
Rated 4 out of 5
by
Pgh Mommy
from
Great Playhouse!
We bought this for my very active 18 month-old-daughter since she loves to be outside. I was looking for something that would keep her entertained and in one spot instead of constantly chasing her all over the place outside. She absolutely loves this playhouse...opening and closing the door, crawling in and out of the tunnel, climbing up the slide, and rolling the balls down the slide. My only comlplaint is that the slide is short and steep. My daughter is a little intimidated by it right now but will probably enjoy it when she gets older.
Date published: 2009-07-29
Rated 5 out of 5
by
Fifr
from
so much fun
We ordered this for our two year old grandson, he was so excited when the big truck delivered it to his home.Anders and his doggie,Roxi, have enjoyed hours of outdoor play in this stimulating, easy to assemble, affordable playhouse.The best part about Step 2 is their commitment to quality, the durability and quality of their products. And if you need to disassemble and move it, it's easy to do. Indoors, outdoors, it's a bit hit.We also purchased the Grill and Glow barbecue for him to play with, it was another huge hit.Thank you, Step 2.
Date published: 2009-08-03
Rated 5 out of 5
by
Mom of JS
from
Fantastic product!!
I have a 15 month old daughter. She just LOVES this play center. It keeps her busy for hours.It was easy to assemble. Though you might need a second person to hold the pieces together. The only con for her is she can't climb down the slide on her own yet. The steps for it are too steep so she needs an adult to help her. Otherwise I can't say enough good stuff!!
Date published: 2009-05-03
Rated 5 out of 5
by
Anonymous
from
Well worth the $$
This was bought for my 2 year old daughter aswell as my in-home daycare. Its great and the kids have hours of fun playing in it. The only challenge they have had was the slide. There is not alot of room to maneuver into a sitting position so you have to watch so they don't fall backward. Over time though they have pretty much figured it out and they love it!
Date published: 2009-04-18
Rated 5 out of 5
by
CPE
from
Bring the park to your back yard
AWESOME!!!My now one year old LOVES THIS!!! and so does the rest of her friends. My nephew who is 8 also loves the NFC. I can see my backyard full of Step2 toys... I can't wait to purchase the roller coaster... but I have to wait until my daughter is old enough. The NFC was missing ONE screw, but I called customer service, and they are sending me two. I still rate this a 5 out of 5.What I would change, make the roof retractable as my daughter would live in the NFC is she could.BUY THIS FROM STEP2 DIRECTLY... [...]
Date published: 2009-04-20
Rated 4 out of 5
by
Mama of 2 girls to be
from
Fun Center Review
I was able to put this together by myself 5 months pregnant. Took me about 40 minutes or so. The most difficult thing for me is there were not enough screws for the directions: I kept thinking I lost them. I was about 4 screws short, so the roof is not secured just snapped together and the bar over the seating area is just snapped in. Other than that, this product looks amazing. Stickers are already starting to peel but that does not affect the function of the playhouse (step 2 sticker is about gone). My daughter is almost 15 months and hasn't seen it yet, but I know this will become one of her favorite toys ever. It is very heavy to move around to do yard work like mowing, but thats what you get for step 2 durability! Overall, minor flaws but seems like a great product.
Date published: 2013-05-07
Rated 5 out of 5
by
Anonymous
from
Fun for the Outdoors
A great outdoor playhouse for the summer. There are multiple entry points to the playhouse to keep it interesting. The slide is an added bonus and the seats/table are an exciting extra area to play with. The seat at the top of the slide is a bit small, but my 2 year old seems to manage just fine.
Date published: 2009-06-25
Rated 4 out of 5
by
Mrs. Miner
from
FUN, FUN, FUN!!
This cost a little more than I initially wanted to spend but we're hoping to use it for awhile & it is very cute. My 20 month old son was amazed the 1st time he saw it & immediately started playing with the door & the slide. It took him a few times playing before he realized all of the crawl through holes & he likes to "hide" from me (I can peek in from the open part of the roof).One suggestion is it would be nice if there were a few kitchen items for the table set-up to encourage more imaginative play. And I think he'll benefit more from the game side when he's a little older. And it would be nice if there was a real floor instead of being open where grass can grow (for mowing purposes). Overall, he has a great time with me or with friends so I'd definitely recommend it.
Date published: 2009-06-25
Rated 2 out of 5
by
Anonymous
from
Kids lost interest quickly
I was very excited to buy this play center for my two daughters, age 3 1/2 and 20 months. It was easy for my husband to assemble, even though the assembly hardware and stickers were not originally included in the box [...] The house is colorful and inviting when first assembled. We were really excited to play with it at first. The children initally liked sitting at the little table for imaginary tea parties, and going down the short slide. We also liked the target ball game and ring toss. After about two months however, all the stickers started peeling off, the balls would no longer stick to the velcro target, and the ring toss game no longer worked (the weight of the rings pushes the pegs downward, so nobody can actually throw a ring onto the peg and expect it to stay). The kids started to lose interest. Occasionally the kids will go down the slide, now 4 months after purchase, or they will roll the balls down the slide, but after 3 - 4 minutes of play, they move on to look for something else to do. I wish I had saved the money and just purchased a slide.
Date published: 2010-11-28
Rated 5 out of 5
by
Racewife
from
Love, love love it!!!!!!!!
All of my kids (except the 8 month old) have enjoyed this item every day since we got it. They have loaded it with kitchen supplies and cleaning supplies, pretended like it was a fort against monsters, taken out their instruments and put on a concert. The only concern I have had is my 10 yr old likes to perch himself on the top and slide down the roof, but so far no injuries ; ). I really like the different activities on each side and that it has partial roof because we live in Florida.
Date published: 2011-01-05
Rated 5 out of 5
by
jeannie579
from
Worth the money!
Our 2 year old daughter absolutely loves her neighborhood fun center. It was no problem for my husband to put it together. I was a little concerned that using the slide might be a little difficult but our daughter took right to it like she had done it before. The first day we put it together we had to practically drag her inside for dinner. She would have spent the whole night out there. We have had it set up for about a week now and I can't think of a single complaint.
Date published: 2010-03-17
Rated 4 out of 5
by
Anonymous
from
Great fun for my 2-yr old
I bought this for my 2-yr old and she loves to play house in this as well as go up and down on the slide. Because it is not too tall and corners are rounded, I don't have to worry about her falling or hurting herself on this. It was very easy to assemble (all you need is an electric screwdriver) and I know she will enjoy this for years to come. It was a great value since it has different play "zones", is weather resistant and also can accomodate several children at once.
Date published: 2009-09-22
Rated 5 out of 5
by
Anonymous
from
Great Buy!!
I got this house for christmas last year and a year later it still looks great and my boys still love to play with it. I set it up in my sons bedroom and could not have asked for a better location. My two boys play with it all the time. It's great to have a place inside where the kids can climb and slide. I love the half roof, you don't feel so closed in. My boys are 3.5 and 2 and don't care much for the games on the side of the house but still have loads of fun.
Date published: 2009-11-10
Rated 5 out of 5
by
Martin & Laura
from
Great product!she
Our little girl is 19 months, and she loves it! She puts things inside the house, closes the door, then goes out. That routine is done several times. We put the house in the playroom and that helped us a lot during the snowy winter we had in Virginia. It is very easy to clean and it seems that we have many years of fun because a 3 years old friend loves it too! The slide is awesome! We bought it through the STEP2 web page and we had an excellent experience.
Date published: 2010-02-21
Rated 5 out of 5
by
Anonymous
from
Great Combo for a grandparents home.
We have 2 2 year old granddaughters that have played constantly on/in it since it was set up.They love going down the slide and in and out the door and climbing over the table/chair combo to get in or out. I'm sure next year my newest granddaughter will love joining her sister and cousin in playing with it.It took one of my daughters 45 minutes to put it together--once or twice I helped hold corners tight while she put the screws in.
Date published: 2008-09-08
Rated 4 out of 5
by
Lvyogaqueen
from
Step2 ROCKS!
My Inlaws bought this for our 22 month old daughter and we have to drag her away (kicking and screaming) so she can eat...she loves it so much! It was very easy to put together and we set it up inside the house. She is very small for her age and has difficulty climbing on the slide part, but I know she will grow into it. We also have the Picnic Table and Water/Sandbox from Step2. They make VERY durable and sturdy products!
Date published: 2009-08-25
Rated 4 out of 5
by
Mummu
from
Tons of Fun!!
Purchased this item for our 3 grandchildren who are often at our home together. Twin boys 2 1/2 and a 2 year old girl. We put a small wading pool at the bottom of the slide for summer fun! They are learning to wait in line for the slide and are creative in their use of the swinging doors! We debated about spending the money, but it is well worth every penny. We highly recommend this "house" as the grandchildren call it!!
Date published: 2009-07-27
Rated 5 out of 5
by
Jaime, nursery director and mom of three
from
Awesome Play Center
We bought this play center to put in the toddler room of the nursery at our church. The kids love it and there are several areas of play that can go on at one time. This is the only play house with a slide and it is very sturdy. The ball system and ring toss was a huge hit as well as the picnic table that the kids used as a diner. We had two dads to put it together in about 45 minutes with three kids trying to assist.
Date published: 2010-04-27
Rated 4 out of 5
by
Anonymous
from
Great Product
Step 2 has never let me down on the products I have ordered. I have a daycare and the kids were very excited to see the neighborhood playhouse come. Unfortunatly I received a damaged piece and it took another 7 days to get, but the customer service person was wonderful and even though the kids had to wait it was worth it. The kids all love the playhouse, from my walkers on up to my 8 year old daughter.
Date published: 2009-08-31
Rated 5 out of 5
by
Naddie's Mom
from
Wonderful Play Center
My Daughter loves her "club house" as she calls it. She just wishes the roof went completely across the top. Part of it is open to the sky. Other than that one small complaint, she has enjoyed it a great deal. There are so many things to keep the kids entertained. It has already withstood several big rain storms and wipes clean. I just hope the stickers won't fade eventually. Even our Dog likes it!!
Date published: 2009-05-19
Rated 5 out of 5
by
Amy Meacham
from
simple put together and great fun
This was so easy to put together. [...] All parts were in the box (ya know how lots of times just ONE piece is missing). My 3 year old loves the games on the one side. The ball toss and the ring toss....Loves it and very easy for him to understand. he also must have gone in and out of the house like 100 times the first day and down the slide about 50 times. Love it and highly recommend it
Date published: 2011-05-30
Rated 5 out of 5
by
Anonymous
from
Fun playhouse!
My son loves this! His grandmother got it for him for his 2nd birthday, and it's been a hit since. It's loaded with play features and he has a great time with it. He can slide, go through the many doors, sit and have a pretend snack, or go outside and play with the balls and rings. It's got so much outside play value, and looks great even after our 40+ inches of snow this winter.
Date published: 2010-05-21
Rated 4 out of 5
by
Anonymous
from
Great For any backyard with young kids.
My Daughter loves her new slide. She love going in and out of the play house dore. She is two years old and its a perfect step before getting a bigger swing set and slide. I like how when she gets older she can use it as a play house and the other game side. The only problem we have had is the seats on the dinner. They don't seem that sturdy even with the screws in.
Date published: 2009-04-28
Rated 5 out of 5
by
Mom of 21 month old boy/girl twins
from
Twins Love it!
We have 21 month old boy/girl twins and both love playing in it, on it, around it. Room for several children to play at once and together. We love Step 2 items because of their equipment and their excellent customer service. We will continue to purchase other items as the twins get older. I personally love the durability, easy assembly, weather resistant and materials.
Date published: 2009-05-26
Rated 4 out of 5
by
Anonymous
from
Great gift
This was purchased for our grandson's 2nd birthday. His mother said he is having a fantastic time, he told her the other day that he wanted to go home but they were already home, he continued to cry until she finally left him out the back door. He ran into the play house, shut the door and started saying "home, home" Need I say more, this was a wonderful investment.
Date published: 2009-05-10
Rated 4 out of 5
by
Anonymous
from
My 2 year old loves this!
My two year old is learning to play "house" with this. She is also getting a lot of practice using the slide all by herself. I'm very happy with my purchase. The only way to improve it would be to allow the panels to be reconfigured to best fit the space you have. Keep in mind that there's something for the kids to do on all 4 sides, so you need an open space for it.
Date published: 2009-07-30
Rated 4 out of 5
by
Anonymous
from
Great Activity Center
Room for lots of activities at one time. Whether setting up an ice cream store, having a family meal, entertaining the pets, or having a game time, this provides opportunities for all. My children ages 1-5 love the versitility and the opportunity for their imaginations to expand. The open roof provides a look out for pirates and other imaginative play.
Date published: 2009-04-10
Rated 5 out of 5
by
Anonymous
from
Great for creative play
I bought this for my very strong and physically active one year old grandson. He and his 3 1/2 year old sister enjoy parallel play in this structure. While she plays "store" or "house" he climbs in and out of the doors and openings. He likes the slide, but it is a little young for her. We found it useful to have a play mat underneath the structure.
Date published: 2009-05-17
Will the "Neighborhood Fun Center"  be in stock anytime soon?  I'm very interested in this product but if it won't be available for awhile I'd like to look at other options.  Thank you.  
Thank you for contacting The Step2 Company. We are currently out of stock and backordered on this item and several products. We do not anticipate having this item & other products back in stock until late - June. Please note this is an estimate as the timing could move back again based on demand, production schedule and retailer commitments. We are now running limited production as we were previously shut down due to the COVID-19 environment and unable to produce product. Continue to check our website daily for availability and updates. We apologize for any inconvenience.
Date published: 2020-06-16
How much time to assemble the fun activity center
It was easy.  I don't remember exactly, but I would say it was not very long.  We got this for our granddaughter's second birthday, and she's getting ready to turn four, and it's going strong.  There's another sister now, and they enjoy it every day.  Go for it!!!
Date published: 2020-04-22
Can the slide not be used..?
Yes. The slide is not a required item for assembly.
Date published: 2020-02-14
can it ship to hong kong, what the charge?
Thank you for your interest in Step2 product retailers in Hong Kong/China. Specific quantities vary by retail location, please contact Wisdom Toys with your specific request. Wisdom Toys Sales Department Building 4, No.2777 Baoan Road, Malu Town, Jiading District, Shanghai, China, 201801 +86 (0)21-39905562 (f) +86 (0)21-31269175 (p) www.huasenwei.com
Date published: 2019-10-22
Do you have the replacement stickers for sale, if so, can you please send the link for buy them online?
Thank you for contacting Step2. Replacement parts and decals can be ordered by calling our Customer Service team at 1-800-347-8372, Monday - Friday, 8:00 am - 11:00 am and 12:00 pm - 5:00 pm EST. Please have your product close by during your call so that we may quickly assist you to answer your question, find a resolution and or provide product or part pricing and lead-time(s). Various replacement parts and decals can now be ordered on line. Check our website at www.Step2.com and refer to the replacement part section located at the bottom of the website page and shop parts by category or look up your product(s) pertinent replacement part choices. Regards, Step2 Consumer Service
Date published: 2019-02-11
Is there an actual ladder or set of steps to access the slide? Or is it just an opening in the molded wall?
The steps are inside the play house, attached to the wall that the slide is on.
Date published: 2019-04-29
I am ready to assemble this but am concerned about it blowing away in our strong SD wind. I see there are plastic plugs in most of the panels. Would it be okay to pull the plugs and add some sand to the parts on ground level, to add some ballast??
Please contact our Consumer Service Specialists at 1-800-347-8372 Monday through Friday, 8AM -5PM Eastern Standard Time and we will be happy to help you.
Date published: 2018-08-13
I would love to purchase this item for my daycare, can you tell me the height of the slide?
The slide of the Neighborhood Fun Center™ is approximately 22 inches in height.
Date published: 2018-07-18