Neighborhood Wagon™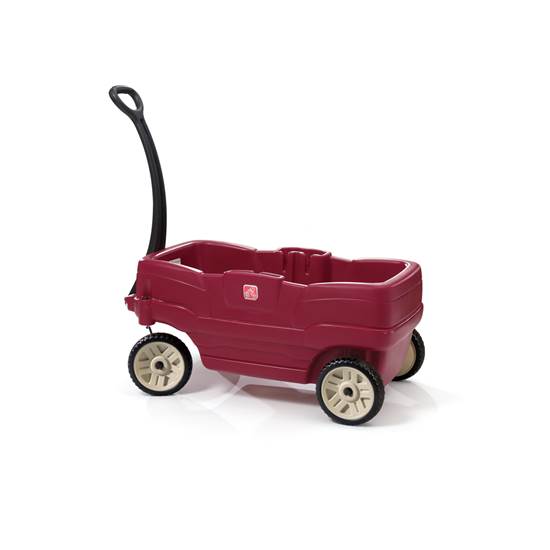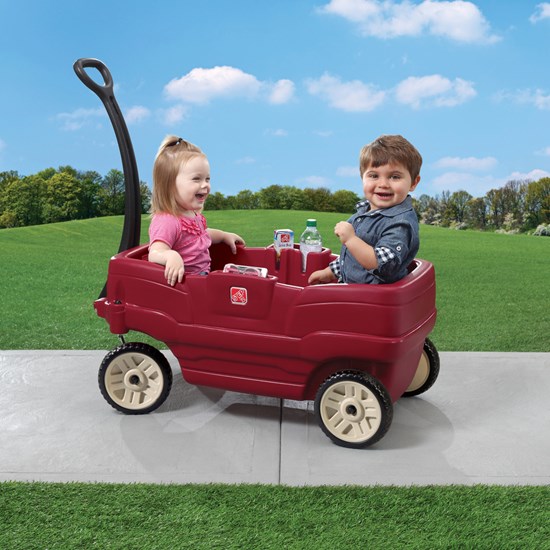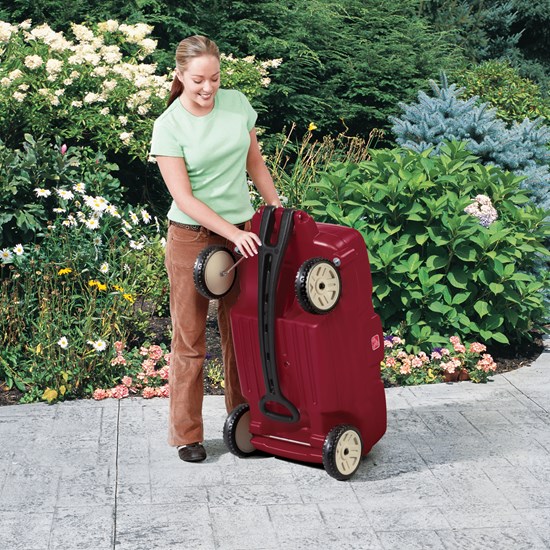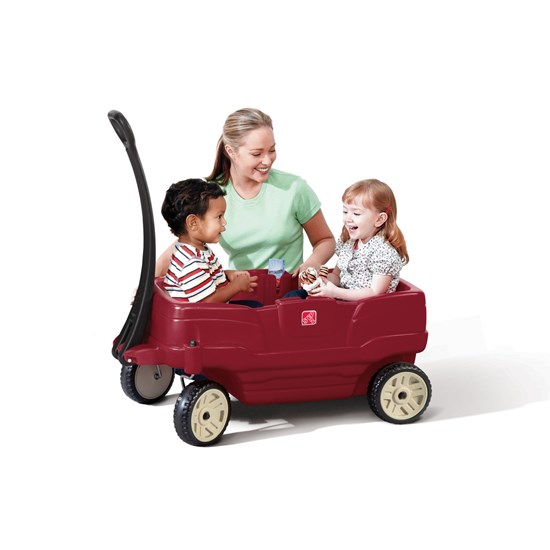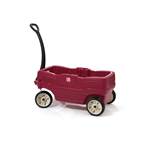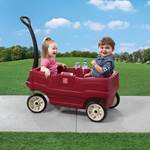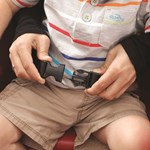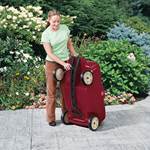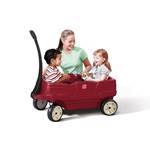 Neighborhood Wagon™
In stock
$89.99 $79.99
+$12.99 shipping (via FedEx)
IS THIS A GIFT? DON'T SPOIL THE SURPRISE!
This item ships with an image of the product on its outer packaging.
Rated 2 out of 5
by
Jae the stay at home mom
from
Not sure if I would buy this again!
This product was not easy to put together and my oldest daughter and her friend were messing around with it and not sure what they did; but now the two front wheels are bent and the wheels were not the best on it to begin with; so I wouldn't buy this one; I would pay the extra money and get a radio flyer wagon. But since I have this one I am stuck with it and I am going to try to order parts for it; not happy; yes my daughter and her friend should not have been playing with it; since it is for our 2 year old; but if two girls under 100 lbs can break the wheels there is something wrong with this product; it is just not sturdy or durable at all...
Date published: 2010-05-18
Rated 3 out of 5
by
mb
from
A few issues
This wagon makes a lot of noise due to the hard cheap plastic wheels. After the first week, I replaced the wheels with a set of garden wheels. The 3/8 inch wagon axels made this difficult as most readily available wheels have 1/2" axels. A combination of spacers were required, and the front wheels have a shimmy due to the odd axel design in the front. The product description states "simple assembly", but the instructions are only provided with pictures and no written instructions. Many people would have difficulty assembling it, or would get it wrong.
Date published: 2013-03-06
Rated 5 out of 5
by
mommy of 4 and more
from
I like it better than the radioflyer
We got hte Radioflyer 7 years ago because it had the seat belts .. sadly we just retired it since it just isnt in great shape anymore....wanting to try something new I bought this one and LOVE IT ... something about the shape and the handle make it alot easier to move around than the other one we had and it is more comfy for my 2 and 4 year old... they prefer this one over our old one.the only thing that would make it better is a sun shade BUT I think I like it better this way since a shade would make it harder to throw into the van and go...
Date published: 2009-06-19
Rated 1 out of 5
by
Mom Not Happy
from
Way too loud
This is a great wagon aside from the fact that unless you are on a very flat surface the noise the plastic wheels create is deffaning. Not good to use if you are looking to take a peaceful walk. I have to stop entirely just to be able to talk to my son or husband. Unfortunatley this was a gift so we cannot return but will be selling at our next garage sale. The weels need to be made of rubber to absorb the noise created between wheel & concrete.
Date published: 2009-06-08
Rated 2 out of 5
by
Anonymous
from
No instructions in the box
We bought this new, and it had no instructions at all in the box, or on any of the packaging...and after 15 minutes searching the website for what was supposed to be assembly instructions by every item, none were found.Sadly lacking instructions, it took us about an hour or longer to figure out where all the washers, caps, bolts and plastic pieces fit together correctly.I would have preferred to take it back, but it was my grandson's birthday gift.I won't buy another step 2 item w/o opening the box in the store.
Date published: 2009-07-16
Rated 1 out of 5
by
VinMann
from
Poor Quality-Plastic was scratched, worn
Step2 needs to look at their quality control!! I called with my complaint only to find they were less than interested in fixing my problem and told me to bring it back to the store. Had no interest in fixing the problem and said that was between me and the store. Poor Customer service for not taking the time to offer any other assistance in replacing my unit. The store Buy Buy Baby stated they have had numerous complaints regarding this problem due to the scratches and poor overall appearance of the wagon.
Date published: 2013-06-04
Rated 4 out of 5
by
Stay at home mom of 2 boys under 3
from
love it but...
I love this wagon and since it has the seat belt as soon as my younger son was able to sit up we could put him in it but I really wish Step 2 would find a way to make an umbrella of some kind to purchase separately since I would love to be able to take it for day trips like a state fair? it definitely great for local walks but with out the umbrella i wouldn't want to take it anywhere else which i find very frustrating. I would also like to see a trailer made for the RED wagon since that's what i own
Date published: 2011-04-12
Rated 3 out of 5
by
Kiersten
from
Great for my daughter, but hard to assemble
I bought this in May as a birthday present for my now three year old daughter. She hates the stroller but is so small that she cannot keep up if we want to walk around the park for exercise during her brother's sport practices. It was a pain to assemble, but she loves it.I did want to mention, however, that the part you have to hammer onto the wheel axle to keep the wheel attached to the wagon is a one shot deal; you have to get it on right the first time or it will pop off. Ours did just that about three months after first assembled. We can use it alright on flat areas to pull around, and she loves to play with the other toddlers and preschoolers with it at soccer practice, but we worry about pulling it when we go places that have uneven terrain. I plan on calling customer service when I get the time.
Date published: 2016-10-06
Are tires rubber or plastic
The tires of the Neighborhood Wagon™ are made of plastic with a small amount of rubber compound.
Date published: 2020-01-31
Would the All Around Wagon canopy parts fit this wagon?
The All Around Wagon canopy will not fit the Neighborhood Wagon.
Date published: 2019-05-21
Is there a canopy available for purchase that fits this wagon?
Unfortunately, the Neighborhood Wagon™ is not designed for a canopy.,
Date published: 2018-08-27
Hi, What plastic is the body of the wagon constructed from? i.e. is it PVC, polypropylene ...
Step2 products are manufactured from Polyethylene and/or Polypropylene plastics. Step2 products are third party tested and are compliant to the CPSIA phthalate and heavy metal requirements per ASTM F-963 Toy Safety Standards as well as EN71 - Part 2 and 3 for UK chemical requirements.
Date published: 2017-12-27
can u get replacement axels for the front wheel
Please contact our Consumer Service Specialists at 1-800-347-8372 Monday through Friday, 8AM -5PM Eastern Standard Time and we will be happy to help you.
Date published: 2017-12-07
Are there replacement wheels available for the wagon?
You can order replacement wheels through our Customer Service Department. Please call toll free 1-800-347-8372 Monday - Friday, from 8-5 ET and we will be happy to assist you further with this request.
Date published: 2018-03-27
Is there a canopy or umbrella compatible for this wagon?
The Neighborhood Wagon™ i<a href="http://www.step2.com/p/naturally-playful-welcome-home-playhouse" target="_blank">http://www.step2.com/p/naturally-playful-welcome-home-playhouse</a>
Date published: 2018-03-27
My wagon is about a year old and the plastic is cracked around the front wheel would it be covered by the warranty?
Please call toll free 1-800-347-8372 Monday - Friday, from 8-5 ET and we will be happy to assist you further with this request.
Date published: 2018-03-27