New Traditions Table & Chairs Set™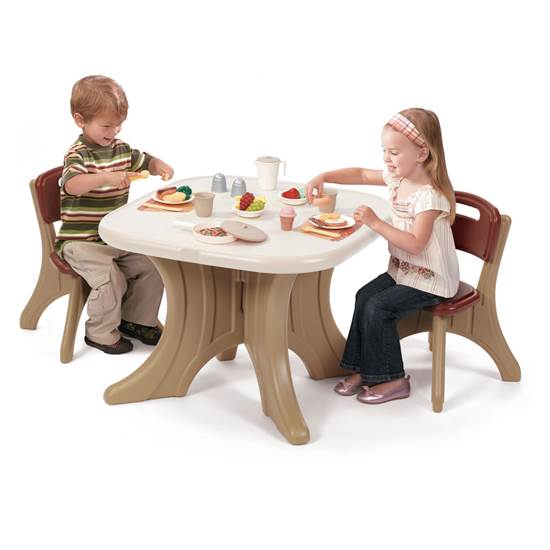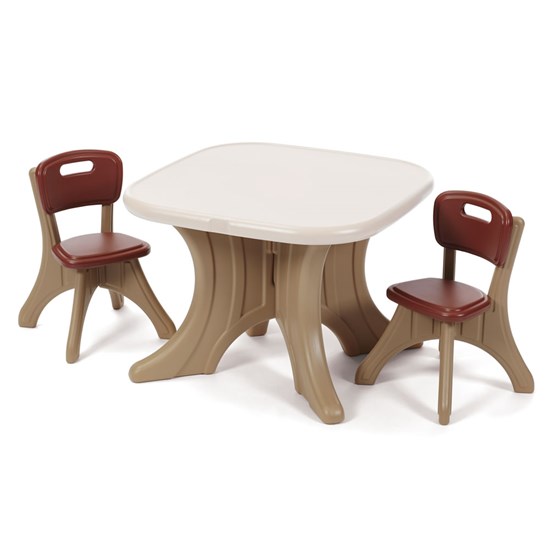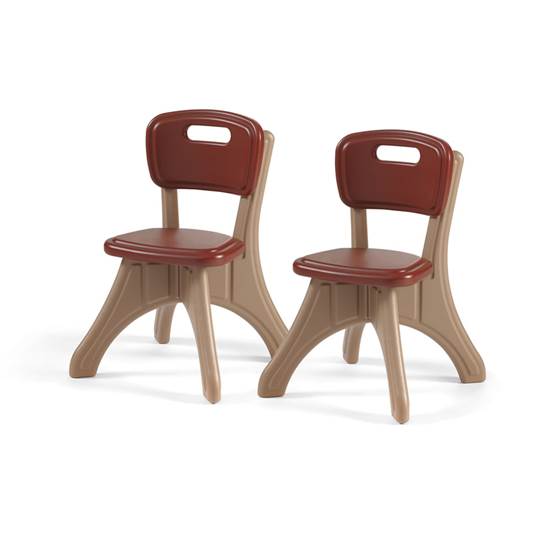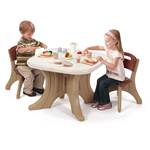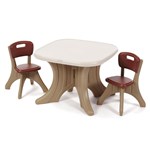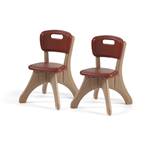 New Traditions Table & Chairs Set™
In stock
$99.99 $89.99
+$12.99 shipping (via FedEx)
The New Traditions Table & Chairs Set by Step2 is an all-purpose table and chairs set that can be used inside a play room or outdoors in the backyard.
IS THIS A GIFT? DON'T SPOIL THE SURPRISE!
This item ships with an image of the product on its outer packaging.
Rated 5 out of 5
by
Anonymous
from
Great highly recommend
I gave as birthday gift to greatgrandaughter that is here several days a week. I have good size kitchen so that is where its kept. It was so simple to assemble and when chairs were ready she immediately sat on one and told me to sit on the other. At 110 lbs I was leary but sat on the chair. She plays, sometimes eats there, uses it all the time. The table is very large and sometimes she sits on chair and pulls table toward her. She is 2 yrs old. She did color all over it the second day. Used lysol wipes and a whole lot of elbow grease and no staining. I love the set. The neutral colors are perfect. Highly recommend. [...]Thanks step2!!
Date published: 2010-05-06
Rated 4 out of 5
by
Grandma Z.
from
I think we are going to like this!
My grandson is only 12 months old so he won't use this much over the next few months but I think it will work great for him as he grows. It was easy to assemble, fits nicely in the corner of the kitchen and the neutral colors work well with our decor. I had to buy anti-slip pads to stick on the bottom of the legs of the table & chairs as they slid much to easily on the laminate floor. The pads really helped. The chairs do tip backwards easily but we don't allow our grandson to use them alone just yet. I know that it will be used often for coloring, playing and for lunch time! We are going to enjoy this product!
Date published: 2012-03-29
Rated 5 out of 5
by
Anonymous
from
Stylish And Durable!
I had been looking for a table set for my 2-year old daughter for a while. I checked out all available brands on the market, and none of them really meets my needs/budget, until I came across this table set.This set not only is very stylish, the price on Step2 website is unbeatable! I immediately jumped on the deal: not only the price of the table set itself is the cheapest on the web, [...] My daughter really enjoys using the table set. The table itself is big enough for her to lay her Aquadoodoo draw mat on top, and sit comfortably on the cute chair to draw. I strongly recommend this table set to all toddlers.
Date published: 2010-06-16
Rated 4 out of 5
by
zoey_s
from
Loving this table!!
My two year old uses this table to color and read books on. I really, really love the way the table is made, very sturdy, smooth finish that is easy to clean up and love the colors! Only thing is the chairs could be a bit larger and have more weight to them as for them not to fall over when my son tries to sit on them. And i don't understand those certain people who say they have a very difficult time with set-up, i watched my husband put it together in less then 10 minutes with no problem using the very easy to understand instructions! I just think people want a magic wand to do all the work for them!!
Date published: 2010-03-30
Rated 3 out of 5
by
Anonymous
from
Very good product.
Pros: I use this product with my 2 year old daughter. She really likes it. The table surface is big and easy to clean. It was easy to assemble and I did it while my husband was gone. The chair design is sturdy, the set in cute and is unisex so my son can use it when he is older without thinking twice :-)Cons: The table set and chairs slide when on a hard wood or tile floor. We have the set in the kitchen and my daughter has a hard time sitting in the chair because it keeps sliding around. You have to put a rug underneath it or your own rubber grips. The seat on the chair is a little too small an doesn't seem very comfortable when she it sitting on it.
Date published: 2010-03-23
Rated 5 out of 5
by
childress726
from
SUPER COOL CHAIRS MAMA!
My son just got this for his 2nd birthday! he loves it and so do we! I love that it matches anything! Its sturdy, very easy to put together (most parts snap riht together only a few screws to keep the legs sturdy) My 2 year old will sit and read books on it, eat snacks at it, play, color and do art work at the table. Also the chairs are prefect for a toddler 2-5yrs old mainly BUT me and my husband sit at the table with him as well on the chairs. THIS IS A GREAT BUY FOR A GREAT PRICE!!!!! ALSO dont be set back because of the light table top, I get everything off with a Magic eraser or damp cloth.
Date published: 2011-07-26
Rated 4 out of 5
by
Yoga Mom of One
from
Good Table to grow with
The table was super easy to put together. I got one chair together without a problem, but the second wouldn't fit together at all. I called Step2 and they sent me new legs and a new back - I ended up only being able to use the new back with my old chair legs. My 18 month is a little small for it still (her feet dangle off the chairs), but her 4 year old cousin still fits at it so I think we will get a lot of years out of it. The only cons are the chairs were a bit difficult to assemble, my 18 month old often tips the chairs when she tries to push them back to sit on them, and the whole thing attracts cat fur like crazy. Overall, I am very happy with the purchase.
Date published: 2010-03-17
Rated 5 out of 5
by
Randi
from
LOVE this table & chair set!!!
My 18 month old loves this set!!!! The neutral colors look fantastic in our living room. The table is a great size and it provides plenty of space to play, eat, paint, etc. The only minor issue we had was the chair set-up. You have to make sure the arrows are pointing toward each other in the corners (just like the picture shows). If they do not - it will be impossible to put the back of the chair on. Once I figured this out, I snapped the backs on quickly. :)I highly recommend this to everyone even though it is a bit pricey. It truly is worth it - because the set is a great size, durable, and will last for many years.
Date published: 2010-01-05
Can I purchase replacement chairs for the new tradition table?
We apologize as the chairs are not offered separately form the New Traditions Table & Chairs Set.
Date published: 2021-03-10
Am I able to purchase 2 more chairs for this table
Step2 Direct does not offer the chairs separately from the New Traditions Table & Chairs Set™.
Date published: 2020-10-13
can I purchase the seat part for the step 2 chair & table it didn't come with one of the top of the seat
I was looking to find a way to buy 2 additional seats but did not see the option anywhere on the website. If you were not delivered the full set, I believe you should just contact STEP 2 directly or the dealer that you purchased the item from to resolve the issue.
Date published: 2020-09-11
Can you buy extra chairs?
Regretfully, we do not offer extra chairs.
Date published: 2020-08-23
When assembling the chairs the instructions stop at the seat and don't show the back being attached. To me appears that the back is either molded incorrectly to receive the tabs on the chair or vice versa. Please advise.
Please contact us at 1-800-347-8372 Monday - Friday and ask for a Consumer Service representative who will assist you in order to find a resolution to your satisfaction including sending any necessary replacement parts at no charge. Regards, Step2 Consumer Service
Date published: 2020-06-11
Can I buy two extra chairs for the table and chair set I already own?
Regretfully, we are unable to offer the chairs separately from the New Traditions Table & Chairs Set™.
Date published: 2020-06-08
I've been looking for the pink table set but everywhere seems to be sold out. When will they be in stock again? It's for my 3 year old & 1 year old Granddaughters...please help 
Regretfully, the pink version of the New Traditions Table & Chairs Set™ has been discontinued and we no longer have stock.
Date published: 2019-11-13
What is this made from? Is it BPA free?
The New Traditions Table & Chairs Set™ is made from Polyethylene and/or Polypropylene plastics and is BPA free.
Date published: 2019-04-15