New Traditions Table & Chairs Set™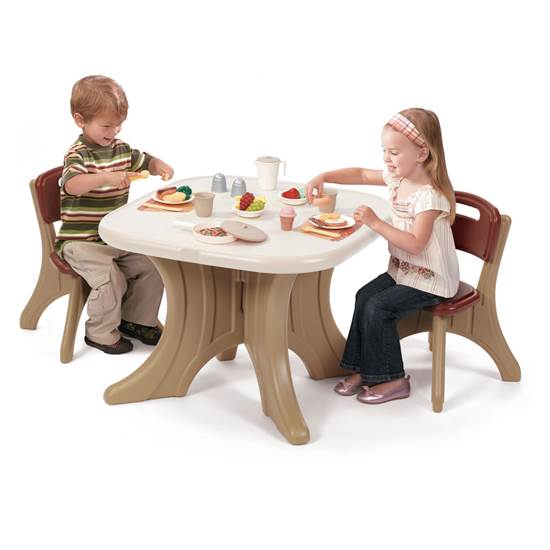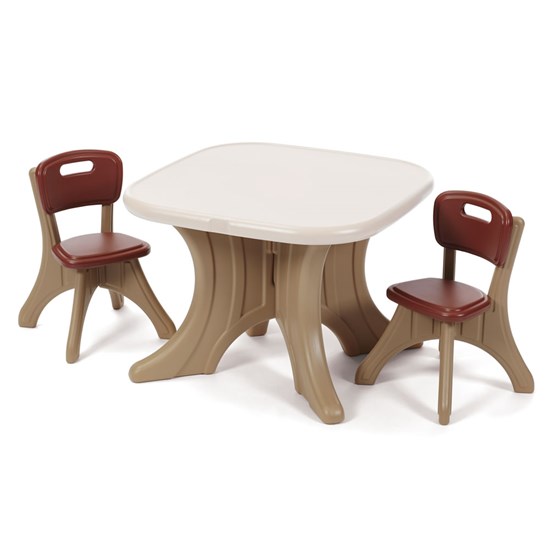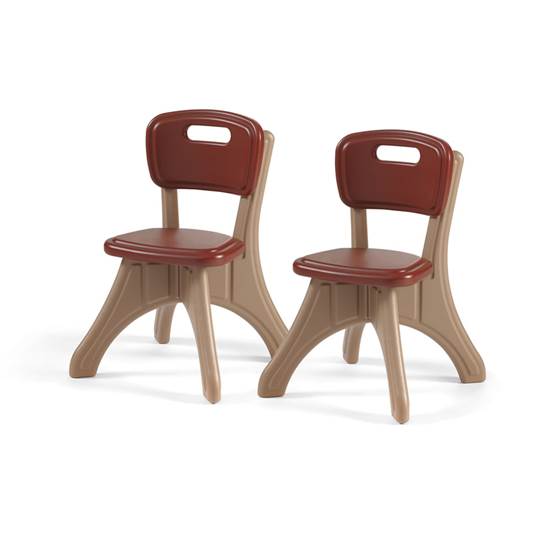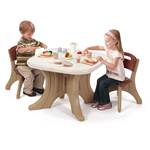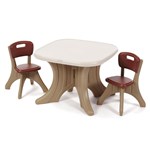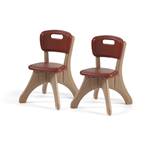 New Traditions Table & Chairs Set™
In stock
$89.99
+4.99 shipping (via FedEx) When will my item arrive?
The New Traditions Table & Chairs Set by Step2 is an all-purpose table and chairs set that can be used inside a play room or outdoors in the backyard.
IS THIS A GIFT? DON'T SPOIL THE SURPRISE!
This item ships with an image of the product on its outer packaging.
Rated 4 out of 5
by
Grandma Z.
from
I think we are going to like this!
My grandson is only 12 months old so he won't use this much over the next few months but I think it will work great for him as he grows. It was easy to assemble, fits nicely in the corner of the kitchen and the neutral colors work well with our decor. I had to buy anti-slip pads to stick on the bottom of the legs of the table & chairs as they slid much to easily on the laminate floor. The pads really helped. The chairs do tip backwards easily but we don't allow our grandson to use them alone just yet. I know that it will be used often for coloring, playing and for lunch time! We are going to enjoy this product!
Date published: 2012-03-29
Rated 5 out of 5
by
Anonymous
from
Stylish And Durable!
I had been looking for a table set for my 2-year old daughter for a while. I checked out all available brands on the market, and none of them really meets my needs/budget, until I came across this table set.This set not only is very stylish, the price on Step2 website is unbeatable! I immediately jumped on the deal: not only the price of the table set itself is the cheapest on the web, [...] My daughter really enjoys using the table set. The table itself is big enough for her to lay her Aquadoodoo draw mat on top, and sit comfortably on the cute chair to draw. I strongly recommend this table set to all toddlers.
Date published: 2010-06-16
Rated 4 out of 5
by
zoey_s
from
Loving this table!!
My two year old uses this table to color and read books on. I really, really love the way the table is made, very sturdy, smooth finish that is easy to clean up and love the colors! Only thing is the chairs could be a bit larger and have more weight to them as for them not to fall over when my son tries to sit on them. And i don't understand those certain people who say they have a very difficult time with set-up, i watched my husband put it together in less then 10 minutes with no problem using the very easy to understand instructions! I just think people want a magic wand to do all the work for them!!
Date published: 2010-03-30
Rated 5 out of 5
by
Anonymous
from
Great highly recommend
I gave as birthday gift to greatgrandaughter that is here several days a week. I have good size kitchen so that is where its kept. It was so simple to assemble and when chairs were ready she immediately sat on one and told me to sit on the other. At 110 lbs I was leary but sat on the chair. She plays, sometimes eats there, uses it all the time. The table is very large and sometimes she sits on chair and pulls table toward her. She is 2 yrs old. She did color all over it the second day. Used lysol wipes and a whole lot of elbow grease and no staining. I love the set. The neutral colors are perfect. Highly recommend. [...]Thanks step2!!
Date published: 2010-05-06
Rated 3 out of 5
by
Anonymous
from
Very good product.
Pros: I use this product with my 2 year old daughter. She really likes it. The table surface is big and easy to clean. It was easy to assemble and I did it while my husband was gone. The chair design is sturdy, the set in cute and is unisex so my son can use it when he is older without thinking twice :-)Cons: The table set and chairs slide when on a hard wood or tile floor. We have the set in the kitchen and my daughter has a hard time sitting in the chair because it keeps sliding around. You have to put a rug underneath it or your own rubber grips. The seat on the chair is a little too small an doesn't seem very comfortable when she it sitting on it.
Date published: 2010-03-23
Rated 5 out of 5
by
childress726
from
SUPER COOL CHAIRS MAMA!
My son just got this for his 2nd birthday! he loves it and so do we! I love that it matches anything! Its sturdy, very easy to put together (most parts snap riht together only a few screws to keep the legs sturdy) My 2 year old will sit and read books on it, eat snacks at it, play, color and do art work at the table. Also the chairs are prefect for a toddler 2-5yrs old mainly BUT me and my husband sit at the table with him as well on the chairs. THIS IS A GREAT BUY FOR A GREAT PRICE!!!!! ALSO dont be set back because of the light table top, I get everything off with a Magic eraser or damp cloth.
Date published: 2011-07-26
Rated 4 out of 5
by
Yoga Mom of One
from
Good Table to grow with
The table was super easy to put together. I got one chair together without a problem, but the second wouldn't fit together at all. I called Step2 and they sent me new legs and a new back - I ended up only being able to use the new back with my old chair legs. My 18 month is a little small for it still (her feet dangle off the chairs), but her 4 year old cousin still fits at it so I think we will get a lot of years out of it. The only cons are the chairs were a bit difficult to assemble, my 18 month old often tips the chairs when she tries to push them back to sit on them, and the whole thing attracts cat fur like crazy. Overall, I am very happy with the purchase.
Date published: 2010-03-17
Rated 5 out of 5
by
Randi
from
LOVE this table & chair set!!!
My 18 month old loves this set!!!! The neutral colors look fantastic in our living room. The table is a great size and it provides plenty of space to play, eat, paint, etc. The only minor issue we had was the chair set-up. You have to make sure the arrows are pointing toward each other in the corners (just like the picture shows). If they do not - it will be impossible to put the back of the chair on. Once I figured this out, I snapped the backs on quickly. :)I highly recommend this to everyone even though it is a bit pricey. It truly is worth it - because the set is a great size, durable, and will last for many years.
Date published: 2010-01-05
What are the ages that can fit in the chairs?Very cute but they look on the small side
Thank you very much!
Date published: 2018-03-27
Up to what age can a child use this table set?
My grandson is now 3 years old and he has some friends that visit that are 4 1/2 years old and they all still enjoy using it.
Date published: 2018-03-27
I notice that the photo on your website of the New Tradition chairs (as part of the set and individual chairs) have thinner legs than previous photos. But, all the online retailers I've checked have a photo that has thicker legged chairs. And some purchasers commented starting around fall 2011 that the set seems less sturdy or durable when they ordered replacement chairs. Did you change the product in any way from 2011? If so, how? If I order this from directly from you or from other online retailers, will I get the same thinner legged or thicker legged chairs? This is important to me because my almost 2 year old loves to lean back in her other table & chair set and has tipped over very painfully a couple times. I gave away that set and am looking for a replacement that has very sturdy chairs. Thanks.
I have been using this table and chairs since March 2012 and I don't believe anyone has toppled over. I had an older set that the chairs were different that they did tip over from time to time. I believe the new chairs are designed better to keep them from falling over and they seem very sturdy and well made in my opinion. I am using now with a child who will be 2 soon also. I do home child care so safety is a big concern.
Date published: 2018-03-27
I'm attempting to put the 8 screws into the white part of the table per diagram. There are NO predrilled holes where the screws go in. Started with the screwdriver but couldn't get them in. Should the holes already be predrilled from factory?
Our screws are self tapping screws that are able to go through the plastic. You may need to start them with a hammer. Please follow the instructions or find the indents in the plastic to line up the screws correctly. We do this in an effort to ensure that no shavings inadvertently are left over in the box as a result of pre-drilling. These shavings could pose a choking hazard to little ones.
Date published: 2018-03-27
Has this been part of the Black Friday deals yet and I happen to miss it? If not, will this be part of the promotion? Thanks!
This has not yet been one of our Countdown to Black Friday deals. New deals are arriving daily and our Black Friday deals will be announced on Tuesday, November 26th, 2013. This product is not likely to go lower than $59.99 however.
Date published: 2018-03-27
What is the weight limit of the table?
ALSO BOUGHT THIS FOR GRANDCHILDREN LOVE IT BEST SET ON THE MARKET
Date published: 2018-03-27
What is the height of the table and seat height for the chairs?
My daughter is 42inches and is still using it...I would say it would be good until she is at least 4.
Date published: 2018-03-27
Can this be used outdoors? It really looks identical to the Play and Shade patio set except for the colors and lacking the umbrella. It was given to us as a gift but we already have a table inside so wondering if we could/should use this outside on our uncovered deck. Would likely use a small canvas cover for any big storms or in the winter.
Yes it can be used outdoors. WE leave ours out in the summer and bring it in for the winter. Grandkids love to eat outdoors in the summer.
Date published: 2018-03-27
Does anyone know if the table is BPA free?
This kids table & chair set does not contain BPA. It is BPA free.
Date published: 2018-03-27
Is there anyway to purchase this table with the blue and green chairs?
I don't know why those chars couldn't be sold with the table except that they wouldn't match the table legs. My question to Step 2 is why isn't there a choice to purchase the table with 4 chairs instead of just 2?
Date published: 2018-03-27
I like the color of the table but not the chairs. Is there anyway I could order the table and ask for the blue and green chairs instead?
This product is sold as a set and the table and chairs come together. We will pass this feedback along to our product development team.
Date published: 2018-03-27
Will you be making this Traditions set in other colors? I think brown is not a good color for a playroom. If you will be making this set in other colors soon, I'll wait to purchase then. Or can I buy the Sun/Shade table w/o the umbrella, those colors are a-ok?
We do not have this specific product in other colors, but we do have other table and chair sets in other color palettes. <a href="http://www.step2.com/p/Table-Chairs-Set-Primary-Colors" target="_blank">http://www.step2.com/p/Table-Chairs-Set-Primary-Colors</a> <a href="http://www.step2.com/p/LifeStyle-Kitchen-Table-Chairs-Set" target="_blank">http://www.step2.com/p/LifeStyle-Kitchen-Table-Chairs-Set</a> (also available in pink)
Date published: 2018-03-27