New Traditions Table & Chairs Set™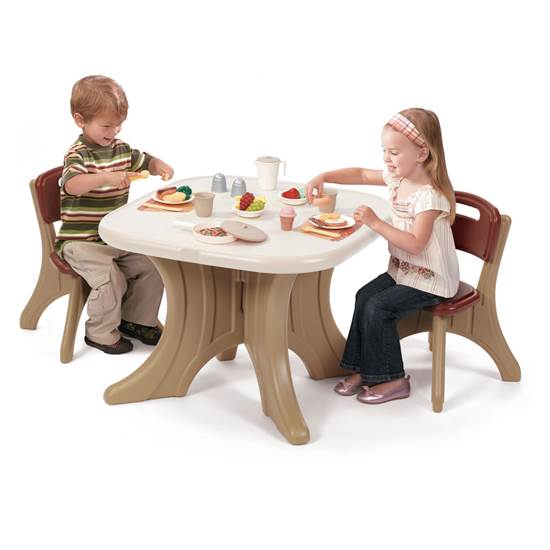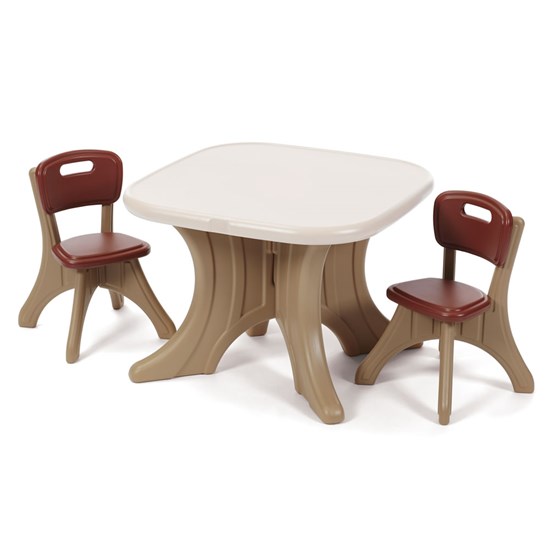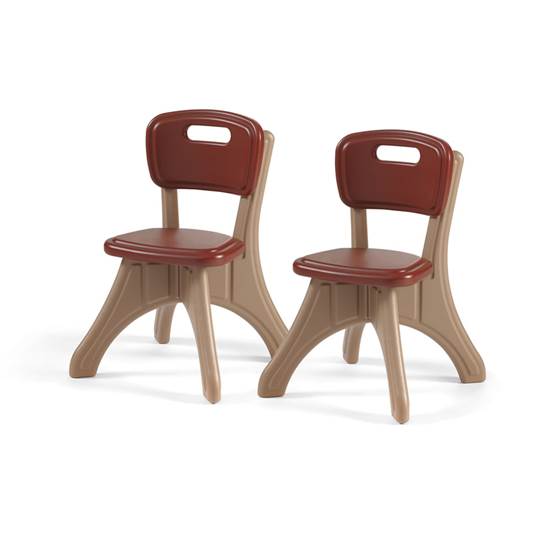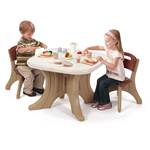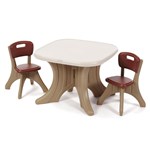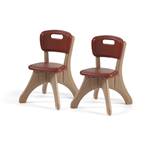 New Traditions Table & Chairs Set™
In stock
$89.99
+4.99 shipping (via FedEx) When will my item arrive?
The New Traditions Table & Chairs Set by Step2 is an all-purpose table and chairs set that can be used inside a play room or outdoors in the backyard.
IS THIS A GIFT? DON'T SPOIL THE SURPRISE!
This item ships with an image of the product on its outer packaging.
Rated 5 out of 5
by
denomary
from
Great set!!
I was looking for an affordable table and chairs, but I wanted it to be durable. At first I wanted a wood table but for the age of my daughter (2 years-old) I thought that it was going to get distressed quicker than a plastic one. Since my daughter has a step2 kitchen I decided to look for prices on the table sets and for my surprise I found it cheaper on the website than anywhere else [...] and also matches her kitchen. She loves to sit in there to play with her toys, look at her books and pretend to be eating with her brother (4 years-old). He likes it too and also to eat snacks at it. Nice set that she would have for years to come and I know that as she grows older, she will use it more and more.
Date published: 2011-03-01
Rated 4 out of 5
by
Blue Lightening
from
Great table, but chairs are small
Our son has autism and his therapist recommended a table+chairs to help with his therapy sessions (for example, sitting, looking at books). The table itself is great; however, the chairs are much smaller than we expected. The chairs are advertised to hold up to 75 pounds. It would be helpful to include the chair dimensions in the advertisement (approx 8"deep x 10"wide). Our son is very active and has a difficult time sitting in the chair. We have purchased a larger chair, which is working much better. Despite the challenges with the chairs, this is a great product overall.
Date published: 2013-01-28
Rated 5 out of 5
by
Anonymous
from
Absolutely Perfect!
I looked at many, many tables and chairs to use for my home daycare. I have purchased Step2 items in the past and once again, I am totally satisfied with this product. The kids not only use the chairs at the table, but also line up the chairs and pretend it's a train! I would absolutely recommend this product. Easy to put together, easy to move around and the kids love it! The table came with 2 chairs, but I purchased an additional 2 chairs. After researching cost, I also found that to order directly from Step2 was the best price and also they offered Free shipping, Bonus!
Date published: 2013-02-09
Rated 4 out of 5
by
Resi
from
"My grandson loves his table and chairs"
This set is perfect for my 16 month old grandson and he adores it. It is very durable,easy to clean and assemble. The table is a perfect size for toddlers but the seat of the chair needs a little more width and length.My grandson is small and still could use a few more inches in both directions for added comfort and better support for his little bottom.I do hope this suggestion may already be in the works as I would love to purchase two additional chairs with more seat room.If not for the seat size I would definitely rate this item five stars therefore it gets four stars.
Date published: 2013-02-18
Rated 5 out of 5
by
Table & Chair Mama
from
Multi Use Table & Chair Set
I love this modern, unique, durable table and chair set. The neutral color is a real hit because you can place it anywhere. We use it as a eating area, craft table and game table. Adults can sit on the chairs comfortably and play with their children. When guests with children come over, I use it as their own table to eat. I have been searching for the right table and chairs for a long time and I'll tell you, you can't get a better set. This is a must have if you have children. I bought this table for both my nephews as birthday gifts. Easy to clean off crayon and paint.
Date published: 2010-05-26
Rated 5 out of 5
by
Anonymous
from
Love it
My 18 month old loves this table and chairs set. She is little miss independent now, she snacks at the table, draws and even just likes to sit in the chair while watching tv or looking at books.I have been on the look out for table and chair sets for a while and this is perfect. The plastic is durable and easy to clean. I put it together in about 10 minutes... if that.The color is neutral so it does not look to lairy in our house.The base of the chairs are very stable, which helps to stop this lil one from falling off!It is a perfect size, even the 3-4 year olds that come to play fit on them easily! And, even though its not designed for a 5'10" and 165lbs woman... I can sit on the chairs with her... it hasn't broken YET!
Date published: 2010-02-04
Rated 4 out of 5
by
Anonymous
from
GREAT TABLE
GOT THIS LAST YEAR SO IT HAS BEEN USED DAILY IN MY HOME. TABLE CLEANS EASY AND HAS HELD NO STAIN. WE USE IT TO PAINT ON AND IT IS MY GRANDDAUGHTERS FAVORITE PLACE TO EAT. SHE AND I EAT ON IT ABOUT DAILY. ABOUT 130 THE CHAIRS HOLD ME AND ARE STURDY. WITH BAD KNEES I EVEN USE ONE TO GET MYSELF UP OFF THE FLOOR.CONS ARE ONE CHAIR WAS HARD TO ASSEMBLEI DO WISH TABLE HAD ABILITY TO BE RAISED AS CHILD GROWS BUT I PLAN LATER TO USE IT FOR FLOWERS WHEN SHE GROWS AS IT IS VERY SOLID.MAJOR CON YOU MUST PUT CHAIRS ON A RUG OR CARPETORTHEY WILL SLIDE BAD AND BE DANGEROUS.I HAVE TABLE ON A RUG AND CHAIRS. AS MY HOUSE ISALL TILE.I RATE SIZE AS GREAT LOTS PLAY, EAT SPACE AND ILIVE IN A TINY HOUSE.WILL LAST FORVER AND WELL WORTH MONEY
Date published: 2010-09-13
Rated 5 out of 5
by
Anonymous
from
Wonderful product
I bought this for my daycare children, age 11 months thru age 4. They all can sit at the table & use it. It is a perfect size that allows room for all to eat, color, do arts & crafts, play doh, you name it.I love that the colors blend in with out living space I don't like my home to scream DAYCARE all the time. This set was super easy to put together, we ordered 2 extra chairs & had the table and 4 chairs all put together in less than 10 minutes with only a screw driver.It is stable and durable and very easy to clean. Also the price is great[...].Very happy with this product & I highly recommend it. I've been doing daycare for 22 years & have seen and used many companies. I am never disappointed with Step 2
Date published: 2010-02-12
Rated 5 out of 5
by
Anonymous
from
Great table
This table and chair set is amazing. I am so glad I purchased it. It is very stable and I had two 2 year olds climbing all over the chairs today. They do not tip at all. (The table makes a great drum, too, by the way). Great for activities, a train table, water play, meals. I purchased the extra 2 chairs and would recommend that. The chairs snap together with no effort and no time at all. The table has a few screws, but I had everything put together in a total of maybe 10-15 minutes. I have not been this happy about a purchase in quite a while.
Date published: 2010-06-10
Rated 5 out of 5
by
Mommy who expects top quality products
from
Awesome table and chair set!
We purchased this set at [...] for [$]. Table is large and extremely sturdy. Chairs are also very sturdy. This was a Christmas present for our 5yr old daughter and soon to be 2yr old son. They love it! They do arts and crafts, play games, kitchen play, etc. I just purchased an additional 2 chairs and toy box combo today. The table is large enough to comfortably seat 4 kids. My daughter plans on having a Valentines day tea party in Feb. Love it! You can buy this with confidence! We also have a Step 2 kitchen set, outdoor house, and slide.
Date published: 2010-12-29
Rated 4 out of 5
by
Anonymous
from
Daughter loves it!
I used the table and chairs as a transition from the high chair for my 2 year old daughter. It was very easy to assemble but kept slipping on my kitchen floor. We bought some adhesive grips and added them to the bottom of the table and chair legs. Once my daughter figured out how to get in and out of the chairs (still a little tall for her) she became very self-sufficeint. She eats, reads, and does arts and crafts at her table. The seat bottoms are a little small and she kept slipping off them for a couple of days until she got used to their size.
Date published: 2010-05-04
Rated 5 out of 5
by
Cathy J
from
Just the best
I purchased this set eight years ago. No regrets at all. It is very sturdy and cleans easy. From paint to slime it will not fail you. It is worth the price. My grandkids are still using it. I kept them in my home so you can imagine what they put it thru. It has a rim around the edge. Which helped when my grandson put his Thomas train on it. It would travel around the table without falling off. You will be pleased
Date published: 2019-01-06
Rated 4 out of 5
by
Lilli's Mom
from
Just what we needed
I bought this so that my 16 month-old daughter would have some place "her-size" to sit and color, put her cup & snack, etc. The chairs were very easy to assemble, though I needed some help to secure the table top to its legs. It fits perfectly in a small space between our kitchen and living room areas, and the neutral is nice. It's sturdy (she still has to climb a bit to get up on the chairs) and doesn't tip easily. The tabletop is easy to clean (crayon marks come right off). For her age and the price, it's exactly what we were looking for.
Date published: 2011-02-27
Rated 5 out of 5
by
Anonymous
from
Great product
This product is great. I purchased this for my 1 & 2 1/2 year olds. They love it! The styling is super cute and it is any easy clean up. My daughter had spilled colored sugar on the table surface and then spilled juice. I expected a pink stain but with a little cleaner and soft rag it completely cleaned up! I was peasantly surprised. The only thing anyone should be aware of is that there are no predrilled holes. You will need to get your drill out. But, from start to finish, it only took about 20 minutes to put together and we love it!
Date published: 2010-01-07
Rated 5 out of 5
by
Anonymous
from
I have already bought 2 of these.
When I decided to get my granddaughter a table and chair set for Christmas I started looking at all the options. After many hours of researching, shopping, and looking at actual products I decided on the Step 2 New Traditions set. I was very pleased with the stability of the chairs and the ease of cleaning the wipe off surfaces. When I decided to get a set for my house I knew immediately I wanted the same set. I like the brown and tan color scheme of this set as it blends in instead of standing out like some of the other brands.
Date published: 2011-05-27
Rated 5 out of 5
by
Anonymous
from
Love this table & chair set!
I really can't say enough about this item. I bought this table and chair set for my 2 grandchildren, ages 3 and 7 as a Christmas gift. The entire set is very durable, made of good quality. Table is large enough for each child to have their own space, whether their coloring, doing homework, eating, ect. The chairs are sturdy as well. My grandchildren both love it, and I couldn't be more happy!! My only complaint, is that the holes were not open, so that you can screw the screws into the opening properly. Kind of hard to explain, but others in their comments indicated the same. It seem like it took me forever, but I took a sharp object to start the process and then the screws went it without any problem. Love this item and am happy that I bought it!!!!
Date published: 2011-01-16
Rated 5 out of 5
by
SAHM of two great kids
from
Does NOT tip over!!! 4 can eat here
BUY THIS TABLE AND CHAIRS SET!!! There IS enough space for 4 children to play, eat, write, draw on this table. Go ahead and buy the other 2 chairs like I did. The competitors will soon change design to this X shape design too. It is very attractive and my 3 year old and 18 month old have not fallen off (unlike the awful Lil Tikes that slide all over the place and tip over). I tried to hit the chair over and it comes back to place. Very easy to assemble too, I did it by myself (female)--oh my 3 year old helped too.
Date published: 2010-07-20
Rated 5 out of 5
by
Mom of 3 from NJ
from
Best multi-functional table and chairs
I am so happy I bought this set. My 4yr old and 2yr old use this all the time... For playdates, it can fit 4 kids easily without them being on top of each other. My girls eat lunch and breakfast everyday on it, and play with toys on it. It has a large surface area (best size on the market) and they can draw and paint using very large coloring paper and books. It is extremely sturdy. I even sit on the chairs at times if needed to work on a "project" with them. for a short period of time. It is so easy to clean, it just wipes off with a little soap and water and can easily be disinfected with bleach/water solution or clorox wipes when the kids are sick. I use mine inside but will bring it outside if need be in the summer. THIS IS A MUST BUY ITEM IF YOU HAVE A YOUNG CHILDREN.
Date published: 2010-03-15
Rated 5 out of 5
by
Dips
from
Great Product
Overall a great product. Easy to clean! But my toddler (2 yr old) never really sits on it much. She prefers to sit on the chairs we sit on. She tends to sit to it more during a playdate when she has a partner.One thing i noticed is that when my toddler sits on the chair when it is on a tile floor the chair tends to slide off making it difficult for her to sit all by herself. When i hold the chair in position she is then able to sit on it. It works just fine on a carpeted floor.Hope this helps!
Date published: 2010-11-25
Rated 5 out of 5
by
Anonymous
from
Durable & Sturdy
I was attracted to Step2 due to these toys are American made products. These are quality built products which can stand, not just the common regular use but also tolerates the destructive abuse of a toddler. The table and chairs are sturdy and easy to clean. One of the reviews mentioned the chair being narrow, I find that the chairs were well balanced and can properly support a toddler, even I sit on it (maybe not comfortably but I don't have to worry about the chair buckling in or snapping apart). My toddler eats, colors, paints, does her puzzles and other activities on this table. The table has sufficient working area which allows my toddler to do 3 (24 pieces) puzzles all at once. Overall I am very impressed with this furniture with the quality, durability, and it is reasonably priced.
Date published: 2013-08-10
Rated 5 out of 5
by
Brazzbee
from
Sturdy!
I bought this table and chairs for my 2yo granddaughter after purchasing another brand that was flimsy and unstable. This one is perfect! She can easily get in and out of the chairs without falling over and the size is just right. The table is very spacious and sturdy. I plan on using it for snack time and for crafting with her. It was very easy to put together and the color looks great in our den. The price is great compared to others I looked at. Best of all it is made in the USA!
Date published: 2013-12-31
Rated 5 out of 5
by
amother'slove
from
Perfect for my 23 month old!
Purchased this set in additonal to getting the two extra chairs after shopping for a nice sturdy table and chair set for my 23 month old son that would last. I also wanted something gender neutral so it would go with our growing family. This was PERFECT. It's a good size and blends well with the furniture. Plus it's very durable. My sons loves it! He loves to sit in to eat his snacks, meals, play with his toys, and look at his books. He looks like such a big boy in it! Highly recommend.
Date published: 2013-04-01
Rated 4 out of 5
by
Melissa, mother of one
from
Love, love, love this product
We have a 19 month old and we were looking for a sturdy table for him to use for playtime and mealtime. This table is perfect for anything and everything. Our son can get on and off the chairs well and the table is the perfect height with the chairs. The table is easy to clean. Although assembly is not difficult, you will need a power drill to secure the table. We love the table and chairs just as much as our little one does! Also not too large so it can fit just about anywhere.
Date published: 2011-11-06
Rated 5 out of 5
by
Go Mommy Go
from
Perfect!
I purchased this table and chair set for my two year old son. I love that it is very durable and rugged, so it can take the abuse dished out by a toddler. I also love that there are no sharp edges and it was easy to assemble! A big enough surface for little ones to work on art projects, use for mealtime or to play with playdough on. There's nothing I don't love about this table and chair set. I recommend it to any parent looking for something like this for their little ones.
Date published: 2010-01-11
Rated 5 out of 5
by
Anonymous
from
I have now bought two sets.
I bought this set for my grandkids. It was so well liked and used that I now bought another set for another set of grandkids. It looks great. Very sturdy.
Date published: 2016-12-08
Rated 4 out of 5
by
Anonymous
from
SAFETY IN FUN
ASSEMBLED EARLY FOR CHRISTMAS SO CAN NOT YET STATE HOW IT WILL WORK.LOOKS GREAT THO / NEUTRAL COLOR SO NICE TO GO IN ANY ROOM.VERY VERY STABLE WHICH WAS MY MAIN GOAL. RATES 100 ON THIS TABLE AND CHAIRS.SMOOTH TOP WILL BE SO EASY TO LET CHILD BE FREE TO PAINT, EAT OR ANY THING. NO PICTURE OR PLASTIC TO PEEL OFF OR SCRATCH OR FADE OR GET OUTDATED IS A GOOD THING!THIS TABLE WILL SURELY OUTLAST THE CHILDS NEED FOR ONE. I AM ALREADY THINKING WHAT I CAN USE IT FOR ONCE SHE IS GROWN AS ONCE I SEEN IT I AM CONFIDENT IT WILL LAST ABOUT FOREVER. CAN BE HANDED DOWN OR USED FOR OTHER USES.THAT IN ITSELF IS AS THEY SAY"PRICELESS"WELL WORTH THE PRICE FOR ALL THESE FEATURES . I AMSURE IT BE HER FAVORITE SPOT AND WILL LAST A LONG TIME.TWO CHAIRS ARE VERY, VERY STABLE ALSO AND YOU CAN EVEN ADD MORE AS THERE IS LOTS OF ROOM .
Date published: 2009-11-21
Rated 5 out of 5
by
Anonymous
from
I'd buy again in a minute
This set is the best. The leg design of the chairs make it so much more stable for little ones.
Date published: 2016-09-03
Rated 5 out of 5
by
Carolina Girl
from
Exactly what we were looking for!
I purchased this table and chair set for my daughter's 2 boys (ages 3 & 2). It arrived earlier than expected, was easy to assemble and my daughter and the children love it! It's built really well and looks good too. My youngest grandson had problems sitting, as the chairs would slide out from under him but that was remedied by placing a rug underneath the table and chairs! This is a great value for the money and I'm sure it will hold up well for several years.
Date published: 2012-10-17
Rated 4 out of 5
by
Anonymous
from
I would purchase this product again.
We purchased this table for our sons playroom and they both love it!
Date published: 2016-07-20
Rated 5 out of 5
by
Anonymous
from
I would buy this again
Really well made and very easy to put together. My daughter LOVES it
Date published: 2016-07-20
Can I buy two extra chairs for the table and chair set I already own?
Regretfully, we are unable to offer the chairs separately from the New Traditions Table & Chairs Set™.
Date published: 2019-12-03
I've been looking for the pink table set but everywhere seems to be sold out. When will they be in stock again? It's for my 3 year old & 1 year old Granddaughters...please help 
Regretfully, the pink version of the New Traditions Table & Chairs Set™ has been discontinued and we no longer have stock.
Date published: 2019-11-13
What is this made from? Is it BPA free?
The New Traditions Table & Chairs Set™ is made from Polyethylene and/or Polypropylene plastics and is BPA free.
Date published: 2019-04-15
How do you disassemble the chairs?
Please call toll free 1-800-347-8372 Monday - Friday, from 8-5 ET and we will be happy to assist you further with this request.
Date published: 2018-03-27
What is the back height of the chair?
The chairs for the New Traditions Table & Chairs Set™ dimensions are as follows: 21.00 inches in height x 13.50 Inches in width x 13.00 Inches in depth.
Date published: 2018-03-27
Can I purchase additional chairs ?
Yes
Date published: 2018-03-27
Can I ask how to put the screws in? There's no holes in the bottom of the table.
Our screws are self tapping screws that are able to go through the plastic. You may need to start them with a hammer. Please follow the instructions or find the indents in the plastic to line up the screws correctly. We do this in an effort to ensure that no shavings inadvertently are left over in the box as a result of pre-drilling. These shavings could pose a choking hazard to little ones.
Date published: 2018-11-05
It is advertised at walmart to come in pink, but that's the only store that I see that it comes in pink. So do I it come in pink or not and where can I order it?
Unfortunately, the New Traditions Table & Chairs Set™ in pink is no longer available.
Date published: 2018-03-27