Outdoor Storage Bench™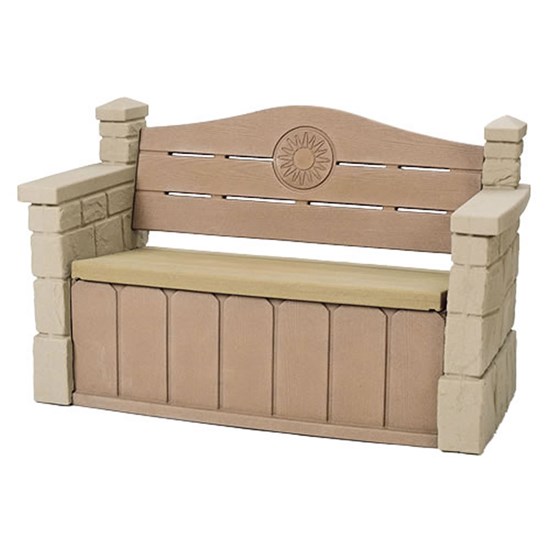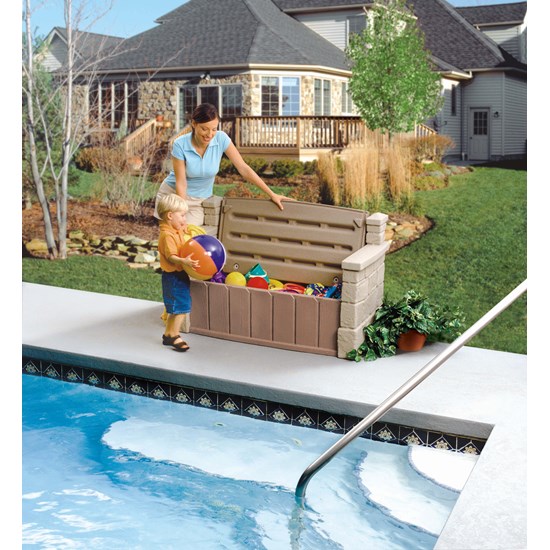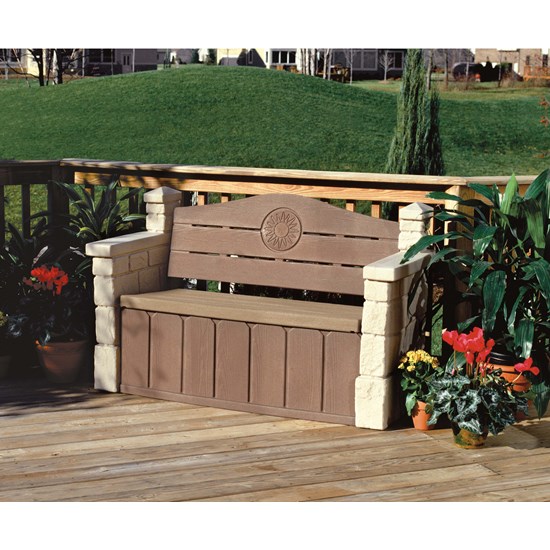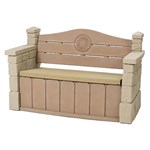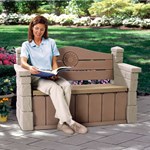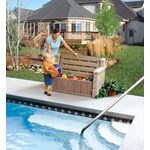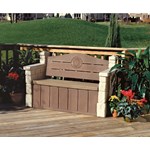 Outdoor Storage Bench™
In stock
$209.99 $199.99
+$14.99 shipping (via FedEx)
This Step2 outdoor bench is a realistic stone-textured bench that will provide you with comfort when you sit and storage for your outdoor accessories.
IS THIS A GIFT? DON'T SPOIL THE SURPRISE!
This item ships with an image of the product on its outer packaging.
Rated 5 out of 5
by
Soon-to-be mom of 3boys
from
Love it!
We bought this because our boys love to move the garden chairs around and use them as ladders to get what they want.This bench is too bulky for them to move, but light enough for me (9months pregnant) to move with ease.It was super easy AND FAST to assemble. The material is very strong and durable. My husband is 6'5" tall and weighs 350lbs and the bench held him and me, no problem.Only thing I wasn't too crazy about, is the lid to the storage area under the seat is not hinged. It simply slides into place and is very easy for little ones to open and climb in by themselves.Other than that....ABSOLUTELY LOVE IT!! I'm thinking about buying another one.
Date published: 2009-06-03
Rated 5 out of 5
by
Proud WV Mom of 3
from
Wonderful Storage Bench!
After reading the reviews I decided to give this bench a try. We had bought a chiminea for our deck and had one bench on the deck. The deck is not easily accessible to the woodpile so I wanted something we could store our chopped wood in to keep it dry and something that would provide extra seating. This works perfectly!!It holds several nights of wood for our chiminea and is quite comfortable to sit on. Two adults can fit on it easily. We have had several hard rains and the contents have stayed dry. I would definately recommend this product and if I need something like this again I would buy another one! :)
Date published: 2011-06-07
Rated 5 out of 5
by
tired mom
from
BUY ME
i did not have this last year. last year i had tons of summer related toys all over my yard. my deck. under the deck. you get the idea. wanted this for a while. grabbed it when price went down. by far this is the EASIEST item i have EVER put together. sturdy. weight limit nice. and it looks good on my deck. when the kids out grow this, i'll just move it to the side of the house and keep my gardening supplies in. luv it cause i won't have to give it away. biggest con, my son likes to hid in it. i know. BUT this has no locking attachment on the top so if he is in there he won't suffocate. really good buy. for anyone. even people without kids.
Date published: 2011-04-11
Rated 5 out of 5
by
Gift Giving Relatives
from
Birthday Shoppers
We bought this bench a gift for our niece and nephew (granddaughter and grandson) to store outside toys in. We also bought a matching Step 2 Sand and Water Table. Following the directions, the bench was very easy to assemble. The bench was larger than we expected, but we were not disappointed. I'm 5'3'' and can sit on the bench with my legs completely stretched out on the bench. Very nice for an adult to sit on and read a book while watching children play outside. We are very satisfied customers and would recommend this bench for others looking for outside toy storage.
Date published: 2010-07-02
Rated 4 out of 5
by
Anonymous
from
Product well with the money
I highly recommend this storage bench, I have other step 2 products that have held up in the elements of south florida, I am sure this one will also. I had purchased several other storage benches that were hard to put together or the quality was JUNK!!! This one is GREAT QUALITY and VERY EASY to put together, under 30 mins by myself. The only thing I do not like is the way the bench part is attached, it just kinda slides into place, but doesn't have a slide for it to lock into, so when you pull it up to get into it you have to be careful not to pull it out to far, but I guess that has it's plus' too, like if you are storing larger items and need the extra room to get them in and out. Overall GREAT, I purchased 2 of them so far and will purchase more.
Date published: 2008-01-05
Rated 4 out of 5
by
Mom of a graduating Senior
from
Just what I was looking for!
I bought two of these benches, one for kid toys and one for yard stuff. They were very easy to put together and are very sturdy. I love the way they look on my screened in back porch and how much they help clean it up. We will be hosting a graduation party in a few weeks and the extra seating will greatly help. The only "con" I found was that they are a little short or low to the ground. I thought the seat would be a little higher. Storage capacity is great and all in all I am very, very happy with this product.
Date published: 2011-05-27
Rated 5 out of 5
by
Alex
from
Great look, comfortable, durable, maintenance free
I bought my bench about ten years ago. I LOVE it. I put some cushions on it and lay with my feet over the end. I read, sleep. It looks almost the same as when I bought it, even though I live in a 4 season state and I leave it out all winter. There is no cracking or warping, just maybe the lightest change in color after ten years. I'm not sure even of that! It is under a tree so is in shade except in the early morning and late afternoon. It is easiest to have it sent direct to your house and takes a couple minutes to put together.
Date published: 2018-05-23
Rated 5 out of 5
by
Anonymous
from
I would buy this product again and again
Love this storage bench! It came just a few days after I bought it. I opened the 2 boxes, pulled out the parts and my 7 year old put it together all by himself without the instructions. I double checked it to make sure it was correct and it was. So easy to put together. It took about 3-5 minutes. No joke! I put it on our back porch. Everything but a large Tonka truck fits inside. Hoses off great if it gets dirty and it also matches the playground and picnic table. If we ever need another storage bench, this is the one that we will buy agin. Love it!
Date published: 2010-07-15
Please tell me you will keep this bench in production.  The Step 2 quality & durability is unsurpassed.  The colors are always perfect for the adult line but the kids in our neighborhood just think my stuff looks fun! Judy B
This bench is great. I have three. Very sturdy and I love the color. There's also plenty of storage inside. Please keep these in production.
Date published: 2020-06-24
Is this permanently discontinued? This is the best bench ever! I've had mine for 13 years, leave it out all winter, and it's still in great shape. I want one for my cottage! If discontinued, can you tell me where I could get old stock?
I live in southwestern Ontario Canada and I am wondering how this will stand up to our cold snowy winters? I plan to put a suitable cover over it to keep dirt and stuff off of it.