Panda Climber™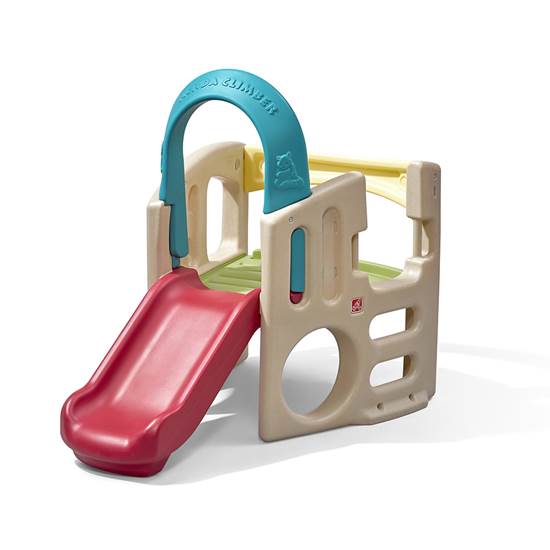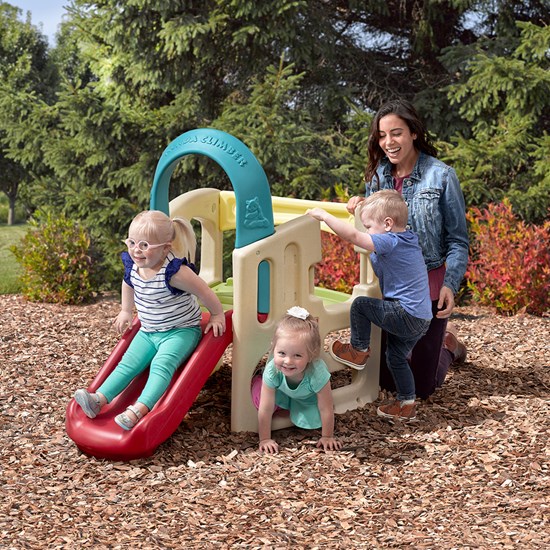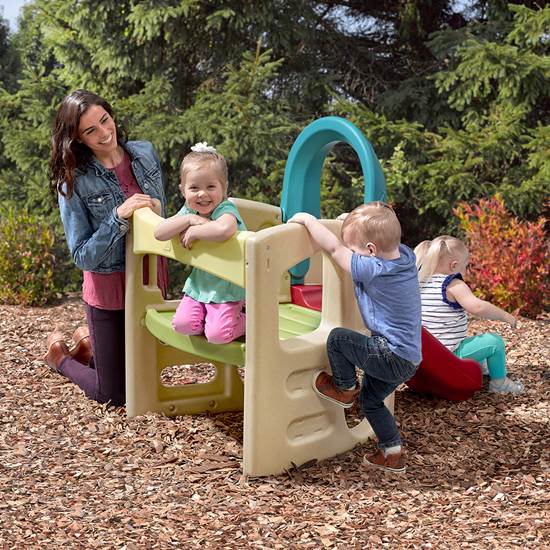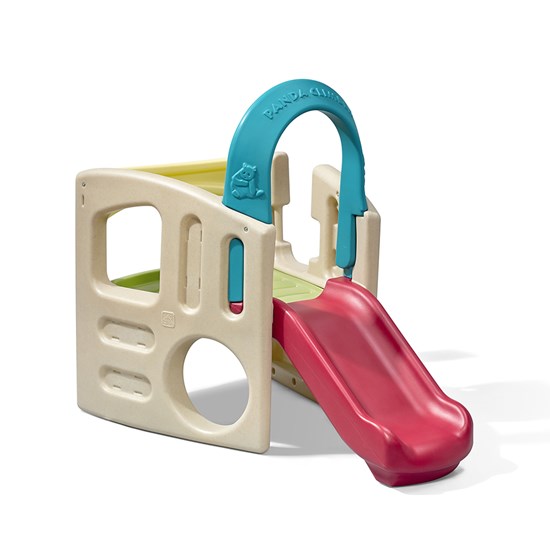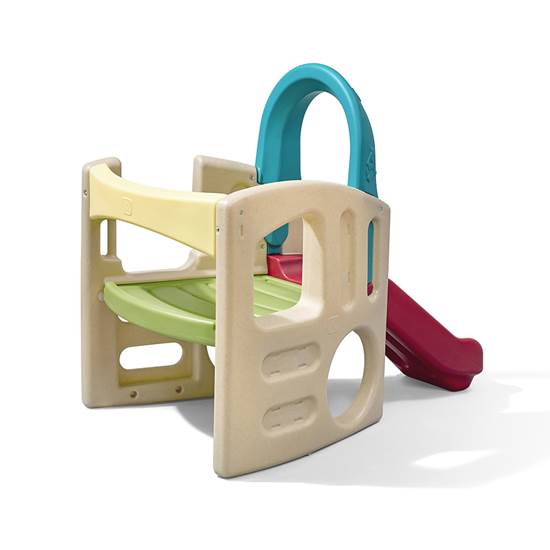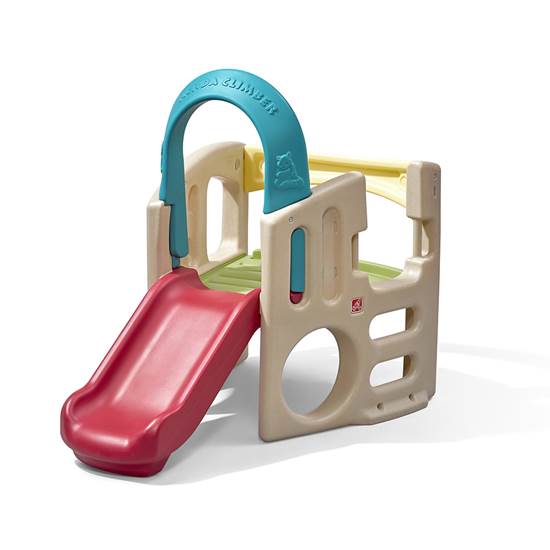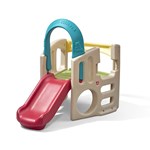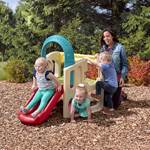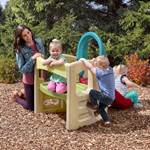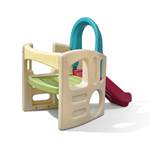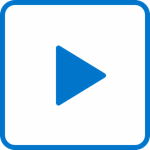 Panda Climber™
In stock
$139.99 $124.99
+4.99 shipping (via FedEx)
This Step2 Climber is an all-in-one activity gym that features climbing, crawling, hiding and sliding.
IS THIS A GIFT? DON'T SPOIL THE SURPRISE!
This item ships with an image of the product on its outer packaging.
Rated 4 out of 5
by
Charity
from
Kids enjoy it!
It is sturdy and kids enjoy it. However I'm not sure how long they will want to play on it. I bought it for my 17 mo old for a Christmas present. He loves it and so does my 3.5 year old however it is definitely too babyish for my 3.5 year old. It definitely won't keep him entertained until 5 years old per the description. It does slide around on our hardwood floors. My husband said assembly was simple. Also my 17 mo old stands at the top of the ladder part and I'm afraid he might fall. It is a great purchase and my kids play on it daily.
Date published: 2016-01-03
Rated 5 out of 5
by
Cathryn
from
I would purchase this item again and would recommend.
Purchased for our 17 month old Granddaughter. She played with it for the first time this weekend and loved it. She was climbing all over it and liked going through the holes on the sides. She loves slides and this one was great, slowed her down before she flew off the bottom. I'm sure she will be able to use next summer, but I personally think it is too small for a 3+ year old. Easy to put together as I, the 57 year old Grandmother, got it almost together by myself, but needed an extra set of hands to complete.
Date published: 2016-05-23
Rated 5 out of 5
by
Emma's GiGi
from
Very Durable- Weather Resistant!
The only drawback to me would be the hoop that is overhead at the top of the slide. Our granddaughter has bumped her head on it quite a few times. Other than that, we love it. The most durable, weather resistant piece of outdoor play equipment you could ever own. We have had it for quite some time; it stays in the blazing heat/sun and we live in Southeast Georgia. We have had NO FADING whatsoever! WOULD HIGHLY RECOMMEND this for your little one! Hours upons hours og enjoyment!
Date published: 2015-07-16
Rated 4 out of 5
by
mcninjakiitty
from
its a great product, but .....
Ok first I was very excited to have my daughter open this gift up ... And so was she (: as it came perfectly complete no parts missing or anything extra , one side of parts didn't have the holes to connect the platform to, while the other side snapped right in ... I didn't want to wait for a replacement so I drilled the holes in myself since the imprint that the hole was supposed to be there just wasn't punched in ... But I guess other than that the product is good ... (:
Date published: 2011-12-26
Rated 5 out of 5
by
Anonymous
from
Great Climber!
Gave this to my 1 year old for his birthday. My husband and 5 year old had no issues putting it together. They did have to wipe it down when they took it out of the box, as it was covered in some sort of dust/film. Both my 1 year old and 5 year old love to play on this climber. I put a small step stool at the ladder to help my 1 year old climb up onto himself until he has enough coordination to climb the ladder himself. We are very happy with our purchase.
Date published: 2013-03-01
Rated 5 out of 5
by
PatricksMommy14
from
Perfect for little Bodies!
My son is 20 Months and my nephew is 17 Months they LOVE this climber. At first I was afraid it was going to be to small but it is perfect for their size and mental mind state at this age. I don't have to worry about them falling off thanks to the safety bar and the climber not being to tall. This product is best for kids 3 and under i'd say. I didn't care for the part you had to drill your own holes but other than that easy to assemble to less then an hour.
Date published: 2016-03-15
Rated 5 out of 5
by
GrinningCheektoCheek
from
So Much Fun!
Being that we live in the cold climate of Minnesota - we wanted a toy to keep inside the house for the boys to get some energy out with.This is perfect sized for indoors - and would also work outside. It was easy to put together and both boys love it (age 1 and 3). My youngest who JUST turned one can climb up onto it, but I have to help him get down the slide.. They like to throw a blanket over it and use it as a fort too! It's Fun every day!!
Date published: 2011-11-20
Rated 4 out of 5
by
Granny Lucy
from
good product, tough assembly
OK. This is a great little climber for my grandson who is almost 1 year old. However, neither I nor my husband nor my daughter could assemble the thing until my son-in-law, the architect, did it in about 5 minutes. But here is the trick: he used a wire clothes hanger to open the holes so the nobs would slide in. That is, the holes needed to be stretched a bit. Without some sort of mechanical help like that, I defy you to put the thing together.
Date published: 2012-12-29
Rated 4 out of 5
by
Anonymous
from
pretty good!
I bought this for my just turned 4 year old and almost 2 year old. I was looking for something for inside play during the cold winter months and something small enough for our basement and this fit the bill. Not too expensive and the children love it! My older child loves it and I feel fairly confident that he will play with it for a while.
Date published: 2011-02-11
Rated 4 out of 5
by
Anonymous
from
Panda Climber
Our grandson loves his climber and slide. Everything in our home has gone down the slide, it is built very sturdy and was quite easy to assemble. I would recommend it for anyone with young children, particularly with climbers. We live in Ohio and since our grandson cannot play outside this has been wonderful set up in our living room.
Date published: 2015-02-25
Rated 4 out of 5
by
Anonymous
from
Just what I wanted
Bought this for 22 mo old grandson who is into climbing.Like the bright colors and sturdiness of product. Using in large carpeted family room until weather gets warmer. Picture instructions not that helpful. Needed 3 people and drill to finally get it together correctly but worth it.
Date published: 2014-12-29
Rated 3 out of 5
by
theMomBuzz
from
Good for Smaller Children
Depending on your needs, the Step2 Panda Climber is a cute little slide and climbing set for kids ages 1 - 3.Past that, they will usually be masters of the giant jungle gyms at local play grounds or the sky-high Skyward Summit.We received the Panda Climber as a gift and I like how easy it was for my husband to assemble. He did have to use a power drill to "finish" the holes to get the screws in. And the plastic is easy to wipe down to clean off dust, dirt and the occasional snack-spill. The size is small enough for a small patio and it can even fit indoors in a play room. When my son was younger he had a slide/ball pit combo in his bedroom which ROCKED. So this would be a cute addition to a large bedroom or play room.It has many open areas for children to climb to the step and from there go down the slide. The platform is ridged, decreasing any opportunities for accidental slips.Currently my boys play with it like any boy would - climbing and chasing each other. It's also good for racing cars down the slide. It can hold up to 100 pounds, so both of my boys can sit on the platform at the same time, although that rarely happens as they are always on the move.
Date published: 2012-04-26
Rated 5 out of 5
by
Anonymous
from
Great climber for 12 months to 3 years
I bought this for my 15 month old Granddaughter. She loves it. She can climb up the back herself and slide down the slide. She also likes to hide out underneath by climbing through the holes under the slide. We have also used it as a fort by putting a blanket over the top. I use this in my basement and it does not take up too much space.I can not see her using this much past her 3rd birthday. But it works great for toddlers and is very sturdy.
Date published: 2012-01-31
Rated 5 out of 5
by
Luanne
from
Highly recommend this for young explorers
I was looking for a climber that would allow our one year old granddaughter the ability to use her new found skills of crawling under, through and out of things while being safe exploring her new surroundings. The Panda climber is a perfect way for her to learn and grow. She is learning to use the steps, loves the slide and with a little help will master it over the winter months and be a pro by the time we take it out in the yard next summer.
Date published: 2016-10-28
Rated 5 out of 5
by
Anonymous
from
Pint Size Perfection
Love the arch as it deters the little ones from running down the slide and gives them something to hold on to when preparing to slide. My grandson is 14 months old and figured out real quick his foot placement in step and pulls himself up to platform. Love the size and the ease to which I can move it inside or out. A bit of muscle is needed to screw together!
Date published: 2013-02-17
Rated 5 out of 5
by
Anonymous
from
Perfect climber and very safe!
I purchased this climber for my 2 and 4 year old sons. It was an instant hit. The size is perfect for indoor use. The platform provides enough space for my 2yr just to hang out up there. I purchased this climber mostly due to the safty rail across the back so my kids do not accidently fall out. It works great and could not be happier with this purchase.
Date published: 2012-01-01
Rated 5 out of 5
by
Calistar
from
Great climb on for 2 year old
My now 2 year old grandson loves to climb and swing and side, and this is perfect, he does swing in it and gets reminded that the over slide is NOT a swing but he is a tough guy. I wish he would use the crawl space more But he seems to be Bigger Then the holes. I use the space for storage of other toys (even though he is small)
Date published: 2018-01-14
Rated 5 out of 5
by
Bateally
from
Great for 1 year old
We bought this for our baby's first birthday. He loves it! It is a little hard for him to climb to the top, so we place a step stool next to the toy for him to climb up. He recently discovered he can crawl under it as well. We love that it can be inside on cold days, and outside when it's nice out. So far it seems sturdy.
Date published: 2020-03-27
Rated 5 out of 5
by
Mimi
from
Everything it should be
Great climber for our very active granddaughter. Delivered quickly and very easy to put together. Not too high off the ground to get hurt and lots of nooks and crannies to climb through. Her favorite part is the arch over the slide; she loves to hang from it. She even ate breakfast on the platform. She loves it.
Date published: 2018-06-21
Rated 4 out of 5
by
culhamkd
from
Great Product
We bought this for my 16 month old daughter. Every time we go outside, she runs up to it to play on. Unfortunately, after going down the slide a time or two, she moves on to something else in the backyard. I think this is just her age/attention span though. As she does seem to enjoy this product!
Date published: 2019-05-10
Rated 4 out of 5
by
Olivia96
from
We love it!
We bought this for our sons 1st birthday and were shocked at how perfect the size was for him! He loves climbing up the slide and slides down. I will also add that my 3 year old nephew loves it too! So looks like this was a good investment to keep the kiddos entertained! Very happy with this :)
Date published: 2018-06-07
Rated 4 out of 5
by
Anonymous
from
Good quality but lacks excitement
My 2 year old granddaughter loved it - but got bored quickly. She's adventurous so there wasn't much excitement after the second day. She does enjoy rolling her ball, stuffed animals and anything else that will fit down the slide. Easy to assemble,[...] mom and dad loved it too.
Date published: 2011-08-04
Rated 5 out of 5
by
Anonymous
from
Fabulous Toy enjoyed by all
Aunt and Uncle looking for a gift that would last a long time, would help develop physical and mental skills and would be great fun for the child. We read all the previous review and search for reviews not on the Step 2 website to ensure we were purchasing the right gift.
Date published: 2014-11-09
Rated 5 out of 5
by
Anonymous
from
very good purchase
I am overall very satisfied with this. It was shipped on a Thursday and I received it the next day on Friday. I didn't have any issues with assembling this on my own. The only thing I could see other people having trouble with is that there are no holes for the screws to go through so you have to manually make the screw holes. I have built and assembled a lot of things in the past so this was very easy for me even as a woman. My 1 year old daughter loves this so much she couldn't wait to investigate this. We live in an apartment and this panda climber is in our living room. Its small enough that it doesn't take up a lot of room but big enough for my daughter to play on and slide. She plays everyday on this item. This was going to be a Christmas gift but I'm so glad I gave it to her early she has so much fun on it. She also likes to stand on the platform and look out our sliding glass doors. Its great for active children who are at the climbing and exploring stage. This is the perfect climber with slide I have found. Very happy all around.
Date published: 2013-10-29
Rated 4 out of 5
by
Erin T.
from
Video of my Son with the Panda Climber
I have this in the backyard for my 4 year old to play with. It was a gift and he is a little large for it. Best age is 12 months up to 3 years. But I wanted to share a video of my son with the toy for parents to see it in action.
Date published: 2012-06-22
Rated 4 out of 5
by
Anonymous
from
Sturdy product and Kiddos love it!
I use this inside for my daycare kiddos. It is very sturdy and they love it. The reason I am only giving it 4 stars is because it was a huge pain to put together because the holes didn't line up. Otherwise a great purchase.
Date published: 2016-12-03
Rated 4 out of 5
by
Sarah J
from
My son loves it!
My Son got this for his first birthday and a gift. We keep it inside and he loves it! He plays on it everyday. My only complaint is that the holes didn't line up so his father had to made A new hole to assemble it.
Date published: 2016-02-02
Rated 5 out of 5
by
Miss Pat
from
Easy set up, and my kids love it.
I use this product in my daycare. Quality is a must with this much children. I like all the activities that it provides for the small children. Keeps them entertained. I did think it was a little expensive.
Date published: 2011-04-05
Rated 5 out of 5
by
Anonymous
from
It's a great investment! Easy to put together!
It is perfect fur my daycare fur children under 18 months. My first grandson loves it. Builds strong legs and arms to pull themselves up. its safe and not to tall. Very easy to put together.. Thumbs up!
Date published: 2017-01-06
Rated 4 out of 5
by
Anonymous
from
Great winter activity gym!
I bought this for my niece (13 Months) for use during the winter months indoors. It is a great product and my 2.5 yr old daughter loves it as well. Fits in a smaller space and very easy to clean.
Date published: 2012-10-08
Are there accessories or attachments for this? We have one, and there are lots of places that look like other parts should clip in place, like steps on the left side.
The Panda Climber was not designed to be added onto.
Date published: 2020-08-07
Delivery to China?
Step2 Direct ships within the Contiguous United States only. Thank you for your interest in Step2 product retailers in Hong Kong/China. Specific quantities vary by retail location, please contact Wisdom Toys with your specific request. Wisdom Toys Sales Department Building 4, No.2777 Baoan Road, Malu Town, Jiading District, Shanghai, China, 201801 +86 (0)21-39905562 (f) +86 (0)21-31269175 (p) www.huasenwei.com
Date published: 2019-11-13
Maximum weight says 60lbs in the details mentioned on your website but the Product description PDF states 100lb maximum weight. Can you confirm if the max weight is 60 or 100lbs? 
The maximum weight allowance of the Panda Climber™ is 60 pounds.
Date published: 2019-07-22
Do You hace delivery todo Canadá?
Please read below for information regarding the Panda Climber™ : .Limit: 2 children. Maximum weight per user: 60 lbs (27,2 kg).
Date published: 2019-06-26
Can I use this at a commercial daycare?
I would think so. Yes. 
Date published: 2019-04-03
What is the platform height?
The platform of the Panda Climber™ is approximately 20 inches in height.
Date published: 2020-02-09
it states outdoor use only. does anyone know why it cant be used inside? I live in Texas and the outside weather most of the year is too hot, humid, raining or too cold for a toddler to play. Also too many bugs, reptiles will make their home in it. 
Whoops! I never noticed it was for outdoor use only. We only use ours indoors. When the weather is warm enough to be outside, the spiders will claim it if we leave it out. And once it's too cool for spiders, it's too cold and rainy to play outside. As long as you have enough clearance around the slide, I don't see why indoor use would be a problem. 
Date published: 2018-04-15
We are having such a hard time getting the pieces together! Any tips or tricks to make this easier? 
Please contact our Consumer Service Specialists at 1-800-347-8372 Monday through Friday, 8AM -5PM Eastern Standard Time and we will be happy to help you.
Date published: 2017-10-11