Patches the Rocking Horse™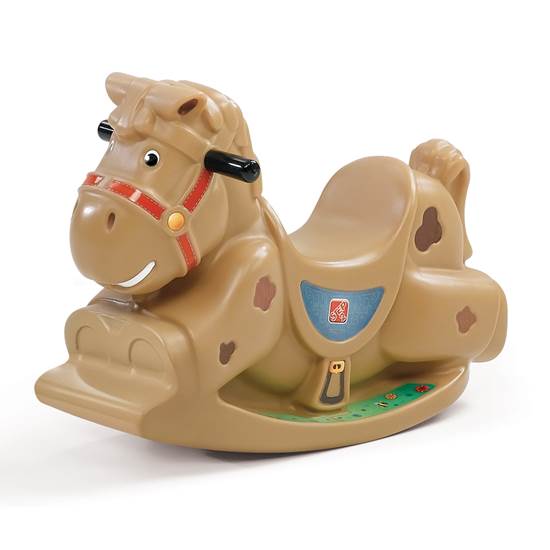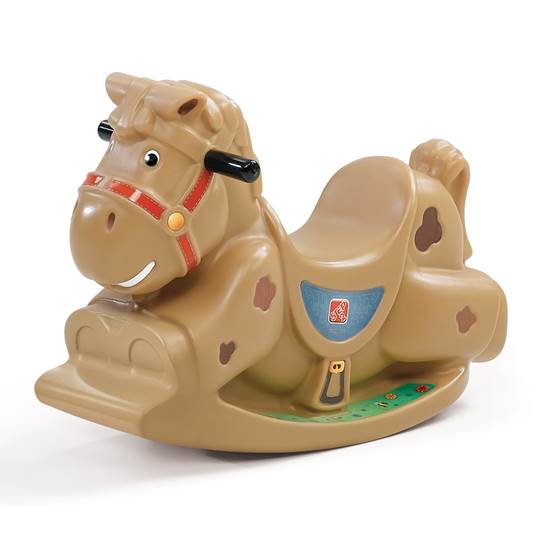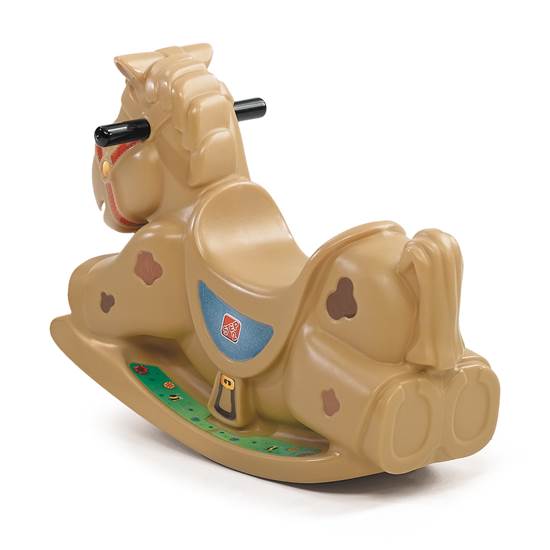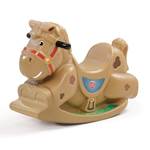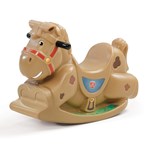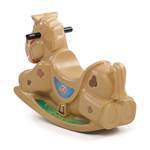 Patches the Rocking Horse™
Out of stock
$49.99
+$5.99 shipping (via FedEx)
Patches the Rocking Horse by Step2 is a refreshed riding toy that resembles an adorable classic rocking horse!
IS THIS A GIFT? DON'T SPOIL THE SURPRISE!
This item ships with an image of the product on its outer packaging.
Rated 5 out of 5
by
Allen6365
from
Perfect in every way!
The rocking horse was a Christmas gift to my 19 month old grandson. He woke up Christmas morning and was immediately attracted to the horse. We showed him one time how to get on and "off" he went! The height is perfect for his age. His feet fit on the side or the floor. He often rocks back and forth aggressively, but never falls off. Today, I watched him rock with one hand on the handle and the other holding a plastic golf club in the air! To my surprise, he had excellent balance and the rocking horse never attempted to turn over. I don't know how long this rocking horse will "fit" him. I imagine he will grow taller and his feet will no longer fit comfortably, but for now, it's the perfect ride for a loving-it-rough little boy,
Date published: 2018-01-14
Rated 5 out of 5
by
Hardworking Mommy
from
Great Quiet Toy
My son is big on any toy that moves or makes noise. When my husband set this up, our son immediately ignored his music table and climbed on! The horse has now become a welcome reprieve from all the noise our rambunctious little boy can make. The only noise we hear when he rides it is the sound of he laughter. That is the best sound in the world!
Date published: 2013-03-14
Rated 1 out of 5
by
Brilliance
from
fine
This product was a total disappointment. It is not stable, does not rock smoothly, is not heavy enough for a young child to get on safely, and is not attractive generally for young children. I have been trying to return it for a week and have found the return process on-line not to work. The phone wait was also a problem.
Date published: 2018-04-15
Rated 5 out of 5
by
Anonymous
from
Excellent purchase
Yes, it is good to "Enter Sweepstakes" but it is also true that this rocking horse is ideal for our 22 pounder little boy. After two tries he could get on his horse all by himself and safely rock to his heart's content. The horse provides excellent exercise and a soothing rocking that is an added plus. Excellent. We did not use the stickers and the horse was just as cute.
Date published: 2017-04-19
Rated 3 out of 5
by
Anonymous
from
No bells and whistles
We got this for our son for his first birthday since he loves the rocking horse at the "gym" he plays at. I think he sat on it for a total of 5 seconds and hasn't gone back to it since his birthday a month ago. It's still a little wide for him to get his leg over the horse by himself, though, so maybe once he's a little bigger he'll like it better. It seems to be durable.
Date published: 2009-04-20
Rated 5 out of 5
by
Colton's Mom
from
Adorable!
I got this present for my son's first birthday. He is still too little to get on and off by himself(not walking yet), but when I put him on it he can rock. My 2 year old niece also loves it. It is really cute, and sturdy and doesn't take up too much room in the house. Everyone that sees it thinks it is so cute and wants to know where I got it.
Date published: 2009-05-28
Rated 5 out of 5
by
Aunt Meg
from
I would buy this again
Bought this for my niece on her first birthday. She started smiling as soon as she was on it. She needs help rocking, but I think she will be able to do it by herself soon. She actually fell while getting off but did not get hurt since it perfect for her size and the material is plastic. She went back to it a little later and enjoyed it again.
Date published: 2014-08-15
Rated 3 out of 5
by
Mama Love
from
Patches
We purchased this as a birthday present for our one year old. She enjoys the horse. It is low to the ground which is perfect for her age. This is great for a 1-2 yr old that is walking and is able to keep his/her balance. I had a $5 off coupon plus it was on sale. The price was right for the item with the coupon and sale.
Date published: 2014-10-22
I need handles for Patches.  Can someone give me a part number and price please? 
Part #180483 - $0.50 each
Date published: 2021-03-27
Can you purchase the sticker pack separately? Our stickers are wearing out on our horse
You can order replacement decals through our Customer Service Department. Please call toll free 1-800-347-8372 Monday - Friday, from 8-5 ET and we will be happy to assist you further with this request.
Date published: 2018-04-09
There is a plug on the bottom - what for? Do you fill with water/sand for stability?
We do not recommend removing the vent plug from the bottom of Patches the Rocking Horse.
Date published: 2021-03-22
Is this horse for indoor and outdoor use? Are the stickers durable enough for the outdoors?
I bought this for my grandson. I believe they have only used it inside. However, he loves the horse!!! I would definitely purchase it again.
Date published: 2018-03-27
What type plastic is this made of? Is it free of BPA, PVC, and pthlates?
This rocking horse does not contain BPA. The handle grips contain very little PVC. Step2 products comply with the CPSIA requirements as CPSC listed test labs cannot and will not report a product is "phthalate free." All the materials used in our toy products are routinely tested and comply with the CPSIA standards.
Date published: 2018-03-27
My daughter is 23 inches long and 22 pounds would she be able to ride this?
Possibly: really depends on developmental level...but my Gdaughters were on Patches and riding by the time they were 12 to 14 months. If you have a very active little one he/she will figure it out quickly. The saddle seat is pretty low (approximately 10 to 11 inches) and easily accessed.
Date published: 2018-03-27