Pedal Farm Tractor™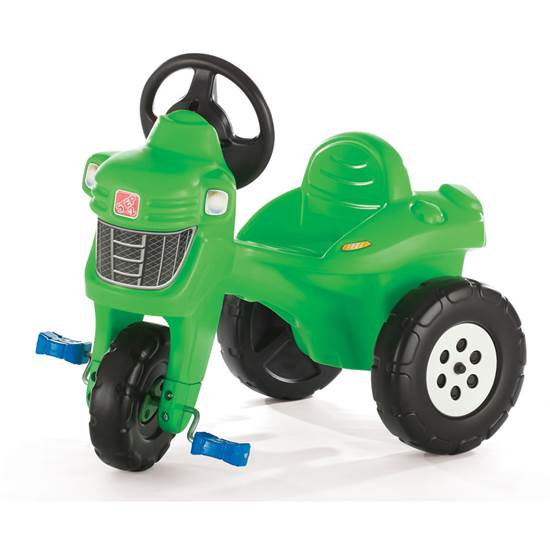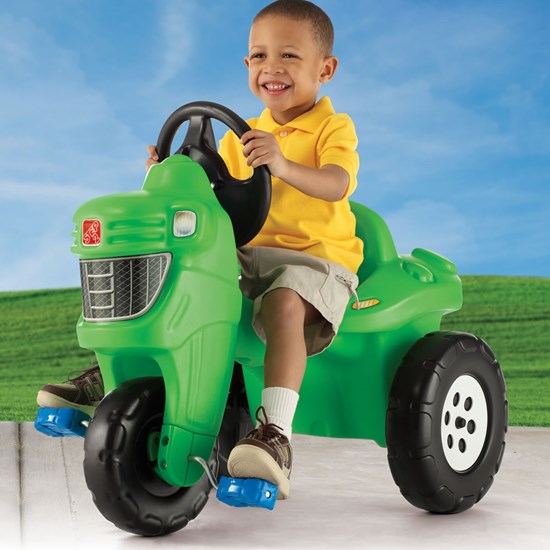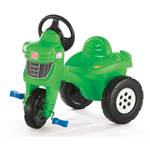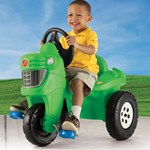 Pedal Farm Tractor™
Out of stock
$74.99
+4.99 shipping (via FedEx)
Little farmers will love cruising around on the Pedal Farm Tractor by Step2.
IS THIS A GIFT? DON'T SPOIL THE SURPRISE!
This item ships with an image of the product on its outer packaging.
Rated 5 out of 5
by
Anonymous
from
FUN!!
This tractor is super cute! My son is 3 and the pedals are a little hard for him to reach and pedal well... but he will grow into it! He got this tractor for Christmas, and of course santa (or should I say mrs. clause?! ) waited to put it together until Christmas eve's eve.. and one of the main pieces that holds the front wheels together was missing! I called step2 in a panic since this was going to be a santa gift in 2 days!! I don't know how, but step2 got the piece and overnighted it to me.. and it was on my doorstep on Christmas Eve before noon!! Call it a Christmas miracle? Or AMAZING customer service?! I think both!! THANK YOU STEP2!!!
Date published: 2017-03-25
Rated 2 out of 5
by
Anonymous
from
Front Wheel is Too Small....
This tractor looks great but it is not as functional as it looks. It is very hard for children to peddle it in grass because the front wheel is too small. In addition, they can not keep-up with other children with big wheels or trikes because they have to peddle too hard because the front wheel is too small. This causes more wear and tear on the tractor and potential injury to the children because their feet slip off the peddles when they try and peddle too fast. If the front wheel was larger I would give this a 5. It does look nice when just sitting in the driveway, but it is not very functional due to the small front wheel.
Date published: 2011-12-07
Rated 5 out of 5
by
HeartandSeoul
from
Fantastic Tractor!
My son had tried out a Step2 tractor and cart at a local apple orchard, they had several Step2 and several little tikes tractors there for the kids to play on. The Step2 tractors were much bigger, and not tippy like the other ones were. I was disappointed when I came home and looked them up only to find they'd been "retired". I asked about them possibly coming back, on the Step2 Facebook page, and was just beyond thrilled when they brought them back! My son got his tractor and cart a few weeks ago, it's actually an early birthday/Christmas present, because we have too much snow on the ground at Christmas time for him to enjoy it. He LOVES his tractor! He can't quite reach the pedals yet (this is one big tractor!) but he doesn't mind at all..and he'll be able to grow into it.
Date published: 2011-08-05
Rated 2 out of 5
by
Anonymous
from
Probably should have a 4 Years Plus rating
Can tip easily. Pedals too far from seat . Why not include pedal blocks Too big for a 3 year old. Pal nuts are a cheap not removable way to put things together. Front fork plastic pieces did not fit together tightly without fear of over tightening & cracking parts. Not much holding rear axle on. Plastic wheels too slippery & noisy.. Why no rubber treads?
Date published: 2016-05-10
Rated 5 out of 5
by
Anonymous
from
Pedal Farm Tractor
This is a large pedal toy. I purchased it for my two grandsons which are 2 years old. They are a little short legged to pedal or even move along using their feet. My 3 and 4 year old granddaughters use it better. It was much larger than I expected and kind or difficult to put together. The instructions are not very good.
Date published: 2014-11-14
Rated 1 out of 5
by
DaysFarm
from
Disappointing
Bought this for our grandson for Xmas. Luckily I tried to assemble several days early. There were no wheels in the box. Contacted Step2 and they shipped the wheels and told me they would be here by 10:30AM on Dec 24th. It is now Christmas day and no wheels. Fortunately, I was able to buy a new unit and use the wheels from that set.
Date published: 2013-12-25
Rated 4 out of 5
by
Anonymous
from
The cutest and most functional tricycle!
Not only is this tractor ridiculously adorable, it's SO functional when paired with the Step2 trailer! (A MUST HAVE, btw). It's very large, my 2 1/2 year old is tall (40") and can barely pedal it - so this is probably not for most children younger than 3. Also, because the front wheel is so small it's not very easy to pedal in grassy or dirt terrain. However, I'd still highly recommend it for any tractor enthusiasts.
Date published: 2012-10-09
Rated 5 out of 5
by
Jessi
from
4.5 year old son LOVES this tractor!
My son got this tractor for Christmas and he still rides it nine months later. It's sturdy, big and looks great! We have been pleased with all of our Step 2 riding toys but this one is the favorite of all three of my kids. Well made ( and made in the USA).
Date published: 2012-09-16
We have the tractor and are looking to buy the trailer that goes with it. Are they going to be made and sold again soon?
Very disappointed to read trailer has been discontinued ! Like the size of the tractor especially with the trailer. Wanted it for my grandson since his daddy has the same one over 20 plus years ago, however now I will have to purchase another brand due to no trailer, sadly. It makes for hours of fun with both together. Please, reconsider bringing it back before Christmas !
Date published: 2018-03-27
Should something on this tractor break, like the front wheel cracking or something like that, could we order replacement parts?
Yes, you can purchase replacement parts for items that have not been discontinued through our Customer Service Department. Please call toll free 1-800-347-8372 Monday - Friday, from 8-5 ET and we will be happy to assist you with this request.
Date published: 2019-06-16
Is this tractor to small for a 5 year old?
Is this tractor too small for a 6 year old??
Date published: 2018-03-27