Play Food Assortment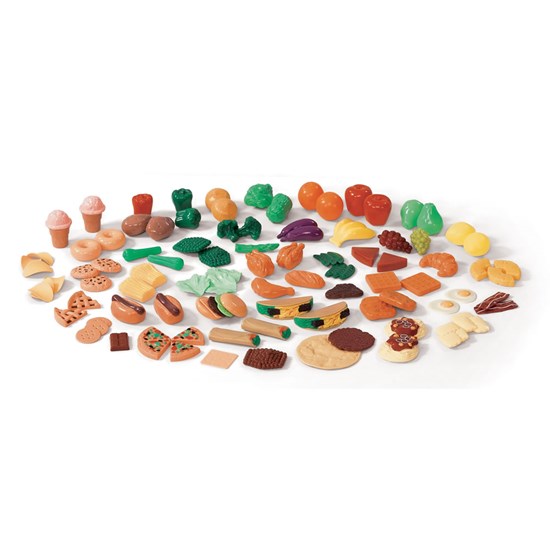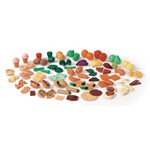 Play Food Assortment
In stock
$37.99 $34.99
+$5.99 shipping (via FedEx)
The Step2 Play Food Assortment is a 101 piece pretend food set that is a must have for playtime cooking.
IS THIS A GIFT? DON'T SPOIL THE SURPRISE!
This item ships with an image of the product on its outer packaging.
Rated 2 out of 5
by
John, Tony, and Jeremiah's mommy
from
Not the same anymore, very poor quality!
I've bought this set before and loved it... but lots has changed :( and it's not good. The quality is just not there anymore. Used to be that the food looked good enough to eat... and real looking. Now it's NOT! I love step 2 because of it's quality and have bought countless things in multiples because I have a daycare. These I bought to resupply because some of our old food has been lost. BUT I will never buy this play food again! On the upside I bought the baking kit and the pots and pans with plates and utensils and they were the type of quality I'm used to from Step2.
Date published: 2012-05-25
Rated 5 out of 5
by
Anonymous
from
Great
We bought this for our 2yr old to go with her Lifestyle Kitchen and she loves every piece. She knows a lot of different foods but the ones she doesnt know, she has learned them. She has such an imagination that she pretends that she is eating the food, and she says "Here Mommy, cookie eat". It comes with so many pieces so please dont be like me and open up both bags of food, lol.My 1yr enjoys playing with them too, although his main thing is to put them in his mouth. It keeps both of them very busy and entertained. Like I mentioned they both get them in their mouths and the pieces are very easy to clean, rather its just wiping off or soaking in water.
Date published: 2011-01-19
Rated 5 out of 5
by
Valerie's Mom
from
A lot of food & a lot of fun!!!
I bought this assortment of play food for my two year old to play with in her new playhouse, and she loves it. She's been cooking up a storm since the day it arrived! I like that it has a wide variety of everything, and that she is becoming familiar with the names of them all. I must admit there are a couple items that are questionable and we haven't quite figured out what they are (lol) but she doesn't seem to mind and "cooks" them nonetheless. This assortment is much better quality and has way more pieces than the sets I looked at that are sold in stores. So happy I found this!!!
Date published: 2012-03-31
Rated 4 out of 5
by
Carrie R.
from
Good assortment
Fits with Step 2 kitchen. The items are safe for small children because the sizes would make it difficult to swallow. I wish the cookies, and pizza weren't hollow. The pizza was a completely different size to the piece that came with her Step 2 kitchen. My daughter, who is 2, really doesn't care about these minor things still loves to play with the play food. I didn't give the four star because of this - the four star is because some of the coloring has worn off from her biting the food.
Date published: 2016-01-26
Rated 4 out of 5
by
Church Nursery Coordinator
from
Lotsa Food Pieces
This is a LOT of food pieces. Good variety (food groups, meals) BUT it seems almost too overwhelming to have to match up the sandwich pieces or find the component part for a meal. I'd rather have less variety but dupicated pieces (so "everybody" can have a hot dog ...) Also, many of the pieces are hard to identify - is that a potato chip? Is that spaghaetti sauce, or a side dish? The kids in church nursery mix and match pieces without worrying about these details, so play value is high, but educationally I'd rather have less "items" but more of each one, and pieces that are easier to identify, especially in basic food groupings. Then we could develop language skills without having to apologize for poor-choice food items.
Date published: 2014-04-01
Rated 5 out of 5
by
Hannah's Mom
from
Loves it!!!
My 22 month old received this set for Christmas and immediately fell in love. She spent the day pretending to eat many of the foods. I even found a few pieces in the trash that must not have tasted good. The pieces are a little smaller than I would've liked, but this set actually contains more of the foods I would like my daughter to eat. Plenty of fruits and veggies and really only a handful of junk food items. In the end, I'd rather she had this set over many of the others on the market. Plus the foods are gonna withstand anything she puts them through.
Date published: 2008-12-31
Rated 4 out of 5
by
Northeast Mom
from
Fun Play Food
The variety of food is good. The boys (2 & 3 yr old) really enjoy playing with the food, shopping for it, cooking it and washing it. The ice cream piece was not durable enough. My 2 year old bit it and crushed them the first day he had it. I cannot figure out how to un-crush them. All the other food has been durable and stood up to the chewing, cooking and playing the boys have done to them.The spaghetti and sauce are weird. Should they fit together? The boys don't care; they manage just fine with it. I was just wondering.
Date published: 2009-12-29
Rated 5 out of 5
by
GiannasMommy
from
Who said you couldn't play with your food???
I purchased this set to go along with the Lifestyle kitchen, and I'm beyond pleased and supprised with all it has been used for! For starters, with or without a kitchen this set is wonderful. There are a TON of pieces that are perfect for small hands (and safe for curious mouths). We used this set while learning colors, then while exploring foods. I noticed it's much easier getting a little one to eat thier broccoli when they can play with it first! The pieces are strong and durable, even after getting thrown, stepped on, mouthed, ect. They also clean up easily without the color becoming dull or worn. Everything stores nicely in baskets or bowls. Some have made thier way outside to the water table and even with the elements, the pieces stay well. The assortment supprisingly has just about everything you can think of from potato chips, burritos, breads, condiments, and stackable sandwich fixings! I love watching my daughter create meals with this set, and I truly think it has helped her eat more veggies!! With or without a kitchen, this set is so affordable and fun without sacrificing quality!
Date published: 2018-03-05
Do these items toy food have Velcro???
No velco. All plastic.
Date published: 2019-09-16
I understand that these are polyethylene, but what number polyethylene plastics is this?
The Step2 Play Food Assortment is recyclable at a level 4.
Date published: 2019-04-10
Does this food contain any bpa? Any pvc? If not, what number plastic are they?
The Play Food Assortment is made of Polyethylene and is bpa and pvc free.
Date published: 2020-02-26
What kind of plastic is used to make this play food?
The Play Food Assortment is made from Polyethylene.
Date published: 2019-01-08
Are these items hollow or solid?
Some of both. The fruits and veggies are lightweight hollow plastic, and other things like the hot dogs, chips, eggs, etc. are a more rigid plastic. It's a good set; we've had it almost a year and all the pieces are still intact and going strong.
Date published: 2018-08-16
Are these BPAfree ?? and PVC free??
BPA (Bisphenol A) is an organic compound used in manufacture of polycarbonate plastics . We do not use this plastic except in one component - an injection molded clear roof which is not mouthable (cannot be chewed, sucked or placed in the child's mouth) and complies with CPSIA toy requirements Phthalates are plasticizers mainly used to soften and enhance the longevity and durability of plastics, typically PVC plastics. Some of our products (Inflatables) are made from, or have components (wheel treads, some sand water table figurines) that are made from PVC phthalate compliant plastics. The phthalate levels are below the CPSIA maximum allowable levels, or the levels are so low they are undetectable.
Date published: 2018-12-05
Are these made in the US?
The Play Food Assortment is designed in the United States and Made in China.
Date published: 2017-12-05
Are these dishwasher safe? 
The Play Food Assortment may be washed in soapy water or vinegar water and is not dishwasher safe.
Date published: 2017-09-11