Play Food Assortment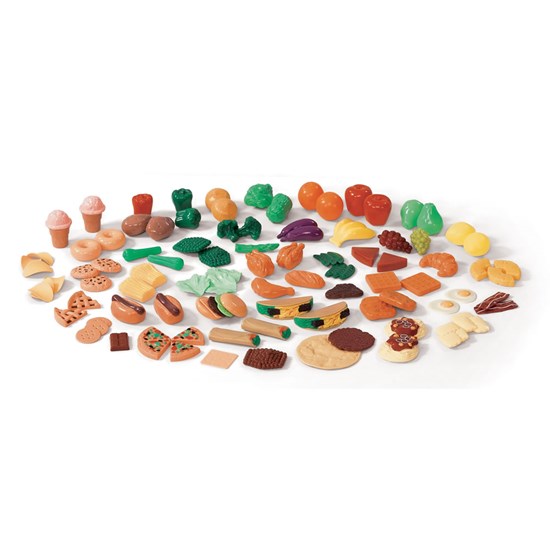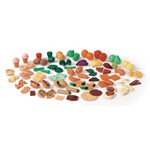 Play Food Assortment
Out of stock
$34.99 $29.99
+$5.99 shipping (via FedEx)
The Step2 Play Food Assortment is a 101 piece pretend food set that is a must have for playtime cooking.
IS THIS A GIFT? DON'T SPOIL THE SURPRISE!
This item ships with an image of the product on its outer packaging.
Rated 3 out of 5
by
Winston's Mom
from
Great variety, but a bit too cheapy
There are a lot of pieces and a great variety. But they are also just bunch of plastic, which I'm not sure if it's safe for the kids to put in their mouths while pretending cooking and eating. And, a lot of the pieces are very cheapy and unrealistic looking. Example: one sided pizzas and cookies (there are no bottoms), watermelons with the shapes of seeds, but unpainted, etc. I guess you get what you pay for. It's still a good addition to the play kitchen for the price.
Date published: 2009-08-10
Rated 4 out of 5
by
Monkey Momma
from
Nice Assortment of Food!
Great food set for those learning foods and starting to do imaginative play. I bought this for my 22 month old son who was starting to learn the names of foods from his "shopping cart" toy and when going to the store, etc. I wanted to be able to show him a wider variety and have them here and not just show them in the store or have to go to the cupboards to show.The biggest problem we have is that some of the pieces we're not sure what they are. It would be nice if there was a list of the foods somewhere. Some previous reviews asked about a piece of lettuce with cheese on it, but our set does not have that, so I'm guessing they have changed the set over the years.Is there a listing of the food included in the set?Overall a good set, and many more pieces for the same price as other sets I saw. I would buy/recommend again!
Date published: 2009-06-18
Rated 5 out of 5
by
daphonegirl66
from
Good Assortment of Play food
We bought the playfood assortment in addition to the assortment that came with the kitchen we bought for our 2 yr old daughter. We thought the one that came with the kitchen might not be enough. She loves pretending to make things for us . She also likes saying what each thing is and if she doesn't know what it is we tell her and then she says it. So i think its helpful to her developmentally as well as creatively. Definitely recommend buying it!
Date published: 2013-01-04
Rated 1 out of 5
by
JMH
from
Save your money
Very disappointing. I would recommend buying one of the cheaper versions of these sold in stores. At least that way you could be sure which foods you were actually going to get. [...]. The food is cheaply made, particularily the "sauce" for the pasta is designed in a way that it does not fit on top of the pasta. Also the lettuce is shaped in a way that it is impossible to stack on the sandwich. I have seen better/same at[...] for less money.
Date published: 2009-06-11
Rated 2 out of 5
by
mom of two
from
expected better
I ordered this food because my family loves our other step 2 products but I was very disappointed with the play food assortment when we received it. A lot of the food is unrecognizable, there are too many unhealthy choices, and there seems to have been little to no thought put into the design of the food pieces... for example there is a bunch of bananas but no singles, only one piece of asparagus etc. instead of multiples, the watermelon slices have no green rind on them, there is a pizza crust and sauce but no cheese or toppings, in fact there are no toppings for anything. As much as I hate to admit it this may be as good as it gets though... I did a lot of looking in physical stores as well as on the internet before our purchase and this did seem to be the best choice out of what is currently available and the kids enjoy it so that really is all that matters.
Date published: 2009-06-03
Rated 5 out of 5
by
Mr. Ruiz
from
fantastic play food.
This pretend play food set is awesome, I bought a deluxe kitchen set for my son since he like to play with mom's pots and pans in the kitchen and seen that, the kitchen set needed alot more play food. So I got this and my kids are very happy with it. The pretend food is very large so you don't have to worry about your toddler choking on any of the play food. It's very easy to clean and supervision is still recommended.
Date published: 2014-02-02
Rated 3 out of 5
by
Anonymous
from
Great assortment but too much
I agree with other reviewers who said the food pieces didn't really look like food. I still am trying to figure out what some of the items represent. There are also just too many pieces here and they can end up all over the place when little hands are active. I think buying this as an accessory to a kitchen play set should be unnecessary if just a few key items would be provided with the kitchen we purchased.
Date published: 2010-07-09
Rated 5 out of 5
by
Anonymous
from
WOW, alot of FOOD
My two-year old granddaughter RECOGNIZED the different foods when I would ask, "where is the potato?" or ask about some other food. We've had alot of fun 'cooking' these foods. What I perceived as a small problem, but BROOKELYNN did not, is that there are too many items. We had to divide the foods and put some away, so now every time we get the other basket down, it's "new" to Brookelynn. Great product.
Date published: 2010-01-12
Rated 4 out of 5
by
KaBoom
from
Worth the price
Filled out our step 2 kitchen perfectly. Yes, some of the food is an usual choice to be included or clearly came from another set (is taht bok choy and do those fries not have a container?) Also, it is a little unusual that the relative size of some of the food is so far off, like a whole chicken that is smaller than the orange...but other than that, it has been a valuable teaching tool for our son.
Date published: 2011-11-08
Rated 4 out of 5
by
Anonymous
from
Lots of Food!!
Purchased this food to go with the new play kitchen we bought the twins for Christmas. I was surprised at how much food this really is. It filled up our Step 2 Lifestyle Dream Kitchen. My 19 month old twins just kept dumping the food out of the drawers all over the place and I kept having to pick it all up again. So, I put half the food away for now. They don't need that much food to play with at once. This way, when pieces get lost or destroyed, I can replace them with new food from the stash we put aside.Food looks realistic and is fun to play with. Some pieces are a bit small and my kids can put them entirely in their mouths, so I have to keep an eye on them when they are playing with those pieces. Some of the food is hard plastic and some is more rubbery. I worry about them chewing pieces off the rubbery food, but so far that has not happened. Overall - a good set of fake food.
Date published: 2009-01-08
Rated 5 out of 5
by
Anonymous
from
VERY VERY PLEASED!!!!!
When I was looking for more play food to go with the new Step2 kitchen I purchased, it was out of stock. Now I know why. This play food is made of sturdy plastic, rich realistic color for each item and has a wonderful variety of foods. My daughter LOVES playing with it. This a MUST have play food set. I'M THRILLED with the quality!!! Step2 ROCKS!!! (We still love the kitchen too!)
Date published: 2009-07-18
Rated 5 out of 5
by
Anonymous
from
Highly recommend, great product
I bought this for my child's second birthday to go along with the Step 2 Custom Kitchen. My child loves it and cannot wait to get home in the evenings to play with the kitchen as well as the food. Very durable and safe, yet small enough for toddler hands. Great for pretend play and food is a very realistic portrayal of the life version. Would highly recommend this product.
Date published: 2010-02-23
Rated 5 out of 5
by
Anonymous
from
great playfood!
I have two sets of this, plus one set that Step 2 had out last year (that one didn't have as much variety to it). My 2 year olds are able to identify pretty much everything in it, it's durable and is much nicer than other play food sets we've tried. They love playing with it and making breakfast, lunch and dinner for us. I would definitely recommend this set.
Date published: 2011-01-29
Rated 1 out of 5
by
Stay-at-home mom
from
Picture is not what you get!
Picture is not representative of what you receive. For example, I received a couple slices of pizza, but not enough to make a whole pie. There were NO sushi rolls or soy sauce, no pretzels. Instead, I received several small "turkeys" that were smaller than the apples.When I called customer service, they said there was nothing they could do.
Date published: 2010-03-25
Rated 5 out of 5
by
Jake's Mom
from
Cute!
I bought this set for my son to put in his Step2 shopping cart. There is a wide variety of foods in this set (some a little less-recognizable than others!), and we've had fun identifying the various items and pretending to eat and/or cook various items. There are many pieces and all of them together fill up the shopping cart. A great buy!
Date published: 2010-05-19
Rated 2 out of 5
by
marid
from
expected better quality
Anything I've ever purchased from Step 2 has always meet or went beyond my expectation. The play food on the other hand, left a lot to be desired. The food is very cheaply made and I don't like it at all. Also I would like it to be made in the USA. I love the idea that all the large items are made here and keeping Americans employed.
Date published: 2010-04-11
Rated 5 out of 5
by
Junes mom
from
Good product
My daughter received the lifestyle kitchen for Christmas and loved playing with it, but it didn't come with food. We purchased this food to help her learn the names of food she eats daily. Whe there are some unhealthy foods included, it does it's purpose. We only use a dozen different food, and add new ones as she becomes more familiar.
Date published: 2012-01-30
Rated 4 out of 5
by
Nadeen
from
Play Food
We had trouble recognizing what some of the pieces were. Was it a burrito wrap, or a pizza shell? Was it a hamburger bun or what could it be?BUT, other than some confusing looking pieces - the grandbaby loved it (2 year old), her mom loved it, and her dad played with her for hours....It all fit inside her Step 2 kitchen...
Date published: 2008-12-29
Rated 5 out of 5
by
sum
from
Healthy Assortment
There is a good assortment of foods used for each of three meals plus snacks. I must admit two of the items were somewhat unrecognizable except they looked like beans of some sort. There are too many pieces for our granddaughter who is 2, so we have put some away for the future. We look forward to "eating" with her.
Date published: 2013-12-23
Rated 2 out of 5
by
Deanne
from
Fun but not realistic
I'm a big fan of Step 2 products however, this product needs a little help. Some of the items I can't even identify! And, it's overall pretty flimsy. Obviously I'm wasn't looking for the real thing but some reality would've been nice. All in all, my 2 yr. old doesn't know the difference and still enjoys playing with it.
Date published: 2010-04-21
Rated 3 out of 5
by
Momma Leia
from
Okay;size relationship may confuse kids
Wished food sizes were proportioned more realistically. May cause some kids to be confused to identify foods. Some pieces missing like the hamburger for the bun assembly, would have like the pieces to be similar in style like all plastic as some were hard and could cause damage to furniture or the kids...
Date published: 2010-07-24
Rated 5 out of 5
by
Ninny
from
Great assortment of play food
This product is a Christmas gift so it has not yet been unwrapped or used. However I was thrilled with the extensive selection of play foods. The kids are going to have a great time with their play food! My past experiences with Step2 products assures me that the quality and durability will be outstanding.
Date published: 2019-10-04
Rated 4 out of 5
by
Girlbabymom
from
Sooo Real!!!!
This play food set is remarkable. Each piece looks so REAL!!! My husband and I gave our 2 year old daughter this set as a Christmas gift, and she absolutely loves it. However, I feel as if a few of the pieces are somewhat too small for her...eventhough this set is to be age appropriate for my daughter.
Date published: 2009-01-01
Rated 5 out of 5
by
gramma roxanne
from
[...]
I couldn't believe all the food items! My granddaughters love all the food for their new kitchen and there is enough for both to play with and not fight over.I bought this along with the Step2 Gourmet Kitchen Cafe for Christmas. [...] Their mom tells me they play with the kitchen and food ALL the time.
Date published: 2010-01-08
Rated 4 out of 5
by
Oma Becky
from
Lots o' food
Both granddaughters (2 and 8) have enjoyed playing with this set. The food is attractive and the right sizes for creative play, some of it fitting nicely in the 2 year old's play dishes. One of her particular favorites is the ice cream cone. The set has been a fun addition to the play kitchen area.
Date published: 2008-10-15
Rated 4 out of 5
by
Wolfsong
from
Realistic & easy to identify food item
I bought my granddaughter a Step 2 play kitchen for her 2nd birthday. The extra Play Food Assortment I purchased along with it has been a great HIT!!!! She and my other grandchildren love playing together; they especially love to play "restaruant," serving this Groovy Gramma with a smile!:)
Date published: 2014-08-04
Rated 5 out of 5
by
Mom Rocks
from
REALISTIC FOOD Goes perfect with kitchen
I bought this play food with the Lifestyle Kitchen so my daughter had the food to go with her kitchen. The food is very durable and realistic, would buy again! I also work at a daycare part time that has a step 2 kitchen with food and those kids just love it!!! Great Toy and a must have!
Date published: 2008-10-12
Rated 5 out of 5
by
Chrissy
from
a well balanced array of food choices
The play food is great for imaginative play in the real or pretend kitchen. It provides unlimited meal combinations that include healthy choices as well as special treats. All of the food is very realistic looking(no quessing as to what it is) and I like how it is sized for little hands.
Date published: 2009-12-28
Rated 5 out of 5
by
notjstanothrmom
from
Great for the price!
This is a great set. I have looked at so many and they are very expensive for less pieces. The quality is great and they won't get smashed or torn apart. The only thing that baffles me about it is there is one piece (the green one with yellow shavings) that we don't know what it is.[...]
Date published: 2008-11-19
Rated 5 out of 5
by
Anonymous
from
Perfect for my little cooks
This is being used with the new Fresh Market purchased for the grandchildren. They love the selection and the realistic appearance of the foods. We enjoy watching them play with their Step2 toys as much as they enjoy playing with them. Wonderful product and a wonderful company.
Date published: 2011-06-24
Do these items toy food have Velcro???
No velco. All plastic.
Date published: 2019-09-16
I understand that these are polyethylene, but what number polyethylene plastics is this?
The Step2 Play Food Assortment is recyclable at a level 4.
Date published: 2019-04-10
Does this food contain any bpa? Any pvc? If not, what number plastic are they?
The Play Food Assortment is made of Polyethylene and is bpa and pvc free.
Date published: 2020-02-26
What kind of plastic is used to make this play food?
The Play Food Assortment is made from Polyethylene.
Date published: 2019-01-08
Are these items hollow or solid?
Some of both. The fruits and veggies are lightweight hollow plastic, and other things like the hot dogs, chips, eggs, etc. are a more rigid plastic. It's a good set; we've had it almost a year and all the pieces are still intact and going strong.
Date published: 2018-08-16
Are these BPAfree ?? and PVC free??
BPA (Bisphenol A) is an organic compound used in manufacture of polycarbonate plastics . We do not use this plastic except in one component - an injection molded clear roof which is not mouthable (cannot be chewed, sucked or placed in the child's mouth) and complies with CPSIA toy requirements Phthalates are plasticizers mainly used to soften and enhance the longevity and durability of plastics, typically PVC plastics. Some of our products (Inflatables) are made from, or have components (wheel treads, some sand water table figurines) that are made from PVC phthalate compliant plastics. The phthalate levels are below the CPSIA maximum allowable levels, or the levels are so low they are undetectable.
Date published: 2018-12-05
Are these made in the US?
The Play Food Assortment is designed in the United States and Made in China.
Date published: 2017-12-05
Are these dishwasher safe? 
The Play Food Assortment may be washed in soapy water or vinegar water and is not dishwasher safe.
Date published: 2017-09-11