Play & Shade Pool™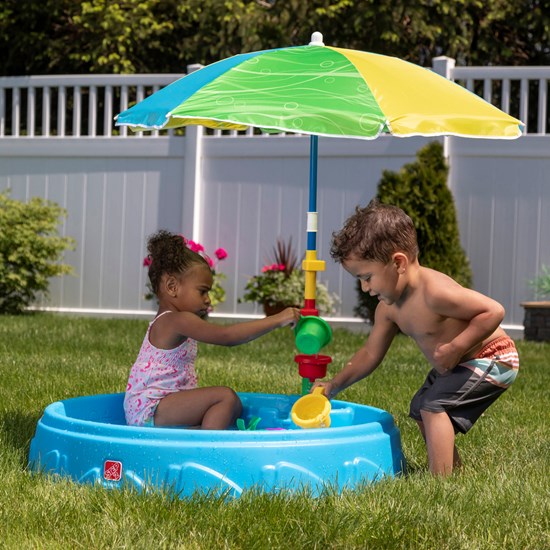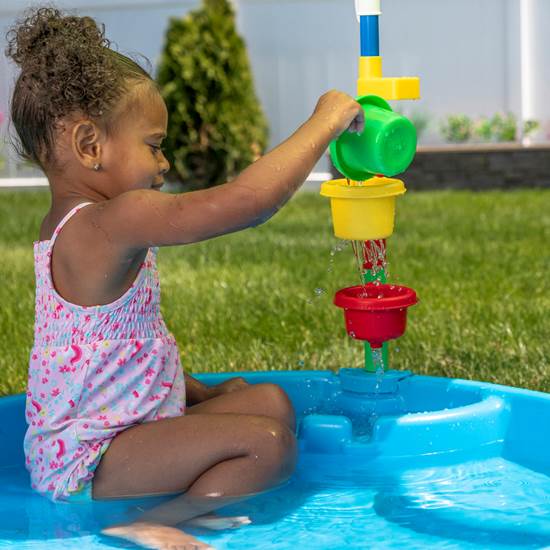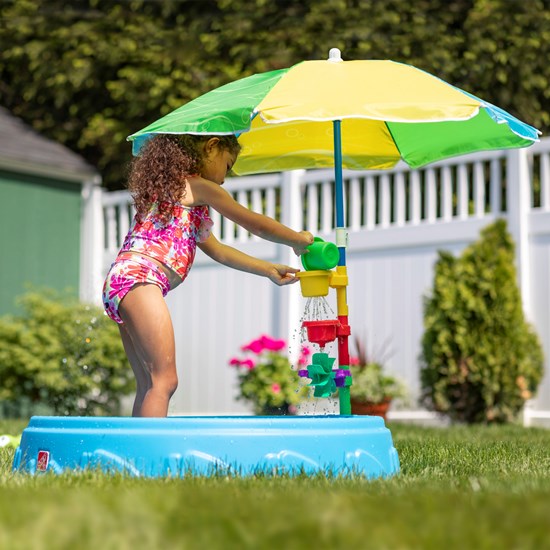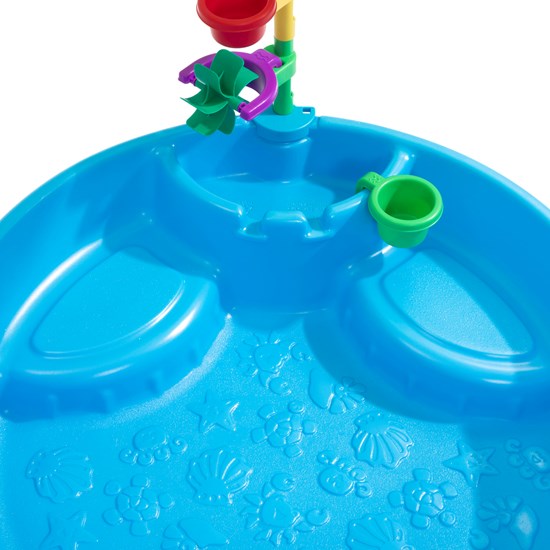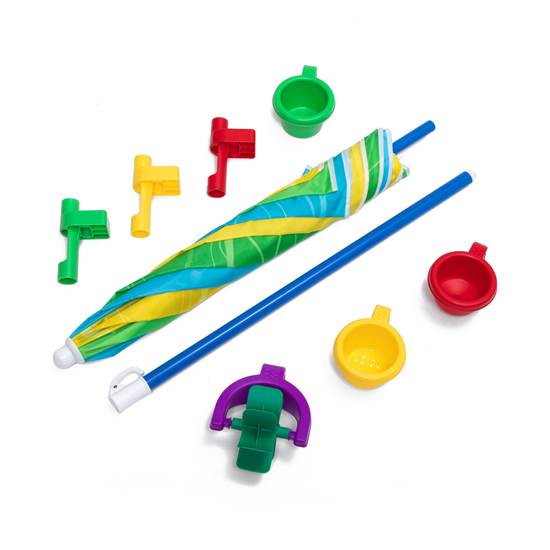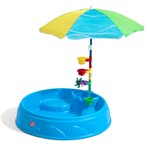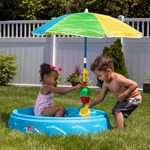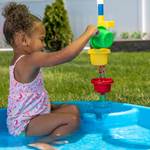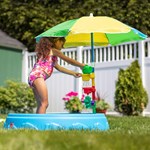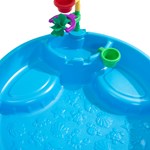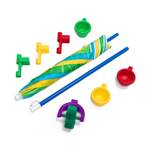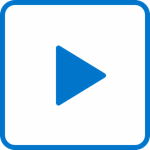 Play & Shade Pool™
In stock
$79.99 $74.99
+$12.99 shipping (via FedEx)
IS THIS A GIFT? DON'T SPOIL THE SURPRISE!
This item ships with an image of the product on its outer packaging.
Rated 5 out of 5
by
Dawn, K1 Teacher
from
Dive into a good book!
I teach kindergarten and first grade literacy. I bought this pool for a classroom library center. I filled it with books and made a sign that says "dive into a good book." I teach at a year round school and I thought it would be perfect for the summer. It's the perfect size and the kids are loving sitting in their little beach chairs around the pool. They especially love the umbrella and sitting in the "shade". I think I'll change up the center eventually. I picture kids fishing for words or searching for hidden letters in the sand. The possibilities are endless! I'm so happy with this purchase. I knew the flimsy cheep pools would not have held up in a classroom setting. This one is nice and strong :)
Date published: 2012-07-14
Rated 5 out of 5
by
Anonymous
from
Amazing pool but...there's no drain :*(
I LOVE this pool, first of all. It's great. My daughter absolutely loves it. Can fit probably 2 or 3 toddlers in it.The umbrella is awesome, and the toys are super awesome. But. The reason I am writing this is, I came back to this website hoping there had been a change to this model, and sadly there hasn't. There is no drain in the pool. For many of you this isn't a biggie. For me, it is. I bought this pool 2 yrs ago. So its held up great, but I have a terrible back injury, so trying to dump a heavy pool full of water, even a smaller pool such as this one, is really hard on me. Ive tried using pitchers and buckets...that takes forever. So, I'm writing this as a last ditch effort to beg the makers of the Step2 Splash and Play pool to add a drain. Pretty please. I'm about to have to buy a new pool because I can no longer dump it.
Date published: 2016-04-11
Rated 5 out of 5
by
Anonymous
from
Perfect with or without water!
This relatively small pool was purchased for my granddaughter's 1st birthday. It is already set up even though it's too cool yet in the Pacific Northwest to put water in it. The little seat beside the cups is just right for her and I know her mama will appreciate the sun protection (when it finally comes out). With no water in it, she is fascinated with the no-slip designs on the bottom. While she will really enjoy playing with the cups when there is water in the pool, it is already a hit with her. It keeps her toys (somewhat) contained on the deck and is a clean space for her to play.
Date published: 2017-05-11
Rated 5 out of 5
by
Anonymous
from
Great pool--worth the extra money!
Although I bought the pool for my 9 month old daughter, my 7 year old niece was able to fit in it with her and played along. They both enjoyed the water wheel activity and it kept them engaged. It's not meant for older kids, but it is durable enough for my niece to sit in while she played with her cousin.I bought the pool in part because I was looking for a pool that was healthy for my baby to swim in (non vinyl). I was willing to pay more and I think the water activity and umbrella make the price worth it.
Date published: 2014-08-02
Rated 4 out of 5
by
KAS
from
Nice pool
Bought this pool for my daughter as she is very fair skinned so I liked the attached umbrella/toy feature of this pool. I don't like that the toys keep rotating around the umbrella pole, it's hard for her to use the cups/waterwheel when those toys don't stay aligned. I also wish this pool had a drain as I'm pregnant and it's a pain trying to flip this pool to drain it. But it is a nice pool, much better than an inflatable.
Date published: 2012-07-17
Rated 5 out of 5
by
Kandi
from
Great little pool
Great pool. Hard to find something like this now a days. Like that it is solid and not a blow up. My granddaughter loves it. A couple of adjust would be nice if it was just a bit bigger and if you could adjust the tilt on the umbrella.
Date published: 2020-06-12
Rated 5 out of 5
by
Anonymous
from
GREAT LITTLE POOL
This pool is very sturdy. I bought it for my 2 year old granddaughter and I like that I can change out the water when it gets dirty without wasting gallons of water. I also love that it is small enough to put into the back of my SUV and take to other homes for parties and cookouts. I have done this twice so far and it has been a big hit with my grandchild's friends. This pool is big enough for two small children. My grandchild is two years old and loves this pool.
Date published: 2015-05-29
Rated 5 out of 5
by
Anonymous
from
Love it! Perfect for my son on a hot summer day!
We are completely happy with this product. I know the recommended age is 2+ years. Our son is 9 months old. We just put a few inches of water into the pool and let him play in it. He absolutely loves it. Of course, we are right there with him always to make sure he is safe in the water. The umbrella is great to shade him from the sun. I thought it was a little bit pricey, but I'm very happy with the product design and quality. It is the whole package including the umbrella and water toys. It is sturdy and will be able to be used for multiple years.
Date published: 2016-06-13
Hello step2, Is there a way to just buy the umbrella for this pool? Need a replacement for ours as the umbrella fabric has ripped.
Please contact our Consumer Service Specialists at 1-800-347-8372 Monday through Friday, 8AM -5PM Eastern Standard Time and we will be happy to help you.
Date published: 2021-02-26
Our pool is in good condition, but we need replacement parts. Is it possible to only order the parts? 
Please contact our Consumer Service Specialists at 1-800-347-8372 Monday through Friday, 8AM -5PM Eastern Standard Time and we will be happy to help you.
Date published: 2020-08-07
Can I get a replacement of the umbrella on this page ?
Thank you for contacting Step2. Various replacement parts and decals can now be ordered on line. Check our website at www.Step2.com and refer to the replacement part section located at the bottom of the website page and shop parts by category or look up your product(s) pertinent replacement part choices. If the parts you need are not on website then you must please call in to order: Replacement parts and decals can be ordered by calling our Consumer Service team at 1-800-347-8372, Monday - Friday. Please have your product close by during your call so that we may quickly assist you to answer your question, find a resolution and or provide product or part pricing and lead-time(s). Regards, Step2 Consumer Service
Date published: 2020-08-05
What was the original price of the large, hard plastic, blue/green rectangular kiddie pool marketed 20+ years ago?
Thank you for contacting Step2. We no longer have this information - we apologize. Regards, Step2 Consumer Service
Date published: 2020-07-28
Does this item have pvc, bpa or phthalates?
Call step2 and they will definitely answer that question for you! I love these products! 
Date published: 2020-06-24
I've been trying to order the Play Shad Pool for over three hours now, What am I doing wrong ? This is a very difficult site!
We apologize for any inconvenience. This product is currently out of stock. Please continue to check our website for updated availability.
Date published: 2020-06-16
Just received the pool. The screw and the 2 pushing screws are missing. How can I get them?
Message them. Exact same thing happened to us
Date published: 2020-07-21
What are the shipping dimensions of the box?
The carton dimensions of the Play & Shade Pool are as follows : 36.5 x 36.5 x 8 inches
Date published: 2020-04-19