Play & Store Sandbox™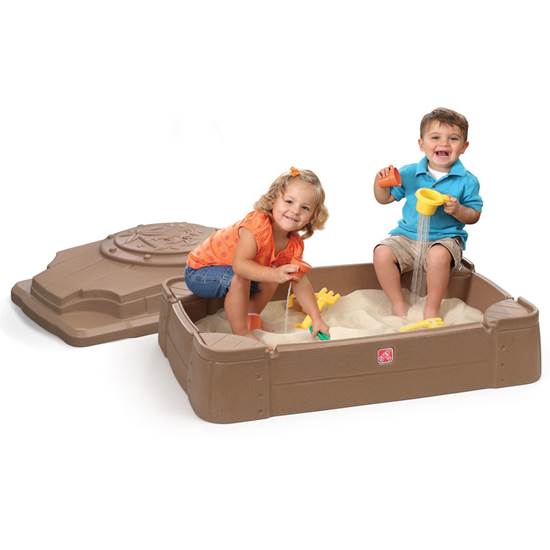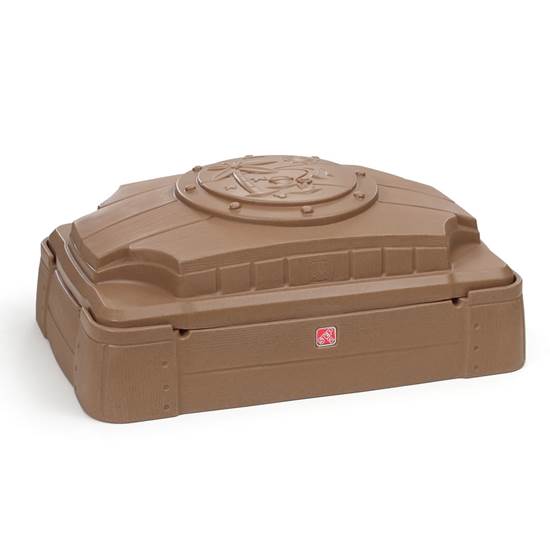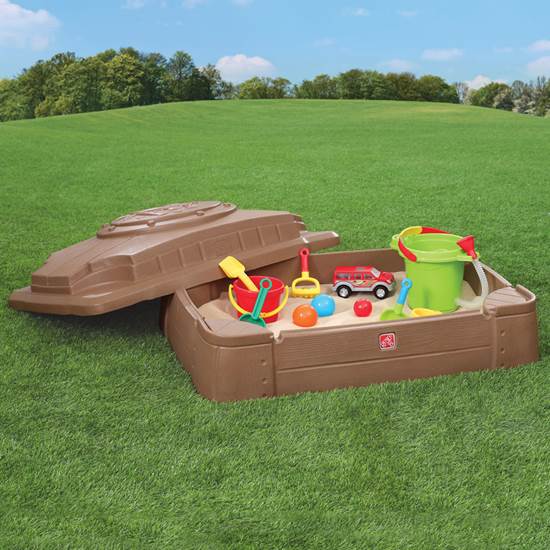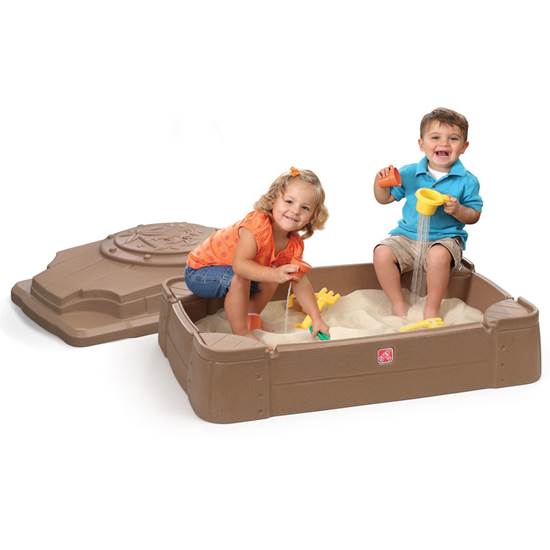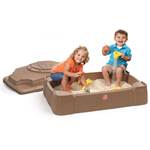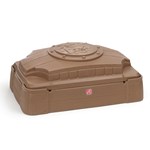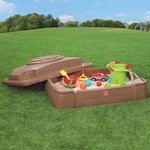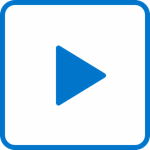 Play & Store Sandbox™
In stock
$52.99
+4.99 shipping (via FedEx) When will my item arrive?
The Step2 Play & Store Sandbox is a fun sandbox with a contemporary design and plenty of space for multiple kids to play.
IS THIS A GIFT? DON'T SPOIL THE SURPRISE!
This item ships with an image of the product on its outer packaging.
Rated 4 out of 5
by
A Mom's Take
from
Durable and a good size
My oldest three boys, ages 2 to 6, have all really enjoyed playing with the sandbox. The sandbox isn't too large to take up a ton of space in our backyard but still has lots of room for play. I like the built-in spots to sit so they don't have to sit directly on the sand if they don't want to. I really appreciate that a plastic lid is included to keep out bugs, rain, dirt, etc. Having a sandbox cover that is large also lets us keep all the sand toys right in the sandbox so they are ready for play and cleanup is a breeze!Thank you to Step2 for letting me test drive this item as part of the Step2 Test Drive Blogger program.
Date published: 2013-03-20
Rated 2 out of 5
by
Gammy Pink
from
Good size But rain gets in throuh top cut outs
I have had this sand box for about 3 years. My grandkids loved to play in it. But rain keeps getting in through cut out in top. I made a duct tape flap and it helps but doesn't look very nice. If the lid kept out rain I would give a much better review. Also ants seem to want to build beds under the box. Not sure what to do about that. Any suggestions. So the last couple years I emptied it and it leaning against my house. Wish the kid kept the sand dry!!
Date published: 2018-04-07
Rated 3 out of 5
by
Unhappy grandma
from
When size matters don't trust the dimens
Bought this for my grandkids. Looked at the dimensions of several on the market and, by those given, thought this would be small enough to keep up but large enough for at least 2 at a time to play but it isn't. I guess if they were 2 or 3 more might fit in but at 4 and 5 only one can play at a time. There just isn't enough room so it caused fights and I had to get rid of it.
Date published: 2015-02-12
Rated 5 out of 5
by
Anonymous
from
Great sandbox!
My toddlers really love this sandbox! It is very durable, offers built-in seating, and has plenty of room for creative play. You can use sand, or get creative and use rice, noodles, or shredded paper. Since this box is lightweight, it can be easily moved indoors if desired. I also love the lid since it keeps moisture, bugs, and critters away. Very good product, and it will see years of use in my home!Thank you to Step2 for letting me test drive this item as part of the Step2 Test Drive Blogger program.
Date published: 2013-04-03
Rated 5 out of 5
by
Erin
from
Awesome sandbox!
My daughter LOVES her sandbox. Its the perfect size for her.
Date published: 2020-01-26
Rated 5 out of 5
by
ArtsyMama
from
Hours of Toddler Fun!
Playing in this sandbox is my daughter's new favorite activity and she has even chosen it over pool time! It is the perfect size for my 18 month old and also works for her older neighbor friends (ages 3 and 6), with two children inside. It is a hit with all of them and is large enough to keep her sand toys stored, as well. I love that she can sit on the corners, although she usually likes to jump in and have her legs buried. The cover is great to keep the sand clean, although with our crazy gulf coast storms it did get blown off once in the past two months. The sand was just wet enough to create a new texture, which she enjoyed. It gave me the idea to add some water for her, to change her sensory experience up from time to time. I am very happy with this purchase and see it as something that will get lots of use for years to come!
Date published: 2019-08-09
Rated 5 out of 5
by
Anonymous
from
We love this sandbox!
I was a little worried about adding a sandbox to our backyard thinking that it would eat up all the "play space" but I loved that this sandbox was compact but still big enough to be fun. The little seats on each corner are probably my favorite feature as they allow the kids to play without actually having to sit in the sand (if they hate sand on them like my son does) but it also give more room to play!
Date published: 2013-04-05
Rated 5 out of 5
by
Harley
from
Amazing sandbox! Great service! Would definitely buy again!
We bought this for our twin 3 yr olds and they spend hours in it. It was a little smaller than I thought it was going to be but it fits both of my kids just fine. The lid fits on well, the seating is great and it only takes 3-4 bags of sand to fill. I got emails updating me on the status of my order and it wven arrived 4 days before expectex. #sweepstakes
Date published: 2017-04-21
Does the lid on the current version ke pathetic sand dry?
Not really. There is no rubber seal on the lid. Just a plastic lid resting on the box and there are two holes on the side that water could also get in. But dry sand does not pack together to make sand castles so you want the sand a little wet. Bad rain storms could feasibly soak the interior as that happened to me, so to prevent that from happening again I put a tarp over top.
Date published: 2019-07-25
Does the step 2 sandbox have any holes at the bottom so rain water can drain?
The Naturally Playful® Sandbox does not have drainage holes.
Date published: 2017-08-07
Would the Step2 Play & Store Sandbox hold water instead of sand? I'd like to use it as a sturdy doggie pool.
I think so- it rained recently and we forgot to cover it, and it did hold some water. It's pretty small, so it wouldn't work well for a doggie pool for our dog (Labrador). She might enjoy it just to lay in to cool off.
Date published: 2018-03-27
Is this BPA, Phalphate and Lead free? Thanks
This product is made out of Linear Low Density Polyethylene. It is made in the USA.
Date published: 2019-10-11
Is this BPA and Phalphate free?
im not sure but my daughter loves it
Date published: 2018-03-27
Can I order just a new cover for the Play and Stor sandbox?
Unfortunately, we do not offer the lids separately from the Play & Store Sandbox™.
Date published: 2018-03-27
what kind of sand should i get?
Get "play sand" as opposed to all purpose. You can find it at Home Depot/Lowes
Date published: 2018-03-27
does this sandbox have a bottom?
Yes
Date published: 2018-03-27