Play & Store Sandbox™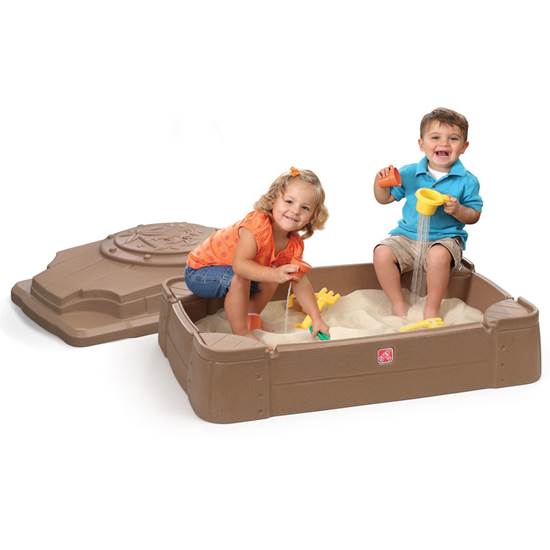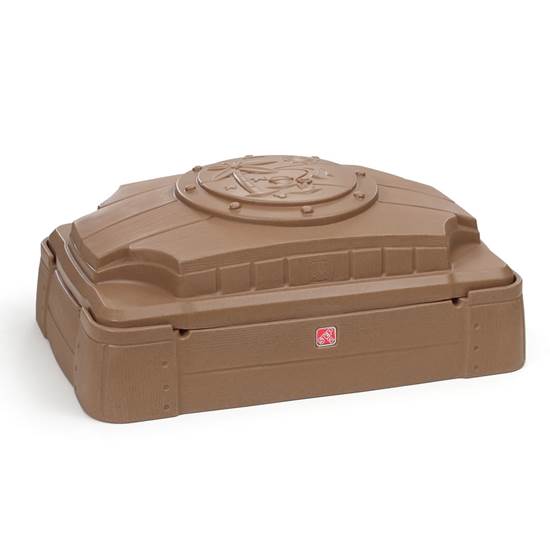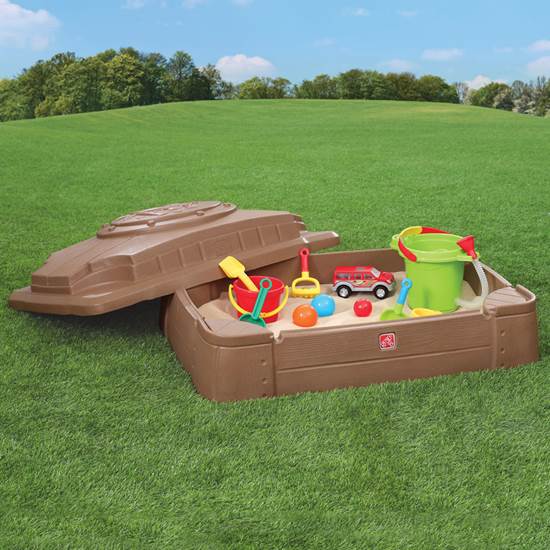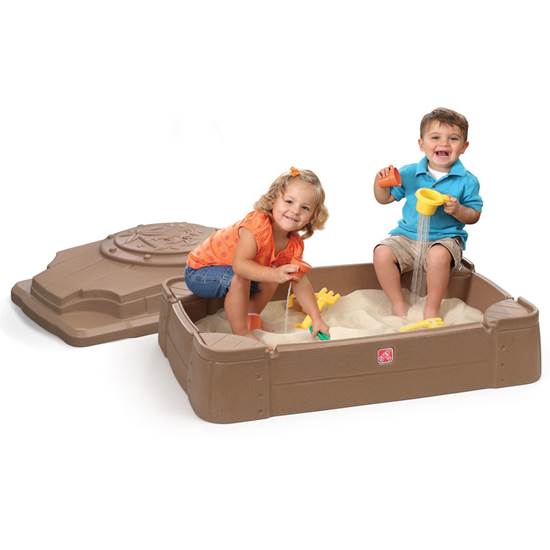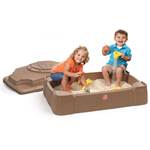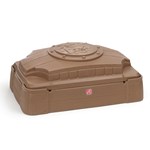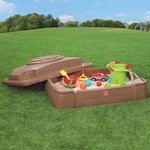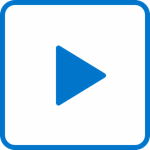 Play & Store Sandbox™
In stock
$79.99 $74.99
+$19.99 shipping (via FedEx)
The Step2 Play & Store Sandbox is a fun sandbox with a contemporary design and plenty of space for multiple kids to play.
IS THIS A GIFT? DON'T SPOIL THE SURPRISE!
This item ships with an image of the product on its outer packaging.
Rated 4 out of 5
by
A Mom's Take
from
Durable and a good size
My oldest three boys, ages 2 to 6, have all really enjoyed playing with the sandbox. The sandbox isn't too large to take up a ton of space in our backyard but still has lots of room for play. I like the built-in spots to sit so they don't have to sit directly on the sand if they don't want to. I really appreciate that a plastic lid is included to keep out bugs, rain, dirt, etc. Having a sandbox cover that is large also lets us keep all the sand toys right in the sandbox so they are ready for play and cleanup is a breeze!Thank you to Step2 for letting me test drive this item as part of the Step2 Test Drive Blogger program.
Date published: 2013-03-20
Rated 4 out of 5
by
Cfeldman
from
Sturdy but small
After extensive research, we landed on this sandbox for our backyard. Pros: it's all one piece, no assembly required, it has a solid bottom, and the lid is domed so you can leave all the toys in the box and cover it. Cons: it's pretty small, and the lid doesn't snap closed. I'm sure when it rains, the rain water will get in, as I've read in other reviews, because there are pretty big holes/spaces between the lid ans the box. It doesn't rain that much where we live, so it hasn't been an issue. However, our son is 2.5 and he will probably outgrow this in a year. I can't imagine 2 kids in it playing. That said, it's sturdy and meets our needs for now.
Date published: 2021-06-26
Rated 1 out of 5
by
Jennifer
from
Wet mess!!
It worked great while sunny but even with the lid properly fixed on the sand box, it flooded due to two small openings built in on each side of the lid.
Date published: 2020-05-07
Rated 5 out of 5
by
KPten
from
Grandkids over this!
We purchased this Play & Store Sandbox for our five year old grandson. We kept it at our house, so he and his little brother would have something to do. They both love it. I read some reviews that said the cover leaked, but we haven't seen any evidence of this, and it's been in our back yard for the past three months. Even if it did leak, you need to add a little water in order to make sand sculptures. Anyway, it's a great product. Zero assembly. Very sturdy (the five year old loves to walk on the cover!) and we're thinking of purchasing a second one so the boys will have one at their house!
Date published: 2020-09-17
Rated 5 out of 5
by
Erin
from
Awesome sandbox!
My daughter LOVES her sandbox. Its the perfect size for her.
Date published: 2020-01-26
Rated 3 out of 5
by
Unhappy grandma
from
When size matters don't trust the dimens
Bought this for my grandkids. Looked at the dimensions of several on the market and, by those given, thought this would be small enough to keep up but large enough for at least 2 at a time to play but it isn't. I guess if they were 2 or 3 more might fit in but at 4 and 5 only one can play at a time. There just isn't enough room so it caused fights and I had to get rid of it.
Date published: 2015-02-12
Rated 5 out of 5
by
Donna
from
A Wonderful Sandbox
This sandbox is wonderful. So wonderful this was my second purchase of the same sandbox. My granddaughter has loved it and enjoyed it for years now so we got her one for home too. It's a great size...not too big and not to small. The cover is wonderful too. It keeps animals out, rains from soaking the sand, etc. A great purchase in every way. Shipping was very quick also.
Date published: 2020-09-27
Rated 5 out of 5
by
Nana
from
Great product!
While looking on-line for holiday gift ideas for our grandchildren (1.5 & 3). I saw this sandbox and it was just what I wanted. It was easy to order and arrived on the date promised. Our son stopped by and saw the box. He was impressed with the color, size, seats and the cover. We are all anxiously awaiting the holidays to give it to the kids. They'll love it.
Date published: 2020-10-30
Does this play n store sandbix have a bottom?
Yes. Very sturdy
Date published: 2021-07-19
Is there a bottom on the sandbox? Or is it open/bottomless?
Yes it has a bottom. Great sandbox.
Date published: 2021-03-16
Does the lid keep rainwater out?
Somewhat at first the sand was staying dry but it started to rain a lot here and I noticed the sand getting damp idk if the lid warped and wasn't air right anymore or if it eventually leaked through or just moisture cause like I said when we first got it it stayed dry for a while 
Date published: 2020-08-31
What are the dementions? Width and length?
I have two of your play and store sand boxes. They are two different sizes not sure of detentions sorry
Date published: 2020-08-21
When will this item be back in stock? 
Thank you for contacting The Step2 Company. We are currently out of stock and backordered on this item and several products. We do not anticipate having this item & other products back in stock until late - June. Please note this is an estimate as the timing could move back again based on demand, production schedule and retailer commitments. We are now running limited production as we were previously shut down due to the COVID-19 environment and unable to produce product. Continue to check our website daily for availability and updates. We apologize for any inconvenience.
Date published: 2020-06-16
How full will the sandbox be with four 50 pound bags be?
That is alot of sand. If you fill it to the top it will spill with play... hope that helps. buy 4 bags but see how much you want, and save rest.
Date published: 2021-04-08
Does the lid on the current version ke pathetic sand dry?
Not really. There is no rubber seal on the lid. Just a plastic lid resting on the box and there are two holes on the side that water could also get in. But dry sand does not pack together to make sand castles so you want the sand a little wet. Bad rain storms could feasibly soak the interior as that happened to me, so to prevent that from happening again I put a tarp over top.
Date published: 2019-07-25
Does the step 2 sandbox have any holes at the bottom so rain water can drain?
The Naturally Playful® Sandbox does not have drainage holes.
Date published: 2017-08-07