Play Up Gym Set™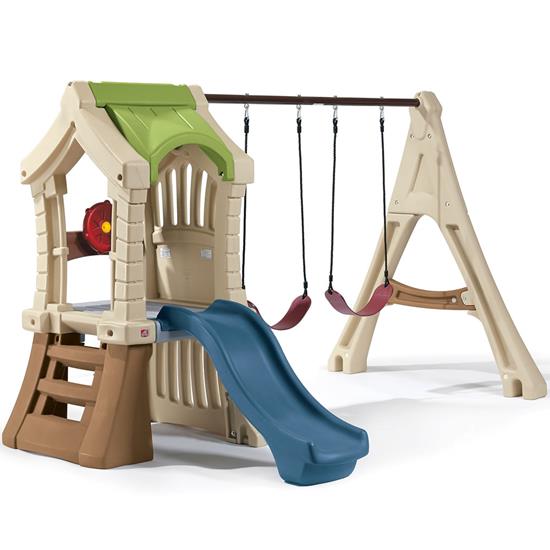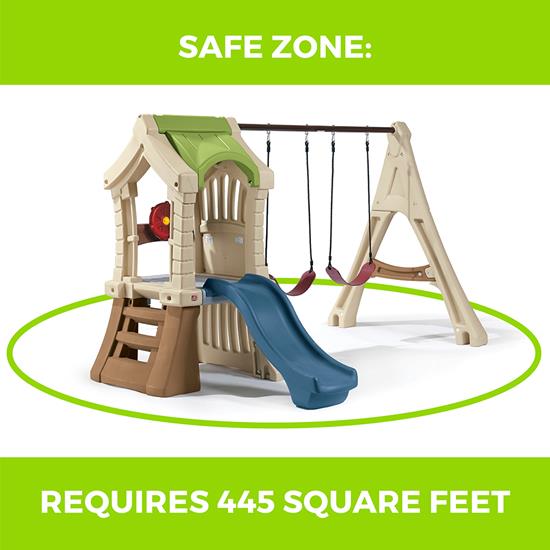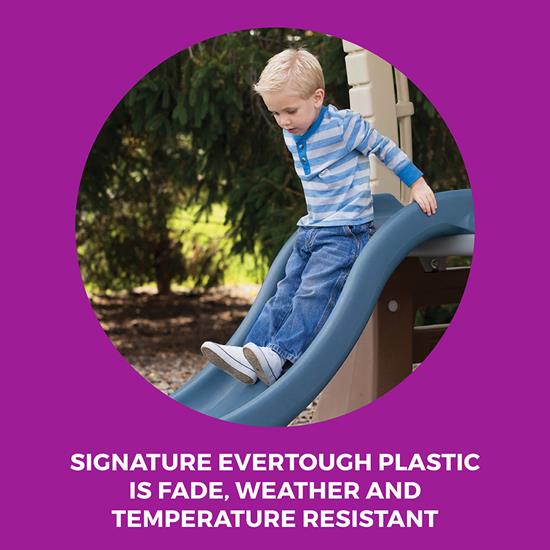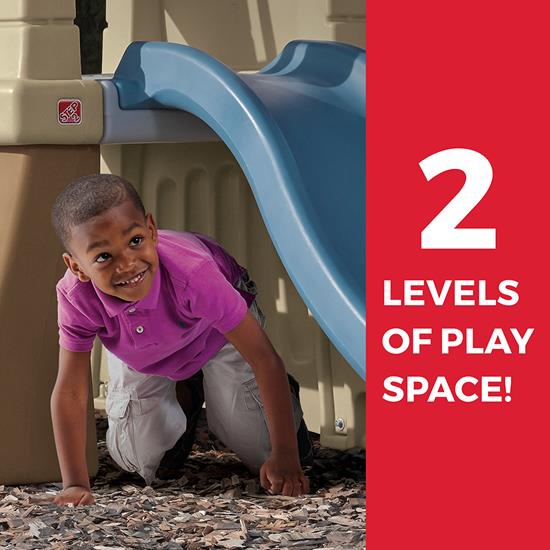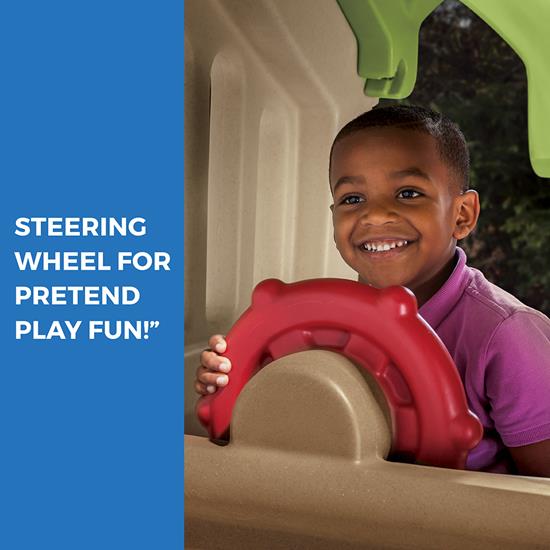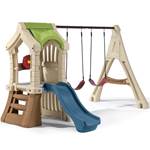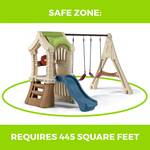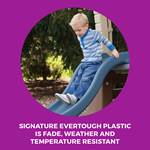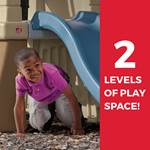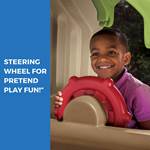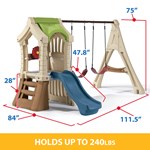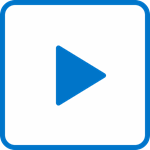 Play Up Gym Set™
In stock
$499.99
+39.99 shipping (via Truck) When will my item arrive?
The Play Up Gym Set by Step2 combines a swing set and playhouse into the ultimate children's backyard jungle gym.
IS THIS A GIFT? DON'T SPOIL THE SURPRISE!
This item ships with an image of the product on its outer packaging.
Rated 4 out of 5
by
Gator13
from
Great 2 Year Old Birthday Gift!
The ordering process through STEP2 was very easy. [...] My husband set this up himself over the time of 2 days. Not fully dedicated time but probably took a good 4-6 hours total. My son loves the steps and slide. He is not a big fan of the swing yet. We bought a bucket seat from [...] to use with this for a toddler. We also have a infant swing since we are expecting again and that fit just fine. This swing set looks very nice and since it's plastic is easy to clean off with a hose.
Date published: 2010-11-01
Rated 5 out of 5
by
Anonymous
from
Perfect for lil ones!!
This is the perfect swing set for younger children! It's surprisingly smaller in size while still offering fun activity for my kids. It took under an hour for myself and husband to put together. Once you size pieces to the chart provided its easy to assemble. I love that the deck area is covered so it stays clean and dry. My 2yr old is in love with it!! This is great for younger kids! Low enough to ground so they won't get hurt but still exciting enough to peak interest!
Date published: 2016-03-22
Rated 4 out of 5
by
ash386
from
Great Value - Perfect for Younger Kids
We have had this for one year now. The product has held up very well - the colors still look great.We bought it for our 2 year old's birthday. She loves it!! She is now 3 and it is still a great size for her, although she wishes the slide was longer. I can see her outgrowing this by age 5. However, i knew this was best suited for younger children when I bought it. I liked the lower height - it feels safer. And it is just her size. Her younger sister will grow right into it, and my older one will continue to enjoy the swings even if she is too large for the playhouse part of it.Overall, I would purchase again and I do feel it is a very good value for the price. The product is high quality so I expect to resell it when our family is outgrows it.Our favorite part is making the slide into a water slide with the hose: )
Date published: 2012-05-23
Rated 5 out of 5
by
mightymorse
from
Great for young ones
Got it for my son on his 3rd birthday, thinking he's not yet ready for the big wooden swing sets. Considering we've also got a 1-yr old daughter, I'm confident we'll get several good years out of this before needing to upgrade to a bigger kid set.I looked at the much cheaper metal options, but decided the durability of the Step2 sets would make it worthwhile (i.e. can likely sell or hand-down a perfectly good used set when we're done with it).Assembly wasn't too bad. Did 95% of it in the garage, and then moved it in two pieces (the slide and swing portions) to the backyard for final assembly. Instructions were good and all the pieces were present and easily indentifiable.Wish the set included a toddler swing seat, rather than two "regular" seats. Or rather, make it an option. But not a big deal, and easily remedied.
Date published: 2011-05-01
Rated 4 out of 5
by
Easton's Mom
from
Fun with Daddy
This product is wonderful. It took my husband an afternoon to assemble and he stated that the directions were very easy to understand. We went to the Step 2 store to see this product first to make sure it would work for our 7 month old. I wanted a product that would grow with him and keep him interested in going outside for years to come and this product is going to. I suggest Step 2 products to everyone for the quality and that they are made right here.
Date published: 2011-04-21
Rated 4 out of 5
by
Anonymous
from
So far so good!
We had this item freight delivered and had no issues at all. It took my husband and his friend about 2 hours to put this set together. We used a toodler swing in place of one of the swings the set came with since my daughter is under 2 years old. We primarily got this for her to use the swing and it seems like it will do the job. She also likes going down the slide with one of us spotting her. Looking forward to her using it a lot this Spring and Summer.
Date published: 2012-04-21
Rated 5 out of 5
by
Janessa S
from
Great, Fun Swing Set!
As a Step2 Ambassador, we received this swing set at no cost to facilitate a review.This swing set was pretty easy to assemble, although it did take about 2 hours or so. It could be done with one person, but if you have 2 it will be even easier.I love that it is sturdy plastic and I don't have to worry about splinters or rust.My kids could swing for hours on this. They love it and have so much fun on this set. I also love that it combines a little clubhouse and the slide too. My son pretends it is his pirate ship and loves to play in there.It is a smaller-sized swing set, great for toddlers (with the addition of a baby swing), preschoolers, and children under age 6 (maybe a little older if you have petite kids like mine).If you're looking for a swing set that can stand up to the weather and a beating from your kids, this one is perfect!
Date published: 2015-02-26
Rated 5 out of 5
by
angiev
from
qyality product from a quality company
I bought this used from another family who had lost a part when moving. It was so easy to order the replacement part and the best part was Step 2 has completely reasonable prices for the replacement part. I only paid $25 for the part and all the hardware needed to install the part, and that included the tax and shipping cost as well. That was exactly what I was hoping to pay and its not to often a company prices meet that expectation.
Date published: 2014-07-21
Rated 4 out of 5
by
Sherry the lmt
from
Daughter loves it!!!
Our daughter loves it! The worst part was knowing that we wanted this particular swing set, but had to drive 2 hours away to find it in stock at a [...]! I checked every store in a 100 mile radius! Upon my husband scattering the pieces out in the yard, he quickly realized there were many missing washers and screws, so to the hardware store he went. It was worth the extra time and hassle just to see the joy on our little girl's face!
Date published: 2010-05-06
Rated 4 out of 5
by
Livie's Mommy
from
LOVE IT!
We bought this play set for our 19 month old daughter and she just loves it! So do all her toddler friends.I have no doubt she will be enjoying it for several years to come. She is the perfect age to climb the ladder and slide by herself. We added the baby swing for now and look forward to her getting older to use the swings that came with this set. We really enjoy this play set; we spend lots more time playing outside now days.
Date published: 2011-04-29
Rated 5 out of 5
by
Anonymous
from
Wonderful Product
This product was great. The directions were easy to read and follow. The screws are drawned true to size on the direction so they can be easily found. The product does take a while to assemble but it is worth the time. It took three adults three hours to assemble to set for a 2.5 year old but when it was done my Ni had a blast. I got the product on sale but it is well worth the [$] and I would but it all over again if I had to.
Date published: 2011-08-04
Rated 5 out of 5
by
First-time grandmother
from
Very pleased
My son and his father-in-law made pretty quick work of assembling this. And my son was easily able to install the infant swing he had purchased separately. So, my grandson is able to use this even before his first birthday. Overall, this was the ideal gift for that first birthday from my husband and me since it will be used for years to come. That includes for additional grandchildren because this is so sturdy and attractive.
Date published: 2011-07-15
Rated 5 out of 5
by
Anna Grace
from
My Little Girl LOVES this Swing Set
We got this set for my daughter's second birthday, and she LOVES it. There hasn't been a day she doesn't want to swing and slide. She can easily climb the ladder herself, and it is a great height - high enough to make her feel big and brave, short enough for me to feel OK about her climbing all over it. we also got the toddler swing for my 8 month old - he loves it too. all around a very good purchase, and good value.
Date published: 2010-09-30
Rated 4 out of 5
by
MomInLove
from
Play Up Gym Set
We bought this for our daughter's 2nd Birthday and to say she loves it would be an understatement. We purchased two toddler swings from another website and they work perfectly. She mastered the slide within a few tries and the size is perfect for her. We will definitely get quite a few years of use out of it and with the price it is so worth it! My husband and brother put it together in about 2 - 2.5 hours.
Date published: 2011-05-20
Rated 4 out of 5
by
Peach Fuzz
from
Cute Little Swingset
This was a swingset we purchased for our 4-1/2 year old special needs, and quite small grandson who lives with us. It is really cute and the steps gave him just enough of a challenge, as well as the slide. We purchased a different swing that keeps him buckled in and a glider which he is not ready for yet. Our only complaint is that the assembly was quite difficult, even for a quite handy grandfather.
Date published: 2012-06-17
Rated 5 out of 5
by
Jwise
from
Favorite Backyard Toy!
My two kids love this toy! We bought a toddler swing for my one year old and that was easy to add on. My four year old swings and yells, "this is amazing!" I prefer this swing over wooden ones. We had a wooden one at our old house when my daughter was young and we battled with splinters, wasp nests and dangers. This swing set is safe, fun and wasps do not like to nest in hard plastic.
Date published: 2014-04-01
Rated 5 out of 5
by
MeMA Sharon
from
GREAT for 2 yr. olds also.
Directions not that clear mostly pictures that are too enlarged to tell. All bags should be opened and laid out in order before starting. Took one person 4 hrs. Hope the ropes on swings stretch over time as they are too short for 3 yr. old to reach the seat by themselves. The steering wheel is a little tight to turn. The ladder & slide is great for my 2 yr. old climber.
Date published: 2015-03-31
Rated 5 out of 5
by
Busy Bee
from
Great Product
My 22 month old daughter loves her new swing-set. My husband was able to assemble it in a few hours and we were able to move it (in 3 pieces) from the garage to the backyard with no problem. We were missing some of the hardware, which was frustrating, but my husband was able to buy the pieces at a hardware store.We have a smaller yard so this fits perfectly.
Date published: 2011-07-07
Rated 4 out of 5
by
Anonymous
from
I would recommend this to anyone!!!
This is wonderful for my 2 1/2 yr old. He loves the treehouse part and the slide. We purchased a toddler swing seat because he is still to young for the regular swing. It is ideal for toddlers...not to big, just right in size. I don't have to worry about him when he is playing on it because it is so safe. So easy to put together, did not take long at all.
Date published: 2011-12-25
Rated 4 out of 5
by
Anonymous
from
Perfect for my 3 yr old and 18 month old
I was originally going to buy the large wooden swing set but realized that it was too dangerous for my 3 yr old and 18 month old. So I started doing some research and found this one on sale. I was really impressed by the pictures on the website. I absolutely LOVE the colors! Upon reading the reviews I decided that this was the one. The assembly was super easy (and me and my hubby are not handy people!!). It took him about 3 1/2 hours. My kids absolutely love love this set! It is the first thing they want to do in the morning. The colors are just as vibrant in person as in the pics. This will be great while my kids are still young. The only con is that is still wobbles slightly when both of my kids are in the swings (not enough to really make a big deal though). And yes that is with all 4 stakes in. It might be because the swing set is installed on rubber mulch and not directly on the ground. Extremely happy with my purchase!
Date published: 2011-06-05
Rated 5 out of 5
by
Qtpetudy
from
Great Toddler Gym Set!!
This swing set is awesome for toddlers! All we did was purchase the toddler swings and attach them, saving the swings for later. Our kids are 18 months and 8 months and super love it!! The only drawback was a little bit of tension putting it together! It doesn't go together as easy as pie, especially when our 18 month old was 'helping' Daddy!!
Date published: 2011-06-09
Rated 5 out of 5
by
Anonymous
from
Wonderful outdoor product!
My daughter loves climbing up the ladder into the little fort. She is 19mo and can do it by herself. There are handles to help her. She also LOVES the steering wheel and it even makes a clicking noise! It took me 3 hours to put it together but it was easy. Every hole matched up and I had all the bolts I needed. This will be hours of fun!
Date published: 2011-06-10
Rated 4 out of 5
by
Larry R.
from
Quality Product
I found the swing set to be very well made. Lots of parts and a bit difficult to do solo, but I got it done for my Granddaughter. She loves it. I had two problems - the first swing hanger I tried was mis-threaded and one of the anchor pieces broke in half when we were almost finished. Overall quality is very good - and the holes line up!
Date published: 2012-06-18
Rated 5 out of 5
by
Anonymous
from
Step 2 still a homerun in my book
We haven't finished putting the swing set together and my son (23 mos) is already having a great time on the "tree house dome" area. It feels very sturdy, quality construction everything we have come to expect with the other step 2 products we have.The only 2 areas I have concerns/comments on are the hole for the swing pole is not big enough and my husband is trying to sand the rough plastic ridge area pending a return phone call from step 2 (office closed right now) and my other concern/comment is that I wish they would offer a toddler swing in the Naturally playful color family. The set is so attractive I would love to have a more neutral color choice in the toddler swing. (As well as a telescope/periscope Option). But even though we have hit a snag on our otherwise easy installation, still rating this a homerun as I am confident that step 2 will give us some guidance so my son can start swinging asap :) So excited about his first swing set.
Date published: 2010-06-29
Rated 4 out of 5
by
Anonymous
from
The bad and the good
Assembly of the gym was difficult. The instructions were logical but the molded parts were often difficult to line up to assemble with the bolts. Once it was assembled it went from being less than a positive experience to being a delightful experience. Our granddaughter loves playing on it and we watch and smile!
Date published: 2010-06-22
Rated 5 out of 5
by
Anonymous
from
It's fantabulous!
My twin toddler girls absolutely love this gym set- they play on it everyday and keep finding new uses for it! I disagree with the reviews that said it was difficult to assemble -- I found the instructions very clear, and other than a few bumps in the road, I completed the assembly singe-handedly in about 3 hours.
Date published: 2011-03-07
Rated 4 out of 5
by
Anonymous
from
PRIOR COMMENTS ARE CORRECT.
Missing bolts, just like other comments said. Needed to go to big box store to get the bolts needed to finish the job. It is a great product and my grandaughter loves it, but I can see where she will outgrow it prior to the age limit specificed and we will need to upgrade to a bigger set.
Date published: 2012-05-20
Rated 5 out of 5
by
Buckeye
from
Excellent!
Perfect outdoor playset for our daughter. It took me about 4 hours to put together on my own. We also bought the toddler swing that I swapped out one of the regular swings that came with it. The set also comes with the grounding rods which was nice. Overall very happy with this playset!!
Date published: 2010-05-26
Rated 5 out of 5
by
Anonymous
from
Great Swingset
Our 2 year old loves this swing set. My husband thought it would be too small, but it's perfect for her. She will be able to use it for at least another 2 - 3 years. My husband assembled it in two hours - he said it was easy to put together. Sturdy, nice looking and good quality.
Date published: 2011-02-14
Rated 4 out of 5
by
P.E. Teacher...Not Engineer
from
Make sure your drill bits ready
Make sure you have your drill bits ready! The holes for the bolts were not open. I had to drill 4 holes where the bolts were supposed to be. The holes were started but were blocked by plastic residue that prevented the bolts from passing through. Overall a very nice set.
Date published: 2011-03-19
Are the dimensions accurate? I'm putting inside and need to make sure it will fit where I need it to. Thanks!
The Play Up Gym Set™ is designed for outdoor play only and requires a clearance of 6 feet all the way around.
Date published: 2019-05-01
How high is it from the ground to the top of the platform? I am trying to decide which swing set to buy for 21 month olds. 
The platform of the Play Up Gym Set™ is 27 inches from the ground.
Date published: 2019-04-10
Why doesn't the steering wheel stay attached?  Is there a way to attach it and still be able to turn it? It always comes right off when my daughter is turning it.
Please contact our Consumer Service Specialists at step2-company@step2.net or 1-800-347-8372 Monday through Friday, 8AM -5PM Eastern Standard Time and we will be happy to help you.
Date published: 2018-06-04
We received our swing set / play house and it is missing parts; the bar and both swings. How do we get these pieces ? 
Please contact our Consumer Service Specialists at step2-company@step2.net or 1-800-347-8372 Monday through Friday, 8AM -5PM Eastern Standard Time and we will be happy to help you.
Date published: 2018-05-14
What's the weight limit for each swing?
The Play Up Gym Set™ swings have a weight limit of 60 pounds each.
Date published: 2018-08-14
Can it bear the cold weather in the northeast during winter?
We highly recommend that all Step2 swings be brought inside during extreme weather conditions, as the rope can become rough and brittle.Step2 outdoor products are specifically designed for outdoor use and are extremely durable. The plastic resin used in Step2 products has been tested successfully at temperatures up to 32 degrees below zero Fahrenheit.
Date published: 2018-05-02
What size area is safely needed to install this playset. My backyard is on a hill with limited flat surface
Please open the following link to view the assembly instructions of the Play Up Gym Set™ for more information regarding the assembly : http://images.step2.com/media/pdfs/802600_assembly.pdf
Date published: 2018-04-09
Can I order a replacement set of the hardware/nuts and bolts? 
Please contact our Consumer Specialist Staff at 1-800-347-8372, Monday through Friday, 8am-5PM Eastern Standard Time for assistance with replacement hardware for the Play Up Gym Set™.
Date published: 2019-05-21