Playmats - 24 x 24 inch™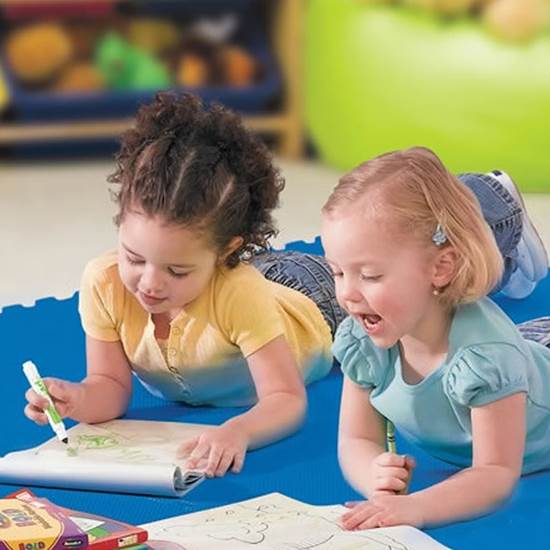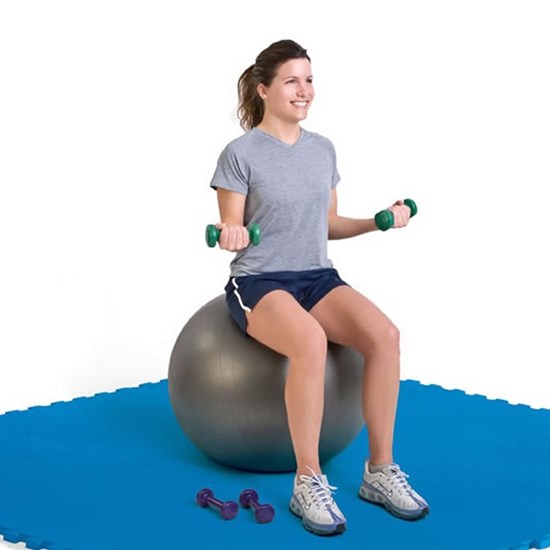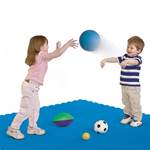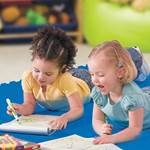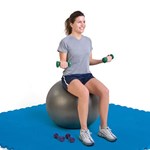 Playmats - 24 x 24 inch™
In stock
$26.99
+$5.99 shipping (via FedEx)
The Step2 Playmats - 24 x 24 inch are a set of 4 extra thick mats that are perfect for on floor activities.
IS THIS A GIFT? DON'T SPOIL THE SURPRISE!
This item ships with an image of the product on its outer packaging.
Rated 5 out of 5
by
Anonymous
from
Thanks Step 2 for a wonderful product!
These are the best playmats - - I teach early childhood music and movement classes and use them in my studio. I recommend them to all my parents to give their babies the best start with their movement development. They are non-toxic, thick enough to provide the right support for tumbling, clean up easily and make great sounds when you tap rhythm sticks or rattles on them. Babies need floor time and these mats allow parents to easily move the "floor' to wherever they are - -kitchen, living room, etc...I can't say enough good about them and wish all new parents had them. Thanks Step 2 for a wonderful product!
Date published: 2016-07-20
Rated 5 out of 5
by
Anonymous
from
So happy with these - changed our lives!
We lined the floor of a room with these. A bit expensive but totally worth it. Our 1-year-old twins are just learning to walk/run and they are falling all over the place. Plus, they almost always go in opposite directions making it impossible to prevent or even temper all of their falls. These mats have completely taken the tension out of my shoulders and neck, because I don't care of they fall on these (versus hardwood or tile floor). The babies LOVE it! And I can allow them to run free with these. My older nieces love them because they can tumble and practice gymnastics on them, and my older nephews love to wrestle on them. And as a bonus, they are quite easy to clean.
Date published: 2008-12-15
Rated 5 out of 5
by
Dominican Mom
from
Life Saver!
I love these mats. I should've purchased them earlier when my son was about 4 months (I bought them when he was 8 months, he's now 9mos). They come in handy for tummy time.We live in an apartment and we have hard wood floors, I hardly let him spend time on the floor because I was afraid of him falling and bumping his head. He's fallen plenty of times (even on his face) on these mats and he didn't let one peep out! He learned how to crawl on these mats and I'm glad I bought them.He learned quickly as you can see. They've very easy to assemble (sometimes you have to flip the mats over so they can fit the proper way) and very easy to clean (just wipe them with a damp cloth and voila!).
Date published: 2007-06-12
Rated 5 out of 5
by
Anonymous
from
Fantastic Mats - Better Than Expected
We have hard wood flooring, and we needed some quality play mats for my daughter, who is only 7 months old. These are fantastic! They are very thick and soft. She has fallen on them many times without any crying! They are also comfortable for my husband & I to lay on while we play with her. They fit together very easily and don't come apart unless you want them to. They do not collect dirt or dog hair, thank goodness! And, I did some research - they are made of EVA, which is a non-toxic material that is approved for use in teethers. So it's about as safe as a choice as you can make.
Date published: 2008-06-21
Rated 5 out of 5
by
C&C's mom
from
Great play mats!
I really love these mats. They are big and very thick. My little girl enjoys playing on them. They are very comfortable to play on since we have wood floors which are very cold and hard. I feel better now that she has a safer spot to play on. The only bad thing is that the mats have some sort of coating that makes the wood floors more slippery. Its not bad when walking on the mats, its only slippery on the floor underneath the mats. If you don't ever move them then its okay. We just put some other rugs around so its not a big deal. Other than that, they truly are a great buy.
Date published: 2009-02-10
Rated 5 out of 5
by
Anonymous
from
A parent's comfort
My grandchild has an outdoor structure on cement which we have covered with your play mats. We recently created a second play yard at my son's house covering his wooden deck with the play mats as well. He is now protected from hard surfaces and splinters. The mats wash off extremely well and endure the rain with no problems. The soft blue adds a special touch of playfulness and color to the natural outdoor setting. We never have to worry about him falling onto a hard surface, as the mats are thick and do not breakdown over time. We knew that they were recommended for indoor use, but bought them anyway. We are extremely pleased with their ability to remain outdoor in all kinds of weather. Thank you for designing such a wonderful product at such a responsible price. Blessings to you all.
Date published: 2010-06-03
Rated 4 out of 5
by
Anonymous
from
safe and sturdy
We covered our entire playroom, which has ceramic tile, in these mats. It's much cheaper, safer, and more hygienic than carpet. Our 14 month old is much more confident trying to walk now that he knows that it won't hurt if he falls.The mats are reasonably attractive and easy to clean. I do find you need to hand-scrub the mats to really get them clean, a standard mop won't do it because of all the little pores and crevices. It's also getting scratched up by our cats and dog, but that is mostly an aesthetic problem and doesn't affect the overall durability.
Date published: 2009-11-25
Rated 5 out of 5
by
a happy customer
from
these are great!
This is the perfect product for my baby who is sitting up but not yet crawling. We have hard tile floors and even though he sits up well, he does occasionally fall back and bump his head! These mats are big enough and thick enough that he does not hurt himself when he falls backward. Now he sits on his mat and plays with his toys while I am cooking in the kitchen, while the rest of the family has dinner, etc. - much better than than being in a bouncy seat all the time! We also love that the mat can be taken apart for storage, and wiped down easily.
Date published: 2007-04-20
Has anyone put these over warn carpet? Once you interlock them do they stay locked together or do the tabs keep coming up? Thanks for any help you may have.
I have mine over tiles and they do not come apart. My kids play pretty rough too. The connection is pretty tight.
Date published: 2020-07-16
I was wondering how this works with furniture on it, since I plan to cover the whole playroom. Does furniture leave indentations? Will I be able to move and rearrange pieces on it?
I have my living room floor covered with the playmats, but I placed them AROUND the sofas and armoire so that I could cover a larger space. I have a slide, activity cube, and other big toys on the mats and I can easily move them around with no problems. Walking with high heels on the mats leaves indentations, so i'm sure that heavy furniture would do the same. These mats are fabulous. I've used them for over 2 years with twins. Very durable! Easy to clean and have helped cushion lots of falls!!
Date published: 2020-07-16
Do the Step2 playmats contain Formaldehyde, Lead, Phthalates, BPO, or anything else toxic or harmful to humans?
These playmats are made of EVA (Ethyl Vinyl Acetate) and do not contain silicone nor flame retardants. Phthalates are plasticizers mainly used to soften and enhance the longevity and durability of plastics, typically PVC plastics. Current testing technology cannot defect zero levels of phthalates. When the level of phthalates falls below an independent test lab's ability to detect the presence of phthalates the lab issues a report stating that the phthalate levels are undetectable, or passes the CPSIA phthalate requirement. Many toy manufacturers use these reports to make the claim their products are "phthalate free". Step2 chooses to make the accurate statement that our products are compliant to the CPSIA phthalate requirements as independent, CPSIA test labs cannot and will not state a product is "phthalate free." The soft plastic materials used in our products are routinely tested and are compliant to the CPSIA phthalates standards. To check the Confirmation of Conformance on, you can visit our website at <a href="http://www.step2coc.com" target="_blank">www.step2coc.com</a> and type in the name of the product and it will give you specifics on testing.
Date published: 2018-03-27
Is the product rated for a fall height?
Hmm. not sure what your intentions are with this mat....they are thick enough to help soften the fall of a child learning to walk...but not much more than that. We have hard wood floors, so I covered our play room with these mats for a soften place to sit and play etc....they work out very nicely for this purpose!
Date published: 2018-03-27
Why does it say there are small parts? What makes this dangerous for children under 3?
Although no small parts come with this playmat or are provided for assembly this product it has been age graded for children 3+. Normal use and abuse testing conducted suggests through biting, torque, and tension a small part of foam could possibly detach. That is the reason for this this warning.
Date published: 2020-07-16
According to the description, these mats are not recommended for hardwood floors...why?
Hi, I don't know the exact answer to that, but I'm guessing that you would risk some moisture buildup under the mats that could cause discoloration of the floor. I don't think this is specific to these mats but rather to covering a wood floor with rubber or plastic that doesn't let the floor breathe for an extended period of time. Hope that helps!
Date published: 2018-03-27
Is this formamide-free?
Question for Step2 Staff: Have these playmats been tested for Formamide, Acetophenone, and 2-Phenyl 2-Propanol? If so, what are the test results?
Date published: 2018-03-27
I am looking for soft flooring to use as they base for our outdoor swingset. I have read reviews on these mats and have found that some people have used them outdoors and left them out all year round with no problem. I would be covering a 30' x 30' area. Do you think these will hold up?
I purchased these mats for my grandchildren about 2 years ago. I used them by my pool deck under there outside toys. They have held up very well even with all the water by the pool. I highly recommend these.
Date published: 2018-03-27