Pro Play Workshop & Utility Bench™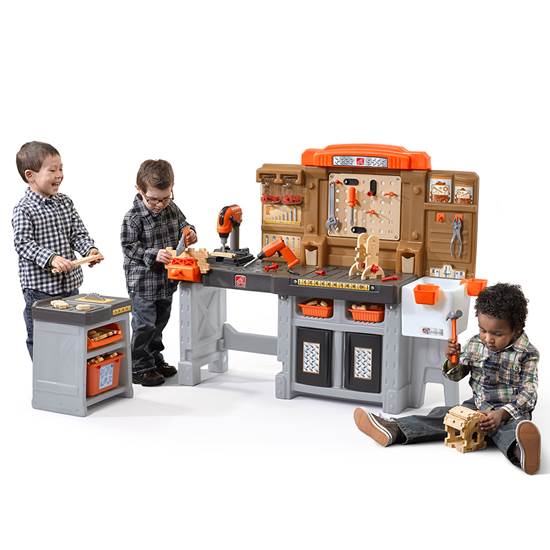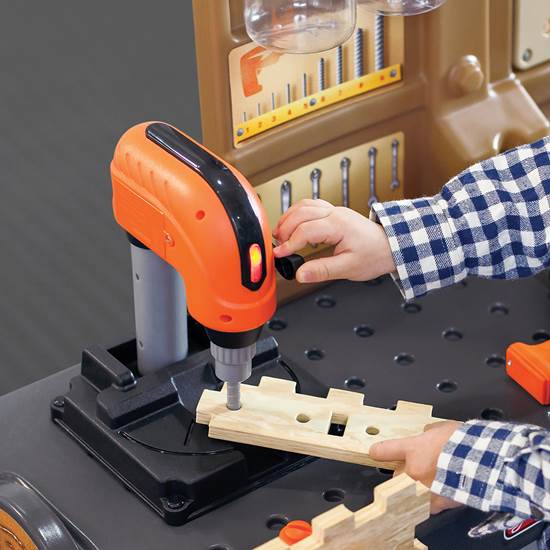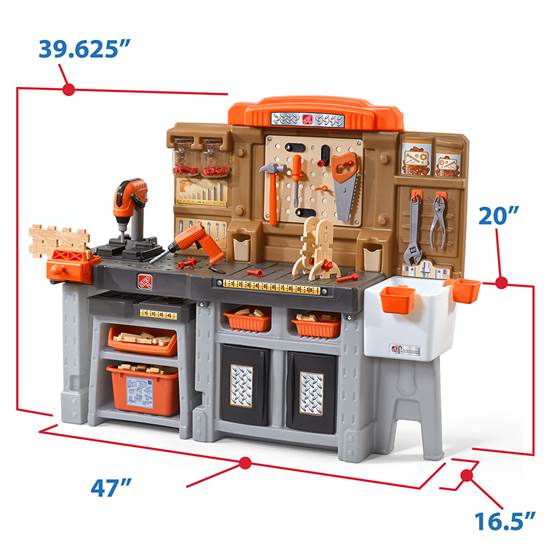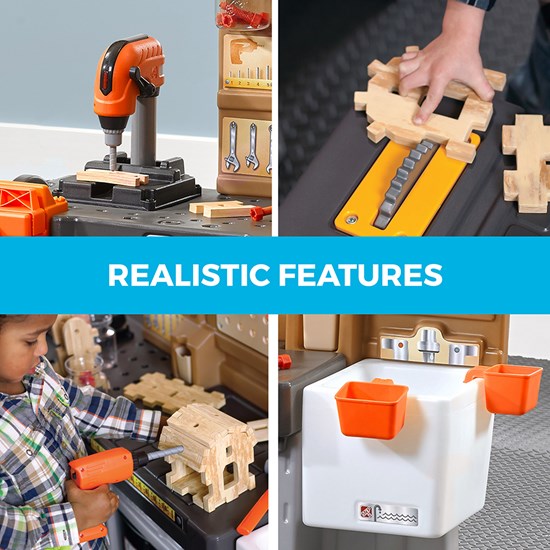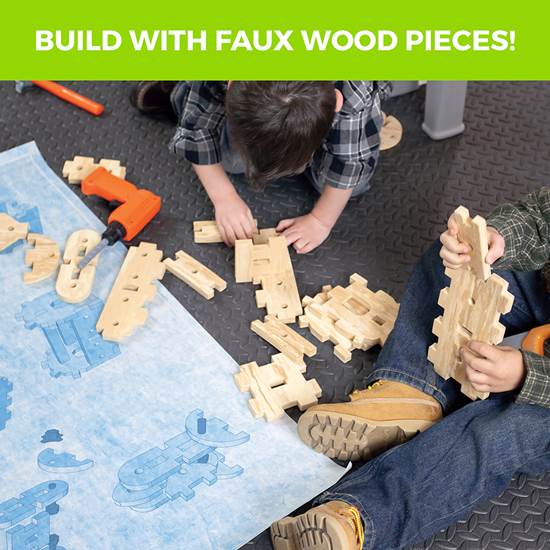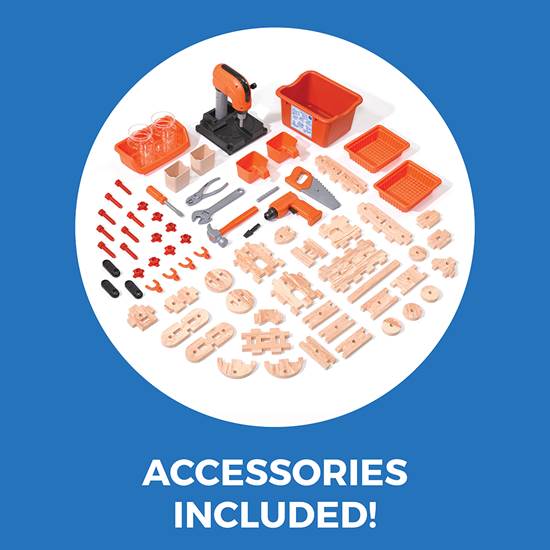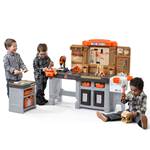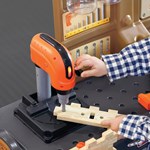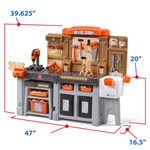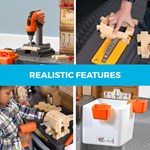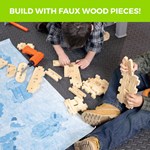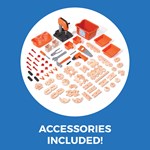 Pro Play Workshop & Utility Bench™
In stock
$169.99
+4.99 shipping (via FedEx) When will my item arrive?
The Pro Play Workshop & Utility Bench™ is a must-have for little builders!
IS THIS A GIFT? DON'T SPOIL THE SURPRISE!
This item ships with an image of the product on its outer packaging.
Rated 5 out of 5
by
Miimi
from
Christmas gift
This is a Christmas gift. Everything for assembly was in box. I am sure my grandson will enjoy this immensely!
Date published: 2018-11-07
Rated 3 out of 5
by
Stephanie
from
Missing a couple things I thought it should have
The base of the unit had little fake holes in it which you cannot put the screws into or hammer anything into. I was really confused about the screws and the bolts because you can't even put them into anything. Maybe the pretend wood pieces? Maybe it would be nice to see what you can do with it because I was left not being able to figure it out. It was a lot of money for what it does. Also, holes are not pre-drilled- so I would recommend having a drill to make it easier.
Date published: 2018-11-25
Rated 5 out of 5
by
YaYa
from
Excellent company
Everything I have gotten from Step2 has been absolutely excellent. I got this for a Christmas present so it's still in the box. I'll check back later after the holidays and let you know.
Date published: 2019-09-28
Rated 5 out of 5
by
Noni
from
Dads got his own toys!
This workshop fulfills every little boys imagination of working with Dad and are caught up in this toys ability to replicate dads workshop! So much to do!!
Date published: 2019-06-02
Rated 5 out of 5
by
Boo rina
from
Love it
We love it our son loves to play with it he is 3 but one of the stickers came stuck to the plastic bag so we couldn't use it
Date published: 2018-12-30
Rated 5 out of 5
by
Jssr3
from
Awesome
Great product My grandson loves to play with it Many nice features
Date published: 2019-05-21
Will this be back In stock before Christmas? 
Unfortunately, we do not have a date of availability to share. Please visit the following link: https://www.step2.com/p/pro-play-workshop-utility-bench and click on the notify me button to submit your email for notification of availability.
Date published: 2019-12-04
Hi!   What is the measurement from the ground to the ledge where they would be playing.  I am assuming 39 inches high means all the way up to the top?
The workspace top of the The Pro Play Workshop is approximately 20 inches from the floor.
Date published: 2019-12-02
My kids love this set. The drill broke. Can I buy a replacement one?
I would think the answer is yes. Call customer service and ask about purchasing replacement parts for your set.
Date published: 2019-11-04
Hello, Can you ship to Quebec, Canada ? Thanks
Step2 Direct does not ship directly outside of the Contiguous United States. A wide range of Step2 products are available at Amazon.ca, Costco.ca, Walmart.ca and Toysrus.ca. Additionally, Step2 products are available at, Costco Canada, Buy Buy Baby, Wal-mart and Toys R Us Canada retail locations. You can also contact: Play Value Toys at 613-722-0175 Thank you for your interest in Step2
Date published: 2019-10-14
Hi, I'm really wanting to buy the Pro Play Workshop and Utility bench for my two boys for Christmas.  Is there anywhere I can get it in Australia or could I get it sent over here? Any help would be greatly appreciated. Kind Regards, Ashleigh
Hi Ashleigh, I don't know where you can buy the Pro Play Workshop in Australia.  I bought mine on line directly from Step 2.
Date published: 2019-09-29
Can I purchase more screws, nails, tools, etc. for my grandkid's workbench?
We now offer replacement parts online. Please view the following link : https://www.step2.com/parts/ Or you may also contact our Consumer Specialist Staff at 1-800-347-8372, Monday through Friday, 8am-5PM Eastern Standard Time for assistance.
Date published: 2019-03-11
How do we order more nails and screws?
Thank you for contacting Step2. Replacement parts and decals can be ordered by calling our Customer Service team at 1-800-347-8372, Monday - Friday, 8:00 am - 11:00 am and 12:00 pm - 5:00 pm EST. Please have your product close by during your call so that we may quickly assist you to answer your question, find a resolution and or provide product or part pricing and lead-time(s). Various replacement parts and decals can now be ordered on line. Check our website at www.Step2.com and refer to the replacement part section located at the bottom of the website page and shop parts by category or look up your product(s) pertinent replacement part choices. Regards, Step2 Consumer Service
Date published: 2019-02-01
Where can I get additional fake wood pieces?  Our set did not come with the parts to make the plane or boat?  It had two pages of foam cut outs, but it seemed like there should have been a third, we cannot make all the projects pictured on the basket? 
I have no idea except to contact customer service at Step 2
Date published: 2019-01-03