Pump & Splash Discovery Pond™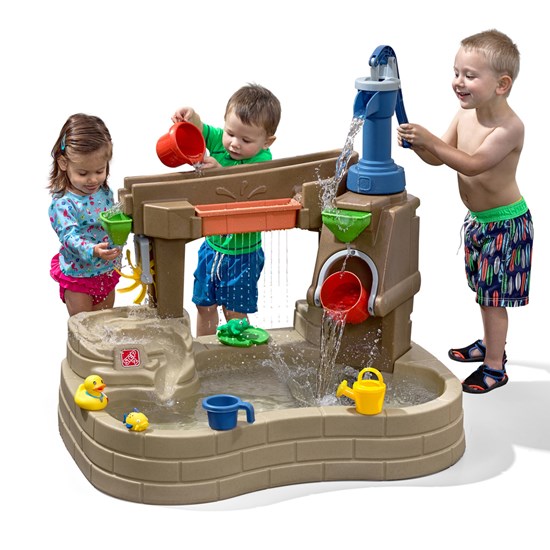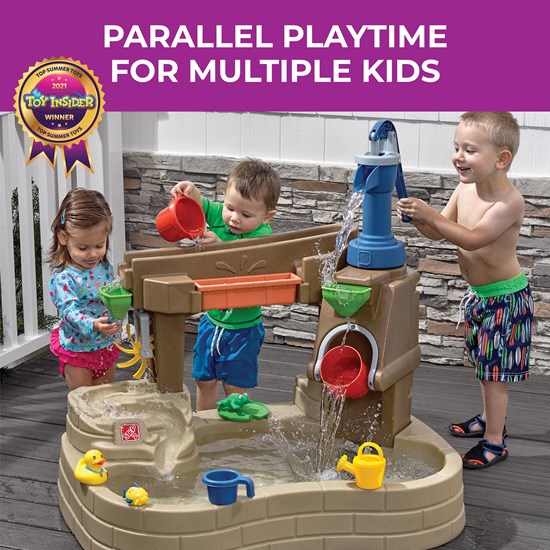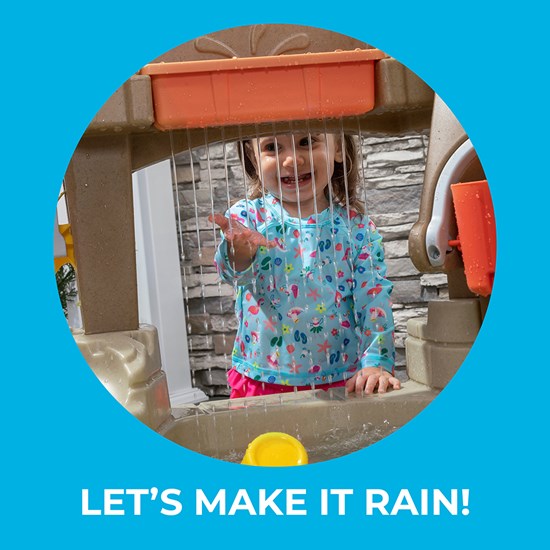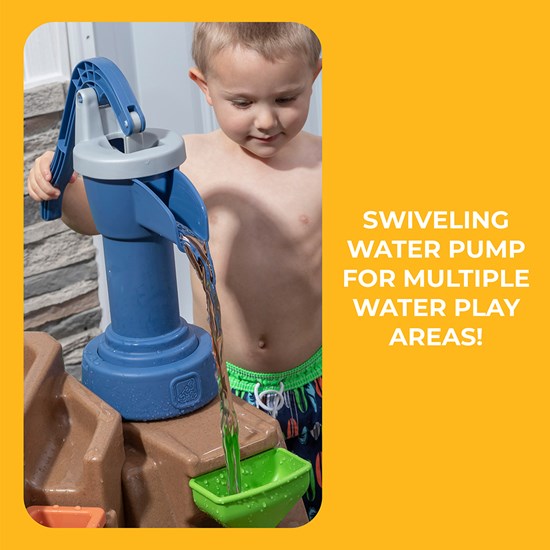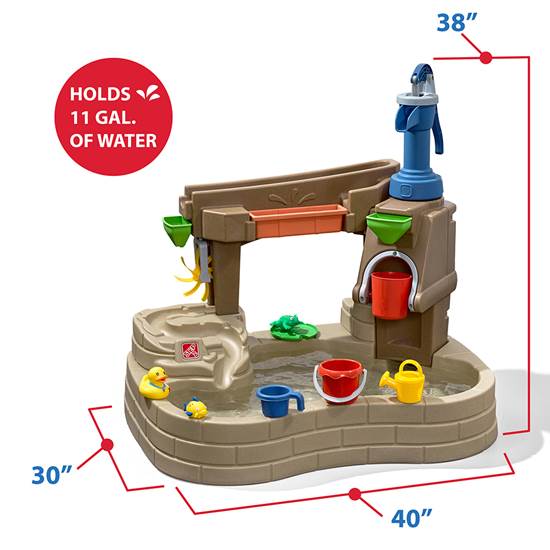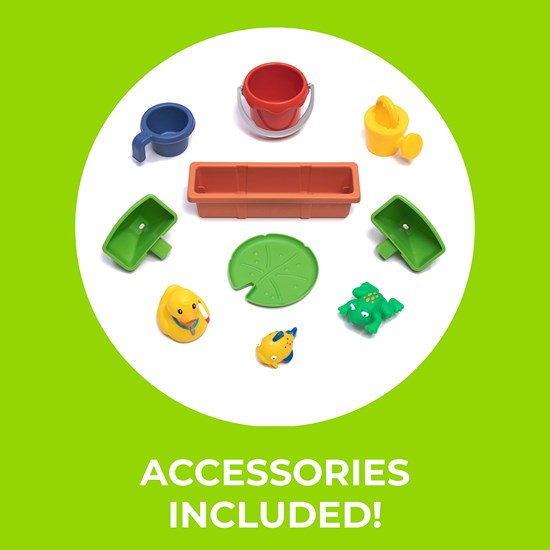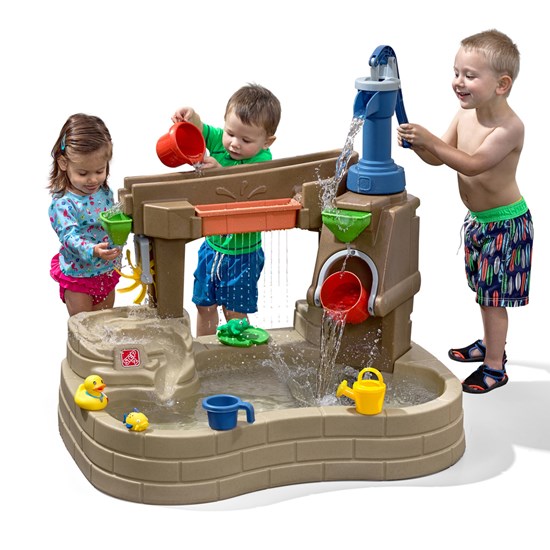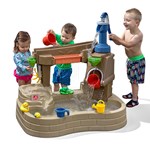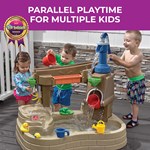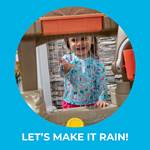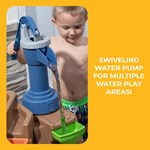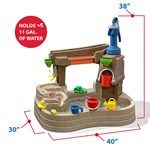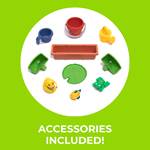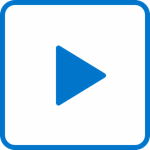 Pump & Splash Discovery Pond™
Out of stock
$149.99 $129.99
+$12.99 shipping (via FedEx)
IS THIS A GIFT? DON'T SPOIL THE SURPRISE!
This item ships with an image of the product on its outer packaging.
Rated 5 out of 5
by
Aprilglass
from
Love this
This water table was surprisingly easy to assemble. I did it with the help of my 2 and 4 year olds. There were no predrilled holes for the screws, but they actually caught and punctured with ease. The instructions were very easy to understand, and guided step by step. This has a working water pump, and wheel that spins with water. The pump also moves so you can aim it at different features. Filling the well water bucket is always ot of fun. This provides hours of entertainment for tour littles. This is a perfect addition to patio or backyard. You will love the playtime it provides your children. I recommend this product.
Date published: 2021-04-15
Rated 5 out of 5
by
Anonymous
from
Absolutely tons of fun!!
My son loves playing with this water park. It carries water from the bottom to the pump, Into the top and around and back to the bottom. Water must be in the bottom before it works, they tend to play in the water and get it everywhere including on them. It's so much fun for them, keeps them busy. It was very easy to put it together, came with instructions. My son had to play with it after it was put together, he enjoys it. He can play all day with it and still wants me to put more water in it after he splashes it all out!! Most definitely a toy worth having, absolutely recommend to any family!!
Date published: 2021-04-20
Rated 2 out of 5
by
lovingitkara
from
Fun product but beware of pump breaking
I received this product May 1st and now 2 weeks later, the product isn't as much fun as it was the first time. My three kids ages 2, 3 and 6 love this product. However, the pump plastic stressed so easily, even after the first few days that it no longer pumps any water. Even the handle part feels like it's broken. You can tell on the outside how stressed the plastic became after being used. It is really sad as this was my 3 and 6 year olds favorite part. We have other step2 products that have lasted us for many years so we are disappointed this didn't last longer.
Date published: 2021-05-19
Rated 5 out of 5
by
Virginia95
from
Pond
Absolutely love this little pond. Comes with everything for hours of fun. Has a water spout that sucks up the water once you pump it and it recycles through over and over. Comes with buckets, duck, frog, and more. All of my kids love playing with this from the 2 yr old to the 11 yr old.
Date published: 2021-04-20
Rated 5 out of 5
by
Sparkle
from
My kids love this!
This is such a super cute splash pond. Was really easy to put together. They directions were very clear and easy to follow. The pools part is a lit bigger than I though it was going to be and can easily fit both my 4 years olds. There's so many ways to play with this and my kids have had hours of fun so far with so much more to come. The quality and sturdiness is amazing. And the cute bonus toys that came with it was a huge plus. I would definitely recommend.
Date published: 2021-04-14
Rated 5 out of 5
by
Sarah
from
Great for older kiddos, too!
My girls are 4 and 6 and they love this water table pond! It's tall enough so they don't have to hunch over while using the pump. They take turns and even go for a dip inside!
Date published: 2021-05-04
Rated 2 out of 5
by
MeghanM
from
Pump broke withing 24 hours!
I love this product..... BUT the pump BROKE withing 24 hours. It wouldn't pump, at. All. We took it apart and couldn't see anything wrong. Before it stopped pumping the pottom piece that sucked up the water would stay on, as off it was I'll fitting. For us the pump was one of the main reasons we purchased it and not it doesn't even do that. It also kinda sucks putting together. They also don't say anything about an umbrella, that it is an accessory or anything. You can get the umbrella and use it. There is a spot on the back for it.
Date published: 2021-06-02
Rated 5 out of 5
by
MommaC
from
Littles approved
My littles absolutely LOVE this product. They couldn't wait to play with this once they saw it. It was surprisingly easy to put together. The instructions were easy to follow only took about 15 to 20 minutes before we were up and running. My littles love filling buckets from the water pump and pouring them on each other. We have to refill the water periodically while they are playing so it will cycle back through and come out of the pump. It is a well made toy. My littles have played with it many times so far and it has held up to their playing. The accessory pack that came with it was a nice bonus. The bucket and squirt toys are their favorite. Overall, I'm happy and so are my littles. High quality, well built entertainment for my littles. Highly recommend.
Date published: 2021-04-28
Is this item going to be available again this summer? Will I be able to get for $119. As it was marked last week? I have been following this item for a month.
You are better off buying something else. We bought the pump and splash discovery pond and the pump does not work well at all. The hose inside it constantly falls out of place and then you have to take it apart to reattach it. Then it will last for 5 minutes before it detaches again. 
Date published: 2021-06-18
Is this ever going to be available again??? Lol
I literally woke up at 6am and refreshed the page every 10 mins. Around 7:30am it became available and I was able to buy it. It was delivered within a week. My daughter loves it.
Date published: 2021-06-06
We have put the pump station and the water isnt pumping?
Us too I emailed Step 2 there were supposed to send out replacement pump but I have yet to see it. 
Date published: 2021-05-25
Is this available 
Hi,  I was also searching for this item everywhere! I signed up for their notifications asking to notify me when this product is available. I received a notification right when they had more! Good luck!
Date published: 2021-05-18
i have and alert that says its back in stock, has happened twice now and when I get t the page there is none available.
You have to order from the email otherwise it tells you it is not in stock
Date published: 2021-05-17
How do I buy this pump and splash pond and or put in my cart to buy?
I bought it from Costco.   It forwards you to "Costco Nextl" website which is like special STEAM educational toy website from Costco.
Date published: 2021-05-16
How do I buy this and or put in my cart to buy?
If the item is in stock then there will be an add to cart button. If it is out of stock you can have them notify you when it is in stock. It was out of stock when I wanted to buy it so I signed up for a notification and I went and bought it as soon as I got notification that it was back in stock.
Date published: 2021-05-16
I would like to purchase this item, I received a text saying that it is now in stock 
We have limited quantities due to retailer demand. We should have more stock by the end of May.
Date published: 2021-05-12