Push Around Buggy GT™ - Pink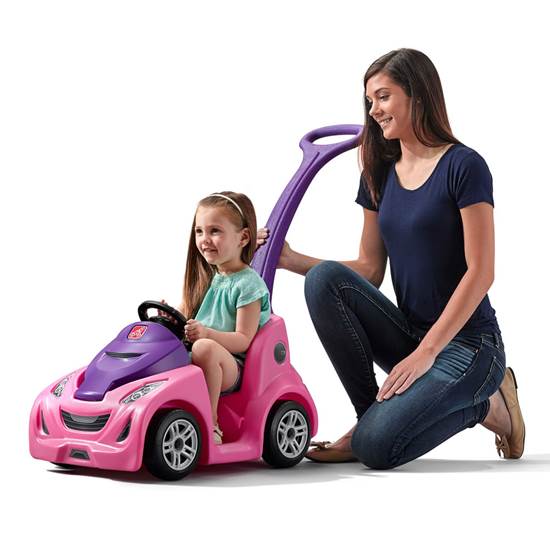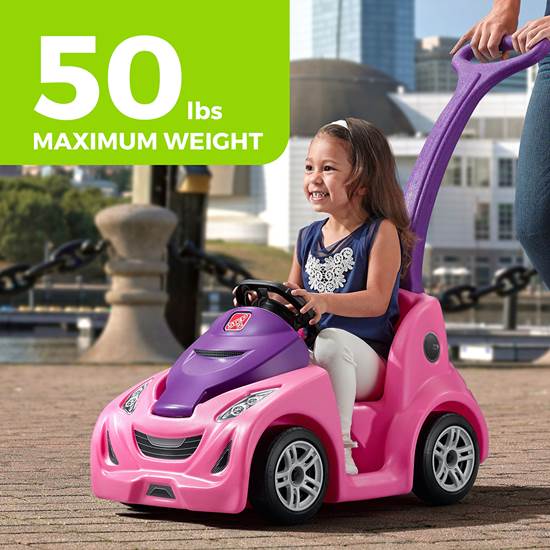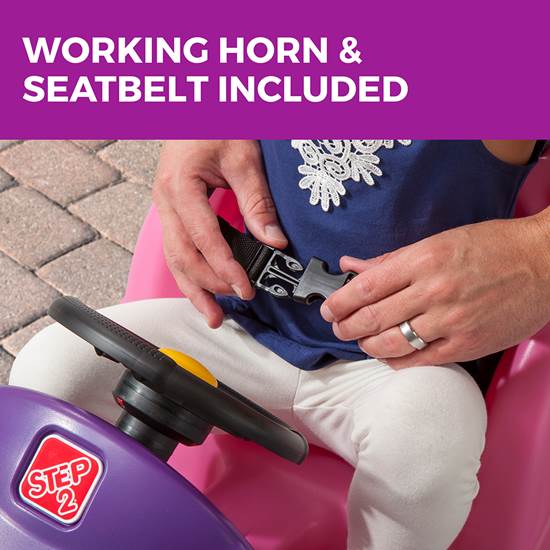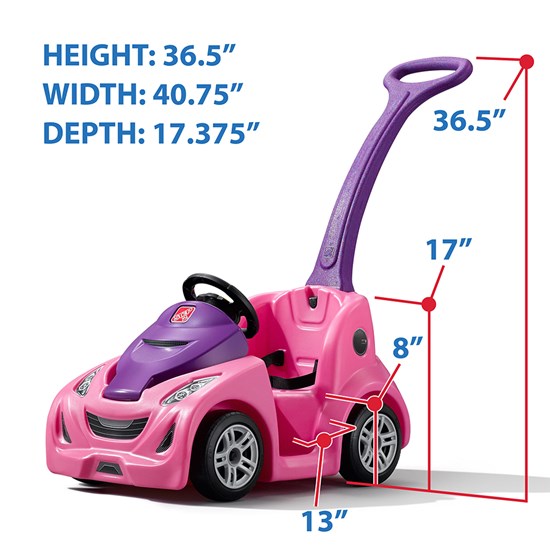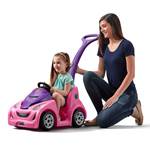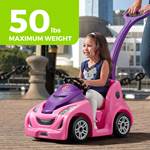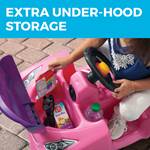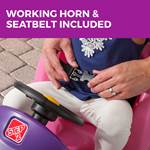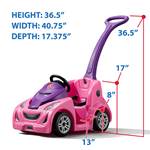 Push Around Buggy GT™ - Pink
Little car lovers will ride around the neighborhood in style with the Step2 Push Around Buggy GT™-Pink
IS THIS A GIFT? DON'T SPOIL THE SURPRISE!
This item ships with an image of the product on its outer packaging.
Rated 5 out of 5
by
Michelle k
from
One of the kids favorite toys. Beep beep.
First off, I would like to thank to Step2 for letting me test this item as part of the Step2 toy tester program. We received this toy a week ago and my 3 1/2 year old and 14 month old love it. Even though my 3 1/2 year old is a little too big to ride in it, but she enjoys pushing her sister around in it (little sis likes that too). It was quick and easy to assemble. It's very easy to push. The car is low enough for my 14 month old to climb in and out of.My only con is the amount of stickers they give you to put on it. I'm never good at putting them in their designated spot perfectly. Besides the stickers, I have found no faults in this product.
Date published: 2017-02-22
Rated 5 out of 5
by
Erin Merrin
from
Love this, would buy again!!
This buggy is very easy to put together, took me maybe 15 minutes by myself, directions are clear and easy to follow. The buggy itself is great! The parent handle is just the right length, my daughter loves going for walks in it, we have had it for just about two weeks now and have gone more than 4+ miles a day and is holding up wonderfully! Is easy to push across the road, small rocks and even through sand on the sidewalk it still glided through! Easy to tilt back with the parent handle for getting over little bumps and making sharp turns. My daughter can easily access the storage in the hood and her sippy cup in the cup holder even while buckled. My only two cons are that it's hard to fit sippy cups with handles in the cup holders and that because of cup holder placement it leaves limited space for the child's feet. Overall a good solid 5, she's going to love this for a long time!
Date published: 2017-02-13
Rated 3 out of 5
by
jatayalor
from
Kids enjoy it
My 2.5 and 1 year old enjoy riding the push buggy. It has lasted a while and is a good product. My only complaint is that the foot area is too small. My sons have kind of big feet so for them the foot area is too small. My 2.5 year old wears a size 10 and his feet dont fit there at all. My 1 year old wears a size 8 and his feet barely fit with shoes on. I cant imagine this product working for a child that weighs 50 pounds unless they had tiny feet. It is a product that they have enjoyed but unfortunately they outgrew it quite quickly due to the small foot space.
Date published: 2018-12-09
Rated 3 out of 5
by
Indiana Mom
from
A Fun Ride
My daughter enjoyed riding around in the Push Around Buggy GT. The instructions for putting it together were simple to follow, however it was a bit difficult to put together and my daughter was able to pull the steering wheel off by herself while turning it. It just didn't seem to lock in tight enough. It says for up to 36 months but my daughter is tall and it was a tight fit for her. She had difficulties getting in and out by herself. The height of the handle was very comfortable for me and easy to push without straining, unlike the height of the full size car which makes me bend my back too much to push her. She enjoyed honking the horn and steering like she was a race car driver. She also loved that she could put items in the trunk space and take with her. Thank you Step up 2 for letting my daughter and I be a part of your toy tester program.
Date published: 2017-02-04
Rated 4 out of 5
by
Emily
from
Fun but noisy
This is a fun little toy and we use it daily for walks around the neighborhood. It was easy to assemble and super cute. It is rather loud when being pushed across cement, and does not do well on grass or gravel. But, it's a kids toy, it needs to be close to the ground for safety reasons and I wouldn't expect it to have quiet ride technology *My daughter likes to peel off stickers so we set those aside until she is more mature
Date published: 2019-08-20
Rated 5 out of 5
by
Anonymous
from
My daughter loved the Buggy GT! Highly Recommend!
This was perfect for my 18 month old daughter. She loved riding in the Push Around Buggy GT while taking walks in our neighborhood. It had a seatbelt which is a great safety feature. We were able to bring a sippy cup, that fit in the cup holder. We also stored her favorite snack in the storage area under the hood. My daughter enjoyed honking the horn and using the steering wheel. It took approximately 20 minutes to assemble. Thank you to Step2 for letting me test this item as part of the Step2 toy tester program.
Date published: 2017-02-20
Rated 3 out of 5
by
Jody w mullis
from
Thank you to Step2 for letting me test this toy!
Thank you to Step2 for letting me test this item as part of the Step2 toy tester program. My twins enjoyed the buggy it worked well outside and inside. Only thing is there was a small rattle coming from the wheels after a few time using it and as well would be nice if they made double seater buggys for people with twins or more than 1 small child, overall this buggy is a good the to use going out to stores or just walking, be also better if the handle was a snap and lock for easy disassembly!
Date published: 2017-02-11
Rated 5 out of 5
by
Amber B
from
SUPER fun ride-on toy!
My son (15 months old) LOVES this buggy! He would prefer to ride in this over the stroller 100% of the time.Assembly was very simple. The buggy is easy to drive around and steer with the over-sized handle. Plus, it's adorable!I appreciate the double cup holders for snacks and a drink, as well as the hood that opens so I can keep my keys or other small items handy like I would in a stroller. The seat belt is a must for this age, and my kiddo stays put with the buckle.We take this to the park or post office almost every day and my son loves beeping the horn and 'steering'. Overall we really love this buggy and would highly suggest it to anyone looking for a fun ride-on toy for a kiddo that's not big enough to propel themselves yet! Thank you to Step2 for letting me test this item as part of the Step2 Ambassadorship Program!
Date published: 2017-03-20
Does this have a radio on it? It looks like it has a speaker on the side.
The Push Around Buggy GT™ does not have a working radio.
Date published: 2018-03-27
Do you gift wrap?
YES, BUT I DIDN'T GIFT WRAP THIS CAR. I PUT I TOGETHER AND GAVE IT THAT WAY.
Date published: 2018-03-27
The steering wheel pops right off everytime you turn the wheel. Anyone else have this problem? It just doesn't stay tight. Feeling frustrated.
Please call toll free 1-800-347-8372 Monday - Friday, from 8-5 ET and we will be happy to assist you.
Date published: 2018-03-27
Does the handle fold down?
No but it comes off easily. My son replaced the bolt with a wing nut to make it even easier. My grandson loves the car and so do I.
Date published: 2018-03-27
Where else other than Amazon can this be purchased? Every time I check their site it is unavailable. 
What size is the nut that goes on top of the washer?
I bought the buggy twice its price from amazone. Why? and who is taking that huge profit?