Real Projects Workshop™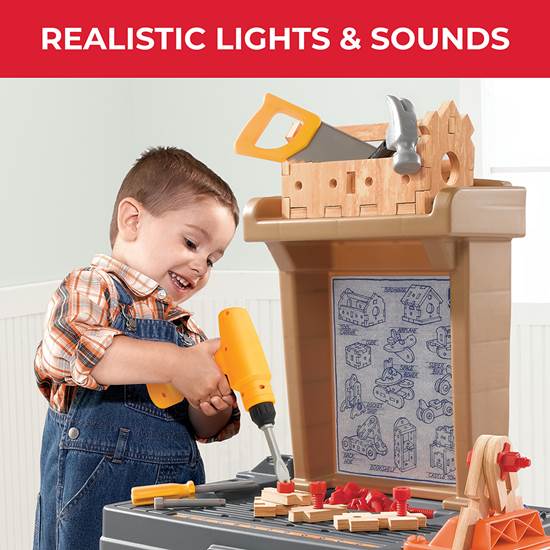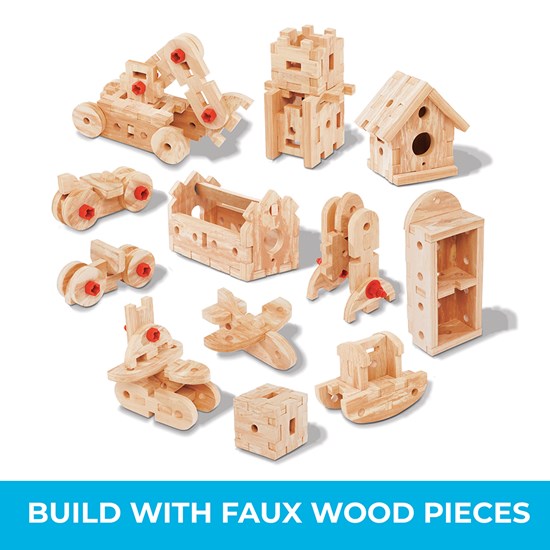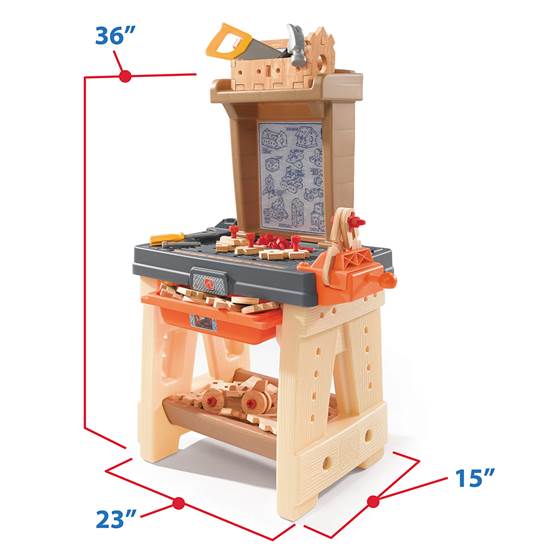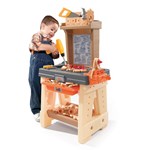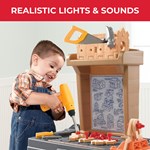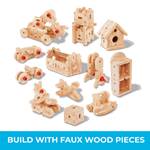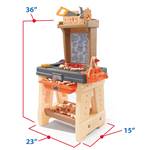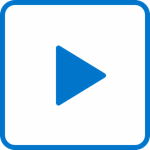 Real Projects Workshop™
In stock
$74.99 $69.99
+4.99 shipping (via FedEx)
IS THIS A GIFT? DON'T SPOIL THE SURPRISE!
This item ships with an image of the product on its outer packaging.
Rated 4 out of 5
by
Preschool Teacher turned Mommy
from
High quality with some level of function
We gave this to our 3-yr-old son as a Christmas gift. He loves his Dad to help him build items from the blueprints with the wood (he needs help with this). He enjoys pretending to build things independently with the tools, wood, and screws. The workshop is sturdy and durable. Our son climbed on it already and it held him without falling over (even though I wouldn't recommend this). The drill makes great noises and really spins around, but it is not strong enough to screw the provided screws into the pegboard or wood pieces, which is disappointing. Overall, we are happy with this workshop and pleased that there are some functional aspects to stimulate the imaginative play of our son.
Date published: 2011-12-30
Rated 5 out of 5
by
JG
from
Another great job, Santa!
Santa brought this for our 2-year old son, knowing how much he likes tools and loves to work with his hands. He especially loves the working drill and pretends to be just like Daddy, fixing things around the house with the assortment of tools. His older sister, age 5, also enjoys playing with the workshop, helping her brother to build all the great projects with the "wood", which is made of a fabulously durable, safe material. The workshop itself was easy to put together and has a place to store all its pieces. Once again, we're thrilled with Santa's decision to go with a Step 2 product!
Date published: 2009-01-06
Rated 5 out of 5
by
Anonymous
from
Great Imaginative Play
I bought this for my 2 & 4 year old boys for Christmas. I was looking for a larger workbench that allowed my boys to "work like Daddy". This product was a great value and I particularly appreciated having no shipping fees around the holidays!This is one of the few toys they share well together. My older son loves building the suggested projects as well as a few of his own, and they both love the tools, particularly the working drill! They can spend a whole morning pretending to fix things around the house!We couldn't be happier with this workbench. I'd highly recommend it to others!
Date published: 2007-04-26
Rated 5 out of 5
by
Step2 mom
from
My son loves his workshop
What I really liked about this workshop was how easy it was to assemble. I did it in 15 minutes without asking my husband's help. I loved seeing my son's reaction when he saw it in our playroom. He ran to his workshop and played with it for hours. It's durable enough to take my son's tantrums when he throws the tools around. He even tried climbing on it and it was fine. Overall I like it because it helps my two year old son use his imagination and learn how to grip, handle and use the tools for play. He even made a whistle out of one of the drills bits. It's fun watching him build things. I would recommend this product to anyone. Now we're just waiting for his lifestyle dream kitchen to arrive!
Date published: 2011-01-11
Rated 4 out of 5
by
Anonymous
from
Great Workshop with a lot of storage!
We bought this for my 23 month old son for Christmas. He (and his 4 year old sister) love it. I like how the drill will screw and unscrew the screws into the bench. I don't like that there is nothing specific to hammer into the bench (there are 13 holes in the bench but they are all for screws). It would have been nice to have a couple of nails and a couple holes to hammer them into. My kids still hammer the screws but it's not really the same. My son is still a bit too young to build the projects but they look pretty neat. All in all we love this bench and would buy it again.
Date published: 2007-12-29
Rated 5 out of 5
by
Stacey the farm mom
from
A perfect gift for your two year old
We decided to buy this for our son for his 2nd birthday. He is absolutly fascinated with the working drill and the screws. He doesn't grasp the concept of buildings any of the little projects but that is what makes this gift an absolutely perfect buy for his age. He will continue to grow and develop and will discover "new" things he can do with it. My daughter is 3 1/2 and she is starting to understand the building projects and spends as much time playing with it as he does. My niece was over and she is 6 and it held her attention for quite sometime as well. This is the absolute perfect gift for any child who is mechanically inclined. A+++++ Would make the decision to buy it again in a heart beat!!!
Date published: 2007-12-22
Rated 5 out of 5
by
Anonymous
from
Easy to assemble with clear directions!
My son loves it, but my daughter likes it too. He usually takes his toys apart, but this seems to be durable enough to survive his rough play. He has built some of the suggested projects, but he has also created his own. He quickly figured out how to use all of the tools. It would be nice if more screws and nuts were included so they can be used in the projects. Also it may have been nice if the screws were a combination of phillips and flat head varieties. Additional tools can be purchased to expand the fun. Finally, there is room to store all of the included tools easily.
Date published: 2009-12-25
Rated 5 out of 5
by
Anonymous
from
My daughter and son love it
I have a 3.5 and 1.8 year old and both love the playset and do different things with it. The reversable battery operated drill is an amazing detail that both my Dad and I were amazed with and found that even my 1.8 year old understood how to use properly! There are a bunch of parts, so my wife and I are supervising the toy use with the 1.8 year old so that we don't lose any of the nuts and bolts, but the 3.5 year old loves to put together (with a little help) the 15 or so foam toys that can be made. You can't get this diverse a toy for this price anywhere, I've looked! [...]
Date published: 2010-07-20
Rated 4 out of 5
by
Julius
from
Great little workshop
Our son is under the age(1 year and 10 months) requirements for the work bench, but he Absolutely loves it! He left all his other toys behind. He just plays and plays and continues to play with this bench. He loves the drill, screws, and the vise. Our doesn't understand that if he pushes to hard on the drill it doesn't work. I understand for safety reasons the drill is designed this was but if it was a little bit stronger it would make a world of difference to the bench and play time. Overall we are happy with the bench. The 4 stars was for the drill issue...
Date published: 2012-12-26
Rated 5 out of 5
by
Anonymous
from
Great product provides hours of fun
I bought this workbench for my 3 almost 4 year old for Christmas. He has absolutely loves it. He is already able to make some projects without any help. Compared to other workbenches, this one is the best since it actually has projects to make. The foam wood is great. Overall I am very pleased with the product. The only minor complaints I have are the drill bit and the saw. The drill bit doesn't serve a purpose other than to just pretend you are making a hole. The saw leaves permanent marks in the "wood". Other than that, it is an excellent product.
Date published: 2007-12-28
Rated 2 out of 5
by
eroomfam4
from
Tools do not go with the set
The tool kit that comes with this item has changed, and does not store in the recesses on the bench top like they are supposed to. The drill bits on the "new" drill do not all fit the bolts, (only 1 does) so if you lose this particular bit, then the drill and screwdriver are useless. Very disappointed in Step 2 for not thinking this through when changing the tool set. I am unfortunately returning mine and buying the [...] workbench instead. (BTW Step 2 did send me a replacement tool set, but it turned out to be the same one I already had)
Date published: 2010-09-21
Rated 5 out of 5
by
barneyj
from
buy this workbench!
i went online and compared quite a few workbenches and i'm extremely happy i decided to buy this one! it is very sturdy and quite stable. it doesn't tip over like a few of the benches our friends own! my 17 month old loves it, especially the real working drill and the hammer. (some parts are small so we took those away until he's a little older.) the number of cool projects you can make with the "wood" pieces is amazing. the drawer and bottom shelf provide lots of storage. this is the best tool bench on the market.
Date published: 2008-02-28
Rated 5 out of 5
by
Time to Play
from
Best Toy I've Purchased!
My kids are 3 and 4. They still half-heartedly played with their old workshop, but they'd rather be playing with Daddy's power tools. This has been the perfect solution for us! It allows them to pretend - and they can actually construct things in the process! We purchased the workshop, the extra "wood" pieces and, for [$], Step 2 sent us a 2nd drill and set of tools. My boys spend hours with their little drills, bolting and unbolting! I love Step 2 as a company, but this was definitely one of their finer moments!
Date published: 2007-11-09
Rated 5 out of 5
by
Peg
from
A Great Toy
I purchased this for my 3 year old son's birthday. I was so excited about the toy and couldn't wait for it to arrive. It [...] was easy to put together. After reading the other reviews I purchased an extra set of blocks so that he wouldn't run out of materials. The work bench was a huge hit with my son and his 4 year old sister as well. They love using the drill and working on their projects. The only improvement that I can see would be to have the tool drawer glide a little easier. Other than that it's perfect.
Date published: 2007-08-15
Rated 4 out of 5
by
Love2Teach
from
A toy that will grow with a child
My 2 year old really enjoys playing with the tools and nuts/bolts while he pretends to help his Daddy. He's not quite old enough to understand how to put the pieces together to build objects so some adult help is necessary. We purchased this toy because it was a sturdy, realistic toy that he can grow into. The only down fall is the space below the workbench is too small to hold the foam (wood) peices. To solve this problem, we put the pieces in a dish pan and stored the container underneath. This worked out well.
Date published: 2010-09-06
Rated 4 out of 5
by
Mermaid
from
Great learning toy
Thia was a 3rd birthday gift for my grandson. The picture on the box really excited him and he couldn't wait to get it open. The workbench was easy to put together. The tools and features on the workbench were very realistic. It would be great if there were noises that it made. The one major problem was that there were not enough pieces to put everything together at one time. Even my daughter (mom) said it was hard to explain to Elijah why he had to take the tool carrier apart to build the birdhouse. We both assumed from the description and pictures that you would be able to buid all the items at one time if you wanted. Elijah wanted to build them and keep them together till dad got home and couldn't do this. Other that that we really were pleased with the toy.
Date published: 2011-08-10
Rated 5 out of 5
by
Makin it Momma
from
Great First Hands-on Workshop/Tool Set
This was a great gift for my two-year old. He loves the tools that come with workshop, especially the drill that comes with different bits. It took him a few attempts but he was able to use the drill to screw the nails into the tabletop. He is also able to connect some of the "wood" foam pieces, but I know he will be able to do more, like build, when he is older. I think it is great for motor skill development! This is a great quality product and I am looking forward to him growing and using this more.
Date published: 2015-03-16
Rated 4 out of 5
by
ROUX
from
A Good Buy!
This is the only set with these "wooden" foam pieces and I can say they are truly what makes this set a success! Over a year later, my children, now ages 3 and 4, and my husband, still construct with the wooden pieces and the nuts and bolts! Kids who visit go straight to them, too. The bench itself has become mainly a storage area, as they don't really use it to "build" on, but it still looks cute. A previous reviewer said it appears small when kids are playing near it, which is probably true, but it's the same size as the others I looked at. The tools included are OK, but you'll probably want to purchase more. Too bad you can't purchase the foam pieces separately . . . I can't say enough about them! I just ordered 2 more workbenches for christmas gifts for a 2 and 3 year old.
Date published: 2010-07-31
Rated 1 out of 5
by
maura
from
not worth the money
The bench barely holds the pieces and tools that it comes with. If it isn't put away in just the right order, they don't fit. So then the pieces are everywhere.It's durable material. But really too small to be used for building. There is a no way a child of that age can make these items themselves, which is fine. But then there is no room at the bench for an adult to get near it to help them put it together.All and All my daughter has been very fustrated my it. I wish I hadn't wasted my money.
Date published: 2007-04-19
Rated 4 out of 5
by
Anonymous
from
My little man loves it!
When assembling, its missing holes for the screws to attach the product. Its working fine without the screws attached, but I would prefer if something assembled correctly.My little man loves it, but at 2 years old mostly he is carrying things around and doing his own thing. It will probably be a few more months before he wants to try and do the projects. MY wife and I have done a few with him for now. Pretty easy to do. Wish there were more projects and more tools that you could buy in bulk for him.
Date published: 2010-07-12
Rated 1 out of 5
by
MomOfFour
from
Tools do not fit in workbench
I bought this for my 3yo for Christmas and after assembling the workbench realized none of the tools fit in the storage "holes" on the workbench. The drill is to large to fit the pretend charger and the screwdriver handle and bits are the wrong shape to fit in the slots. I called customer service and was told that the tools I received were the new design and that designs may vary. [...] I expected higher design quality and better customer service from Step 2. I am very disappointed.
Date published: 2009-12-22
Rated 4 out of 5
by
Mother of three toddlers
from
My girls love it.
My son plays with it then goes to the vanities we bought the girls. MY GIRLS cannot get enough of it. They like the screws and other tools. The only thing I was disappointed in was the real projects> I thought that it was real would. not fake wood. We just keep buying things that I hope is challenging to our son. He is very engineering with his toys. this is great for all our children. We will keep buying from step 2 because of made in usa. thank you step 2. keep up the good work.
Date published: 2008-01-04
Rated 5 out of 5
by
Barbara & Steve (Nana & Pop-Pop)
from
This was the favorite on Christmas
Our 2 year old grandson was so excited when he opened his workbench that he did not want to open anything else. He played with it for hours and has played with it every day since Christmas. We originally ordered one from another company but were not satisfied with the quality. We then ordered your workbench and were very impressed with it. The projects were wonderful and so exciting to our grandson. It is sturdy, realistic looking and has provided him with hours of fun already.
Date published: 2007-12-29
Rated 5 out of 5
by
Anonymous
from
Great toy for the child that loves tools and "fixing" things
Unlike buying just the tools, the workbench gives a child a stable surface to screw the nuts and bolts into. It doesn't take up a lot of room so it's something that can stay out all the time.The cordless drill is also a blessing for younger kids who haven't quite master the turning motion needed for a screwdriver. I especially love the blueprint and foam "wood" pieces that come with it. The skill level for each project varies greatly making it a great toy to grow with a child.
Date published: 2016-12-27
Rated 4 out of 5
by
Farmer Mom
from
Great product
Our son was very excited to get it all out of the box, Christmas morning. It was very easy to put together.. did I mention it was made in the USA... We strived to purchase all of our Christmas gifts this year, and will continue to do so in the future, either made in the USA or somewhere other than China... the safety of our children is of utmost importance. This product delivers that. It has only been a week since Christmas, and the workshop has already had alot of use....
Date published: 2008-01-01
Rated 4 out of 5
by
Anonymous
from
Best kid's workbench out there
The thing that sets this apart from other children's workbenches I looked at is the many projects and activities the child can do with it. The projects also suit a wide age range. My just turned three year old can't quite build the "wood" projects without help yet, but he can practice screwing the bolts into holes in the workbench and putting the nuts on the bolts. The battery powered screwdriver/wrench works great and even lets you know when the bolt is tight. One thing I would suggest is to go ahead and buy the additional "Soft and Sturdy Building Projects" set. This way you can build multiple projects at the same time without having to take the others apart first. The set also includes a hammer and saw, but there's really nothing they can be used for. This is a great building set for developing motor skills.
Date published: 2008-01-09
Rated 3 out of 5
by
Justmom
from
More pros then cons
The product did meet my expectations. My child is visually impaired, and we want realistic toys. The working drill helped him with the interactive screws. His friends enjoyed playing with it at his three year old party. Much too young yet to begin designing some of the suggested projects. The drawer is very hard for children his age to pull out independently. I would have liked the wood to feel a little textured, not just flat. But it really "looks" like wood.
Date published: 2007-04-19
Rated 4 out of 5
by
Lucky
from
I would buy again & reccomend to others!
This product is not only fun and realistic and make the little ones feel like they are usingthe tools that adults use but for our younger child the wood like cut outs provide development and learning to put together puzzle type option with out the cookie cutter puzzle pieces. This encourages creativity and a sense of accomplishemnt in the children when they create something new. Tools make fun sounds and all pieces are quite durable. Boy and girls like these a ton!
Date published: 2010-06-15
Rated 4 out of 5
by
mommy jen
from
Great Workshop
I got this workshop as a Christmas gift for my 3 year old. As soon as it came out of the box he loved it. He sat there putting the wood pieces together whatever way he wanted. He's still not great at using the blueprints, but he creates his own things and has a blast. I do love that the blueprints are on display on the bench. This way I don't always have to go and look for directions. I haven't found anything else like this on the market for this age group. Other workshops/benches I have seen only have tools and no projects. The best part about this is that he is actually doing something and not just pretending to play with tools. I can definitely see him playing with this for years to come.P.S. The wood pieces are also durable enough to stand up to my 1 year old playing and chewing on them which is also a plus!!!
Date published: 2011-01-06
Rated 1 out of 5
by
Use to be a loyal customer
from
Doesn't live up to the hype
Folks, I am not hard to please but I guess some of you haven't played with this with your child. My 3 yr old boy just wants the drill to be strong enough to simply turn the screw into one of the pieces. It doesn't work. I thought it was the drill so I had a replacement sent. Same result. Drill isn't powerful enough. Don't consider returning it, because the cost of the return including the restocking fee, STEP 2 charges doesn't make it work it. BUYER BEWARE. The result is that my boy doesn't want to play with it. This probably takes away 25% of the purpose of the toy. Ok, so he can bang a screw with the hammer. If I wanted that I would have bought nails.I honestly hope step 2 reads our comments. I have purchased my of their products. Bummer that they don't believe in customer loyalty.. They lost me with their customer service
Date published: 2011-01-30
What is supposed to happen on the left side of the bench (not the side with the clamp)? It appears that nothing is supposed to happen over there. It seems a waste of space.
This is the most frequently used toy we ever bought for our grandchildren (6). Unused space on the left side has never come up. The fact that we can store the electric drill and the drill bits on that side is great, i.e. less clutter. The assembly process of the various projects happens on the floor anyway. They use the free space in front of the drill storage space to display some of their projects (if they fit). Step 2, we love you.
Date published: 2020-04-07
I purchased this item and the nuts, bolts and drill drive set are lost. How can I get a replacement for them?
We now offer replacement parts online. Please view the following link : https://www.step2.com/parts/ Or you may also contact our Consumer Specialist Staff at 1-800-347-8372, Monday through Friday, 8am-5PM Eastern Standard Time for assistance.
Date published: 2018-10-08
Can I purchase just the wood foam pieces? I already have a step 2 toolbench but without wood pieces.
Please open the following link to view the replacement "Wood" Foam Projects online: https://www.step2.com/parts/p/real-projects-workshop Or you may also contact our Consumer Specialist Staff at 1-800-347-8372, Monday through Friday, 8am-5PM Eastern Standard Time for assistance.
Date published: 2018-03-20
Can you buy extra tools?
Please contact our Consumer Service Specialists 1-800-347-8372 Monday through Friday, 8AM -5PM Eastern Standard Time and we will be happy to help you. You may also find our replacement parts online, please see below for the link: https://www.step2.com/parts/
Date published: 2019-03-18
Where can I order replacement foam wood for this tool bench? Ours have teeth marks and some pieces are missing.
You can order replacement parts through our Customer Service Department. Please call toll free 1-800-347-8372 Monday - Friday, from 8-5 ET and we will be happy to assist you further with this request.
Date published: 2018-03-27
Can I buy replacement parts for this item if some have been lost?
You can order replacement parts through our Customer Service Department. Please call toll free 1-800-347-8372 Monday - Friday, from 8-5 ET and we will be happy to assist you further with this request.
Date published: 2018-03-27
Does Step2 sell nails to use with the hammer? I get the hammer can be used to "hammer" the foam pieces but it would be nice to have a play set of nails (like they have screws and screwdriver). Thanks!
Unfortunately, we do not offer play nails.
Date published: 2018-03-27
Do you have specific instructions for making the items on the blueprint page? We are trying to make some of them but can't tell from the design which pieces to use.
Please call toll free 1-800-347-8372 Monday - Friday, from 8-5 ET and we will be happy to assist you further with this request.
Date published: 2020-02-26