Sail Away Adventure Sand & Water Table™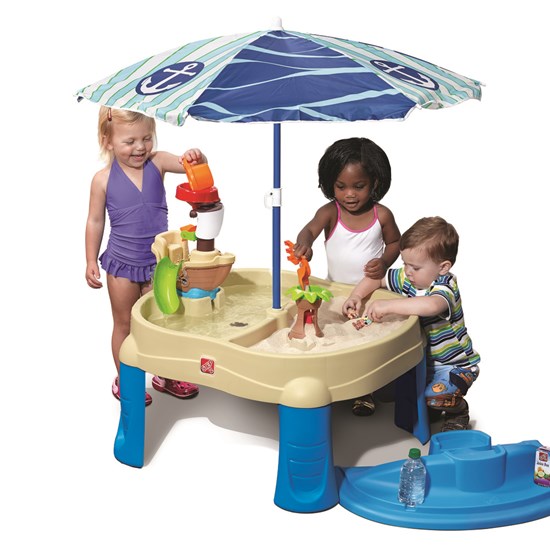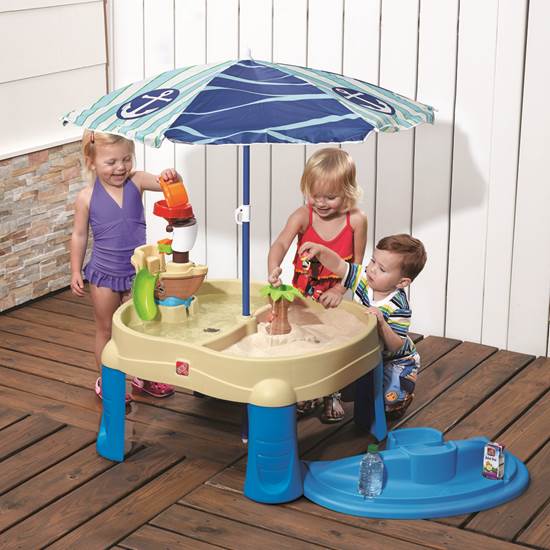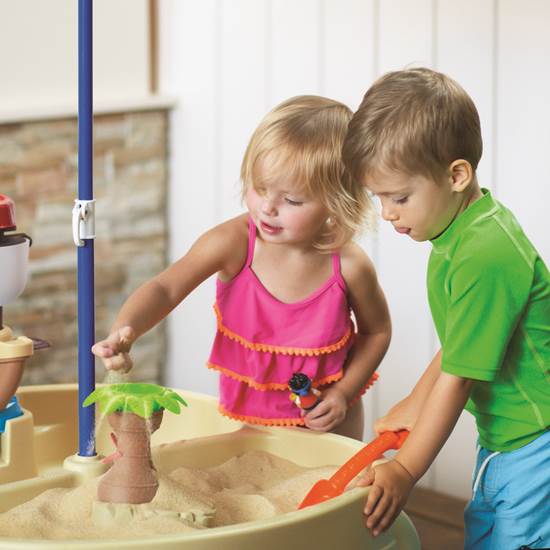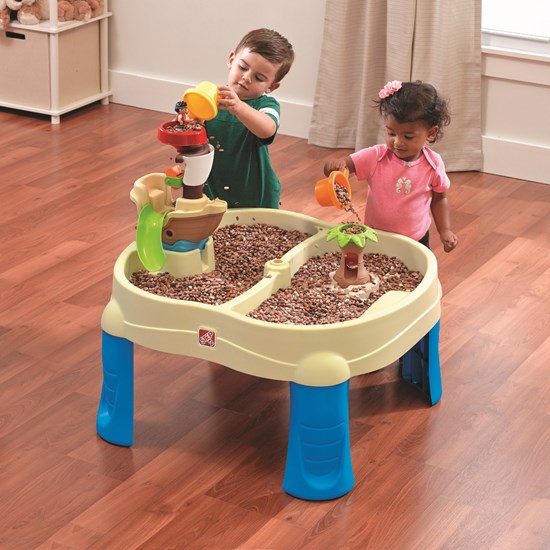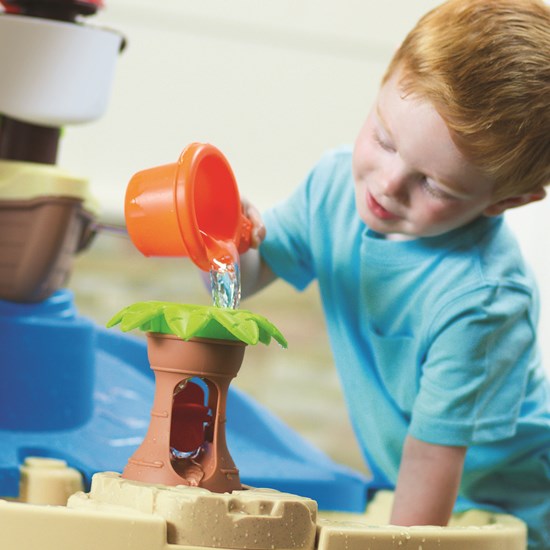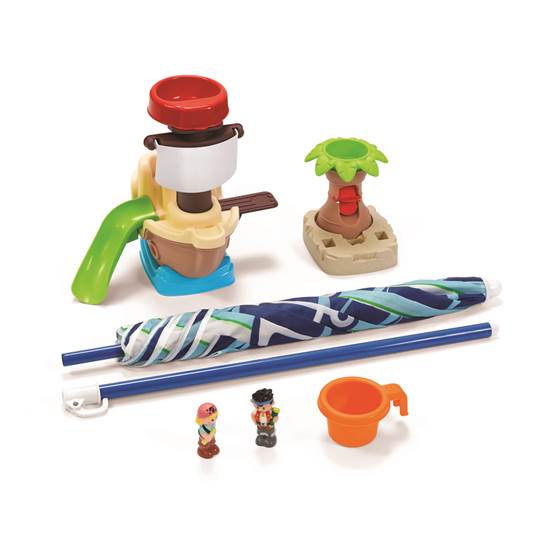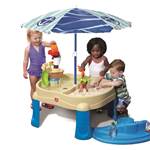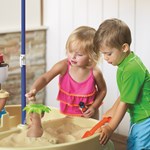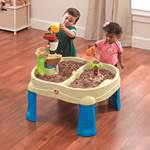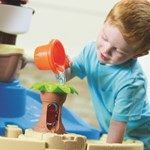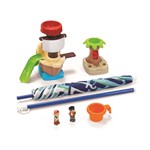 Sail Away Adventure Sand & Water Table™
Out of stock
$69.99
+4.99 shipping (via FedEx)
Kids can go on their own high-seas sailing adventure with the Step2 Sail Away Adventures Sand & Water Table with Umbrella!
IS THIS A GIFT? DON'T SPOIL THE SURPRISE!
This item ships with an image of the product on its outer packaging.
Rated 5 out of 5
by
Monbon
from
Holds 18 month old's interest for hours!
My 18 month old LOVES this table! She gets so excited when she sees it. It keeps her occupied and engaged for hours. The table was quick and easy to assemble. The umbrella was the selling feature for me. It keeps her protected from the sun and doesn't get in the way of play. There are endless possibilities of play with the option to add sand or beans for indoor play. The ship has rotary features to show cause and effect and pirates to jump off a diving board and go down the slide which is great for imaginary play! The table has a large layout which would accommodate a few playmates. Very happy with this table!!!
Date published: 2020-06-07
Rated 5 out of 5
by
Christine
from
Winner for multiple ages!!!!
I was looking for a water table for both my 6YO grandson and my 18MO grandson. Honestly I ordered this one because it s he only one in stock during these crazy covid times. But I did loved the umbrella and dual sides~ When I showed the picture to my 6YO grandson he was unimpressed but when it got here he loved it!!! It's always so hard to please both a toddler and a kindergartner but this did it!!! Even my boyfriends 9 year old granddaughters love it! Happy I made a good choice for multiple ages!!!
Date published: 2020-05-23
Rated 1 out of 5
by
Caitcait
from
Wouldn't know
My order did not go through because of some payment problem... I got charged and then got an email that it could not be shipped. The only way to resolve this problem appeared to be to call the business as the email was no reply. The 5 times I did so no answer in anyway, after waiting over an hour on the phone... I had to call my bank and have them stop the transaction and still never heard from step2. So unfortunately I can't say how the product was, I bought something from somewhere else.
Date published: 2020-06-08
Rated 5 out of 5
by
Kitty Whiskers
from
Great product!!
My granddaughter loves hers! Wants to stay and splash for hours!
Date published: 2020-06-02
Rated 1 out of 5
by
JDD068717
from
Didn't get the right table
Well I'm just now noticing this, but I didn't get the right table nor the umbrella. Which was one of the main reasons I ordered this specific one. I guess just pay better attention when you get your product. My daughter still plays with the one I was sent. But that's not the point! You expect to get the one you add to your cart and PAY for.
Date published: 2020-06-01
Rated 3 out of 5
by
Gosia Finelli
from
Could use a bigger cover
It's a nice product, but would be even better if the cover was for the entire table and not just half. My son tends to get the sand in both compartments and so every night we have to move it to make it one sand compartment as the top only covers half and we don't want to have animals and other things in the sand.
Date published: 2020-06-24
Rated 3 out of 5
by
Hils
from
It's fine
The actual table part is good, but the toys are terrible. Nothing snaps together so everything falls apart constantly. I wouldn't have purchased it if I realized that. My toddler constantly knocks everything over on accident so it's impossible to play with any of the toys that came with it
Date published: 2020-06-01
Rated 4 out of 5
by
kwijaya
from
Good product
Easy to assemble, some parts seems wobbly. Umbrella is short. The drain plug was broken the first time I got it. Contacted the customer service and they sent the new one. Overall it's a good product, but I still don't think it's worth the price.
Date published: 2020-06-17
Does it really hold 200# of sand ? (Or is that a typo)
We apologize for the confusion. The Sail Away Adventure Sand & Water Table™ will hold up to 30 pounds of sand. Thank you for bring this to our attention.
Date published: 2019-04-18
Can you purchase just the umbrella?
Will this be comfortable for a 6 yr old, or will the 6 yr old have to bend over? About 45in tall.
Can I purchase the accessories for the Sail Away Adventure Sand and Water Table?  Don't need the umbrella but do need the plastic toys that go with it. 
Hi im wondering how fast will you ship?
I like the umbrella but it is too small. Will this fit a pole from a standard size beach umbrella?
Is a cover for the sand box included