Seaside Villa Playhouse™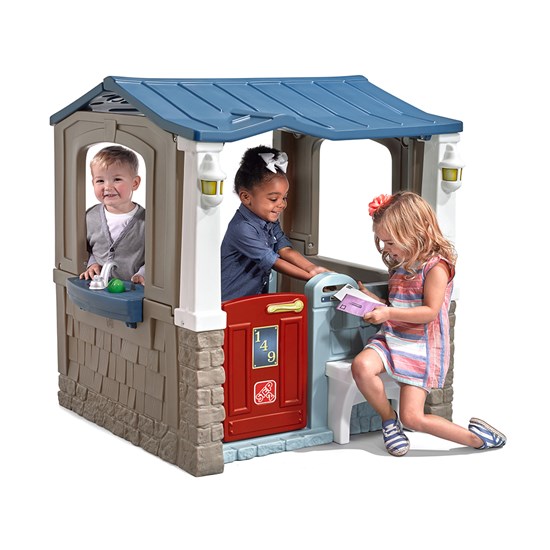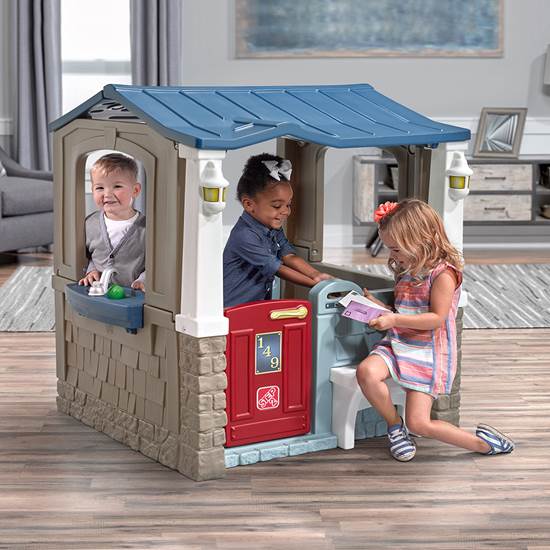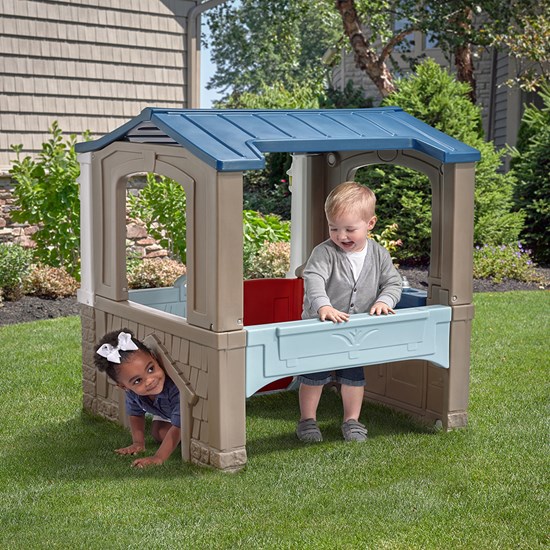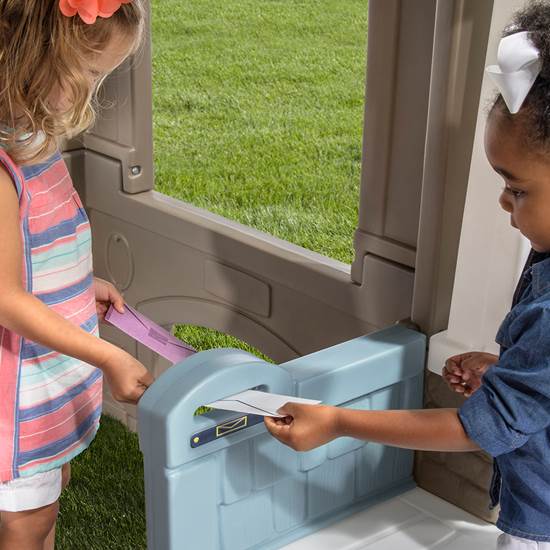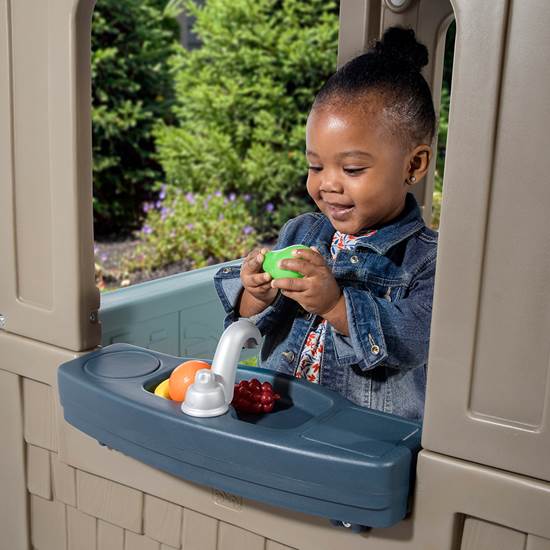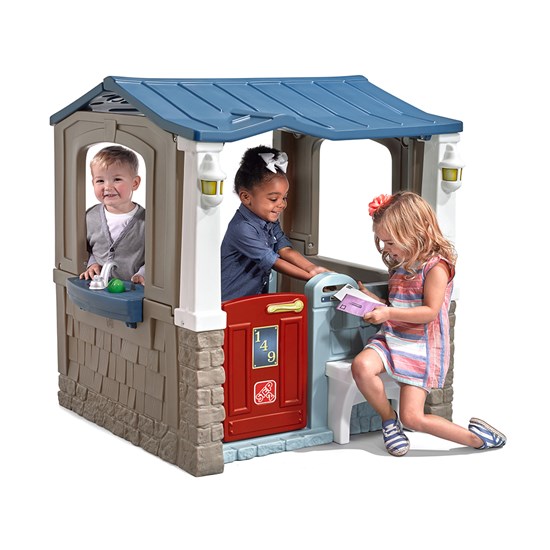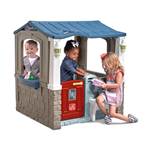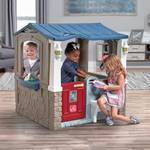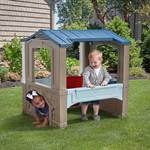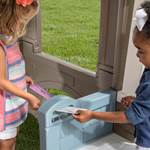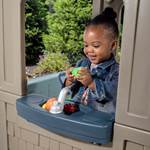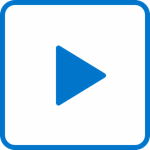 Seaside Villa Playhouse™
Out of stock
$199.99 $179.99
+$12.99 shipping (via FedEx)
IS THIS A GIFT? DON'T SPOIL THE SURPRISE!
This item ships with an image of the product on its outer packaging.
Rated 5 out of 5
by
biaf
from
Creative Design, Well-Built
Between kids of ages 6, 4.5, and 2.5 years, plus friends and neighbors, this well-built play house will be a fun feature at our house for years to come. Assembly was quick and well thought out using screws instead of just relying on plastic snapping parts. It clearly is well-built and also visually attractive. The decorative features like front lamp post, mailbox slot, and faucet with sink are nice additions. It would have been cool if they included a full set of numbers to customize the address, but those can also easily be bought at another store later. All in all, a nice product. Thank you to Step2 for letting me test this item as part of the Step2 toy tester program.
Date published: 2018-02-01
Rated 5 out of 5
by
tmpfeiffer
from
Awesome Product, Beat Expectations!
First off, a huge thank you to Step2 for choosing us to test this as a part of their toy tester program. The product is even better than I expected. The attention to detail in design had us excited form the moment we started to put it together. From, the mailbox to the kitchen design this product is well thought out! It was also extremely essay to assemble and far sturdier than the ones I remember as a kid. Our daughter loves everything about it and as a young toddler will have years more to enjoy it. Overall just a great product that I highly recommend to anyone looking for something similar.
Date published: 2018-02-12
Rated 5 out of 5
by
rinka
from
Great Product, Built for Real Kid Torture
No doubt about it, this product will hold up to the torture your kids bring. I have three girls and they're a wrecking crew. While the setup took slightly longer because we had to use screws to secure the pieces after they snap in place, it's also the reason this house will survive the next world war. The instructions were really well put together, and at no point did I find my self lost. I would however suggest, using a drill instead of a screw driver (if so tempted) for all of the screws; it's just not possible to get by with a screw driver. Thank you to Step2 for letting us test this product out in your tester program. Between my three kids, and the 12 grandkids in the family, it will be around for a long time.
Date published: 2018-01-18
Rated 5 out of 5
by
bcshamis
from
Solid Product, Highly Recommend
My son loves the Seasside Villa Playhouse. We keep ours outside and it is a great place for him to hang out in the shade and pretend it is his own house. This playhouse is a great size too. Not too big that it leads a large footprint on our backgrand but still a very atractive size for our toddler. My only recommendation is that the directions do not say you need a drill however it is highly recommended to use for building. I could not install the roof without one. Thank you to Step2 for letting me test this item as part of the Step2 toy tester program.
Date published: 2018-05-27
Rated 5 out of 5
by
cassandra
from
My kids love it!
It's a great little playhouse for my 4.5yo & 2.5yo. My Youngest daughter especially loves it. They like playing house in it and bringing their toy food into the kitchen sink. The two downfalls are that the door falls out pretty easily/often since it's not on hinges, but can be easily popped back in, and the mail slot doesn't actually fit letter size envelopes. But otherwise, it serves it's purpose as fun little home for imaginative play that the kids laugh and play in! Thank you to Step2 for letting me test this item as part of the Step2 toy tester program.
Date published: 2018-01-30
Rated 5 out of 5
by
Mommy in Flats
from
Play House By the Sea
This is a compact playhouse perfect for wee one's playroom or the backyard. Step2 never disappoints with easy construction and hours of fun. I love the bright colors and the little ones love enjoying the bench and washing rocks in the "sink." Thank you Step2 for sending us the Seaside Villa in exchange for our honest review.
Date published: 2018-05-27
Rated 5 out of 5
by
Funcle87
from
Great Playhouse, Even Greater Fun!
I bought this playhouse for my two nieces and they absolutely love it! They love to pretend to be the mailman and delivery packages. Lately they have started using the kitchen with window as a "drive-thru" like it's a fast food restaurant. The amount of smiles and giggles cracks me up! My favorite part about this playhouse is the fact that it's compact design can be used inside currently during the snowy winter and it doesn't take up a crazy amount of space.
Date published: 2018-02-04
Rated 5 out of 5
by
Terry
from
Grandbaby loves her villa
This product shipped quickly and arrived with everything needed. It was fairly easy to put together. I bought this for my granddaughters birthday. She's a bit young for it but is already using it. I'm sure she will get many happy hours in her villa
Date published: 2020-07-10
Hi, where can I get replacement stickers for the Seaside Villa Playhouse? Thanks. 
Please contact our Consumer Service Specialists at 1-800-347-8372 Monday through Friday, 8AM -5PM Eastern Standard Time and we will be happy to help you.
Date published: 2020-11-13
I bought one of these for my granddaughter and it came with the wrong screws. How can I get the right amount and the right screws please?