Shady Oasis Sand & Water Play Table™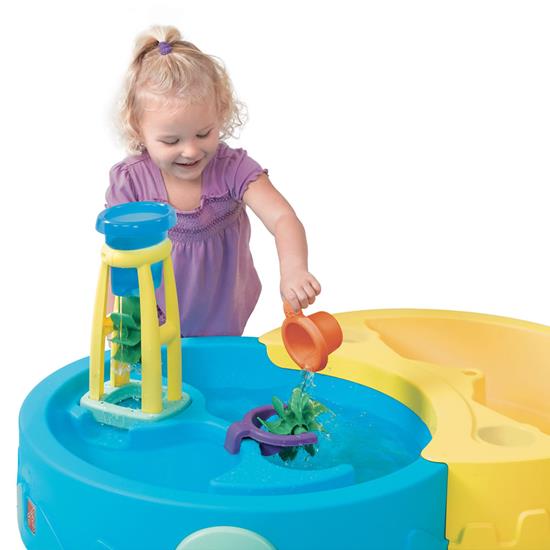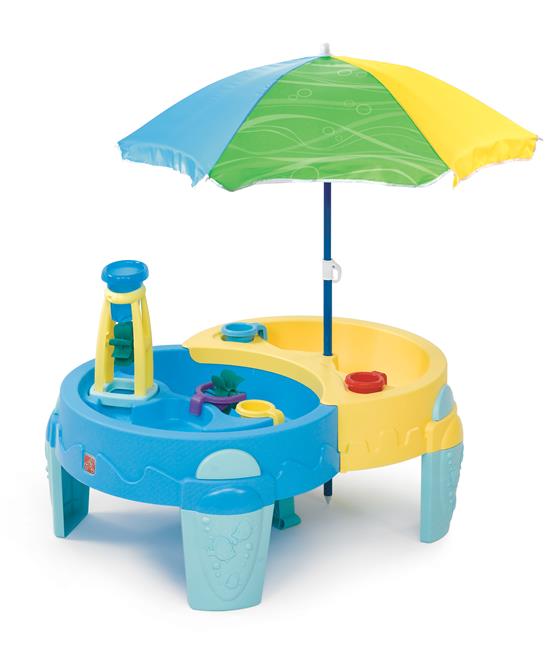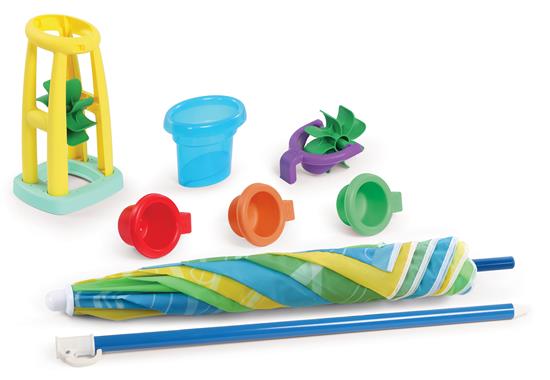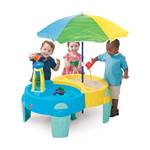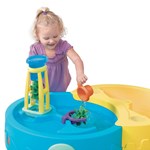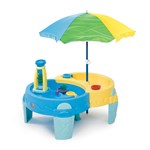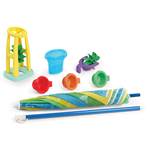 Shady Oasis Sand & Water Play Table™
In stock
$69.99
+4.99 shipping (via FedEx) When will my item arrive?
The Shady Oasis Sand & Water Play Table by Step2 is a dual water and sand table for double the sensory play fun!
IS THIS A GIFT? DON'T SPOIL THE SURPRISE!
This item ships with an image of the product on its outer packaging.
Rated 4 out of 5
by
Anonymous
from
a few upgrades required
My 2 daughters love to use this table! I have never added sand to it however and only use it for water. The 2 would just mix it and make a big mess. Plus the water would be hard to dump out with sand in the other side. I think a few tweaks to the design would make it an even better product:It needs a lid to keep out insects,leaves, etc.The umbrella is too small to give any useful shade.There should be a drain hole in both sides.The legs should be easier to remove for storage.and it should come with an extra leg so you can remove the water side and use it as a stand alone.I live in Canada where we only have 3 maybe 4 good months of water play outside so I bring it inside through the cold months. It has been great fun!.
Date published: 2012-10-15
Rated 3 out of 5
by
Robn
from
I like it, my daughter loves it
I felt like the construction made it hard to put together. I have small hands and I had a really hard time placing the screws into the holes because my hand couldnt get close enough. It took about 30 minutes to essemble because I had to turn the unit over to get the screw back so I could try again. Once it was essembled, I felt like it was stable. It would be nice if the sand side had a drain, because I am using it as a second water table and have to turn it over to drain. I like the umbrella offers good shade, I did feel like the table was alittle low, the height provided includes the water tower.
Date published: 2011-07-06
Rated 5 out of 5
by
Two Boys Under 4
from
Can't live without it
This is our go to outdoor toy. Everyone must have one of these. We keep it on our deck and let the boys play with the hose filling it up and playing with the sand. Of course the water and sand get mixed up but that's what its all about. Even with the umbrella we still put sunscreen on the boys as we get full sunshine. We even bought some little plastic cars for them to play with. To prevent sand from getting in the house, we keep towels at the door and make sure their hands and feet get hosed off.It would be nice if the next model comes with a cover. So I empty the water as best I can, let it dry a bit, and at night put a small grill cover we had over it. Only negative is that its a little hard to get all the water out, but all the ones out there are like that.
Date published: 2011-08-28
Rated 2 out of 5
by
Daddy Day Care
from
Hoping for more
I put the product together and as I did, two of the plastic pieces that hold the screws in place broke off immediately. I had to super glue them back on. Table itself is not very sturdy. I put the suggested amount of sand in but it tends to bow and wobble quite a bit. My son loves to play in the sand and enjoys splashing in the water but ultimately all he did was put the sand into the water. This was difficult to clean when the sand got up on the upper level. He didn't even pay attention to the water tower or the accessories. We went out and bought him a shovel and bucket and that seemed to interest him more. Overall, I am disappointed with this product. This is the first time I haven't been happy with a Step2 product and we have bought around 10 items since my son was born in 2012.
Date published: 2014-07-07
Rated 4 out of 5
by
GiannasMommy
from
Great for outside fun!
We purchased this unit for use at Grandma/Grandpa's house, and my daughter loves it! We are currently in Upstate NY, and like to spend as much time as possible outside, and having this unit definately keeps my daughter entertained for hours!! Some light assembly is required. It is important to note that even though it looks to be 2 seperate pieces it is actually 1 very durable piece. Once it is assembled, it will stay that way. Therefore, storage in the cold winter months could be difficult. We eventually bought an "all weather" patio furniture cover, and throw that over the table come the cold days of fall and it keeps very well that way. It will hold a good 25lb bag of sand, and several gallons of water. (It has also held my 47lb child as well, as she tends to sit on it/get in it from time to time). We drag it around endlessly, from the concrete patio to the grass and back, and the legs remain intact. By no design flaw, when kids are enjoying this table both the sand and water end up mixing together to form a "beach like" area. There are no drains, but the table is light enough to lift and pour out the sand/water. (My parents are in thier 70's and can easily do this). It needs to be cleaned out every so often to keep it nice and new while exposed to the elements. It comes with a few durable cups and toys, including a fun "waterfall" type tower that keeps the little ones mesmerized for hours! One of the best features, it comes with a fun umbrella that provides just the right amount of shade/relief from the hot summer sun. While it's not necessary, when the table is on a hard surface like stone or concrete having a small holder/anchor for the umbrella stem is helpful. The umbrella comes out easily for storage. Overall, this is a wonderful product, and keeps the kiddos entertained for hours!! I just wish it came with a cover for daily use/winter storage. * Step 2- I think it would be a great idea to make some type of universal covers for the outdoor toys. I would certainly purchase one!!
Date published: 2018-03-05
Rated 4 out of 5
by
PA from
from
Shady Oasis Sand and Water Play Table
As soon as the play table was put together, my nieces, ages 1 and 2, were anxious to play with it. It was very sturdy once it was correctly assembled. One problem I had noticed was because of the heighth, the 2 year old was trying to climb into it. Maybe being a little bit higher may have prevented that. However, it looks like it will be hours of fun for them!
Date published: 2011-03-13
Rated 4 out of 5
by
fyremarble
from
Great Product!
I love this product. My child would often get into the pet food and make an awful mess. This sand and water table is an outlet for her creativity. She can put water in the sand or sand in the water and see what happens without being in trouble. She loves to play with this, in fact she grabs my hand and practically drags me to the backyard to play with it.
Date published: 2014-07-29
Rated 5 out of 5
by
JennyC
from
Hours of outdoor fun!
My 18 mth old son LOVES this table! We use it with water in both sides instead of sand, which I think is too messy. Found it at a great price at our local warehouse store. Drain on one side is very helpful...wish the "sand" side had a drain as well;) My son plays with this almost every day, and all his friends love it too! Definitely a playdate hit!
Date published: 2011-03-29
Can you buy just accessories
Please contact our Consumer Specialist Staff at 1-800-347-8372, Monday through Friday, 8am-5PM Eastern Standard Time for assistance.
Date published: 2018-05-10
Can you detach the sand table and just use the water table safely? 
The Shady Oasis Sand & Water Play Table™ is not designed to be separated.
Date published: 2018-04-27
Hi , we need to buy wheel, unbrella and accesories seperate can I buy?we already have table.
You can order replacement parts through our Customer Service Department. Please call toll free 1-800-347-8372 Monday - Friday, from 8-5 ET and we will be happy to assist you further with this request.
Date published: 2018-03-27
How do you remove legs?
Once assembled the legs of the Shady Oasis Sand & Water Play Table™ are not designed to be removed.
Date published: 2018-03-27
Did the screws come with this product ?
yes
Date published: 2018-03-27
How much sand does this have space for?
The Shady Oasis Sand & Water Play Table™ holds 40 lbs (18 kg) of sand.
Date published: 2018-03-27
Are there replacement parts available to purchase? I have the table itself with none of the accessories like the umbrella, water tower etc...
Yes there are! Contact Customer Service, the phone number is on the bottom of the product, they will certainly help you get what you need.
Date published: 2018-03-27
Can you purchase the sand table addition? We already have the water wheel table and would love to add a sand table to it.
At this time we do not offer an addition for any of our sand tables.
Date published: 2018-03-27