Shootin' Hoops Junior Basketball Set™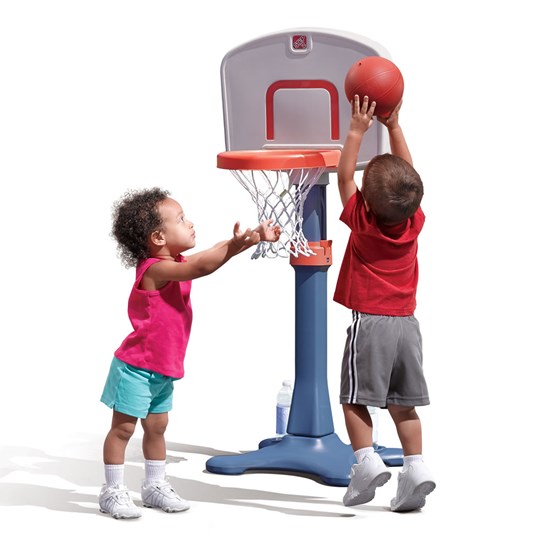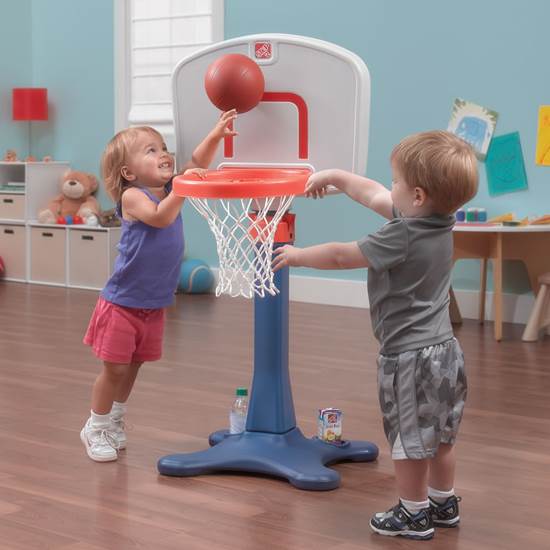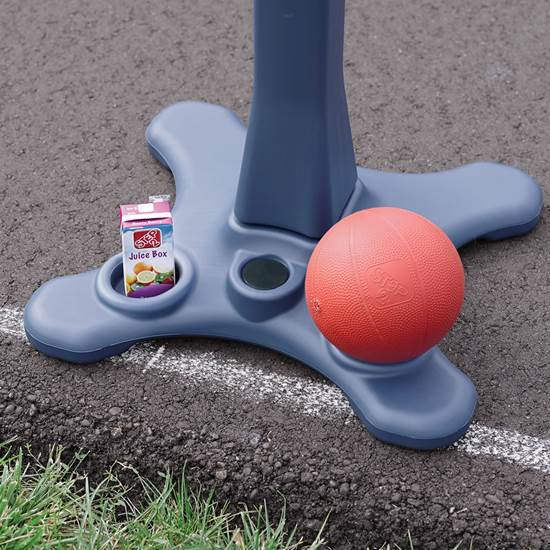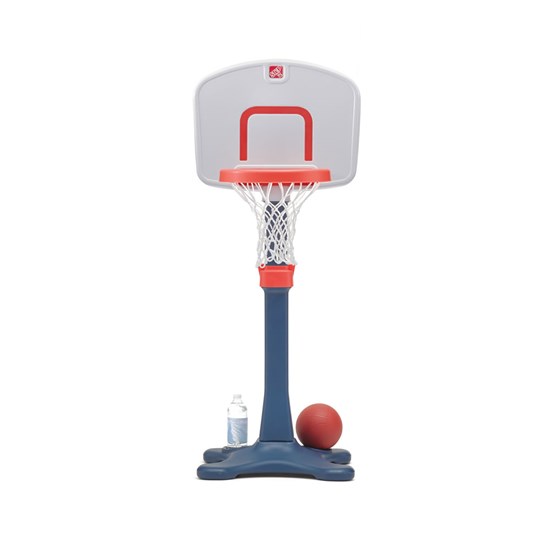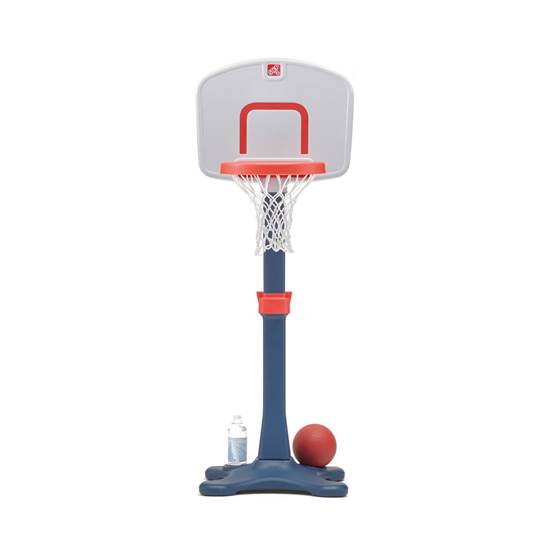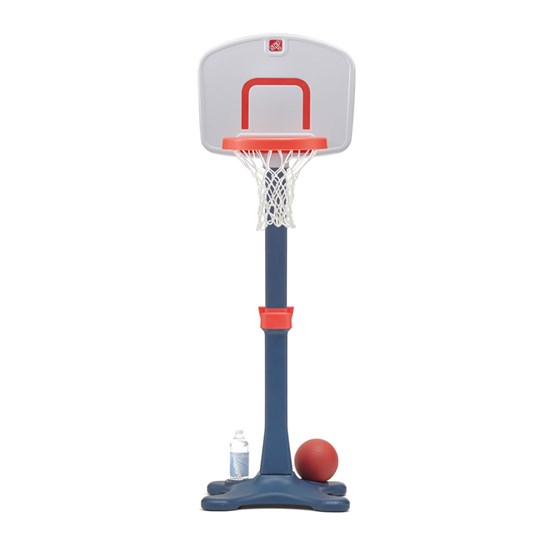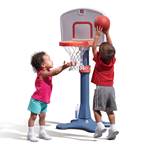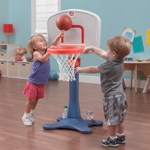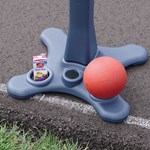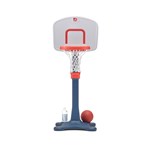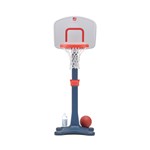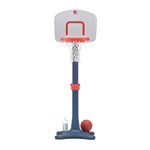 Shootin' Hoops Junior Basketball Set™
In stock
$44.99 $39.99
+4.99 shipping (via FedEx)
Little sports lovers will love to dunk for years to come with the Shootin' Hoops Junior Basketball Set™!
IS THIS A GIFT? DON'T SPOIL THE SURPRISE!
This item ships with an image of the product on its outer packaging.
Rated 5 out of 5
by
Anonymous
from
Easy Assembly But You Will Need a Pump
I bought this for my one-year-old grandson. It arrived just in time for his birthday party, and assembly was easy. However, as others have mentioned, the ball arrives deflated and no pump is included. So we couldn't use it until I went out and bought a $4 pump.
Date published: 2016-09-07
Rated 4 out of 5
by
Anonymous
from
Really fun product
We love the hoop itself. It's easy to set up and adjust. We gave it to our son for his first birthday and he immediately put the ball in the hoop. The only issue is that the ball that comes w/ the set deflated within hours - it seems to be really poorly made. We'll have to go buy a better one elsewhere. Other than that, we love the set!
Date published: 2015-12-24
Rated 5 out of 5
by
Anonymous
from
Great product
Our kids love the basketball hoop and we love that it is able to accomodate our 2,3, and 6 year old with ease by adjusting the height.
Date published: 2017-05-02
Rated 1 out of 5
by
Anonymous
from
Do not purchase this item.
This product was a waste of money. The goal will not stay attached. The clamps to adjust height will not clamp shut so the goal is only somewhat usable in the lowest position.
Date published: 2015-09-04
Rated 5 out of 5
by
Anonymous
from
the best sports toy for little ones
It was a Christmas present to my 2 years old boy, he really enjoy to play with the basketball set, easily puts together,it's not that heavy,so he can push it wherever he wants to play. We love it, the whole family can play.
Date published: 2014-01-02
Rated 5 out of 5
by
Devon
from
Great toy
Great toy, my 18 month old and 3 year old both love it. Not as stable as I'd like, because the base is not weighted, but it is sturdy and won't hurt anybody if it falls.
Date published: 2016-11-08
Rated 5 out of 5
by
Anonymous
from
I would buy this again
I bought one for my grandson for christmas and his 2 younger cousins had such fun with it that I bought one for them too. It is good for their coordination and learning to take turns. I like that it has an adjustable height feature so this will last them awhile. Good fun for jndoors or out.
Date published: 2016-01-30
Rated 4 out of 5
by
Granny B
from
Good Product
Good for a three year old. Gave as a present. I understand that there are some problems with the rim design but for a younger child works ok.
Date published: 2020-05-15
Do you ship to New Zealand?
Step2 Direct ships within the Contiguous United States only. Thank you for your interest in Step2 product retailers in New Zealand. Specific products and quantities vary by retail location, please contact Steptino with your specific request. Steptino 3 Moreton Drive Manly 0930 Auckland New Zealand 0274 741640 (p) www.steptino.com (w) sales@steptino.com (e)
Date published: 2018-03-02
Can the hoop be replaced, mine shattered after wind blew it over 
Please contact our Consumer Specialist Staff at 1-800-347-8372, Monday through Friday, 8am-5PM Eastern Standard Time for assistance with your Shootin' Hoops Junior Basketball Set™.
Date published: 2017-11-06
Is this made with BPA or BPS?
Step2 products are manufactured from Polyethylene and/or Polypropylene plastics. Step2 products are third party tested and are compliant to the CPSIA phthalate and heavy metal requirements per ASTM F-963 Toy Safety Standards as well as EN71 - Part 2 and 3 for UK chemical requirements.
Date published: 2017-09-05
Can additional ball be purchased?
I already purchased the set, but would like to buy 2 more balls.. Too bad:-( Thanks
Date published: 2017-08-01
It says this comes with a 6 inch ball. Can I use a regular size basketball as well?
The Shootin' Hoops Junior Basketball Set™ is not designed for a regular basketball.
Date published: 2018-03-27
I snapped the net in upside down. Is there a way to remove the net?
You will have to unsnap the pieces that hold the net. You have to be very careful when doing this not to break them.
Date published: 2018-03-27
I just got one and it does not adjust, am I missing something?
The 2 orange pieces on the sides of the pole are used to adjust the height. It is a little difficult for one person as you have to spread the 2 orange pieces out at the same time then push down or pull up to adjust. It should also be on your instructon sheet
Date published: 2018-03-27
Can the net be replaced? If so how?
You can order replacement parts through our Customer Service Department. Please call toll free 1-800-347-8372 Monday - Friday, from 8-5 ET and we will be happy to assist you further with this request.
Date published: 2018-03-27
What are the measurements on the backboard? And what is the total depth from the back of base on the floor to the front of the rim? Thanks for the help!
The backboard of this basketball hoop is 15" H x 20.5" W x 2" D. The depth of the base is 17" and the depth of backboard to the rim is 16."
Date published: 2018-03-27
The ball keeps getting stuck in the net. Does this  stretch over time ?
Is this product discontinued?
What is the diameter of the rim? Wondering if our 7" basketball can be used with this hoop.