Shop and Cook Kitchen Play Set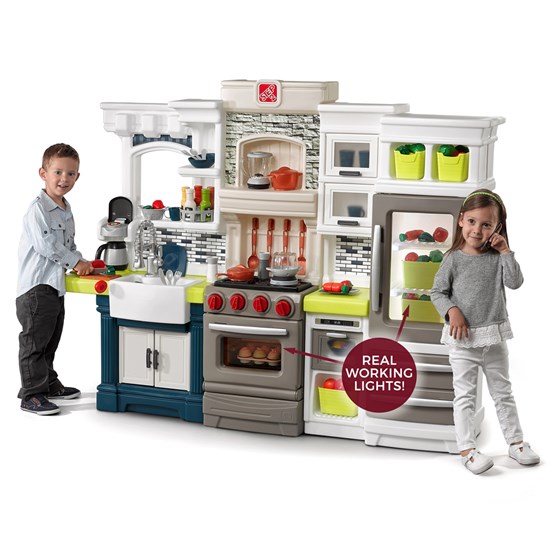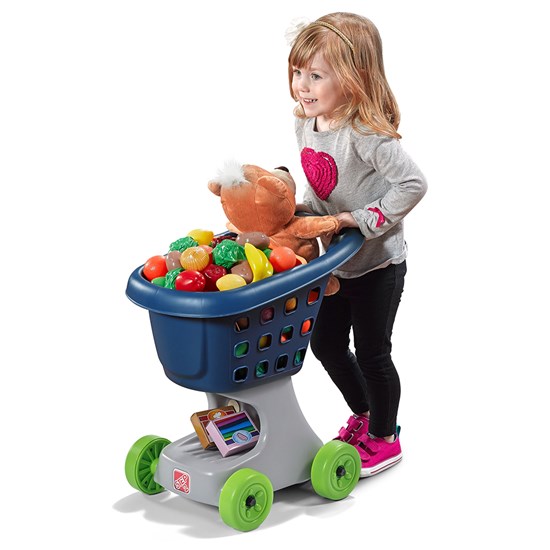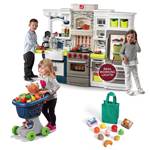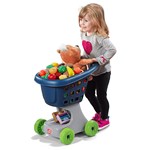 Shop and Cook Kitchen Play Set
In stock
$397.96 $367.96
+ FREE Shipping! (via FedEx) When will my item arrive?
Junior cooks will play for hours with the trendy Shop and Cook Kitchen Play Set by Step2.
IS THIS A GIFT? DON'T SPOIL THE SURPRISE!
This item ships with an image of the product on its outer packaging.
Rated 5 out of 5
by
Sportsmom
from
Excellent product!
We have kids ranging from ages 4 to under 1 years old and they all love the Elegant Edge Kitchen! We ordered the combo that included the shopping cart and it pairs nicely with the kitchen set. I tried to find something that I could constructively criticize but I don't think this thing could get any better and it's large enough my kids won't outgrow it for a long time. The popcorn popper didn't work so I called customer service and without any hassle they kindly replaced the item. We have purchased and assembled many Step2 toys so we have some experience but my husband and I easily put this together in about a hour. I highly recommend this product!
Date published: 2018-03-30
Rated 5 out of 5
by
Stephanie
from
Amazing!
My loves absolutely loves this kitchen! We bought it for his 3rd birthday. He plays with it for hours and loves making us breakfast. His cousins ages 5-9 love playing with it as well! I know our daughter will love it when she is old enough to play with it. We were going to go with a smaller kitchen set. But after setting this one up I don't think we could have got him a smaller one. This one fits perfectly in his room.
Date published: 2018-04-07
Rated 4 out of 5
by
Ssharon1
from
Did not exceed my expectations
Great kitchen set, very attractive and well made. Disappointed at the lack of interactions. Absolutely no microwave interactions and very little pretend prep space. I was so excited to see my almost 3yr old get lost in play with this set but she didn't. The oven light is barely noticeable and the sink is a tad tiny. I added some motion sensor lights and a veggie/fruit drawer that looks amazing. I had to use some fabric glue to glue the fridge shelves in place because they easily slide out also glued the veggie drawers. The shelves has 4holes in each corner that I assume is to screw in place but I honestly didn't want to put holes in it so I used clear fabric glue that can be very easy removed at any time without damage. Wouldn't mind paying a little extra for more interactions. It is however very pleasing to the eye and I absolutely do not regret buying. I would definitely recommend to buy. Step2, go back to drawing board and make this kitchen set and absolute "must have"
Date published: 2018-12-27
Rated 1 out of 5
by
Lexie32
from
Big disappointment
I was so excited for my little ones to open this on Christmas Day but that's not going to happen so to start the kitchen is missing so many pieces and parts almost as though I'm missing a whole other box altogether but it's not I checked the shipping details and it comes with four boxes which I revived via fedex. Shipping was extremely fast maybe four days after I placed the order. I'm just really disappointed I could have gone with another brand but I was very impressed with the reviews and YouTube reviews that I decided to go with step 2 which I see now was a huge mistake the only thing my girls asked me for was a kitchen and now they will think Santa forgot about them. Definitely not worth the 310 that was spent in total. Not fair that my girls will have tears instead of smiles on their faces for Christmas. Very disappointed
Date published: 2018-12-23
Rated 5 out of 5
by
Glow
from
So cute!!
I got this after seeing it at a friends house. It's just so cute and modern. I love it and my kids love it. Worth every penny. I put it together in about 5 hours. It was missing some cups so I called the manufacturer and they got them to me that same week.
Date published: 2018-10-06
Rated 5 out of 5
by
Momofsix
from
SUCH AN AMAZING TOY KITCHEN
purchased for our 3 year old and he loves playing with it!! This kitchen has so much more to offer and is perfect for a bigger kids to play with as well. We got it as a bundle and saved SO much money, thank you step2 company!!
Date published: 2018-09-06
Rated 5 out of 5
by
nancy
from
great product
I choose this kitchen because it was taller for older kids. Even boys like to play like they are cooking. They love it and love that it came with so much stuff. Step 2 has great products and they last forever.
Date published: 2018-08-30
Rated 5 out of 5
by
Melody
from
Granddaughters in Heaven
All my granddaughters love this amazing Kitchen! Love the size they are 3 and 4 and 9 will be with them a very long time. Love The lighted fridge and burners that sizzle, boil cook popcorn and blend a blender.
Date published: 2018-10-17
Can you ship to Azerbaijan 
Thank you for contacting Step2. We apologize but we cannot. Regards, Step2 Consumer Service
Date published: 2019-01-29
I want to buy this one. I'd like to know the dimensions of the box for this product. Thanks.
Sorry the box is long gone. I bought months ago 
Date published: 2018-12-18
Does this combo include the 78-piece accessory set (coffee mug, blender, popcorn popper, muffin/cup cakes with carrier, food that you can cut, etc) with the grocery cart, plastic play food, and shopping bag?
Yes! It includes everything in the photo very well made and my kids love it worth the money!!
Date published: 2018-08-30
Is this kitchen the same as the Grand Luxe Kitchen? 
Yes, the Elegant Edge Kitchen™ is the same as the Grand Luxe Kitchen™ with a different color scheme.
Date published: 2018-08-12
Will ship to Hong Kong?
Step2 Direct ships within the Contiguous United States only. Thank you for your interest in Step2 product retailers in Hong Kong/China. Specific quantities vary by retail location, please contact APAC Marketing Services, LTD. with your specific request. APAC Marketing Services, LTD. 2307, 23/F Metroplaza Tower 2, 223 Hing Fong Rd. Kwai Chung N.T. Hong Kong 852-2610-1717 (p) 852-2610-1993 (f) alexlau@apacscm.com.hk (e)
Date published: 2018-12-13