Side-By-Side Push Around SUV™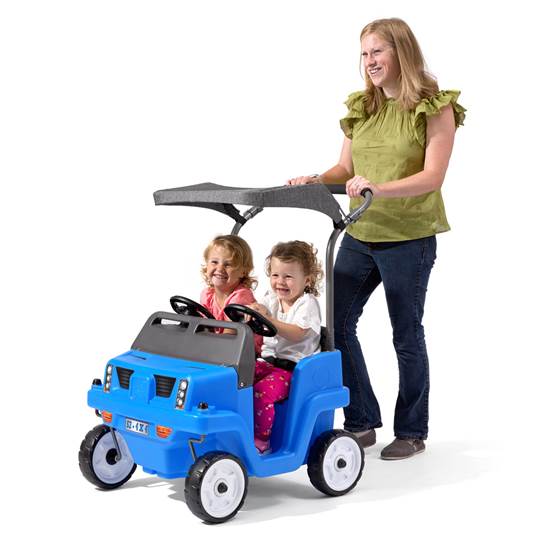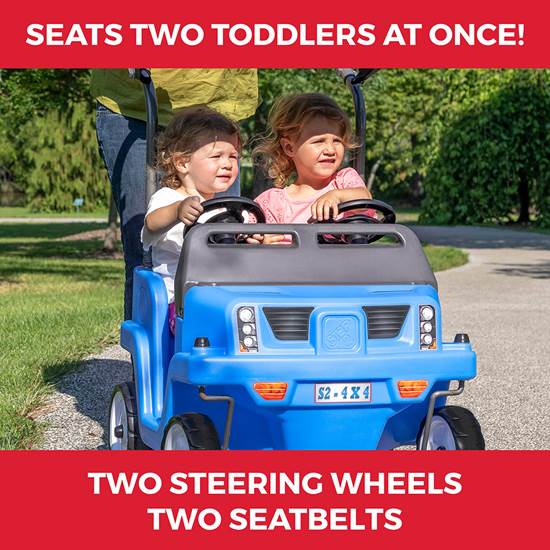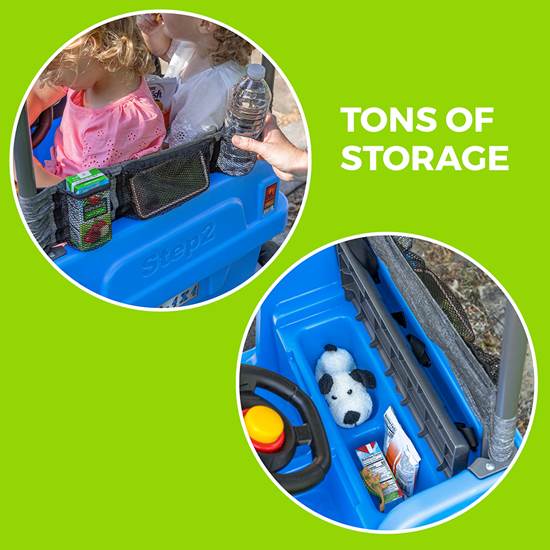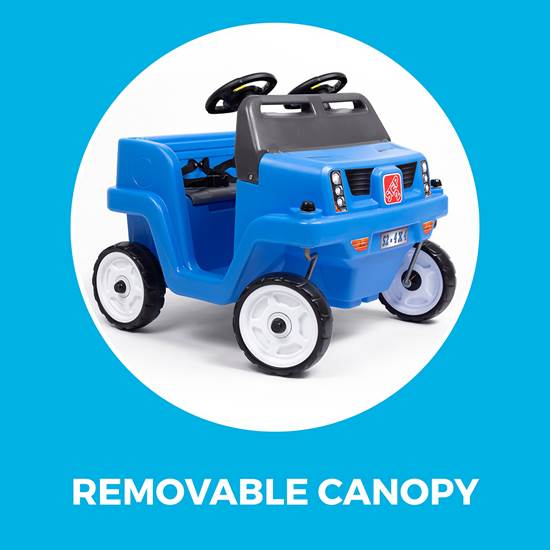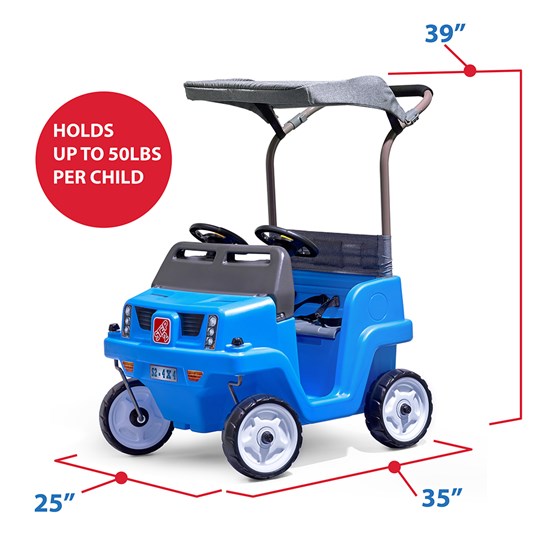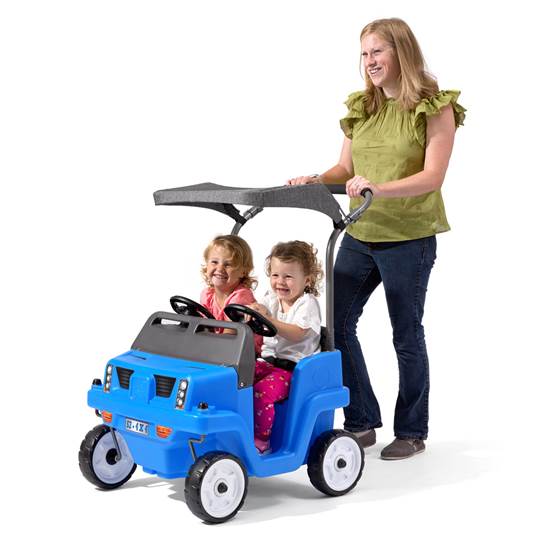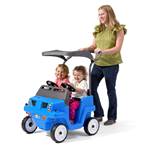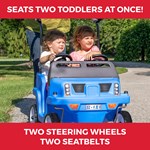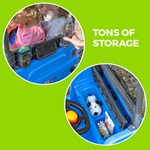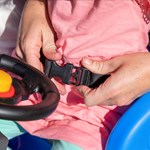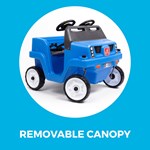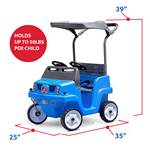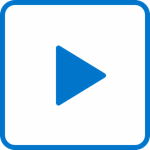 Side-By-Side Push Around SUV™
In stock
$159.99 $149.99
+4.99 shipping (via FedEx)
IS THIS A GIFT? DON'T SPOIL THE SURPRISE!
This item ships with an image of the product on its outer packaging.
Rated 4 out of 5
by
Kristen
from
Game Changer!
We received this SUV about a week ago and my 2 year old twins are absolutely in love! We used to take our daily walks in our stroller wagon but now this is all they want to ride in. It glides with ease up and down our streets, however gets hung up a little in grassier areas. It's very sturdy and I can see it being one of their favorite toys for a long time. The only downfall I can see so far is that the seating area is somewhat small. They are both tall for their ages and it is a little tight- they have difficulty reaching the cup holder near their feet. But overall a GREAT Step2 product!! Thank you Step2 for letting me test this item as part of the Step2 Toy Tester Program!
Date published: 2020-09-14
Rated 5 out of 5
by
cass87
from
Greasy Side by Side SUV
The side by side push around suv is a great product, a little time consuming to assembly. The boys love this side by side we go on walks and they think it's so cool they get to ride around in this suv. It has a shade cover which is a plus, and this cover is easy to remove if you would like to take it off, you can also remove the push bar so the kids can push it around the yard by themselves. My son loves to just sit in it and watch his cartoons or push it around the house. He's had hours of fun on this suv. He also love that the steering wheels freely move around and he gets to honk the horns. We will be recommending to all our friends and family thank you step 2 for making such a great product for my kids.
Date published: 2020-09-27
Rated 5 out of 5
by
Hmerr
from
Great for efficient transport of 2 kids, fun!
I love Step2 products! As a parent of 2, I have a list of brands that I purchase from to the exclusion of all others. Step2 is at the top of that list. I am not great at assembling such toys. This is about as difficult as a Cozy Coupe. That said, I had trouble with placing the push nut before the washer. On the coupe I did the same and was able to fix it. This time I had to reach out for help and customer service was efficient and so helpful! There is room for 2 small children and both get steering wheels with horns - no sharing required! Love the sunroof, most damage happens under 18. The wheels are an upgrade from the coupe: quieter and a little traction. Flexible storage for a variety of items. Great product!
Date published: 2020-09-29
Rated 4 out of 5
by
Cort1100
from
Very fun ride/push around toy!
This two seater is great for smaller children. My 4 year old is on the tall side and barely fits with his 2.5 year old cousin who is small for her age. It is easy enough to push through the yard though, so they have a blast taking turns pushing each other. The canopy is a great addition and helps keep little ones out of the sun and light rain. My only complaint in assembly is that the holes for the "push bar" were to small and did not align. After struggling to get it correctly in place, I finally drilled out the holes larger and it went in easily and locked in.
Date published: 2020-09-29
Rated 5 out of 5
by
Strgzrlly
from
My kids love it!
I got the Step2 Side-by-Side Push Around SUV for my two boys and they love it! It fits my 2 year old really well and my 3.5 year old loves that there are two steering wheels so they don't have to share. Our neighbor's son loves pushing my boys around our cul-de-sac in the SUV. I really like that it has two seatbelts to keep my kids safe and secure in the seats when being pushed around. It is really easy to maneuver the wheels on all types of surfaces.
Date published: 2020-10-06
Rated 5 out of 5
by
jcksrobbins
from
Tons of outdoor fun!
We are really loving the Side-By-Side push around SUV. It's so nice that 2 children can fit in in and be pushed around. There's plenty of leg room and even a seat belt to help keep the little ones safe. The canopy is removable and works great to block the sun so no one gets sunburned. The seats are contoured for a nice, comfortable ride. There is even some storage space under the seats for any goodies they might want to take along like snacks or toys. It pushes easily and my kids just love it.
Date published: 2020-09-30
Rated 3 out of 5
by
Kare
from
So so
Cute and fun but lots of issues with the front wheels. Doesn't do bumps or transitions well. And there is too much play in the front wheels causing them to get stuck often. Seating area is very small
Date published: 2020-11-17
Rated 5 out of 5
by
PaparazziMom619
from
Fun to bring to the Park
My Sons age 5 years old and 13 months old loved to go to the park riding this side by side push around SUV by Step2. It's perfect for both of them. Big enough for my oldest to fit comfortable. It also have the lap belt for security. They love to pretend driving the ride-on car it comes with both wheel on each seat. It comes with the shade for sun protection which is removable. Item is durable and can withstand pavement or rocky ground. We love it
Date published: 2020-09-18
Is this available I want to order says unavailable at all the stores.
This is now back in stock and on our website.
Date published: 2021-01-19
Please when is this available? Amazon does not know.
We apologize but we are currently out of stock and backordered on this item and several products. We are now running limited production as we were previously shut down due to the COVID-19 environment and unable to produce at that time. Our current production has been limited due to social distancing guidelines. We do not anticipate having this item & other products back in stock until late mid– late December. Please note this is an estimate as the timing could move back again based on demand, production schedule and retailer commitments.
Date published: 2020-11-25
I can't find this product on Australia website. How to make an order with this item? 
The Step2 Side-By-Side Push Around SUV™ is offered exclusively through Amazon.
Date published: 2020-11-10
Will you be restocking Amazon with this suv?
We expect to have the Side-By-Side Push Around SUV™ available within 2-4 weeks.
Date published: 2020-10-14