Sit and Splash Play Set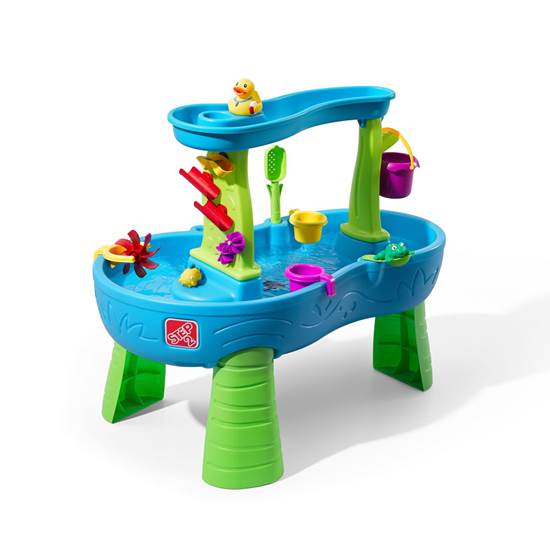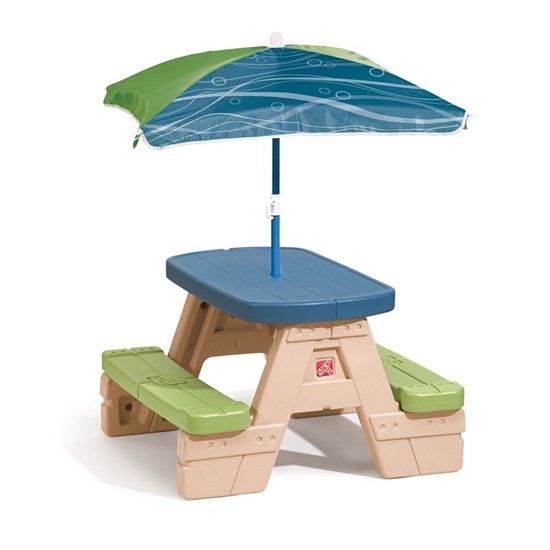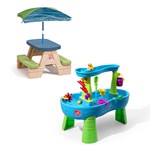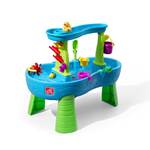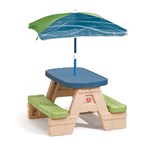 Sit and Splash Play Set
Out of stock
$139.98 $114.99
+ FREE Shipping! (via FedEx)
IS THIS A GIFT? DON'T SPOIL THE SURPRISE!
This item ships with an image of the product on its outer packaging.
Rated 4 out of 5
by
IW31
from
Cute with flaws
These are nice and cute but can be better. 1st the picnic table is very small, my 2 year old looks giant when sitting in it and the umbrella span barely covers the table. 2nd the water table is cool, lots of things to do with it and the rain part the kids love. My only complaint about the water table is that water gets into the posts that holds up the top part. When you put in the screws for it, it creates a hole that fills up with water, I'm afraid of it molding. So that could be better designed. Otherwise its a cute set, just a bit pricey.
Date published: 2018-05-22
Rated 4 out of 5
by
Boymom
from
Awesome.
I really like this set and so do my kids. It comes with plenty of toys and keeps them busy. Although I wish the picnic table was bigger/taller and so was the umbrella. And the water table instructions said to use a screwdriver for assembly, which was a little unreasonable since there aren't any predrilled holes. I used an electric drill and it was much easier to lunch through the plastic.
Date published: 2019-05-01
Rated 5 out of 5
by
Michelle
from
Best product
My daughter loves this shes has this since she turned a year and literally plays with both of them almost everyday
Date published: 2019-05-15
Rated 3 out of 5
by
Steph
from
Great product for outdoor fun!
Great quality toy very sturdy didn't like building the toy needs very strong hand to screw in the nails since it didn't already come with the whole ready to be used you'll need to screw them on yourself and apply force in order for it to be built other than that my child loved it
Date published: 2020-05-14
Rated 5 out of 5
by
Bentley
from
Perfect for a little one
Bought this for my granddaughter to play. She was so excited when she saw without water and even happier with water. This will keep her entertained for a long time. The table is perfect size and she enjoys sitting at for snacks.
Date published: 2020-04-21
Rated 5 out of 5
by
Seashell2
from
Super fun!
This water table is just perfect. It is a great size for our 20 month old granddaughter and there are just the right amount of activities to play with.
Date published: 2018-11-30
Rated 5 out of 5
by
Jenn
from
Great items!!!
He loves all of it !!! They were super easy to put together and came REALLY FAST!!!
Date published: 2020-04-26
Rated 5 out of 5
by
Talia
from
Sit splash and play
Excellent choice for my 2 year old granddaughters birthday! Would recommend
Date published: 2019-06-28
When will these be back in stock? 
Thank you for contacting The Step2 Company. We are currently out of stock and backordered on this item and several products. We do not anticipate having this item & other products back in stock until late - June. Please note this is an estimate as the timing could move back again based on demand, production schedule and retailer commitments. We are now running limited production as we were previously shut down due to the COVID-19 environment and unable to produce product. Continue to check our website daily for availability and updates. We apologize for any inconvenience.
Date published: 2020-06-16
Can the umbrella be used for the water play table too?
Yes, The Rain Showers Splash Pond Water Table™ is designed to hold a 42 inch umbrella.
Date published: 2020-04-17
Does the umbrella from the table fit on the water table?
Hello. I was just wondering how long it normally takes for you guys to get items back in stock?
Is there any projected date that this may be available again for purchase?
Due to this set being out of stock, will you allow customers to purchase the items separately but for the same price as this set is advertised? If not, do you have any idea when it may be back in stock and available to order?