Sizzle & Smoke Barbeque Grill™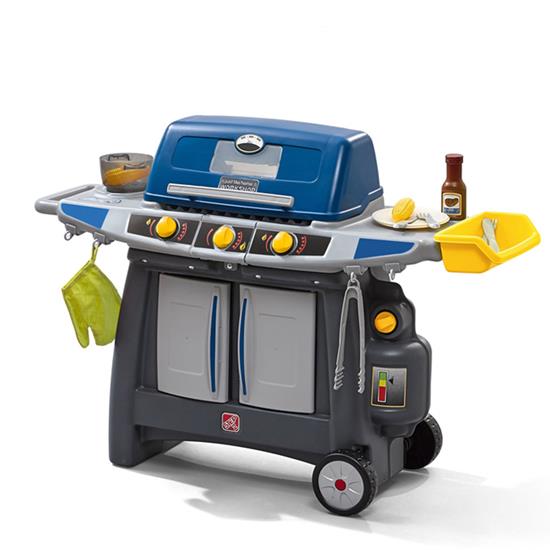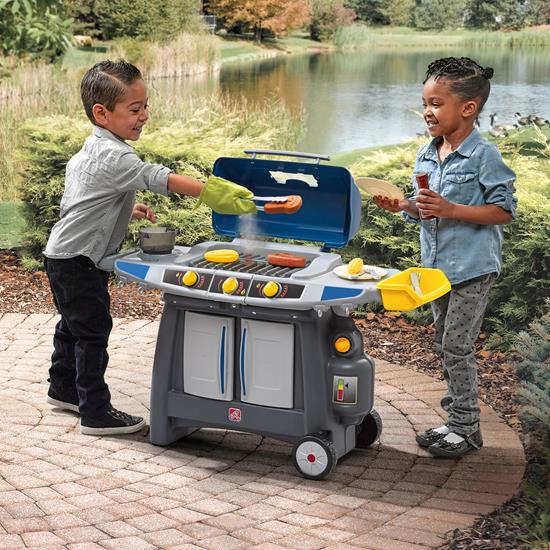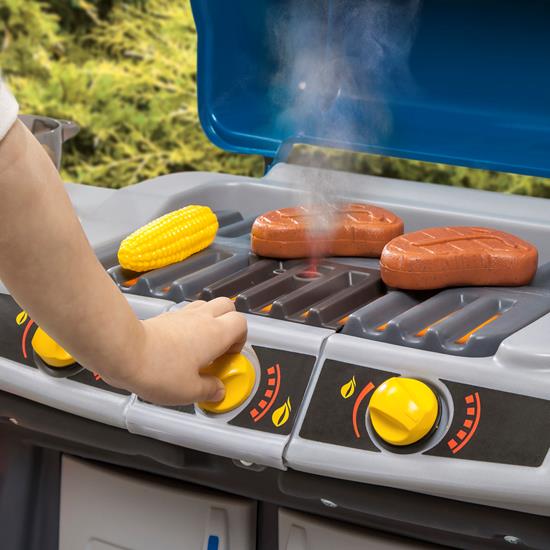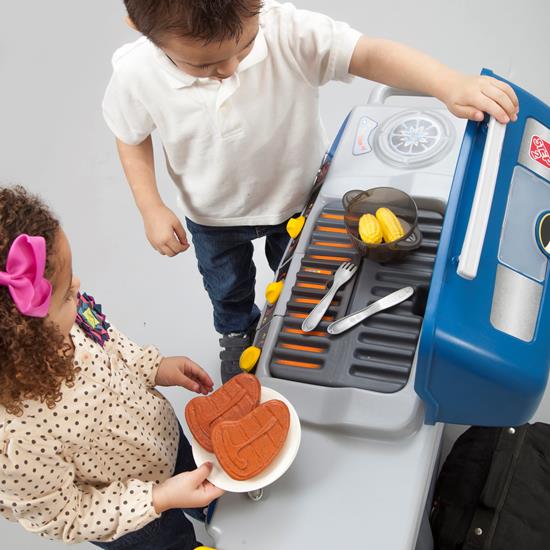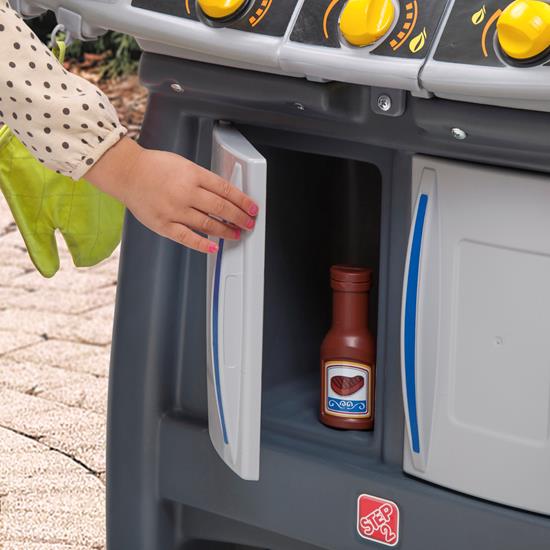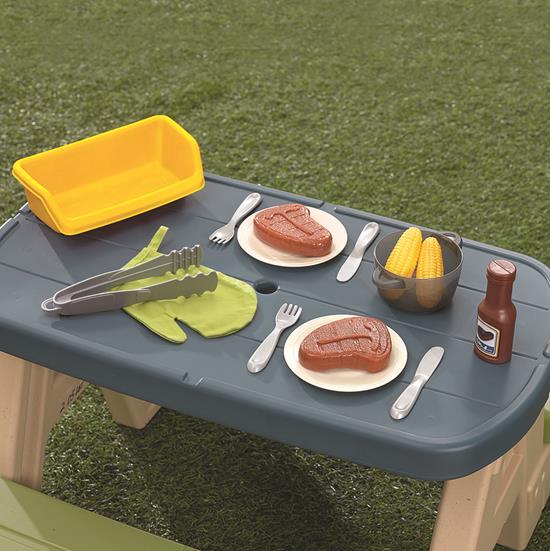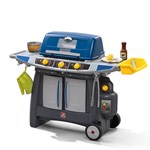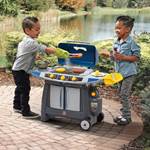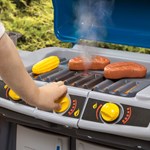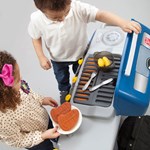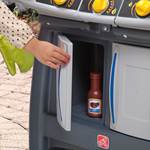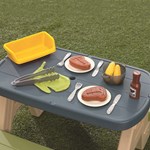 Sizzle & Smoke Barbeque Grill™
In stock
$74.99
+4.99 shipping (via FedEx) When will my item arrive?
Cookout just like mom and dad with the Step2 Sizzle & Smoke Barbeque Grill
IS THIS A GIFT? DON'T SPOIL THE SURPRISE!
This item ships with an image of the product on its outer packaging.
Rated 5 out of 5
by
Mags
from
Gas Grill
Great product. Easy to assemble. Durable. Hours of fun so far
Date published: 2019-06-20
Rated 5 out of 5
by
chrismnunz
from
Very Fun!
I received the Step2 Sizzle & Smoke Barbeque Grill in exchange for my honest review as part of the Spring 2019 Toy Tester Program. First off I want to say that the assembly was fairly easy and straightforward. Normally a screwdriver is all that is need however, in our case we had two holes that were not completely drilled through where the accessory hooks needed to snap in. We needed to get our drill out and drill the holes through before the hook would snap in. Unfortunately, before discovering this issue we assumed we needed to just push the piece in with more force and sadly ended up snapping one of them.This one unfortunate incident did however lead to a redeeming experience with Step 2 customer service. I emailed explaining my issue as well the fact that my 2.5 yr old had ripped the loose Step2 logo sticker off the front of the grill and they had a replacement hook and sticker in the mail the very next day! It was a great experience. For the function of the grill... It works just as described and is a lot of fun. My daughter has a blast "cooking" us steaks on the grill and boiling corn in the pot on the burner. It comes with 2 plates, utensils, steak sauce, tongs and an oven mitt to serve your food up. My daughter's favorite feature is the center knob that clicks, makes a grilling noise and creates red glow on the grill with or without the "smoke". The cool water vapors are an awesome idea and really look like smoke on the grill. I would have rated 4 stars based on our assembly issue but my positive interaction with customer service and speed of replacement part delivery bumped it back up to 5 stars. Overall this a fun innovative toy that my daughter loves to play with both inside and out. Thank you Step2 for letting me test this item as part of the Step2 Toy Tester Program!
Date published: 2019-04-26
Rated 5 out of 5
by
Mariaferrer
from
Such a great great toy!
Thank you Step2 for letting me test this item as part of the Step2 Toy Tester Program!!!!! We couldn't be happier with it. My son is 2 1/2 years and we are now constantly looking for toys that are entertaining, educative and good quality as well. And this one has it all! I had no idea how much he sees and learns from us until he saw the grill assembled and immediately started using it properly... It was surprising. He is so excited with it and keeps asking to play with it once he opens his eyes in the morning. So now that you know my son loves it, let's talk about parent's stuff. First, assembly. It surprised me how many pieces I needed to put together and that I had to use actual screws so that tells me just one thing: this toy is made to last forever. I didn't have a hard time assembling it, it was very easy and the instructions are super clear. The only thing I struggled with was the screws since the toy doesn't come with holes so be aware that you'll have to put some extra or, like I did, use an electric drill XD Second, once it's assembled, looks amazing. It's sturdy, all pieces match perfect and it's very lightweight, so we can take it out everyday and take it back home at nights, so it doesn't stay on the back yard overnight. Three, hours of fun. I never saw my son spending so much time with the same toy. Once he starts getting a little bored, I offer him to grill some other things like real veggies or fruits and he loves that. Also I found out this has been a great way to make him feel more familiar with some foods he doesn't accept and learn more about them as well as the names of new foods. Four, it is super safe. No much to say about this but I'm just not concern of letting him play by himself. I know he wont get hurt or will eat something he's not supposed to. If I'd improve something about it it would be just two things: 1) Corns are more likely to get chewed since it's the way they eat them in real life, so I would make those as hard as the beef pieces are. And 2) The yellow side tray falls easily so I would definitely make a click system for it or add a screw as the rest of the toy. We love it and play with it everyday, so thank you Sep 2!
Date published: 2019-04-26
Sizzling sound not working and steam won't come out. Changed batteries volutes still not working. When you turn knob, it's not doing anything? Do I need to replace the center piece? 
Please contact our Consumer Service Specialists at 1-800-347-8372 Monday through Friday, 8AM -5PM Eastern Standard Time and we will be happy to assist you.
Date published: 2019-07-01
Can this be used outside?
The Sizzle & Smoke Barbeque Grill™ may be used outdoors, however leaving the unit in the rain may cause the stickers to peel.
Date published: 2019-04-22