Skyward Summit™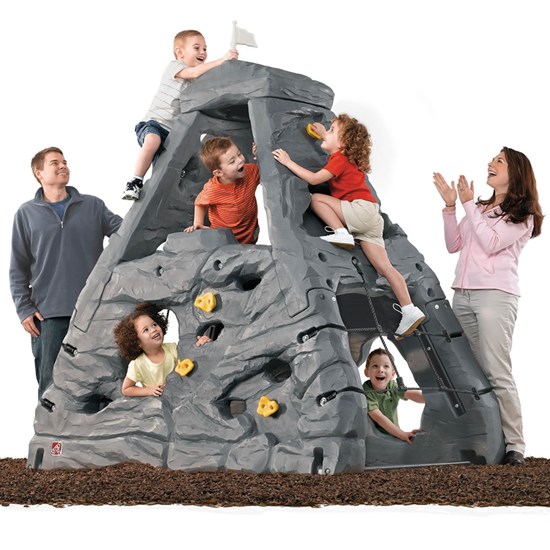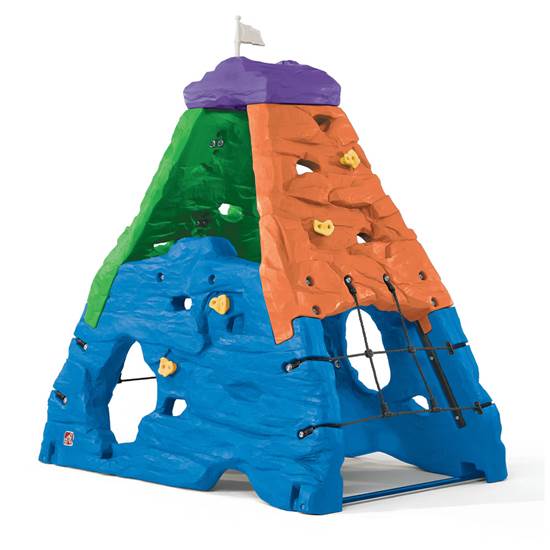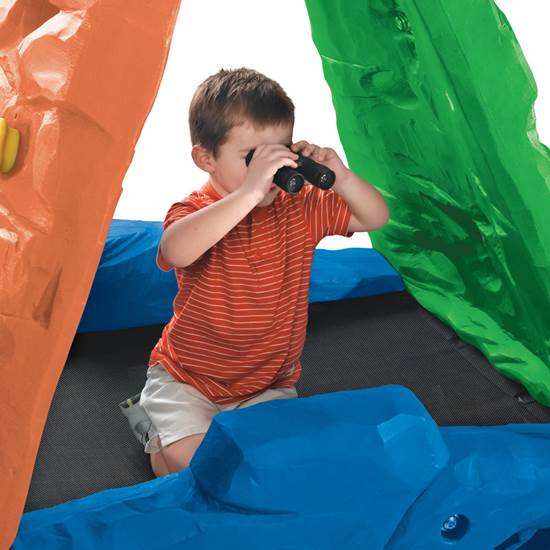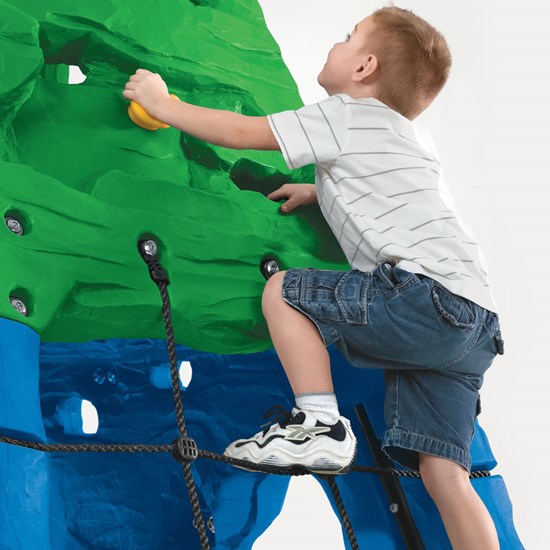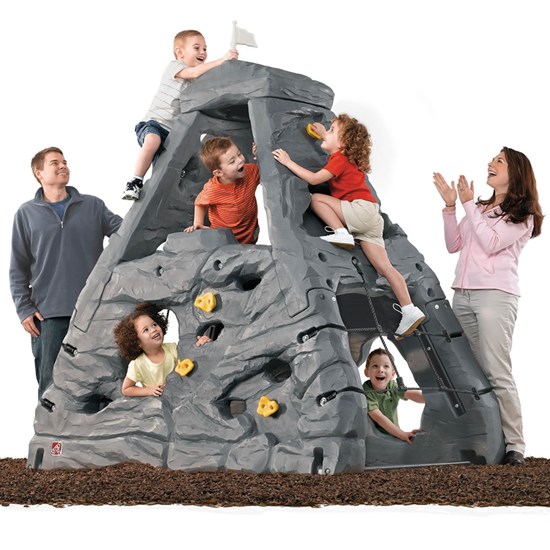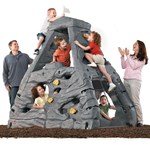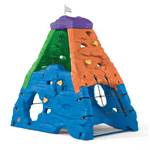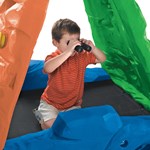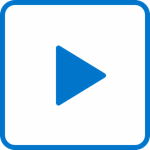 Skyward Summit™
In stock
$714.99 $639.99
+$99.99 shipping (via Truck)
IS THIS A GIFT? DON'T SPOIL THE SURPRISE!
This item ships with an image of the product on its outer packaging.
Rated 5 out of 5
by
tankerwifey
from
Very happy with our purchase!!!!!!
We have two little boys 3 1/2 years old & 18 months! They are both very active and love playing outside! We do not have a very large backyard so the standard swing set would not fit, we were very excited to find something different and not something everyone else has! My 3 1/2 year old LOVES it! Its still a little hard for my 18month old to use the rock climbing wall but he still has fun in the "cave" underneath! The assembly was a little difficult! My husband and his friend put it together.. start to finish 3 1/2 hours! but it was well worth it!! My boys love it and it has already had many many hours of fun on it!! I DEFINITELY recommond this!!
Date published: 2011-06-07
Rated 5 out of 5
by
Animal
from
Great activity for our Grandkids
This unit is very well built. I assembled it in 3 hours by myself. If you have building or prior assembly skills it can be done by one person. Use the online assembly video, it was very helpful. The old adage of 'a picture is worth a thousand words' is true. I prepared the are of the yard with weed barrio and bark chunks to prevent having weed and grass problems plus give the kids an extra cushion. I used permanent marker and put 'Skull and crossbones' on the flag and named it 'Skull Rock' One piece of advice, I took 20 minutes and sorted out the various sets of bolts, washers, nuts and bagged them by set numbers and bagged the sets by number. Really helped out at the assembly.
Date published: 2015-05-04
Rated 4 out of 5
by
Jordan
from
Great for little climbers
I purchased this product for my toddlers. The suggested age is 4-8 years old. My son and daughter are younger than that, but I could not keep my son from climbing on the furniture. I decided to find something that is designed for climbing. After the hours of frustrating assembly, this product is doing what I wanted it to do. My son no longer climbs on everything all over the furniture in the house.I would not purchase this item as a Christmas gift unless you pre-assemble before Christmas day or plan on spending half of Christmas day assembling this wonderful giant rock.
Date published: 2015-04-15
Rated 5 out of 5
by
Happy Mom and happy kids!
from
Skyward Summit
Very cool design! This is such a wonderful switch from having the usual climbers and swing sets. My son could not wait to play on this. He is 6 and it is a wonderful challenging rock climbing wall for him. He loves the "secret hideout" in the center and putting the flag on top after climbing all the way up is the icing on the cake! The only real issue I had was a little trouble with the instructions. They did not seem to be as explanatory as needed so I had to go back and redo a couple of things to make sure the parts went together correctly, especially when it came to the very top assembly. But over all the assembly went well, having another adult to help is recommended.
Date published: 2009-04-04
Rated 4 out of 5
by
Mommytoaboy
from
Definitely pleased with it!
This is a great product, my son loves it. Only thing I wasn't erythromycin pleased about was how poorly it was made in certain areas. For example, we had to drill through 75% of the holes because there was still plastic in them and we couldn't get the screws through. We also had to make our own screws because the ones that came with it were not catching onto the threads properly. Also the welding that was done on the bottom bars was done so poorly and crooked that the screws where going in completely side ways. With all the issues we had putting it together it took us 4 1/2 hours until it was complete.
Date published: 2016-05-04
Rated 4 out of 5
by
Anonymous
from
So Glad We Bought
This toy is wonderful! We have almost 3 year old twins and while they are a bit young to crawl by themselves all over the toy, they love hiding in the lower section and hanging out on the middle section. They also love practicing their climbing and have been doing surprisingly well with the foot and hand holds. This climbing structure will definitely get a lot of use over the years.My only complaint about it is that the rope pieces were a pain to install. My husband put the rest of the toy together with no problems/complaints, but trying to place the rope climbers and screw them in place was a major time consumer. That is the only reason why I gave four stars instead of five.
Date published: 2011-09-22
Rated 3 out of 5
by
Mommy of 3 active kids!!
from
Ok, nothing great
I did many months of research upon buying this climber. I already have the step 2 timberlast swingset, and love it, but my kids were constantly climbing in a lilac bush in our backyard, so I thought that this climber would be good for them. We set it up, it took 3 hours, but overall it was not difficult. My kids 3 and 6 however played with it only a few times and quickly lost interest, infact a few minutes later they were back to climbing in the tree. So, we took it apart and immediatley took it back to the store. Needless to say I was very disappointed after hearing all the great reviews, it just seems like after a few days kids would get bored with it, mine did.
Date published: 2010-05-17
Rated 5 out of 5
by
Anonymous
from
Sturdy and fun for the little ones!
The pros: Very sturdy and works well with several kids playing at one time. The connection points were accurate and fit together cleanly.This has provided a great deal of fun for our little ones and friends. Assembly was fairly easy but for the nets.The cons: Assembly was a breeze until we got to the nets which took the longest. Not a deal breaker for future purchases but it is very helpful to have two people do the assembly and to assemble on a flat surface. Also, there are lots of nooks and crannies on this piece and you have to be careful of insects (wasps in our case) building nests and stinging little ones.I would definitely recommend this to someone else and anticipate many years of use as it is very durable.
Date published: 2016-07-20
Because of where I live I'd need to lift this up and down off the deck! Down in morning and back up at night! Can this be done?
It can be, but you'd need two people to do it. It's not super heavy, but it's awkward to move as one person, especially going up and down. 
Date published: 2021-06-26
How many boxes is this shift in
This comes in one large box.
Date published: 2021-05-28
When will this product be available?
I was pretty excited about getting this for my grandson.  I was asking the same question at one time.  I emailed the Step2 website and they did respond.  Although I had to keep checking the site and found it was available again before they let me know.  It's a popular item especially this time of year. Keep checking and order when available.  They are located in Ohio.  They may have a contact number.  Not sure.  Grandson loves it.   Good luck,  Will D.
Date published: 2021-05-22
Can I add a slide to this?
I own this & I really don't think so.
Date published: 2021-05-15
Does this product have any latex in it?
We haven't noticed any latex in the Skyward Summit.
Date published: 2021-04-29
Can you please give me informations about shipping the item to Slovenia, if it IS even possible (time + price). Thank you!
Step2 ships within the Contiguous United States only.
Date published: 2021-03-16
Can you assemble half of this for toddlers? Without the top half?
No. For safety purposes all products should be fully assembled. Please note that this unit has an age reccommendation of 4-8 years.
Date published: 2021-01-19
When is this expected to be back in stock? 
We apologize but we are currently out of stock and backordered on this item and several products. We are now running limited production as we were previously shut down due to the COVID-19 environment and unable to produce at that time. Our current production has been limited due to social distancing guidelines. We do not anticipate having this item & other products back in stock until late mid– late December. Please note this is an estimate as the timing could move back again based on demand, production schedule and retailer commitments. Please note that this product and many others may not be available on our website and only available and sold by Walmart or Amazon.
Date published: 2020-12-07