Slidin' Into Summer Water Table™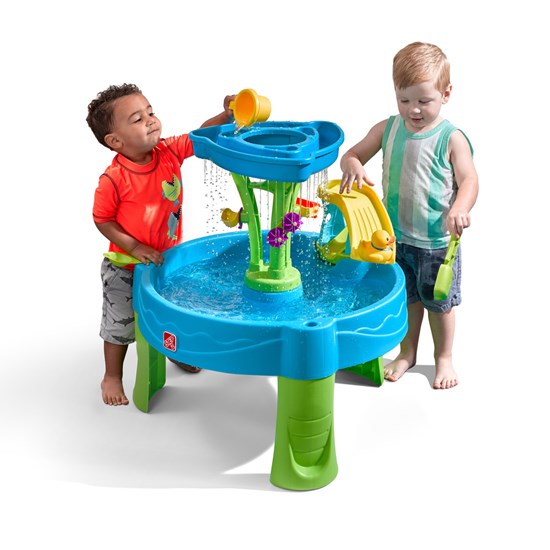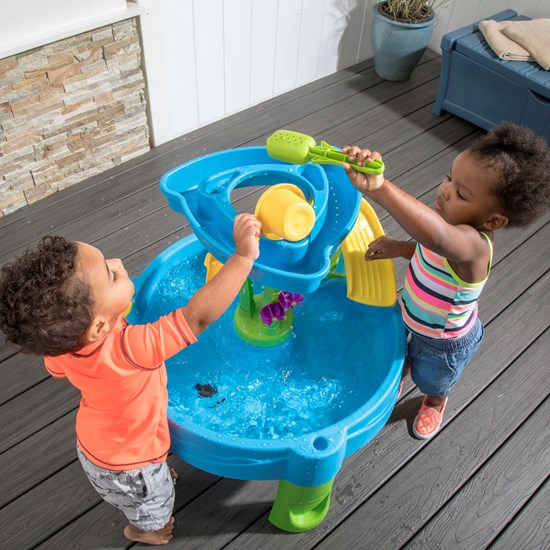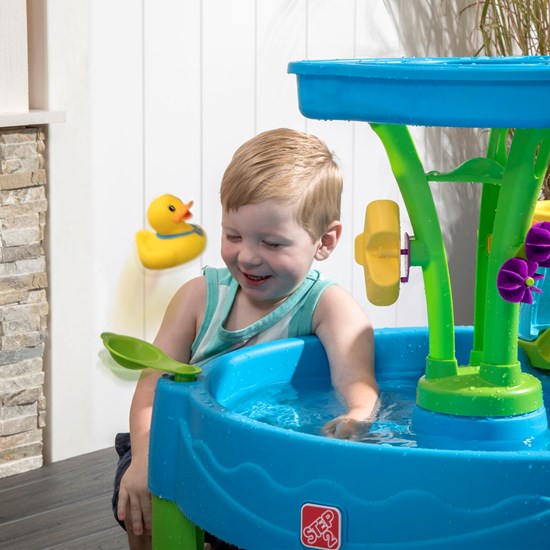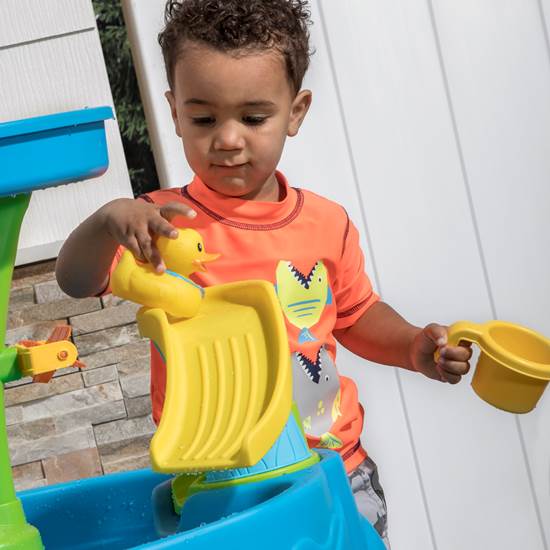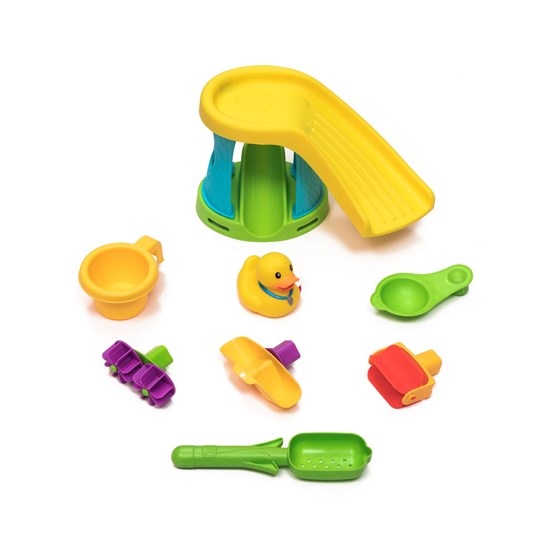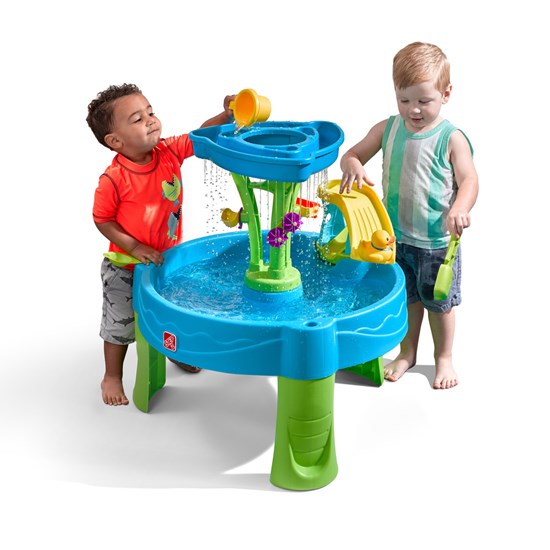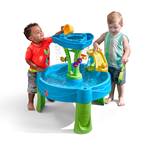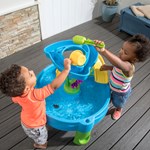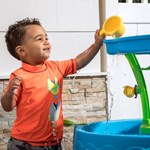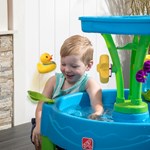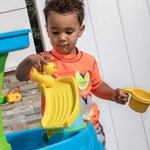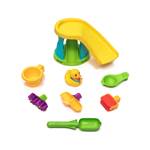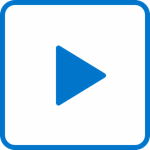 Slidin' Into Summer Water Table™
Slippin'.Slidin'. Ducky Fun! It is time to splash around with the Slidin' Into Summer Water Table™ by Step2.
IS THIS A GIFT? DON'T SPOIL THE SURPRISE!
This item ships with an image of the product on its outer packaging.
Rated 4 out of 5
by
Brandy
from
Fun for all ages!
Thank you to Step2 for letting me test this item as part of the Step2 toy tester program! I would like to start with, my 3 kids ages (almost 7, and 3 year old b/g twins) really enjoyed playing with this indoors. Assembly was really easy and took about 15 minutes. All you need is a screw driver! The over all quality of the toy is pretty good but I did take off a star for the quality. The toys that came with the table that you have to snap together in my opinion are alittle cheaply made. I will say, I would purchase this table over and over again because there are several different fun things to do on/with the table! Thank you Step2!
Date published: 2018-03-19
Rated 1 out of 5
by
Aunt Jill
from
Missing critical part!!!
How disappointing! Family is coming up for Memorial Day (tomorrow) and the package is missing the base for the tower! Since it's Sunday I cannot reach the company in hopes they might deliver the missing part in time for my 2 year old niece to enjoy tomorrow. This is a time sensitive purchase. She can only play with it a few months of the year and she will out grow it in a couple of years. If I keep it at my house, which was the plan, the amount of time she could play with it is limited. I wish I had not purchased the product and I wish I had not told my niece I had a surprise for her tomorrow, Poor quality control. Aggravated and disappointed customer.
Date published: 2018-05-27
Rated 3 out of 5
by
NanaG13
from
Needs improvements
Step 2 is a great company But I do not feel this item lives up to their reputation. I bought it for my great granddaughter, the water from the top water tower does not drip and accelerate the movement of anything, the only way to twirl the wheels etc. is by hand as the water drips down to far out. Also the three screws hold on the top tower where the water drips out of if you hand feed it in art and they can be seen from the underside of the unit therefore if a child is reaching across they just might be able to mess with those screws or scratch their hand. I believe the mounting screws should be hidden also believe you should have a washer there to hold them in otherwise the top tower is a very wobbly . I am debating returning it although my great granddaughter loves it
Date published: 2019-05-28
Rated 4 out of 5
by
Katiethurm
from
Fun for kids of many ages
We have 3 children, 5 year old boy, 3 year old girl and 10 month old girl. We are always looking for outdoor activities and this water table is perfect for all 3 of our kids. There a quite a few toys and attachments that come with this water table that keep the kids occupied. Assembly was very easy and most of it was done by my 5 year old. Water table does seem a little wobbly and that is why I took a star off. But all and all this is a great watertable. My kids used it inside with no water and loved it even more outside once it warmed up enough for us to use it.
Date published: 2018-04-11
Rated 5 out of 5
by
Chdv3811
from
Awesome summer fun!
My kids love this water table! The size is perfect, my one year old can stand up comfortably to play in the bottom section and my 5 year old loves the top sprinkler where he can pour water out to make it rain to the bottom. The included bucket and scoop are perfect for pouring and the water spinners are a fun feature as the water rains down. The table was easy to put together and directions easy to follow. The top level and legs snap into place and are easy to remove (by an adult) for storage. Looking forward to lots of summer fun with this water table!
Date published: 2018-04-09
Rated 4 out of 5
by
Kenzie
from
Excellent entertainment for hours!
I was a little worried about the heigth of this toy when I ordered. I have a newly 2 year old boy who is a little on the shorter side. But, it is a great height for him. He LOVES it and plays for hours. The table came with a few toys and every one of them are great. There was no need to add others, though you could. What's even better is that it is also great for my 6 year old. I can fill up the table and both will giggle and play! The y'all center piece seemed a bit wobbly when putting it together, but it all has stood strong against my rambunctious boys.
Date published: 2018-04-12
Rated 5 out of 5
by
Mommy in Flats
from
Hours of Splashing Fun
My littles love this water table especially the shower feature. I sometimes fill it with the hose in the reservoir for more splashes. It's perfect for littles and so much easier to empty than a baby pool and twice as fun. Even my nine year old gets into the splashing action. Thank you Step2 for sending me this product in exchange for my honest review.
Date published: 2018-05-18
Rated 4 out of 5
by
Nadya
from
Great product for all ages!
My children, ages 2 (girl), 4 (boy) and 6 (boy), enjoyed this product! They played with it for hours the first day and couldn't wait to use it again the next day. Assembly took about 15 minutes and clean up was as easy as 1,2,3. My kids also got to join in on the clean up fun with the easy pull drain. The toy accessories were all age appropriate and they really enjoyed the "sprinkler" like effect at the top! We greatly enjoyed being able to review this product and hope to be able to do so again in the future.
Date published: 2018-04-11
Does the top tier disassemble easily for storage or a tarp to go over during non use?
Yes
Date published: 2019-07-27
The table came without the plug and the screws for mounting the top piece. I want to get these pieces ASAP
Please contact our Consumer Service Specialists at step2-company@step2.net or 1-800-347-8372 Monday through Friday, 8AM -5PM Eastern Standard Time and we will be happy to help you.
Date published: 2019-05-31
Is this table compatible with the Step2 water table accessorie kits they sell at Canadian tire?
The accessories available at Canadain Tire are compatible with the Summer Showers Splash Tower Water Table™.
Date published: 2019-05-17
Can this be disassembled easily?
Yes
Date published: 2019-05-13
Is the top fountain sold separately? To add on to the duck pond water table, for example.
The top fountain of the Summer Shower Splash Tower Water Table™ is not compatible with our other water tables and is not offered separately.
Date published: 2019-03-05
If using as a sand box, how much sand would it hold? Figuring out how much to buy. Thx
The Spring Time Splash Water Table™ is designed for water play. If you are in need of help finding a play table to fit your needs please contact our Consumer Service Specialists at 1-800-347-8372 Monday through Friday, 8AM -5PM Eastern Standard Time and we will be happy to help you.
Date published: 2019-02-25
What are The dimensions and weith ok The boxes tris comes in?
The packaging dimensions of the Summer Showers Splash Tower Water Table™ are as follows : 28 inches in Height X 5.875 inches in Width x 29 inches in Depth
Date published: 2018-08-22
Is there a place to put an umbrella?
The Summer Showers Splash Tower Water Table™ does not have a place for an umbrella.
Date published: 2018-07-05