Sounds 'n Slide Inflatable Bouncer With Sound Effects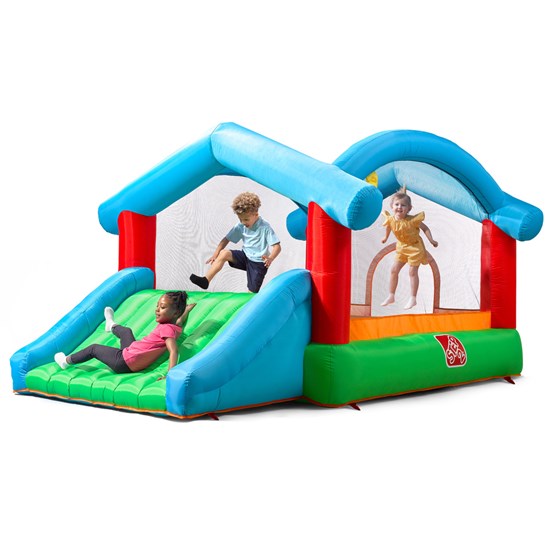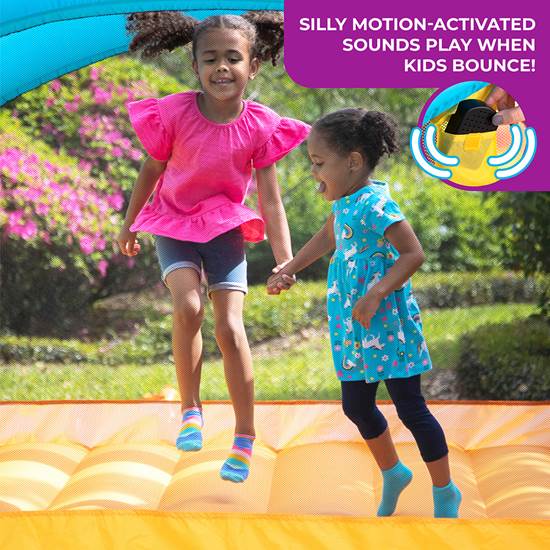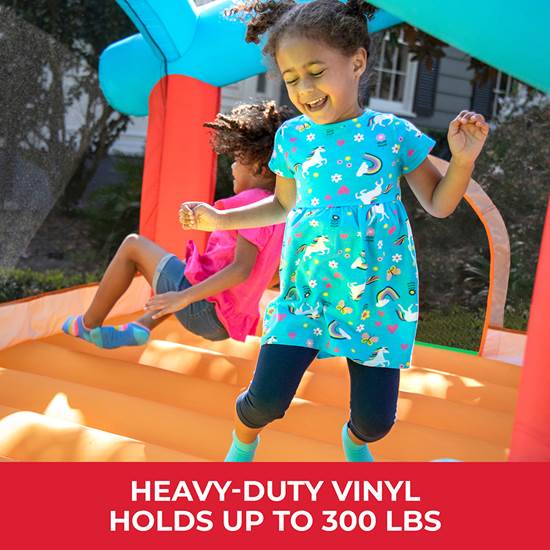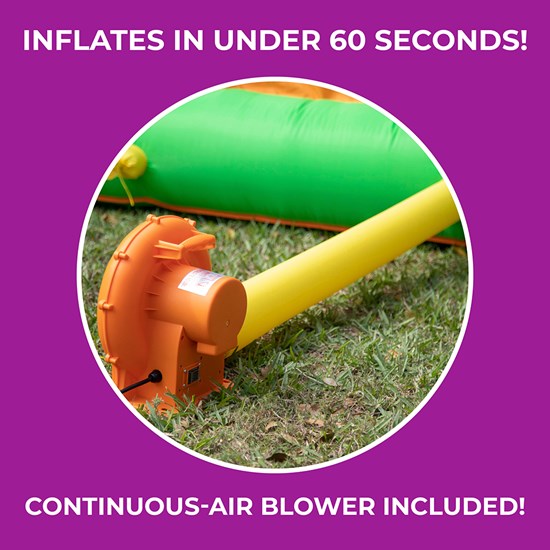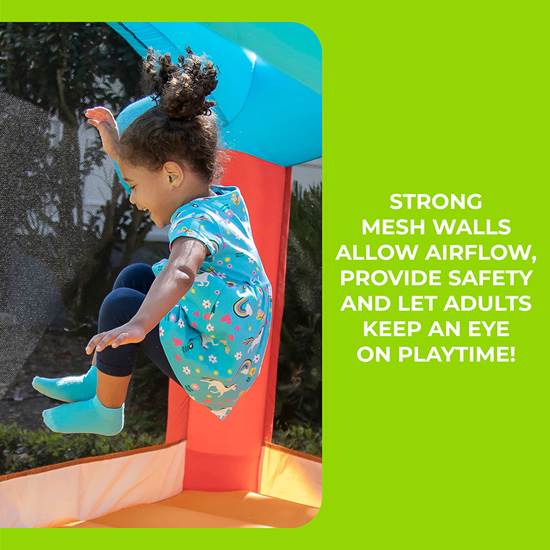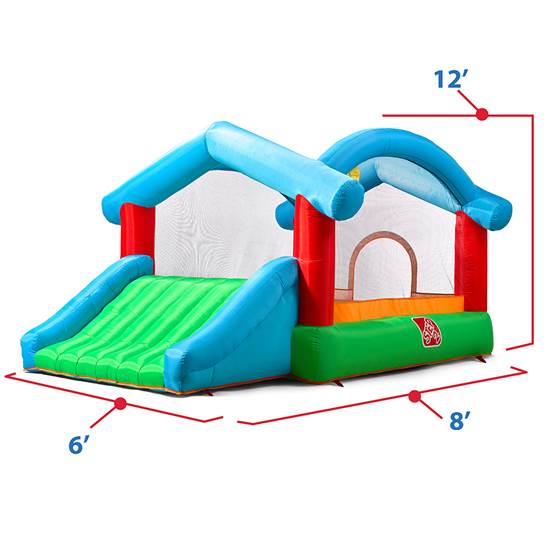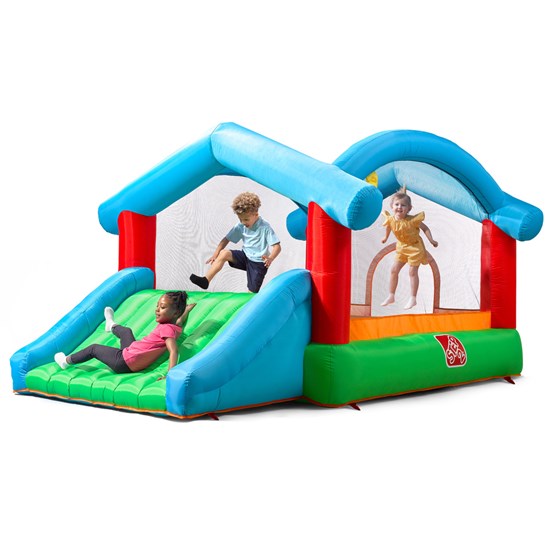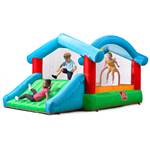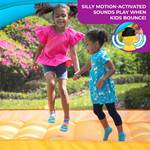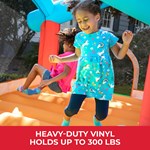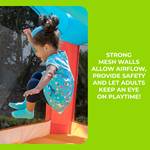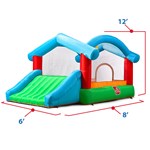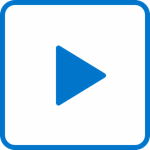 Sounds 'n Slide Inflatable Bouncer With Sound Effects
Out of stock
$299.99 $279.99
+$5.99 shipping (via FedEx)
Bounce-house fun and zany sounds? Your little ones will love the Step2 Sounds 'n Slide Inflatable Bouncer With Sound Effects!
IS THIS A GIFT? DON'T SPOIL THE SURPRISE!
This item ships with an image of the product on its outer packaging.
Rated 5 out of 5
by
Kthnry88
from
AMAZING
The Play Yard Inflatable Bouncer is so easy to set up. The instructions are easy to follow and it sets up in minutes. It even comes with a nice storage bag. Its perfect for a few kids to play at a time. I have 3 kids ranging from 11 months to 6 years old and they all loved it. We set it up as soon as it came and had hours of playing. Deflating it is just as easy as setting it up. You just turn it off. Unhook everything and fold it up. I can not recommend this enough to people with small children.
Date published: 2021-05-06
Rated 5 out of 5
by
StephAnne7
from
A Fun Time for All
My kids love this bounce house! My kids were so excited to receive the bounce house and could not wait for me to set it up. Set Up was really simple and took just a few minutes. I was very surprised how easy it was. The product seems well made and seems to be very durable. We plan to use this bounce house all summer to keep the kids entertained. If your kids are looking for a fun time, then this is your answer!! I would highly recommend this product!
Date published: 2021-05-21
Rated 5 out of 5
by
Jess7979
from
Adorable!
This bounce house is so much more than I could have ever expected. It is very well made, easy to setup and provides tons of fun for kids of many ages. My five year old spent almost an entire weekend playing in this, he would have slept in it had we let him. Lol. It was so easy to get setup and going and storage and taking it back down are also simple tasks. A++
Date published: 2021-05-25
Rated 5 out of 5
by
ecwtwitch
from
Hours of fun!
This inflatable play yard bounce house is seriously amazing. It is a bit pricey but worth the investment. My kids beg to play on it basically everyday. It is extremely easy to set up and very quick to inflate and take down again. -Approximate footprint is 12'x7' (including the slide). You are also supposed to have 6' clearance on all sides if possible. -About 6' tall at the highest. -The weight limit is total 300lb or 120 for an individual. My husband and I got on but didn't bounce. -The cord to plug it in is 25' long from the blower to the grounded plug. *You should not use an extension cord with it and yes it needs a three prong/grounded outlet. -Only 30 seconds to inflate! -Noise level: About 80 dcb at air intake but 60 dcb two feet away. So, you can easily talk and hear one another and it isn't a bother. -It comes with multiple so it doesn't blow away or move. The stakes go in vertically and are very snug and do not slip. They have ridges on them for extra grip in the ground. They are included and there are enough for the bounce house (8) and the blower (4). We keep a rubber mallet in our bag so we can pound them in. -A noise machine is included and it makes fun little noises (boing, splat, toot, etc) as the kids bounce and hit the walls. This is a fun feature but not really needed. If you want to use it, you will need 2 AA batteries -The storage bag is approximately 19"x16"x 18" tall and it can fit the inflatable folded and all rolled up, the blower w/ cord, and stakes which is nice because it all stays together in one spot. The bag is honestly my only complaint as it comes with three dinky 1" square hook and loop patches to keep the bag together. It feels like this was an afterthought and it really could use a different type of closure, zipper, pull-string, or more than three small velcro pieces. Also the handles could be longer so it's easier to move or transport from place to place. -It also comes with patches in case it rips or gets a hole. We haven't needed those yet but it's nice that they are included from the get go. To set it up, you find an open space and lay it out. Tie up the small air release vent and attach the long one to the air pump. Plug the pump in and test it to make sure it works. Then turn it on and blow the play yard up. The pump remains on while in use. Stake down the play yard there are two on each side including two for the slide. Stake down the air pump and make sure the intake area is clear so nothing gets sucked in. Let the kiddos at it!!! To take it down you turn off the air pump, untie to small air release vent and detach the tube from the blower. It collapses really quickly. Take out all the stakes and put them in the bag. Unplug the pump and roll up the cord however you choose. You fold the slide in, then fold it over three times so it's about a foot or so side. Then roll it up. We put the bag at the other end and roll it up and into the bag! We put the pump in last and on top once it is cooled. Easy peasy! This is a great addition to the backyard pandemic entertainment. It's great for kids 8 and under with supervision of course. Our kids 6, 4, and 1 and they love it. We bust it out on weekends mainly to make it more special. They jump, roll, slide, and run from their play set to the bouncer and back again. It kept them entertained for like two hours one weekend! Totally worth it!!
Date published: 2021-05-19
Rated 5 out of 5
by
momof5
from
So much fun!
This was the hit of the neighborhood! My kids are 3, 4, & 6 and all of their neighborhood friends have had an absolute blast jumping and sliding. Two of my kids have sensory processing disorder and this will be an excellent tool to meet their sensory needs. It's large enough for all 3 of my kids and their friends.
Date published: 2021-05-22
Rated 5 out of 5
by
Amberlynne1184
from
Absolutely amazing
First off let me say this is a life changing! My daughter plays on this for at least 4 hours a day. She absolutely loves it. It comes with its own carry bag which is very helpful when picking up and storing. It has everything you need to set up. The machine its self is very durable and rather easy to use. The set up process is extremely simple. It comes with stakes to hold it down in place. I love the switch in the machine because its covered to protect the button. When you turn it off the air stops so it makes it easy for the child to shut off when they are done. The fabric is easy to clean yet extremely durable. The bounce is perfect for my daughter. The slide is also very durable and easy to clean. We absolutely love this product. So far its been a hit with all the neighborhood kids and family. It gives everyone something fun to do without having to leave your own yard. I cant brag enough about this bounce house. If you are debating on purchasing just do it. You will not regret it!
Date published: 2021-05-19
Rated 5 out of 5
by
meagan
from
love it
the instructions were clear and the bouncer was easy to set up. the cord is 25 feet long and was long enough for us to not need an extension cord so that was a plus. it inflated very quickly...like under 30 seconds. my kids love this and play on it for hours!! don't hesitate, just buy it!
Date published: 2021-06-07
Rated 5 out of 5
by
Smadamay
from
Hours of fun!
This bouncy house is the best entertainment for the kids. The motor for the blower is very quiet. The kids love listening to music while they jump. The house is very well made and is safe. They look forward to many future gatherings to play with their family and friends.
Date published: 2021-05-23
How big is the bouncing area?
I see that the maximum combined weight is 300 pounds but I'm wondering what is the maximum individual weight the bouncer can hold?