Splish Splash Seas Water Table™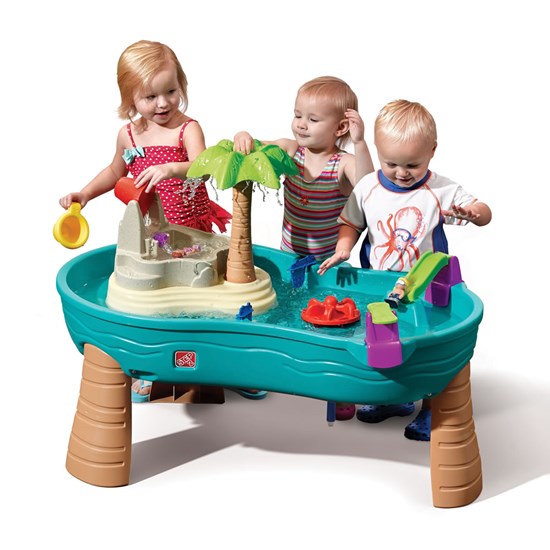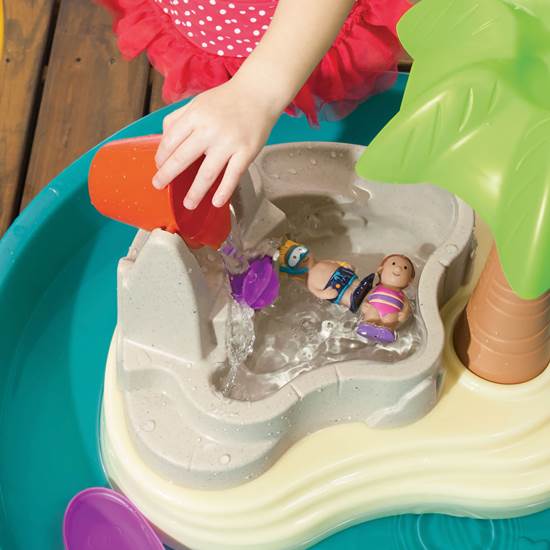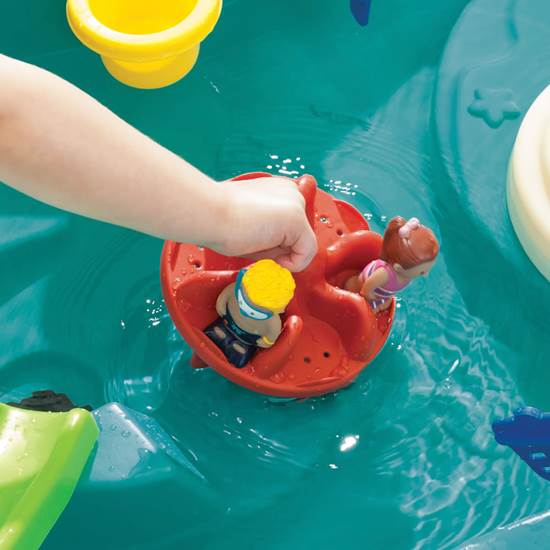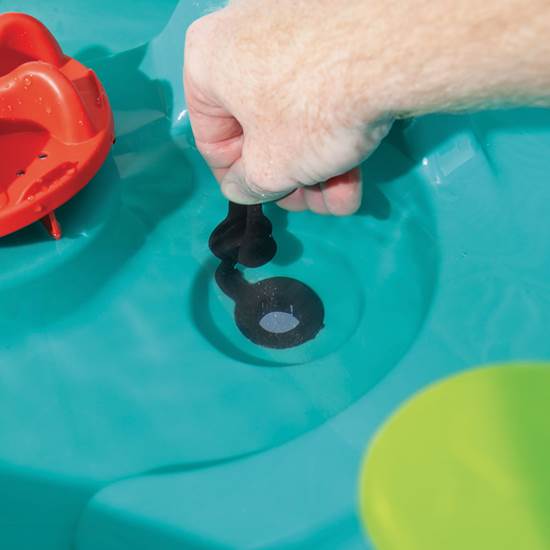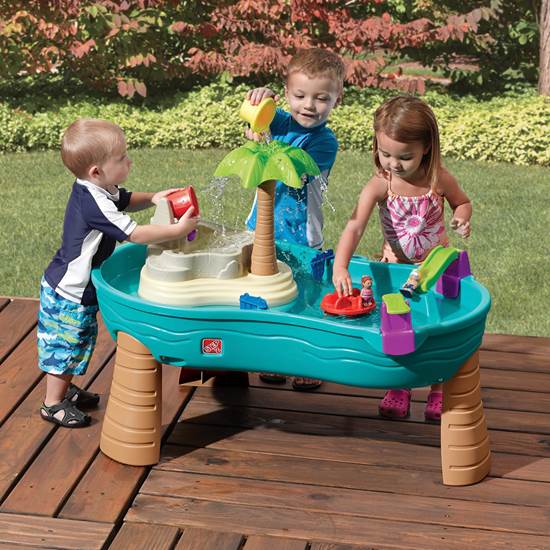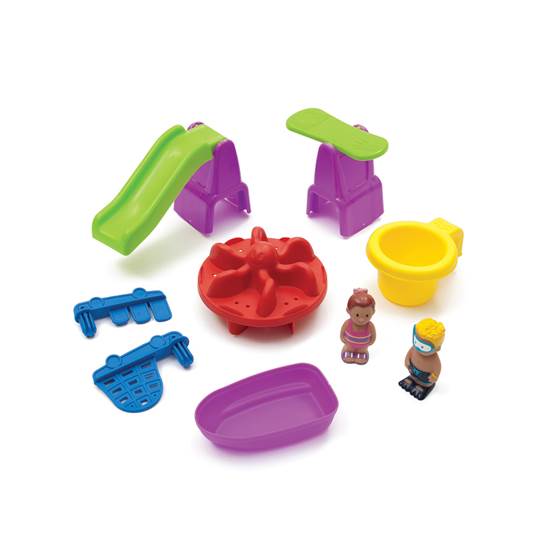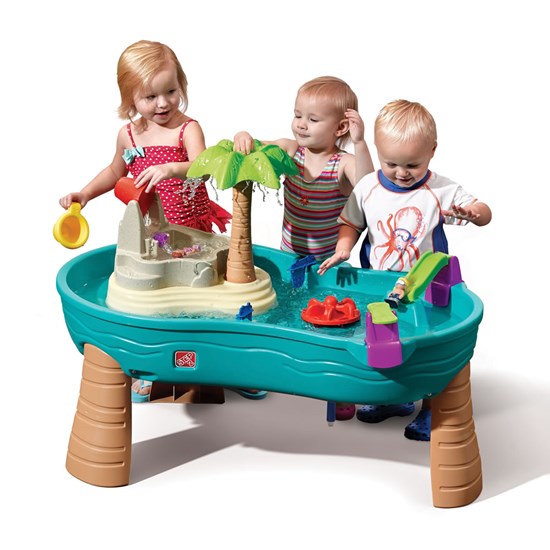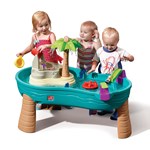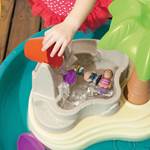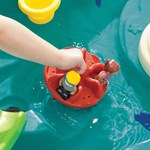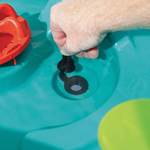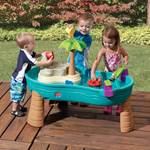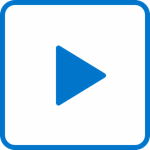 Splish Splash Seas Water Table™
In stock
$84.99 $79.99
+4.99 shipping (via FedEx)
This Step2 Water Table provides little pirates with hours of outdoor play fun.
IS THIS A GIFT? DON'T SPOIL THE SURPRISE!
This item ships with an image of the product on its outer packaging.
Rated 2 out of 5
by
Sad momma
from
Not what I expected
My son received this for his first birthday. I was really excited because I bought the same one for my niece last year. It went together fairly easy last year. This yeAr was another story. The directions were poorly written and hard to follow. We didn't receive all of the parts needed. When it came to attaching the island and tree to the bigger water area, it wouldn't stay attached no matter what we did. I called the company and within several days received the missing pieces and a new screw to attach the island. Again the same problem. We finally got it somewhat attached and when filled with water, it continuously leaks. Will be call and returning. Very sad.
Date published: 2015-08-06
Rated 4 out of 5
by
ozzy mum
from
Attractive
it's an attractive water table and like most Step 2 products it's very sturdy and reasonably robust. It's good if you're just after water play. But if you'd like a table you could also use for other sensory play such as filling with sand or pebbles or mixing it up, I'd opt for a different Step 2 table with less plastic in the middle of it. My just turned 3yo was quickly bored by it whereas she has enjoyed a different table when there was less plastic and more room internally for use of strainers and splashing rocks or washing babies etc. I think this table is best for 1 and 2 year olds. Older will also like it but they'll soon outgrow it height wise and activity wise.
Date published: 2018-01-22
Rated 1 out of 5
by
FunMom
from
Poor design - Not intended for 18 month olds
I purchased this for my 18 month old because it was specified for her age range. It looked beautiful on the box and once assembled also looked beautiful. The 'toys' along the side come off to easily. I called the step two company and was put on hold after describing the problem. After the representative came back she mentioned that the parts are supposed to be easily removed for play. The parts are way too easily removed and have no grip to stay on the unit, if you touch it, it simply fall off. Also, draining the unit is a pain and am worried that mold will form.
Date published: 2018-08-14
Rated 4 out of 5
by
Anonymous
from
No instructions
Great little play set, however it doesn't come with directions so you have to go online to figure out how to put it together. Not very intuitive otherwise. My little one enjoys it tough. Great it has an umbrella for fair skin, but there is a piece that I think goes with it that I might have put in the right spot? It was left out of the instructions online and I did my best guess where it needed to go to secure the umbrella.
Date published: 2015-07-01
Rated 5 out of 5
by
Anonymous
from
I recommend this product.
We purchased this water table for our grandson's second birthday. He loves it! It is just the right height for him. There is room for two children to splash. His 4 yr old sister even sends her Barbie dolls down the slide. The drain plug in the bottom makes draining the table an easy task. I made a tie down plastic cover for the water table to keep out leaves, etc. I highly recommend this water table.
Date published: 2016-09-01
Rated 5 out of 5
by
KSBlueyz
from
Great Watertable!
After researching this, and many other tables, I went with this one because it seemed the most interactive and had an umbrella. I'm sad to see that it doesn't have an umbrella anymore. Either way....it's a great table. I love that it has a plug to make draining the water easier at night. It cleans easily and keeps my sons (ages 1 and 2) easily entertained for a long time. Well worth it in my experience!
Date published: 2016-05-31
Rated 1 out of 5
by
Jamie
from
Extremely poor design
Had this table for a yr and the design so so poor. The way the tree attaches is horrible. Inside the tree section mold will come as well. Not to mention there is no plug drainage in that section so the only way to truly dump out all the water is to dump the table upside down. Very disappointed. Will be calling as I will no longer even attach the tree because mold has grown INSIDE that attachment. For now I'm plugging the whole with the screw and a rubber and to hold it as there is no choice to attach it or not. Mind you, even though there is a hole there, here is still a large section of water that will not drain unless you physically turn the table over. Again, veryyyyyy poor design. I'm not a tot company and even I could have thought this one through better.
Date published: 2018-07-01
Rated 5 out of 5
by
Anonymous
from
WONDERFUL Water Table
We were so very pleased with this water table. It went to together easily. Pop Pop had it put together in under an hour. Our sweet grand daughter LOVES it!!! She isn't walking yet, but she can stand next to it and splash and play. Thanks for creating such a wonderful product.
Date published: 2017-05-19
Has anyone had any issues with mold in the water table or under the palm tree?
YES! Very frustrating that the water doesn't drain out with the rest, and that you have to unscrew the tree to clean it properly.
Date published: 2018-04-26
None of the holes are ore drilled, is that the way it is supposed to be or is mine defective?
Our screws are self tapping screws that are able to go through the plastic. You may need to start them with a hammer. Please follow the instructions or find the indents in the plastic to line up the screws correctly. We do this in an effort to ensure that no shavings inadvertently are left over in the box as a result of pre-drilling. These shavings could pose a choking hazard to little ones.
Date published: 2018-03-27
Can you add an umbrella to the splish splash sea water table?
The Splish Splash Seas Water Table™ is not designed for an umbrella.
Date published: 2018-03-27
I have water in the base of the table. Is there any way to drain it out? Just to be clear, it's not in the actual play area, but inside the blue play area. I don't want it to get moldy or smell!
If your product is accumulating water, you can drill a ¼ hole on bottom away from any seam line, tip it and this should drain out the water. If you have additional questions about this process please call toll free 1-800-347-8372 Monday - Friday, from 8-5 ET and we will be happy to assist you.
Date published: 2019-07-06
Hi- I have seen this same table offered with an umbrella. I know it is not included but is there a spot on the table to attach an umbrella sold separately?
Yes there is. The umbrella that you can buy from Step2 is kind of small and doesn't provide a lot of shade. I would recommend looking around for an umbrella that will provide more shade.
Date published: 2018-03-27
Can we buy replacement parts? Our dog got ahold of the people & other accessories for the table.
You can order replacement parts through our Customer Service Department. Please call toll free 1-800-347-8372 Monday - Friday, from 8-5 ET and we will be happy to assist you further with this request.
Date published: 2018-03-27
Can this be used without the center island for more open ended water play?
Please view the following link to view the instructions for the Splish Splash Seas Water Table™ , this may help you to see what the unit will look like without the island : <a href="http://images.step2.com/media/pdfs/850700_assembly.pdf" target="_blank">http://images.step2.com/media/pdfs/850700_assembly.pdf</a>
Date published: 2018-03-27
Is an umbrella included?
No, the Splish Splash Seas Water Table does not come with an umbrella.
Date published: 2018-03-27
Is this available in Australia?
Thank you for your interest in Step2 product retailers in Australia. Specific products and quantities vary by retail location, please contact Little Smiles Pty Ltd. with your specific request. Little Smiles Pty Ltd. Suite 1404, Level 14, Tower 2 Westfield Bondi Junction Plaza 101 Grafton Street, Bondi Junction NSW 2022; Australia 1300 665 882 (p) 61 2 9389 6766 (i) 1300 665 883(f)
Date published: 2018-03-27
When will this be back in stock?
does this water table have an umbrella?