Sports-tastic Activity Center™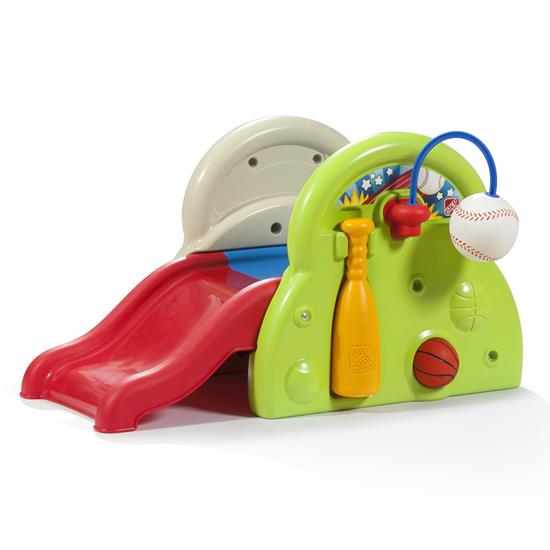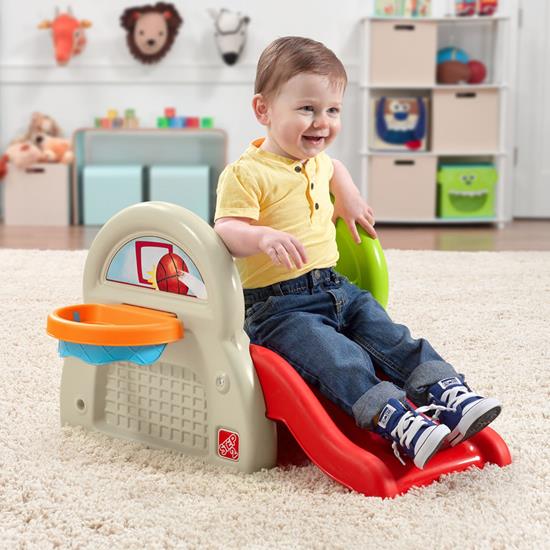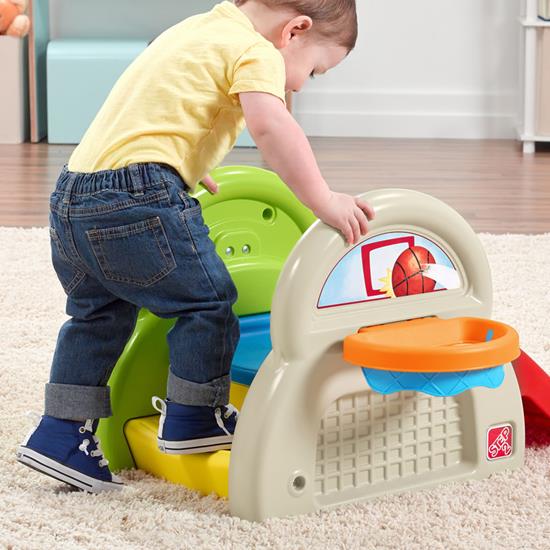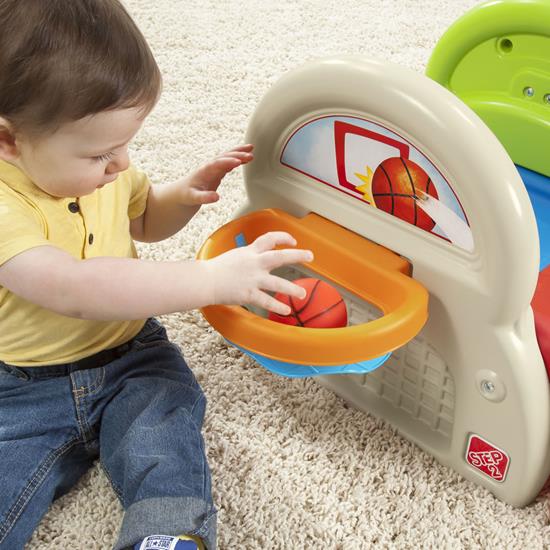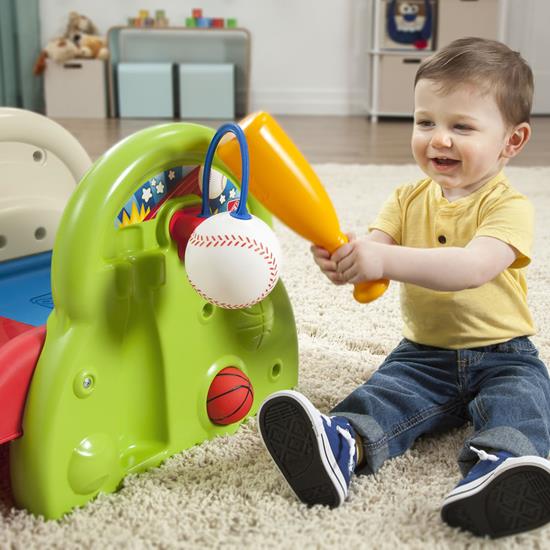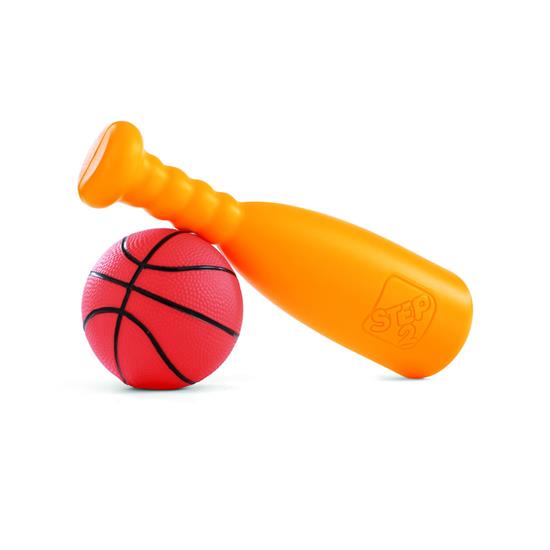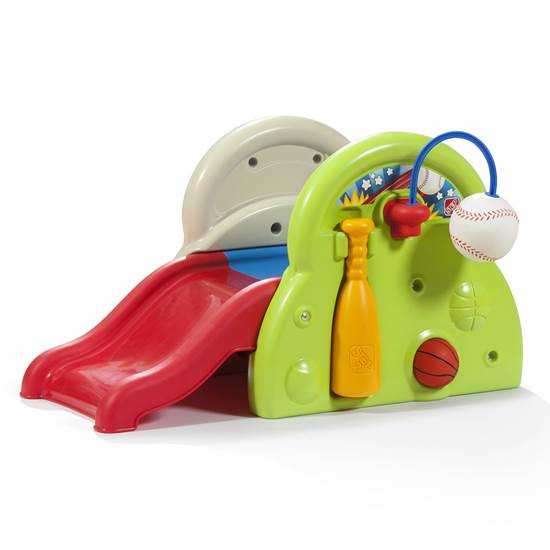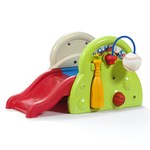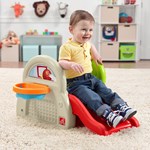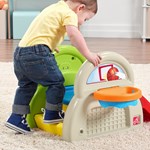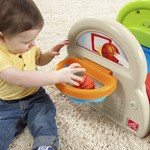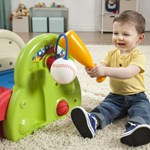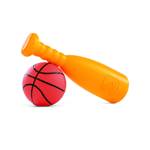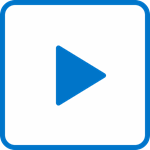 Sports-tastic Activity Center™
In stock
$44.99
+2.99 shipping (via FedEx) When will my item arrive?
With three sports to choose from and a fun slide too, your little champion will have a blast with the Sports-tastic Activity Center by Step2!
IS THIS A GIFT? DON'T SPOIL THE SURPRISE!
This item ships with an image of the product on its outer packaging.
Rated 4 out of 5
by
MeMaw to 8
from
It's a great step 2 product!
the product is great and I bought for my 9 month old grandson. The only problem was that my grandson is overly tall for his age, so the slide has been useless. He enjoys the basketball, and the baseball, however, when he climbs up to the slide, his legs are so long he is not able to slide! He has adjusted to this by climbing UP the slide or going down the slide face first! I purposely bought this size due to his age but now which I had gone ahead and bought the next size up, even though for older children. I would recommend for young infants or toddlers, but not if your child is above the normal percentile for height!
Date published: 2014-01-04
Rated 2 out of 5
by
Anonymous
from
too small for toddlers older than 12 mos
Bought this for twin 12 mo. granddaughters. Ball and basket are too short for any toddler to learn to use correctly. They have to bend over too far. When they sit on top of slide, their feet are on the ground before they go down. Very disappointed in size and that they've outgrown it before they have any chance to use it. Way too small! Wasn't looking for anything humongous but another 12 in. would be great or at least make an extension for it.
Date published: 2014-01-24
Rated 5 out of 5
by
Diane the Goofy Grandma!
from
Double the Pleasure
Being a grandmother of twins, this product was my first choice for a Christmas gift for the one year old boy/girl grandchildren. Due to the fact each side had an activity, I felt it would occupy each of the twins. Assembly was a breeze, and within moments the children were attracted to it's bright color and had no trouble going down the slide. I felt secure in knowing,due to it's sturdy "Step 2" craftsmanship, it was a toy that could withstand both these twins and the next set of twins that are due in January! This product is OUTSTANDING!
Date published: 2015-01-05
Rated 3 out of 5
by
Lindsey
from
Cannot order replacement parts
I received this as a hand me down from a friend who lost the bat, ball and hoop. I called the replacement parts department as noted in the questions section to do so to get replacement parts. I sat on the phone for 20 minutes only to find out that you can NOT order replacement parts for this item since it's an "in house" product and they will just replace the toy if it's broken and you take it back to where you bought it. Do not bother calling them. This was very disappointing since reading the "answered questions" that you are supposed to call them to get replacement parts and they are not even available. They should be answering these questions that the replacement parts are not available. I assume it's fun toy if you have all the parts! However, I am not spending close to $50 to find out.
Date published: 2017-07-19
Rated 5 out of 5
by
Anonymous
from
One year old tested and approved!!!
Our baby boy loves it!!!! He's turning a year old and got this and the whisper ride II for christmas and he can't stay off of them!!! Super easy to put together, very sturdy, small enough to easily transport during the summer or have it inside during the winter. He loves hitting the baseball with the bat ( or anything really. He's simply fascinated by the hanging ball) and is already trying to climb up the stairs to slide down the slide. Highly recommended for fellow parents of daredevil little boys.
Date published: 2017-01-02
Rated 4 out of 5
by
Anonymous
from
Fun for our 9 month old twins
Bought for our 8 1/2 month old twins. It took them a week before showing any true interest, but they are now climb up the slide and pulling themsleves up to stand along side. Although not really functional as a slide it has prompted motor development as they enjoy climbing and will put on foot in front of the other to climb the steps. I can see them playing until about they are 1 1/2 years old. Well worth it to me!
Date published: 2012-06-29
Rated 5 out of 5
by
Anonymous
from
Step 2 * The Best of the Best!!
The step 2 was for my 1 yr. old grandson. He loved it as soon as he saw it. After we showed him how to slide ... he couldn't stop. I was not familiar with Step 2 prior to this purchase. The toys are so strong and sturdy. The customer service department could not be better. I needed to ask some questions and the representative was WONDERFUL ! I will continue to purchase Step 2 products.
Date published: 2016-11-25
Rated 5 out of 5
by
makeuptalk
from
The best play thing for 1 year old
Our 1 year old plays with this daily. The basketball and the baseball are perfect for him and the steps and the slide allow him to climb without me having to worry about him getting hurt. Our 2 other children love playing with this with the baby and they all 3 have a great time. This has been a very good buy since it's used daily and has held up very well even with our big kids playing on it.
Date published: 2011-03-03
I bought this at toys r us but lost all the toys that go with it. All i have is the slide. Can I buy them and how much would it be? Like the bat and ball and stuff
Replacement Parts can be obtained by calling Customer Service at 1-800-347-8372 (M-F, 8-5 ET).
Date published: 2018-03-27