Spring Time Splash Water Table™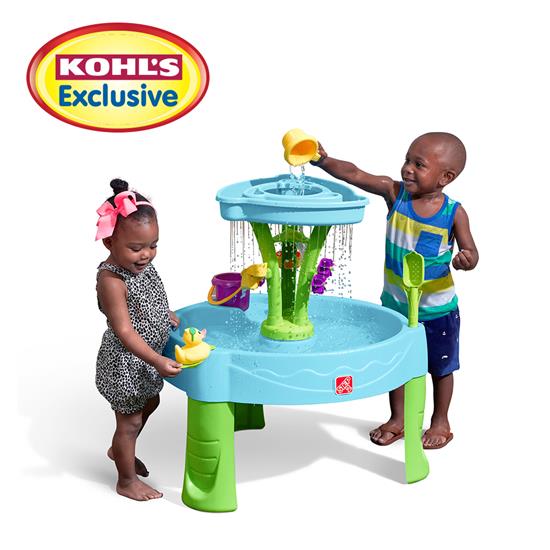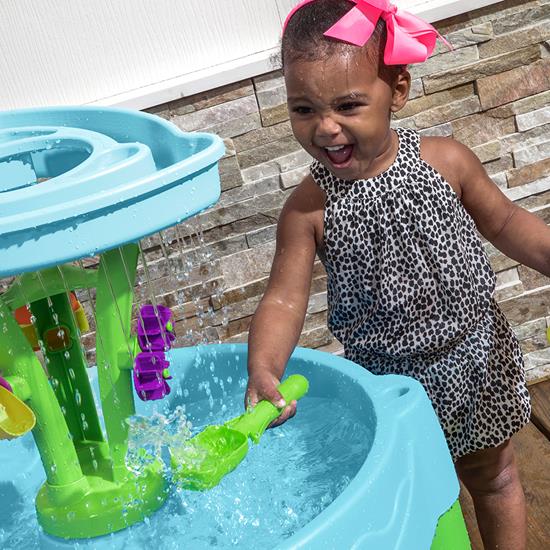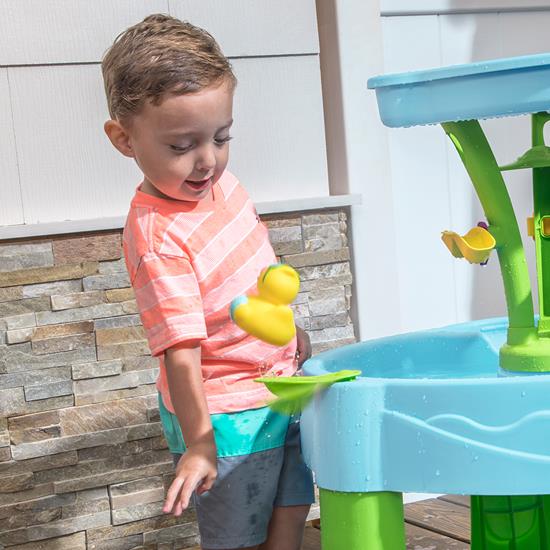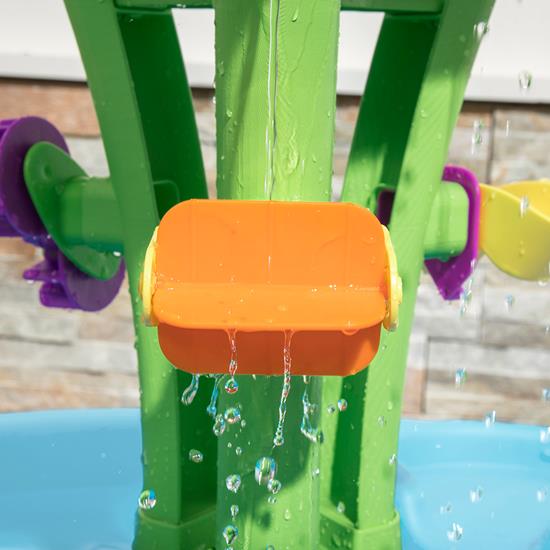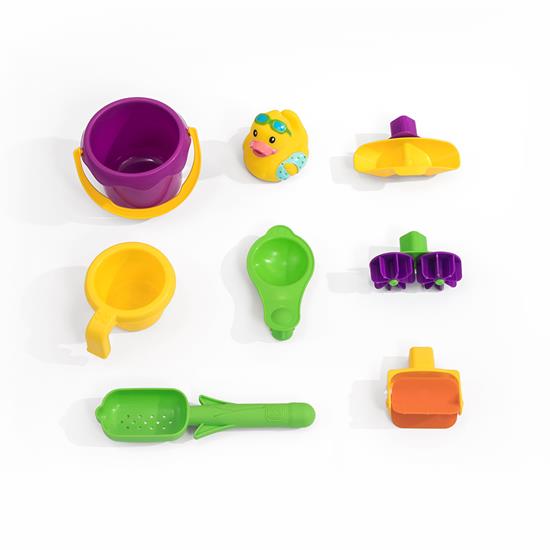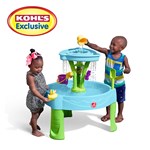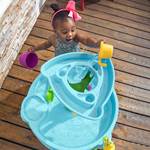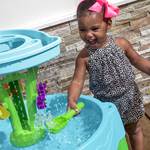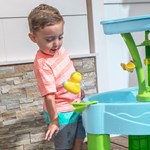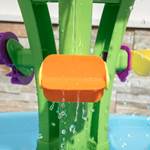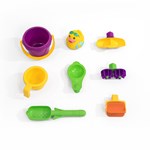 Spring Time Splash Water Table™
Little ones will love creating their own waterfalls with the Spring Time Splash Water Table by Step2.
IS THIS A GIFT? DON'T SPOIL THE SURPRISE!
This item ships with an image of the product on its outer packaging.
Rated 5 out of 5
by
Chdv3811
from
Awesome summer fun!
My kids love this water table! The size is perfect, my one year old can stand up comfortably to play in the bottom section and my 5 year old loves the top sprinkler where he can pour water out to make it rain to the bottom. The included bucket and scoop are perfect for pouring and the water spinners are a fun feature as the water rains down. The table was easy to put together and directions easy to follow. The top level and legs snap into place and are easy to remove (by an adult) for storage. Looking forward to lots of summer fun with this water table!
Date published: 2018-04-09
Rated 4 out of 5
by
Kenzie
from
Excellent entertainment for hours!
I was a little worried about the heigth of this toy when I ordered. I have a newly 2 year old boy who is a little on the shorter side. But, it is a great height for him. He LOVES it and plays for hours. The table came with a few toys and every one of them are great. There was no need to add others, though you could. What's even better is that it is also great for my 6 year old. I can fill up the table and both will giggle and play! The y'all center piece seemed a bit wobbly when putting it together, but it all has stood strong against my rambunctious boys.
Date published: 2018-04-12
Rated 4 out of 5
by
Nadya
from
Great product for all ages!
My children, ages 2 (girl), 4 (boy) and 6 (boy), enjoyed this product! They played with it for hours the first day and couldn't wait to use it again the next day. Assembly took about 15 minutes and clean up was as easy as 1,2,3. My kids also got to join in on the clean up fun with the easy pull drain. The toy accessories were all age appropriate and they really enjoyed the "sprinkler" like effect at the top! We greatly enjoyed being able to review this product and hope to be able to do so again in the future.
Date published: 2018-04-11
Rated 5 out of 5
by
JoJo04
from
Engaging, Fun, Water Table
This product exceeded my expectations! The Spring Time Splash Water Table is perfect for young children and toddlers who love to play in the water. First of all, it came with very easy to read instructions, and it only took about 15 minutes to put together. As I was putting the splash table together I could tell it was made of durable material and a sturdy product, as well are the toys that are included. Once together, my child was able to easily stand at the splash table and play for quite some time. It kept her engaged and interested, and she has really enjoyed sensory play. A few of my concerns were that the toys in the center of the fountain seem to come out pretty easily with a gentle pull, which upon further review, it looks like the initial design. Also, in the picture on the box the water table is placed on a wood deck, however right now due to the weather we haven't had a chance to get outside with it, so the table slides quite a bit on the hard floors inside. Overall, I am very impressed with this Step2 product. Thank you for allowing me the opportunity to test the Spring Time Splash Water Table.
Date published: 2018-04-10
Rated 5 out of 5
by
Becky731
from
Love this toy!
The water table is perfect for backyard play on a warm day! This table kept my 13 month old happy and entertained for quite awhile. I love that it allows space for a few kids so that other children can play and interact with each other. Assembly was quite simple and I found the instructions to be easy to read and follow. The table itself is very sturdy but I find the water fountain tower to be a bit flimsy. Overall, We are very pleased with this product!
Date published: 2018-04-21
Rated 5 out of 5
by
Hevans620
from
Wonderful product!
This water table will keep your child entertained for hours! All 3 of my children have enjoyed playing alone and together with it. It is fun for all ages, my 18 month, 5 year and 9 year old all love it! It comes with fun accessories and is bright and colorful. Easy assembly, it took less than 10 minutes to put together. Thank you Step2 for giving me the opportunity to test this product in the Step2 tester program.
Date published: 2018-04-10
Rated 4 out of 5
by
MCA4484
from
Fun for everyone!
The spring time splash water table was so much fun for my 18 month old and 6 year old. Even the neighbors came over to play because we were having such fun splashing! Assembly was a snap, only took about 10 minutes. The center waterfall tower seems a little wobbly but hopefully it will hold up. Thanks Step2 for allowing us to test this awesome water table!
Date published: 2018-04-14
Rated 5 out of 5
by
ChrissyV
from
Great Product!!
This product is awesome! Easy to assemble just need a phillips screwdriver which is not included for 3 screws which are included, everything else just snaps together easily. My children loved to play with it!
Date published: 2018-04-09
If using as a sand box, how much sand would it hold? Figuring out how much to buy. Thx
The Spring Time Splash Water Table™ is designed for water play. If you are in need of help finding a play table to fit your needs please contact our Consumer Service Specialists at 1-800-347-8372 Monday through Friday, 8AM -5PM Eastern Standard Time and we will be happy to help you.
Date published: 2019-02-25