Springtime Wheelbarrow™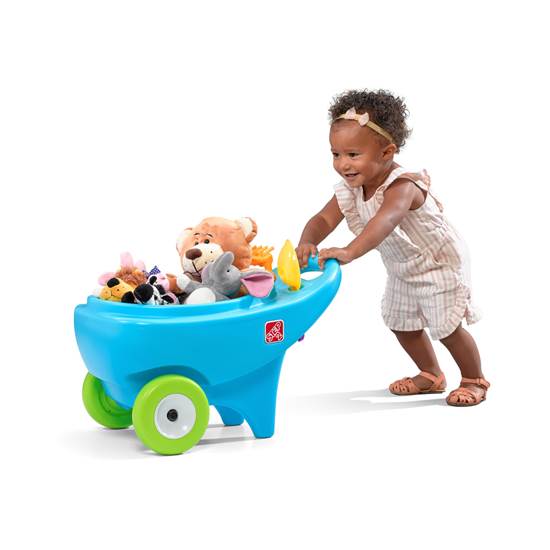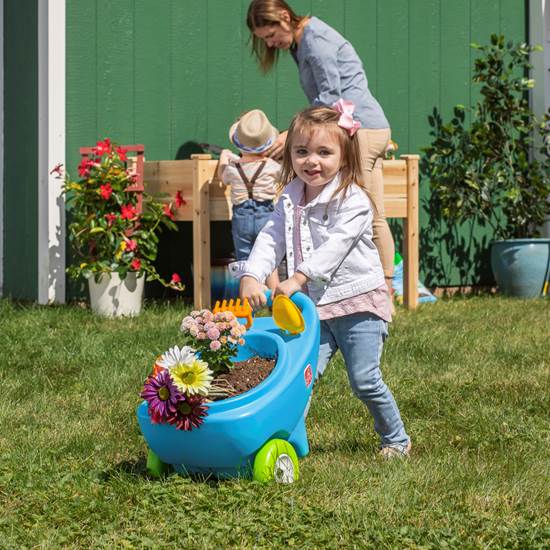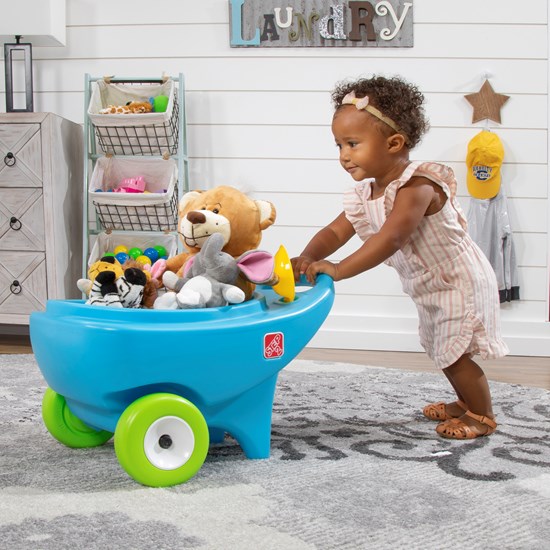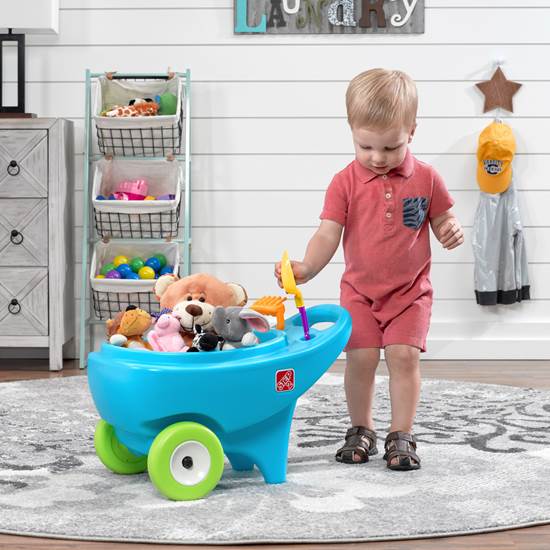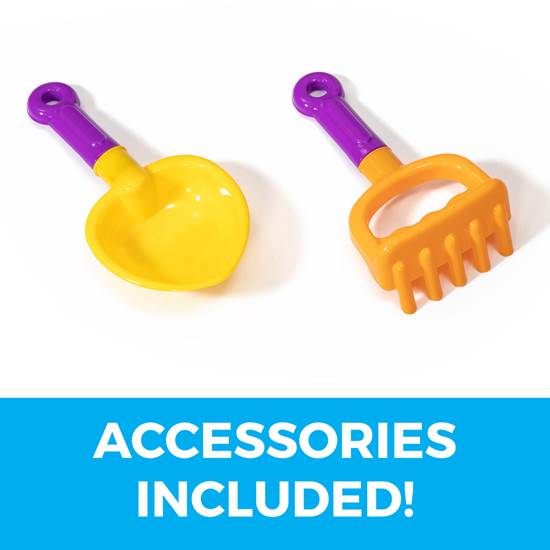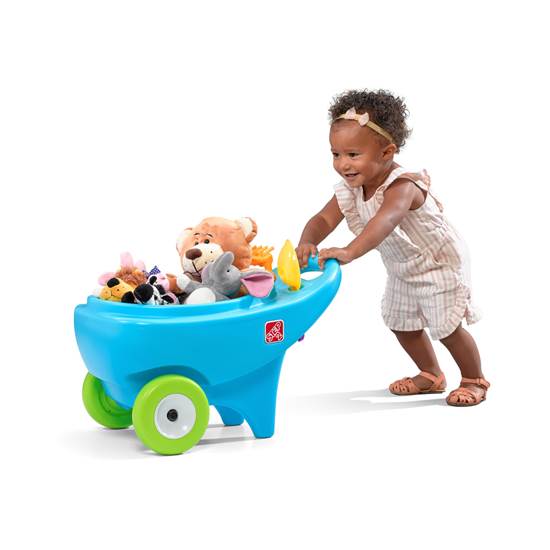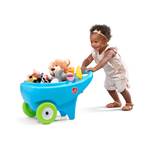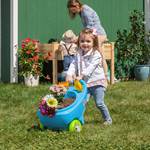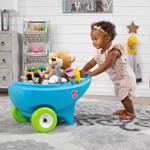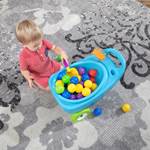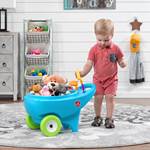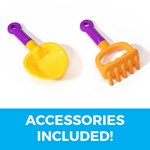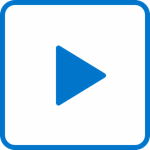 Springtime Wheelbarrow™
In stock
$44.99 $39.99
+2.99 shipping (via FedEx)
Inside or outside, the Springtime Wheelbarrow™ can haul all of your little one's treasures.
IS THIS A GIFT? DON'T SPOIL THE SURPRISE!
This item ships with an image of the product on its outer packaging.
Rated 5 out of 5
by
kclark514
from
My son loves this thing!
First off it's adorable! The day we got it my son started yelling to open it. He loves to fill it with his toys (and sometimes the dog) and push them around. Every time he goes in or out he brings his wheelbarrow with him. He recently went to his grandparents house and had me load it up full of toys to go with him. It's very easy for him to push or drag and it doesn't trip him or hang up if he changes surfaces like vinyl to carpet etc. Highly recommend!!
Date published: 2020-03-10
Rated 4 out of 5
by
Twwagoner
from
Cute toy
This is a cute inside or outside toy. My daughter enjoys it very much. Was easy to assemble, all you need is a hammer. Lightweight and easy for her to maneuver. Would have liked for it to be a little taller (for taller kids to push it around) without having to bend over. Some kids are tall for their age, she meets the age range but just taller than others. It's not super deep to wheel stuff around but a medium depth. Sturdy and will last a while.
Date published: 2020-03-14
Rated 5 out of 5
by
Connie
from
So much Fun! So many uses!
My granddaughter loves her Springtime Wheelbarrow! Since our weather is still too cold she has been using this inside where she carries her stuffed animals all around. She also will load it up with books to bring to us to read together. We also love to use it during "clean-up" time! What a great way to teach her to be efficient and productive. She loves it and so do I. Thank you Step 2 for another great product!
Date published: 2020-03-30
Rated 5 out of 5
by
CoriAnn
from
Such a Great Toy!
First off, the colors are great. Bright is a kids choice and this is perfect. It was very easy to put togther, took me less than 5 minutes! My child has not quit hauling it around. He likes it in the house where he can haul his balls and toys around everywhere he goes. He uses the shovel and rake for outside to put in rocks and dirt when we are playing outside. Easy to clean and definitely a must have for toddlers!
Date published: 2020-02-25
Rated 5 out of 5
by
Turnkj4
from
Great product!
This wheelbarrow is a perfect toy for indoor and outdoor play. It cleans easy if you play outdoors and it is a very sturdy product. My two toddlers have played with it every day since we recieved it. I highly recommend this wheelbarrow if you want to encourage outdoor play as well as gardening lessons for the kids. This product was received courtesy of Step2 for testing purposes.
Date published: 2020-02-12
Rated 5 out of 5
by
Anonymous
from
My daughter is a huge fan!
We got this as a free product to review. My daughter LOVES this. She was so excited to have something that she could plan her own garden in. We are planning on getting her some cute flowers in the spring, but she immediately planted some seeds she found outside temporarily. The product is sturdy and not hard to put together. Really pleased overall!
Date published: 2020-03-14
Rated 5 out of 5
by
Bk7021
from
The cutest little springtime toy!
This is the perfect toy for Mommy's little helper! My 2 year old LOVES to do anything Mommy is doing and this is the perfect item for him to help out in our flower beds! He loves to dig with the shovel and rake (included) and help haul off weeds! I highly recommend this toy if you have a little helper on your hands!
Date published: 2020-03-19
Rated 5 out of 5
by
Jenaay S
from
For the aspiring gardener
The product was so easy to assemble with great step by step instructions. My son has been pushing the wheel barrow around indoors since we first received it. We finally tested it out doors so he can help me plant our garden and he did a great job! It stayed steady as he pushed it alongside me!
Date published: 2020-03-14
Rated 4 out of 5
by
Schase
from
What a fun toy!
What an idea! A wheel barrel for tots. My 3 year old and 7 year old just loved this item and played with it for hours on end together. They have had a ball. The only thing is it could be about 2 inches taller. Otherwise no complaints other than to put it together you will need some muscle.
Date published: 2020-02-28
Rated 5 out of 5
by
glovebug
from
We love it!
My boys LOVE playing in the dirt and helping in the yard. They have really enjoyed this wheelbarrow. Although they both enjoy it, it's the perfect size for the 2 year old to push and pull around the yard. The tools fit perfectly into it for storage. It is very light weight and rolls well.
Date published: 2020-04-14
Rated 5 out of 5
by
djoyce1701
from
Great spring gift
My kid loves it. Since he can put his toys in and drive it around like a car. He is a speical needs and still learning to walk know so thats works get for practice walking around the house with something he can hold on to while walking.
Date published: 2020-03-13
Rated 5 out of 5
by
TXSTRONG82
from
Wonderful playtime fun!
My little one has been wearing this wheelbarrow out! From using it outside to help Mommy with the flower beds to hauling around stuffies, hours of fun have been had. It's a favorite toy now for sure!
Date published: 2020-02-24
Rated 5 out of 5
by
Steph86id
from
Pleasantly surprised!
I had some reservations about whether or not my almost 2 year old daughter would actually enjoy playing with it... but after a few minutes those reservations were gone! My daughter had a blast pushing the Springtime Wheelbarrow around and filling it with a variety of items - from random dog toys found in the backyard to freshly picked lemons. The gardening tools were also a hit as my daughter enjoyed using them in our grassy area of the yard. I see the Springtime Wheelbarrow being a loved outdoor toy for many seasons to come as it's quite diverse in its usage - it will carry fruit and flowers in the spring, fallen leaves in the fall, and maybe even some snow in the winter! The Springtime Wheelbarrow was easy to assemble - it even came with a handy tool to aid in the hammering process to get the wheels attached. Assembly took less than 5 minutes from start to finish, leading to a very happy toddler anxiously awaiting to play with her new toy! Overall a great experience with the Springtime Wheelbarrow. Thank you Step2 for letting me (and my daughter!) year this item as part of the Step2 Toy Tester Program!
Date published: 2020-02-07
Rated 5 out of 5
by
Jennpo87
from
Love it
My son loves pushing this around the yard to collect twigs and rocks and pinecones and such. It's the perfect size for a toddler and easy to keep clean!
Date published: 2020-08-05
Rated 5 out of 5
by
Grandma MLS
from
Order and delivery was seamless.
Bought this for our granddaughter. She loved it❤️ Looking forward to planting geraniums with her when the weather gets warmer!
Date published: 2020-04-25
Rated 5 out of 5
by
Weeple
from
Perfect Easter basket
My 14 month old loves this wheelbarrow! It's the perfect size for him to push, doesn't fall over, works perfect for him.
Date published: 2020-04-14
Rated 5 out of 5
by
Mam1
from
Awesome Easter Basket
My Great Grandson loves his Easter Basket Wheelbarrow! Now he can enjoy the wheelbarrow hauling his toys around in it.
Date published: 2020-04-18
Rated 5 out of 5
by
Gan13
from
Great product
My grandchildren love their own wheelbarrow They have helped plant a family garden My grandson enjoys sitting in it
Date published: 2020-04-30
Rated 5 out of 5
by
Emily85
from
Perfect for littles
Easy to put together and my son loves it. Lightweight so be can push and maneuver it himself without difficulty.
Date published: 2020-04-18
Rated 5 out of 5
by
PoconoShopper
from
Cute
The product is perfect and safe. Came with a few parts missing but customer service sent.
Date published: 2020-06-03