Summer Showers Splash Tower Water Table™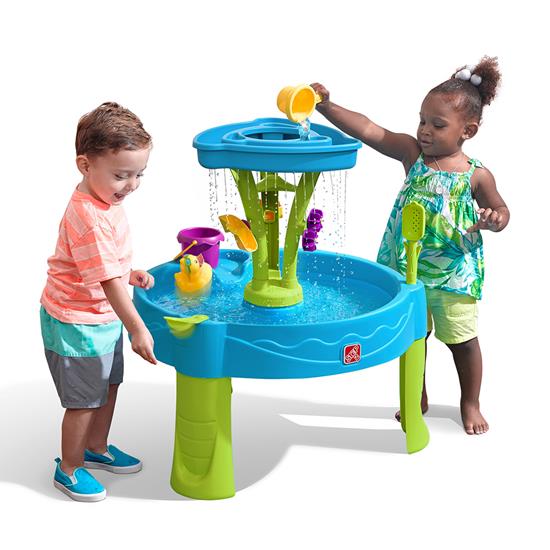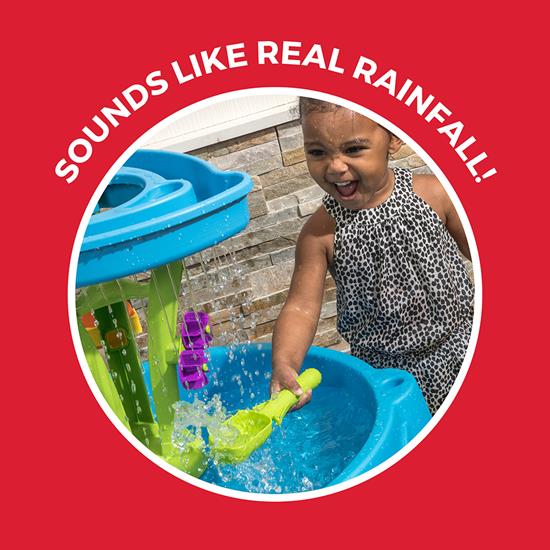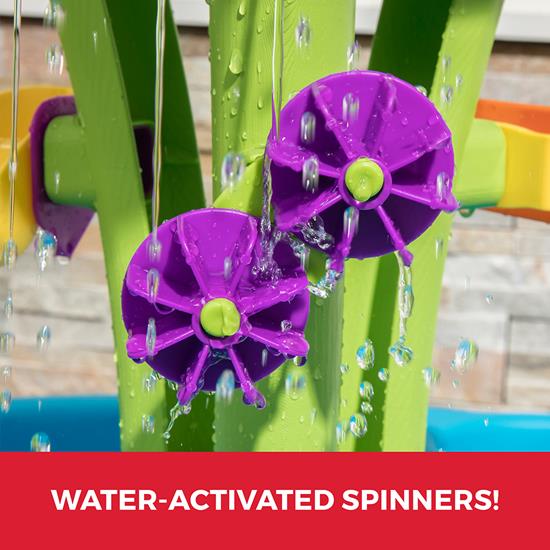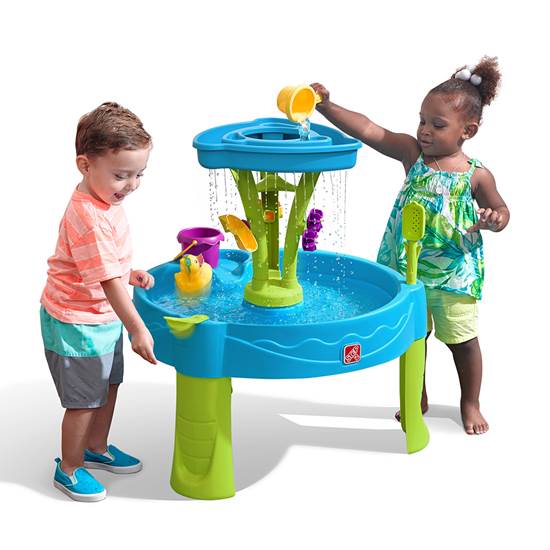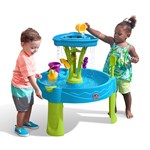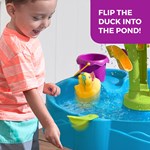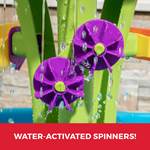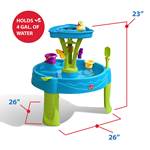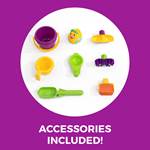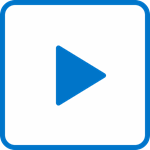 Summer Showers Splash Tower Water Table™
In stock
$49.99
+4.99 shipping (via FedEx) When will my item arrive?
Step2 Summer Showers Splash Tower Water Table features 360-degree water play, allowing multiple kids to play at once.
IS THIS A GIFT? DON'T SPOIL THE SURPRISE!
This item ships with an image of the product on its outer packaging.
Rated 4 out of 5
by
Brandy
from
Fun for all ages!
Thank you to Step2 for letting me test this item as part of the Step2 toy tester program! I would like to start with, my 3 kids ages (almost 7, and 3 year old b/g twins) really enjoyed playing with this indoors. Assembly was really easy and took about 15 minutes. All you need is a screw driver! The over all quality of the toy is pretty good but I did take off a star for the quality. The toys that came with the table that you have to snap together in my opinion are alittle cheaply made. I will say, I would purchase this table over and over again because there are several different fun things to do on/with the table! Thank you Step2!
Date published: 2018-03-19
Rated 1 out of 5
by
Aunt Jill
from
Missing critical part!!!
How disappointing! Family is coming up for Memorial Day (tomorrow) and the package is missing the base for the tower! Since it's Sunday I cannot reach the company in hopes they might deliver the missing part in time for my 2 year old niece to enjoy tomorrow. This is a time sensitive purchase. She can only play with it a few months of the year and she will out grow it in a couple of years. If I keep it at my house, which was the plan, the amount of time she could play with it is limited. I wish I had not purchased the product and I wish I had not told my niece I had a surprise for her tomorrow, Poor quality control. Aggravated and disappointed customer.
Date published: 2018-05-27
Rated 4 out of 5
by
Katiethurm
from
Fun for kids of many ages
We have 3 children, 5 year old boy, 3 year old girl and 10 month old girl. We are always looking for outdoor activities and this water table is perfect for all 3 of our kids. There a quite a few toys and attachments that come with this water table that keep the kids occupied. Assembly was very easy and most of it was done by my 5 year old. Water table does seem a little wobbly and that is why I took a star off. But all and all this is a great watertable. My kids used it inside with no water and loved it even more outside once it warmed up enough for us to use it.
Date published: 2018-04-11
Rated 5 out of 5
by
Mommy in Flats
from
Hours of Splashing Fun
My littles love this water table especially the shower feature. I sometimes fill it with the hose in the reservoir for more splashes. It's perfect for littles and so much easier to empty than a baby pool and twice as fun. Even my nine year old gets into the splashing action. Thank you Step2 for sending me this product in exchange for my honest review.
Date published: 2018-05-18
Rated 4 out of 5
by
Lauren726
from
Easy water fun
My two-year-old loves the bright, fun colors and many gadgets that she gets to use to play with the water! She even loved helping to set up the table and put it together. Thanks to Step2 for allowing us to test this item!
Date published: 2018-03-15
Rated 4 out of 5
by
Sarahliccardi
from
My son loved it
Perfect for summer time! My 4 year old with special needs loved it! Very durable and hours of fun!
Date published: 2018-03-08
Rated 5 out of 5
by
Rinn77
from
Kids love it!
The kids love to play with this and its a great way to cool off!!
Date published: 2018-03-08
Is the top fountain sold separately? To add on to the duck pond water table, for example.
The top fountain of the Summer Shower Splash Tower Water Table™ is not compatible with our other water tables and is not offered separately.
Date published: 2019-03-05
What are The dimensions and weith ok The boxes tris comes in?
The packaging dimensions of the Summer Showers Splash Tower Water Table™ are as follows : 28 inches in Height X 5.875 inches in Width x 29 inches in Depth
Date published: 2018-08-22
Is there a place to put an umbrella?
The Summer Showers Splash Tower Water Table™ does not have a place for an umbrella.
Date published: 2018-07-05
It has the height as 22.5 inches. Is that the water table itself without the water fall attachment?
Please contact our Consumer Service Specialists at 1-800-347-8372 Monday through Friday, 8AM -5PM Eastern Standard Time and we will be happy to help you.
Date published: 2019-04-08
Does this have a drain plug?
YES
Date published: 2018-03-03
What is the age restriction and how much does it hold 
The Summer Shower Splash Tower Water Table™ will hold up to 4 gallons of water and is recommended for ages 1.5 and up.
Date published: 2018-02-13